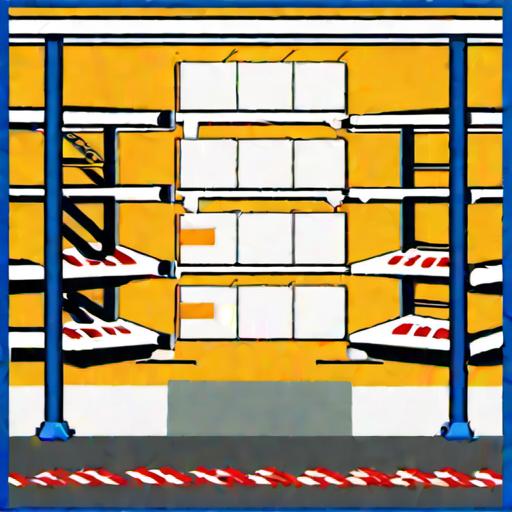 Introduction to FBA Prep Warehouses for Beginners
If you're new to the world of e-commerce and supply chain management, you might be wondering what makes an FBA prep warehouse different from a regular warehouse. In this section, we'll introduce you to the concept of FBA Prep Warehouses and how partnering with a company like FBA Prep Logistics can boost your e-commerce business, particularly if you're selling on Amazon.
What is an FBA Prep Warehouse?
An FBA (Fulfillment by Amazon) prep warehouse is a specialized type of warehouse that focuses on preparing products for shipping through Amazon's FBA program. This includes processes like labeling, packaging, categorizing, inspecting, and creating Amazon-approved shipments. In short, an FBA prep warehouse is a one-stop-shop for getting your products ready to be shipped to Amazon fulfillment centers, saving you time, resources, and energy.
Why FBA Prep Warehouses Matter for Amazon Sellers
Selling on Amazon as an FBA seller comes with many benefits like increased visibility, access to Amazon's vast customer base, and the reliable fulfillment and customer support network provided by Amazon. However, in order to enjoy these perks, your products must meet Amazon's strict FBA requirements, which can be overwhelming to keep up with. That's where an FBA prep warehouse comes in! These highly specialized facilities help take the stress out of meeting these requirements and streamline your fulfillment process.
Key Benefits of Partnering with an FBA Prep Warehouse
Time savings: By outsourcing the prep process to a professional warehouse, you can focus more on growing your business while letting experts handle the tedious workload.

Cost-efficiency: Working with an FBA prep warehouse can help you save on storage and shipping costs by consolidating your products into Amazon-approved shipments. Plus, their expertise can help you avoid costly mistakes, such as non-compliance fees.

Quality assurance: A reputable FBA prep warehouse will ensure your products are inspected and adhere to Amazon's guidelines, significantly reducing the risk of returns, negative reviews, and customer dissatisfaction.
Inventory management: Partnering with an FBA prep warehouse can help you manage and track your inventory more efficiently, using their advanced systems and processes, effectively reducing the risk of stock-outs or overstocking.
Introducing FBA Prep Logistics: Your Ideal 3PL Partner
Now that you understand the value of an FBA Prep Warehouse in the growth and success of your Amazon business, it's essential to choose the right partner. FBA Prep Logistics, located in Bristol, PA, is more than just a place to store your inventory. We provide a comprehensive range of services tailored specifically for e-commerce businesses, including inventory management, order fulfillment, and returns handling, among others. With a focus on customer satisfaction and excellence, we're here to help you streamline your operations, grow your business, and make your life easier.
In the following sections, we'll delve deeper into the benefits of partnering with a dedicated FBA Prep Warehouse, explore the unique services offered by FBA Prep Logistics, and highlight how we can help scale your e-commerce business like never before.
Already convinced? Head over to our Getting Started Guide to begin a seamless onboarding experience with FBA Prep Logistics today!
Why Partner with a Dedicated FBA Prep Warehouse?
Experience the Benefits of FBA Prep Logistics
As a growing e-commerce business, especially one that's new to supply chain management, you might be wondering why it's necessary to partner with an FBA prep warehouse. At FBA Prep Logistics, we understand the challenges you face when selling on Amazon and the importance of maximizing the efficiency, reliability, and profitability of your operation. Here, we'll cover seven compelling reasons to choose a dedicated FBA Prep Warehouse like FBA Prep Logistics for your Amazon business:
1. Cost-Efficiency and Reduced Overhead
By partnering with an fba prep warehouse, you can significantly reduce overhead costs associated with running an in-house operation, such as lease costs, staffing, and equipment maintenance. FBA Prep Logistics offers competitive rates and transparent pricing structures, freeing up funds that you can reinvest back into growing your business.
2. Time Savings and Improved Productivity
Being engaged in a multitude of tasks can be overwhelming for any business owner. By allowing FBA Prep Logistics to manage your inventory, order fulfillment, and returns, you can focus on other aspects of your business like marketing, product development, and customer support. Our streamlined processes will save you time, allowing you to scale your e-commerce business more efficiently.
3. Enhanced Customer Satisfaction
FBA Prep Logistics understands just how critical customer satisfaction is for your e-commerce business. With a proven track record of delivering fast and accurate order fulfillment, you can be sure we'll exceed your customers' expectations on every shipment. Our commitment to reliable and efficient operations will enhance your brand's reputation and lead to positive reviews and repeat sales.
4. Expert Knowledge and Compliance Support
Amazon FBA has strict guidelines and protocols that sellers must adhere to, and this can be especially challenging for e-commerce business owners who are new to supply chain management. With years of industry experience, FBA Prep Logistics not only adheres to these guidelines but also keeps up-to-date with any changes. By partnering with us, you'll have a team with the expertise and skills to help you navigate Amazon FBA's complex requirements.
5. Flexibility and Scalability
Whether you're preparing for a seasonal surge, expanding your product offering, or entering new markets, FBA Prep Logistics has the capacity and flexibility to accommodate your business's growth. With our extensive warehousing facilities, advanced inventory management systems, and a proficient team at your disposal, rest assured that we can handle any level of demand.
6. Transparent Reporting and Analytics
As a partner in your e-commerce journey, we value transparency and open communication. Our inventory management system offers real-time tracking and analytics, providing you with valuable insights into the performance of your products and the efficiency of your supply chain. You'll have all the information you need to make data-driven decisions that propel your business forward.
7. A Strong Partnership and Support Network
When you choose FBA Prep Logistics as your FBA prep warehouse, you're not just gaining access to our services but also entering into a strong partnership that is focused on your business's success. Our dedicated team of experts will work closely with you to provide personalized support and tailored solutions, ensuring that your e-commerce venture thrives in the Amazon marketplace.
In Conclusion: The FBA Prep Logistics Advantage
Partnering with a dedicated FBA prep warehouse like FBA Prep Logistics offers a range of benefits that will help you grow, scale, and succeed as an Amazon seller. With our cost-efficiency, time savings, enhanced customer satisfaction, expert knowledge, flexibility, transparency, and strong support network, your e-commerce business will be well-positioned to flourish and achieve new heights.
Resource: The Ultimate Guide to Amazon Prep Services & Boost Your Amazon Sales With FBA Prep
3. FBA Prep Logistics: 3PL Services Tailored for Amazon Sellers
Choosing FBA Prep Logistics as the fba prep warehouse of choice for your online business presents significant benefits and removes the headaches often associated with Amazon FBA. Our services are tailored to meet the demands and requirements of e-commerce businesses, specifically those that primarily sell on Amazon. Not only do we manage the day-to-day logistics and operations, but we also stay up-to-date with Amazon's constantly changing rules and guidelines – allowing you to focus on what you're best at: selling products! Let's dive into some of the top-notch services we provide to support your growing e-commerce business.
3.1. Inventory Management
Efficient inventory management is critical for any e-commerce business, and with FBA Prep Logistics, you can have peace of mind knowing that your inventory is in capable hands. Our team of inventory management specialists ensure that your products are accurately tracked, organized, and easily accessible, ensuring that your stock levels are maintained at appropriate levels while eliminating the risk of human error involved with manual tracking.
3.2. Expert Product Prepping Services
Are you familiar with the Amazon Prep Services Guidelines? Abiding by these guidelines can directly impact your product rating and consequently the success of your business on Amazon. Our fba prep warehouse is equipped with a team of skilled professionals who know these rules inside and out. Your products will be meticulously prepped, categorized, and organized to meet Amazon's strict requirements, ensuring a higher likelihood of winning the Buy Box and enhancing your customer satisfaction ratings.
3.3. Order Fulfillment
Order fulfillment is critical for ensuring a smooth customer experience – from the time an order is placed to receipt by the customer. FBA Prep Logistics excels at handling the entire order fulfillment process, from picking and packing to shipping, guaranteeing that your orders are fulfilled accurately, efficiently, and on time. We prioritize the careful packaging of each order, ensuring that your customers receive their orders intact and without damage.
3.4. Returns Handling
E-commerce businesses know the frustrations that come with handling returns, especially when selling on Amazon. Our fba prep warehouse simplifies and streamlines your returns process. We receive, inspect, and process returned products according to Amazon's guidelines, offering hassle-free returns management that saves you time, reduces frustration, and contributes to a positive customer experience that boosts your seller reputation.
3.5. Custom Packaging Services
The presentation and packaging of your products are crucial to creating a memorable and positive buyer experience. At FBA Prep Logistics, we offer personalized packaging solutions to enhance your brand image and create a lasting impression on your customers. Whether you require customized packaging, branding, or inserts, we provide high-quality solutions tailored to your exact specifications.
3.6. Kitting and Assembly Solutions
Save time and reduce costs by streamlining your product bundling and assembly processes. Our kitting and assembly solutions at FBA Prep Logistics ensure your products are bundled and assembled in compliance with Amazon requirements, helping you to boost efficiency and increase sales.
3.7. Amazon FBA Storage Services
By choosing FBA Prep Logistics as your fba prep warehouse, you'll gain access to our secure Amazon FBA storage services. We ensure our warehouse facilities adhere to Amazon's strict storage standards, providing a clean, organized, and climate-controlled environment for your inventory. Whether you're looking to store goods short-term during peak seasons or need long-term storage solutions, we've got you covered.
3.8. Up-to-Date Knowledge of Amazon Policies
As mentioned earlier, staying current with Amazon's ever-changing rules and guidelines can take up valuable time and resources, which could otherwise be focused on growing your business. FBA Prep Logistics keeps your online business compliant by staying informed about the latest updates, ensuring that your products and operations always adhere to Amazon's stringent policies.
3.9. Dedicated Customer Support
When partnering with our fba prep warehouse, you can expect unparalleled customer support. Our team of experienced professionals is available to answer any questions or concerns, providing expert guidance on navigating the complexities of Amazon FBA. We pride ourselves on our prompt and personalized service, with a commitment to helping you achieve success in your e-commerce endeavors.
In conclusion, partnering with FBA Prep Logistics offers numerous advantages for Amazon sellers looking to grow, optimize, and streamline their e-commerce operations. With our comprehensive suite of tailored 3PL services and unsurpassed customer support, you can focus on expanding your brand and increasing sales while leaving the behind-the-scenes logistics to our expert team.
Scaling Your E-commerce Business with FBA Prep Logistics
As your e-commerce business grows, so do the challenges of managing your supply chain. Partnering with a dedicated fba prep warehouse like FBA Prep Logistics takes the weight off your shoulders and provides valuable services beyond just warehousing. In this section, we'll explore how FBA Prep Logistics can support the growth of your online business, provide expert advice on efficient supply chain management, and help you navigate the complex Amazon FBA requirements and guidelines.
Expanding Your Reach with New Markets
Taking your e-commerce business to new heights often involves expanding into new markets and territories. FBA Prep Logistics assists you in this process by offering extensive knowledge of global logistics and support in managing your international shipping and importing processes. This expertise ensures that your products are efficiently distributed to customers worldwide while complying with international regulations and reducing shipping costs wherever possible.
Adapting to Increased Order Volumes
Successful e-commerce businesses often face increased demand for their products, leading to higher sales volumes. Scaling up your business with FBA Prep Logistics means that you'll be able to handle the higher order volumes through their efficient and flexible warehousing, inventory management, and order fulfillment services. Their team of experts will work closely with you to identify and implement the necessary adjustments to accommodate your business's growth, from increasing storage capacities to improving packing and shipping processes.
Updating Your Infrastructure and Technology
A growing business requires updating existing infrastructure and technology to maintain efficient operations. FBA Prep Logistics continuously invests in advanced warehouse management systems and effective fulfillment processes to ensure that your e-commerce business benefits from the latest advancements. With real-time inventory tracking, order management, and improved communication between all parties involved, you can be confident that your business is scaling successfully.
Ensuring Compliance with Amazon's Evolving Guidelines
As you probably know, Amazon continuously updates its FBA requirements and guidelines to maintain high-quality standards for its customers. FBA Prep Logistics not only helps you stay in compliance with Amazon's ever-changing rules, but also provides support as you navigate the whole process. They will guide you in effectively managing your inventory, optimizing product listings, utilizing proper packaging materials, and following required labeling and prep guidelines. By partnering with FBA Prep Logistics, you can be confident that your business is prepared to excel within Amazon's ecosystem.
Access to a Team of Amazon Experts
FBA Prep Logistics is dedicated to your e-commerce business's success and growth, offering a dedicated team of Amazon experts to provide support and advice when needed. As a digital marketing assistant, the team will work with you to create an effective marketing strategy, optimize your product listings, and identify areas for improvement. By having a reliable team of experts at your side, you can focus on driving your e-commerce business's growth while navigating the intricate world of eBay and Amazon.
Customizing Solutions for Your Business
Every e-commerce business is unique and requires a tailored approach to ensure continued growth. FBA Prep Logistics offers customized solutions to meet your business's specific needs and goals. Whether it's expanding to a new market or streamlining order processing, the FBA Prep Logistics team will work closely with you to identify your unique challenges and implement targeted solutions to overcome them.
In conclusion, scaling up an e-commerce business is no easy task, but with FBA Prep Logistics as your 3PL partner, you can be assured of a comprehensive suite of services and support tailored to your needs. Equipped with expert advice, advanced infrastructure, and customized solutions, you can tackle the challenges of growing your business with ease. Whether you're just starting on your e-commerce journey or seeking to expand your existing operation, FBA Prep Logistics is here to help take your business to new heights.
Getting Started with FBA Prep Logistics: A Seamless Onboarding Process
Starting a partnership with FBA Prep Logistics is a smart and strategic move for your Amazon business. Our streamlined onboarding process makes it easy for you to take advantage of our tailored 3PL services to scale your e-commerce business. In this section, we'll walk you through the steps involved in getting started with FBA Prep Logistics.
Step 1: Make the Connection
Reach out to our friendly and knowledgeable team by contacting us or visiting our website. We'll answer any questions you might have about our services and how partnering with an fba prep warehouse can benefit your e-commerce business.
Step 2: Assess Your Business Needs
Our experts will work closely with you to assess your current supply chain management system and fulfillment needs. We'll discuss how our 3PL services can help you overcome any challenges and improve your overall efficiency. This step is crucial to lay a solid foundation for a successful partnership.
Step 3: Customized Service Proposal
Based on the assessment, we'll create a customized service proposal tailored to your e-commerce business's needs. Our proposal will outline the specific fba prep warehouse services we recommend to help streamline your order fulfillment process, enhance customer satisfaction, and boost sales.
Step 4: Agreement and Onboarding
Once you've reviewed and approved the service proposal, we'll move forward with a formal partnership agreement. Our onboarding process is designed to be seamless and hassle-free, allowing you to start benefiting from our 3PL services as soon as possible.
Inventory Management Integration
We'll integrate your existing inventory management system with our fba prep warehouse, ensuring a smooth transition and real-time visibility of your stock levels and order status.
Shipping and Returns Setup
Our team will set up the necessary shipping and returns processes in line with your business requirements and Amazon FBA guidelines.
Training and Support
We'll provide training and support to help you get the most out of our services. Our team is always available to answer your questions, provide expert advice, and assist with any issues that may arise.
Step 5: Ongoing Partnership and Support
The onboarding process marks the beginning of a long-lasting partnership between your e-commerce business and FBA Prep Logistics. As an fba prep warehouse partner, we'll continuously work to optimize your supply chain management, monitor regulatory compliance, and offer expert advice to help you meet your business goals.
Regular Reviews and Optimization
Our team will conduct regular reviews of your operations to identify areas for improvement and ensure optimum efficiency. We'll work with you to adjust and optimize our services as your e-commerce business evolves and grows.
Proactive Communication
Effective communication is vital to a successful partnership, and we're committed to keeping you informed about any changes, news, or updates that may affect your Amazon business. We'll proactively address any potential issues and work together to resolve them.
Continuous Improvement
As a dedicated partner, we value your input and feedback. We'll use it to continually refine and enhance our 3PL services, ensuring that they always meet your expectations and support your business's growth.
Don't miss this opportunity to take your e-commerce business to new heights. With FBA Prep Logistics as your fba prep warehouse and 3PL partner, you'll have a stress-free supply chain management system that smoothly scales alongside your business. Start your journey to success today by getting in touch with our team.
Frequently Asked Questions</h2>
<h3>1. Why should I choose FBA Prep Logistics as my 3PL partner?</h3>
<p>FBA Prep Logistics is a specialized 3PL warehouse that understands the unique needs of Amazon sellers. Our team of professionals is well-versed in the ins and outs of Amazon FBA requirements and guidelines. Choosing FBA Prep Logistics allows you to take advantage of cost savings, efficiency, expert advice and support, as well as a seamless onboarding process.</p>
<h3>2. How can FBA Prep Logistics help me save time and money?</h3>
<p>By handling all aspects of inventory management, order fulfillment, and returns handling, FBA Prep Logistics allows you to focus on growing your e-commerce business. Our services, tailored specifically for Amazon sellers, include efficient supply chain management and cost-effective solutions that translate to better customer satisfaction and increased profits.</p>
<h3>3. Which services does FBA Prep Logistics offer?</h3>
<p>We offer a comprehensive suite of 3PL services designed for Amazon sellers, including inventory management, order fulfillment, returns handling, and expert advice on supply chain management and Amazon FBA requirements. Our goal is to support the growth of your e-commerce business by providing valuable services beyond just warehousing.</p>
<h3>4. How can FBA Prep Logistics help me scale my e-commerce business?</h3>
<p>FBA Prep Logistics is dedicated to supporting the growth of your e-commerce business by offering tailored 3PL services and expert advice on supply chain management. We help you navigate the complex Amazon FBA requirements and guidelines, allowing you to expand your business without worry or hassle.</p>
<h3>5. What is the process to get started with FBA Prep Logistics?</h3>
<p>Our onboarding process is straightforward and seamless. We work closely with you to understand your e-commerce business's specific needs and integrate our services into your existing operations. Getting started with FBA Prep Logistics is as simple as reaching out to our team and discussing your requirements.</p>
<script type="application/ld+json">
{
"@context": "https://schema.org",
"@type": "FAQPage",
"mainEntity": [{
"@type": "Question",
"name": "Why should I choose FBA Prep Logistics as my 3PL partner?",
"acceptedAnswer": {
"@type": "Answer",
"text": "FBA Prep Logistics is a specialized 3PL warehouse that understands the unique needs of Amazon sellers. Our team of professionals is well-versed in the ins and outs of Amazon FBA requirements and guidelines. Choosing FBA Prep Logistics allows you to take advantage of cost savings, efficiency, expert advice and support, as well as a seamless onboarding process."
}
}, {
"@type": "Question",
"name": "How can FBA Prep Logistics help me save time and money?",
"acceptedAnswer": {
"@type": "Answer",
"text": "By handling all aspects of inventory management, order fulfillment, and returns handling, FBA Prep Logistics allows you to focus on growing your e-commerce business. Our services, tailored specifically for Amazon sellers, include efficient supply chain management and cost-effective solutions that translate to better customer satisfaction and increased profits."
}
}, {
"@type": "Question",
"name": "Which services does FBA Prep Logistics offer?",
"acceptedAnswer": {
"@type": "Answer",
"text": "We offer a comprehensive suite of 3PL services designed for Amazon sellers, including inventory management, order fulfillment, returns handling, and expert advice on supply chain management and Amazon FBA requirements. Our goal is to support the growth of your e-commerce business by providing valuable services beyond just warehousing."
}
}, {
"@type": "Question",
"name": "How can FBA Prep Logistics help me scale my e-commerce business?",
"acceptedAnswer": {
"@type": "Answer",
"text": "FBA Prep Logistics is dedicated to supporting the growth of your e-commerce business by offering tailored 3PL services and expert advice on supply chain management. We help you navigate the complex Amazon FBA requirements and guidelines, allowing you to expand your business without worry or hassle."
}
}, {
"@type": "Question",
"name": "What is the process to get started with FBA Prep Logistics?",
"acceptedAnswer": {
"@type": "Answer",
"text": "Our onboarding process is straightforward and seamless. We work closely with you to understand your e-commerce business's specific needs and integrate our services into your existing operations. Getting started with FBA Prep Logistics is as simple as reaching out to our team and discussing your requirements."
}
}] }
</script>