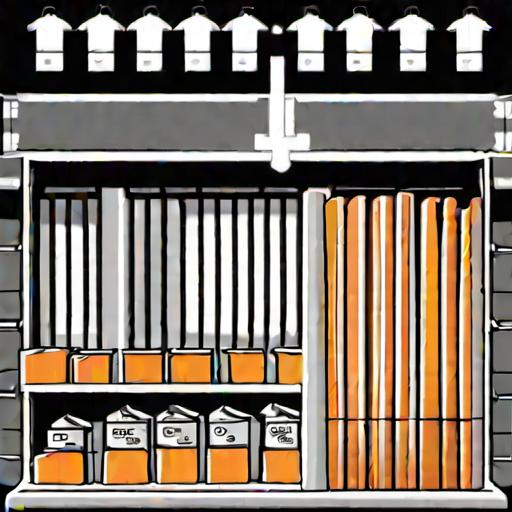 Introduction: The Importance of FBA Prep Centers for Amazon Sellers
Welcome to the world of online selling, where the competition is fierce and the stakes are high! But fret not, because FBA Prep Centers are here to help you navigate the complexities of e-commerce while scaling your Amazon business. So, what is an FBA Prep Center and why is it crucial for Amazon sellers like you? In a nutshell, FBA Prep Centers are third-party service providers that assist in preparing and fulfilling your inventory according to Amazon's strict guidelines. As a one-stop solution for e-commerce businesses, FBA Prep Centers alleviate the burden of logistics management, allowing you to focus on your core business strategies.
So, why FBA Prep Logistics? As a top-notch 3PL warehouse located in Bristol, PA, we offer tailored solutions to meet the specific needs of median-sized e-commerce businesses like yours. We're the perfect partner for those new to supply chain management or those who haven't used a 3PL service before. Our team of experts is dedicated to helping you achieve seamless Amazon order fulfillment, all the while ensuring quality, efficiency, and customer satisfaction. So, buckle up and let's explore how FBA Prep Logistics can boost your sales and transform your Amazon business!
Your Go-To 3PL Warehouse: FBA Prep Logistics
At FBA Prep Logistics, we are committed to providing an all-encompassing service that covers every aspect of logistics management for your Amazon business. Our services include receiving, labeling, bundling, packaging, and shipping your products, all handled by our experienced team of professionals. Our strong focus on customer-centric solutions and attention to detail ensures that we surpass the expectations of our diverse clientele while staying closely aligned with Amazon's ever-evolving requirements. Discover what sets us apart from the rest here.
Our mission is to give you more time to focus on running and growing your e-commerce business, while we tackle the complexity of supply chain management on your behalf. At the same time, we strive to drive continuous improvement in our operations, so you can delight your customers with fast and reliable deliveries. So don't delay – it's time to supercharge your Amazon sales with the unrivaled services of FBA Prep Logistics!
II. FBA Prep Services: Saving You Time and Effort
As an Amazon seller, it's vital to stay on top of your game and maintain an efficient, streamlined process for managing your products. FBA Prep Centers, like FBA Prep Logistics, offer a comprehensive suite of services designed to save you time and effort. Here's a breakdown of the various services on offer:
1. Receiving
One of the first steps in the supply chain management process is receiving your products from the manufacturer or supplier. FBA Prep Logistics will accept shipments of your products, inspect them for any damage, and then handle the necessary preparations for storage or shipping.
2. Labeling
Accurate labeling is essential to meeting Amazon's strict requirements and ensuring a smooth fulfillment experience for your customers. FBA Prep Logistics will meticulously ensure that all your products are correctly labeled with the necessary barcodes, shipping labels, and any additional information required by Amazon.
3. Bundling
If you're selling multiple products as part of a single bundle or package, FBA Prep Centers can take the hassle out of this process by accurately and efficiently bundling your products. This service helps you to maintain a consistently high standard of product presentation, adding to the overall customer experience.
4. Packaging
Attractive and secure packaging is essential if you want to impress your customers and guarantee the safe delivery of your products. FBA Prep Logistics will take care of your packaging needs, ensuring that your products are packaged professionally using high-quality materials tailored to your specific requirements.
5. Shipping products to Amazon fulfillment centers
Once your products are prepped and ready to go, the next step is getting them to Amazon warehouses. FBA Prep Logistics will take care of this process for you by coordinating with Amazon and ensuring your products are shipped to the correct fulfillment center, complying with Amazon's shipping rules and regulations.
By providing these top-notch FBA Prep Services, FBA Prep Logistics allows you to streamline your operations and free up more time to work on your marketing strategies or develop new products for your e-commerce business. You can focus on the strategies that genuinely improve sales and leave the logistical tasks in the capable hands of FBA Prep Logistics.
How FBA Prep Logistics Saves You Time
When you partner with FBA Prep Logistics, their suite of services ensures that you can optimize your e-commerce business operations by delegating time-consuming tasks to experts. Say goodbye to the lengthy time spent on unpacking, labeling, bundling, and packaging, and let FBA Prep Logistics handle it all. Ultimately, this means more time for you to focus on expanding your product range, engaging with customers, and growing your e-commerce business.
By taking advantage of the various services provided by FBA Prep Centers, you can streamline your Amazon business and ensure a positive customer experience. Plus, with their commitment to meeting Amazon's stringent rules and regulations, you can have peace of mind knowing that your e-commerce business is being supported by professionals who understand the intricacies of the Amazon marketplace.
In summary, FBA Prep Logistics is the ideal partner for Amazon sellers who want to save time and effort while optimizing their e-commerce operations. With their comprehensive range of FBA Prep services, you can delegate essential tasks to the experts and focus on growing your e-commerce business. Choose FBA Prep Logistics to achieve the perfect balance of efficiency and professionalism for your Amazon business.
III. Inventory Management Made Easy with FBA Prep Centers
Managing your inventory effectively is crucial for running a successful Amazon business. Having the right products available at the right time ensures customer satisfaction and helps you avoid stock-outs and overstocking issues. With FBA Prep Centers, you no longer have to worry about managing your inventory. In this section, we'll discuss how partnering with FBA Prep Logistics simplifies the inventory management process, providing you with real-time updates and complete visibility of your stock levels.
3.1 Centralized Inventory Control
At FBA Prep Logistics, we offer a centralized inventory control system that allows you to monitor your stock levels in real-time. By integrating with your Amazon Seller Central account, our inventory management system ensures that you always have accurate and up-to-date information on your products' whereabouts. This not only helps you make informed decisions about when to reorder, but also prevents the costly consequences of stock-outs and overstocking.
3.2 Smart Inventory Forecasting
Smart inventory forecasting is essential for maintaining the right balance between stock availability and storage costs. FBA Prep Logistics uses data-driven insights to help you make better-informed decisions about when to replenish your inventory. We analyze historical sales data, trends, and customer preferences to provide accurate and reliable inventory demand projections that are tailored to your specific e-commerce business. By leveraging these insights, you can optimize your inventory levels and reduce the risk of running out of products or having excess stock.
3.3 Seamless Integration
FBA Prep Logistics offers seamless integration with popular e-commerce platforms like Amazon, eBay, and Shopify, ensuring that your inventory is synced automatically across all sales channels. This eliminates the need for manual updates and minimizes the potential for human error. With our system, you can manage all your online sales channels from a single, centralized platform, making inventory management more efficient and hassle-free.
3.4 Warehouse Management
Our state-of-the-art warehouse facility ensures that your inventory is stored securely and properly organized. We use advanced warehouse management systems (WMS) that enable us to keep track of every item that enters and leaves our warehouse. This way, you can have full visibility and control over your inventory at all times. Furthermore, our efficient warehouse processes ensure that your products are quickly and accurately picked, packed, and shipped to your customers, resulting in high levels of customer satisfaction.
3.5 Customized Inventory Solutions
Every Amazon seller has unique inventory requirements, and FBA Prep Logistics understands the importance of providing customized solutions that cater to these needs. We offer tailored inventory services like kitting, bundling, and labeling, which can help enhance your product offerings and increase your sales potential. With our team of experts handling your inventory needs, you can focus on growing your e-commerce business and scaling your sales.
3.6 Proactive Inventory Notifications
One of the key advantages of partnering with FBA Prep Logistics for your inventory management is the proactive notifications you'll receive. Our system sends you timely alerts for low stock levels, replenishment needs, or any other crucial inventory events. This ensures that you're always in the know about your inventory situation, empowering you to take timely action and prevent potential issues from affecting your Amazon business.
3.7 Real-Time Reporting
FBA Prep Logistics provides you with transparent, real-time reports that offer insights into your inventory performance. Our reporting tools allow you to track your sales, inventory levels, stock movement, and more, helping you identify trends and areas of improvement. Armed with this data, you can make informed decisions to optimize your inventory management strategies and propel your Amazon business forward.
3.8 The Peace of Mind You Deserve
By entrusting your inventory management to FBA Prep Logistics, you can enjoy peace of mind knowing that your products are in capable hands. Our commitment to providing top-quality services and ensuring customer satisfaction means you don't have to worry about the nitty-gritty of inventory management. Instead, you can concentrate on what you do best – growing your e-commerce business and making it thrive.
In conclusion, FBA Prep Logistics offers comprehensive inventory management solutions that can help Amazon sellers streamline their operations and maximize their profit potential. By providing real-time updates, seamless integration, and state-of-the-art warehouse facilities, we ensure that your inventory is well-managed and readily available for your customers when they need it the most. With our support, you can say goodbye to inventory management headaches and focus on taking your Amazon business to new heights.
IV. Cost Savings and Optimized Fulfillment Rates
The Financial Benefits of Partnering with FBA Prep Centers
Operating an Amazon business can be daunting, especially when it comes to managing finances and ensuring profitability. Here's where FBA Prep Centers, like FBA Prep Logistics, come into play. By partnering with us, Amazon sellers can enjoy various cost savings while maintaining optimized fulfillment rates.
Reduced Shipping and Storage Costs
When using FBA Prep Logistics, you automatically benefit from lower shipping costs due to our close proximity to Amazon fulfillment centers. This strategic location allows us to leverage Amazon's partner carrier program, significantly decreasing shipping expenses. Moreover, our expertise in finding the most cost-effective carriers ensures you'll save on both inbound and outbound shipping fees.
Storage costs, especially during peak seasons, can have a massive impact on your profit margins. Our warehouse in Bristol, PA, offers competitive storage rates and efficient space utilization, ensuring your products are stored safely without breaking your budget.
Minimized Penalties and Returns
As an Amazon seller, you're probably aware of the hefty penalties associated with non-compliance to FBA requirements. Failure to adhere to these standards can result in additional fees, delays in processing, and even suspension of your selling privileges. Fortunately, our team at FBA Prep Logistics is well-versed in these requirements, making sure your products are prepared and packaged accordingly [5].
In addition, our rigorous quality control processes identify and rectify any issues before your products reach Amazon's warehouses. This proactive approach significantly decreases the chances of returns and refunds, protecting your seller reputation and maintaining high customer satisfaction ratings.
Ensuring Fast and Accurate Order Fulfillment
With Amazon's ever-evolving algorithms, it's crucial to maintain high performance metrics, such as your perfect order percentage (POP) [6]. Our team at FBA Prep Logistics goes the extra mile to meet and exceed these expectations, ensuring fast and accurate order fulfillment. Here's how we do it:
Streamlined Picking, Packing, and Shipping Process
Our highly trained and efficient staff ensures the smooth handling of your inventory, from receiving and processing to shipping your products to Amazon fulfillment centers. By utilizing state-of-the-art warehouse management systems [7], we guarantee the accuracy and timeliness of our FBA Prep services.
Adherence to Amazon's Packaging and Labeling Guidelines
Amazon sets specific packaging and labeling guidelines that sellers must follow to avoid delays, additional fees, or rejection of shipments. At FBA Prep Logistics, our team is fully aware of these standards (including barcode requirements), making sure your products comply with these guidelines before shipping [8].
Optimizing Your Amazon Business with FBA Prep Logistics
To sum up, partnering with FBA Prep Logistics not only helps you save on shipping and storage costs, but also minimizes the risk of penalties, returns, and non-compliance issues. Our commitment to fast and accurate order fulfillment results in shorter delivery times and improved seller metrics, ultimately contributing to your business's success on Amazon. Don't leave money on the table – let FBA Prep Logistics optimize your e-commerce journey and boost your Amazon sales today!
FBA Prep Logistics: Your Partner for Growing Your Amazon Business
Here at FBA Prep Logistics, we understand that new Amazon sellers might be hesitant to entrust their supply chain management to a 3PL warehouse. It's natural to have concerns – after all, your business's success is on the line. In this section, we will lay those fears to rest and demonstrate how FBA Prep Logistics can become your trusted partner in fostering e-commerce growth by providing top-notch services, saving you time and money, and offering personalized support.
5.1 Overcoming the Challenges of FBA: A Reliable Partner
Starting a new business on Amazon can be intimidating, especially given the many challenges associated with FBA, such as meeting the platform's strict requirements and staying on top of inventory management (Refer to our article on Why Every Amazon Seller Needs a Prep Center). Fortunately, our experienced team at FBA Prep Logistics is well-versed in tackling these issues and can help you navigate the process smoothly. We will provide guidance, expertise, and resources every step of the way, making us your go-to partner in this exciting journey.
5.2 Customized Solutions Tailored to Your Business Needs
We understand that each business is unique, and thus, has distinctive needs. FBA Prep Logistics prides itself on offering customized solutions to address your specific requirements, ensuring that our services will seamlessly align with your business operations. Whether you're selling electronics or apparel, we provide a tailored approach for each seller, optimizing your supply chain management and ensuring a hassle-free experience.
5.3 Unparalleled Dedication to Customer Satisfaction
At FBA Prep Logistics, we prioritize our clients' satisfaction by constantly refining our processes and providing exquisite customer service. Our team is always ready to answer any questions, address concerns, and provide solutions promptly. Your success is our success, and complete client satisfaction drives us to deliver exceptional service in every interaction.
5.4 Data-Driven Strategies for Growth
To remain ahead of the curve, FBA Prep Logistics employs data-driven strategies that not only enhance our services but also facilitate informed decision-making in your business operations (Learn more in our Ultimate Guide to 3PL Order Fulfillment for E-commerce). By utilizing our vast experience, advanced technology, and analytics, we can help you make strategic decisions that will foster growth, giving you a competitive edge in the highly competitive e-commerce landscape.
5.5 Expand Your Operations Beyond Amazon
Not only does FBA Prep Logistics support your Amazon business, but we're also equipped to help you expand your sales channels beyond the platform. As your e-commerce business grows, diversifying your sales channels is crucial to mitigating risk and broadening your market presence. With our assistance, sellers can strategize and implement multi-channel selling, reaching their market potential and amplifying profits.
5.6 Focused on Your Growth and Success
To sum it up, FBA Prep Logistics' primary goal is to help you grow and succeed in the competitive e-commerce landscape. We stand by our commitment to offering top-of-the-line services, personalized support, and expert guidance, all while saving you time, money, and effort.
As an Amazon seller, partnering with a reliable, efficient, and trustworthy 3PL warehouse such as FBA Prep Logistics is a game-changer for your business. Our expertise in navigating FBA requirements, excellent inventory management, cost savings, and commitment to client satisfaction will provide you the peace of mind you need to focus on other essential aspects of your e-commerce business, such as marketing and product development.
Join the ranks of successful Amazon sellers who've delegated their supply chain management to FBA Prep Logistics and start reaping the benefits today! Let us become your trusted partner in growing your Amazon business and achieving long-term success.
Frequently Asked Questions</h2>
<div itemscope itemtype="https://schema.org/FAQPage">
<div itemprop="mainEntity" itemscope itemtype="https://schema.org/Question">
<h3 itemprop="name">What are the services offered by FBA Prep Logistics?</h3>
<div itemprop="acceptedAnswer" itemscope itemtype="https://schema.org/Answer">
<p itemprop="text">FBA Prep Logistics offers a comprehensive set of services for Amazon sellers, including receiving, labeling, bundling, packaging, and shipping products. Our goal is to save you time and effort by handling these tasks, allowing you to focus on growing your e-commerce business.</p>
</div>
</div>
<div itemprop="mainEntity" itemscope itemtype="https://schema.org/Question">
<h3 itemprop="name">How does FBA Prep Logistics make inventory management easy?</h3>
<div itemprop="acceptedAnswer" itemscope itemtype="https://schema.org/Answer">
<p itemprop="text">At FBA Prep Logistics, we handle inventory management by providing you with real-time updates and complete visibility of your stock levels. This helps ensure that you never run out of products or experience stock-outs, maintaining optimum efficiency in your Amazon business.</p>
</div>
</div>
<div itemprop="mainEntity" itemscope itemtype="https://schema.org/Question">
<h3 itemprop="name">What are the cost savings of using FBA Prep Logistics as my 3PL warehouse?</h3>
<div itemprop="acceptedAnswer" itemscope itemtype="https://schema.org/Answer">
<p itemprop="text">By partnering with FBA Prep Logistics, you can enjoy cost savings in various aspects of your business, including lower shipping costs, reduced storage fees, and minimized chances of penalties and returns. Additionally, our commitment to meeting Amazon's strict requirements ensures quick and accurate order fulfillment, which leads to reduced returns and increased customer satisfaction.</p>
</div>
</div>
<div itemprop="mainEntity" itemscope itemtype="https://schema.org/Question">
<h3 itemprop="name">Can FBA Prep Logistics help my Amazon business grow?</h3>
<div itemprop="acceptedAnswer" itemscope itemtype="https://schema.org/Answer">
<p itemprop="text">Yes, FBA Prep Logistics aims to be your reliable partner in growing your Amazon business. By providing top-notch services and saving you time, money, and effort, we allow you to focus on strategic aspects of your e-commerce business, such as marketing, product development, and customer relations, in order to grow your sales and profits.</p>
</div>
</div>
<div itemprop="mainEntity" itemscope itemtype="https://schema.org/Question">
<h3 itemprop="name">Is FBA Prep Logistics suitable for new sellers who have never used a 3PL before?</h3>
<div itemprop="acceptedAnswer" itemscope itemtype="https://schema.org/Answer">
<p itemprop="text">Absolutely! FBA Prep Logistics understands that new sellers might be hesitant or unsure about using a 3PL warehouse for the first time. Our team is dedicated to addressing any concerns or doubts and guiding you through the process. We strive to make it as easy as possible for you to trust and partner with us so that your Amazon business can benefit from our efficient and cost-effective services.</p>
</div>
</div>
</div>