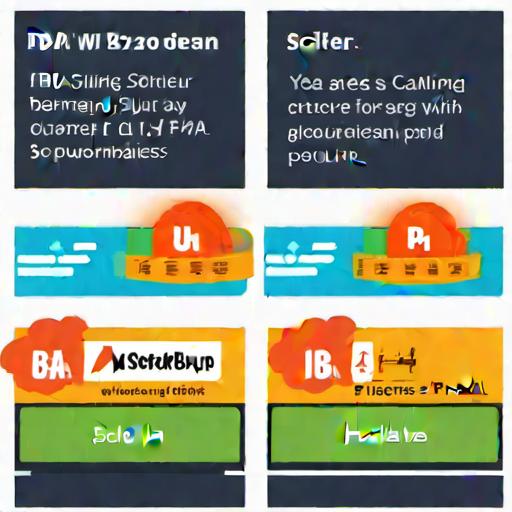 Introduction: The Advantages of Partnering with a 3PL for Amazon FBA
As an e-commerce business owner, you know that success in the ever-growing world of online shopping relies on continually enhancing customer experiences while maintaining operational efficiency. One crucial aspect of this business journey is setting up an efficient logistics and fulfillment system. That's where partnering with an expert Amazon FBA 3PL, like FBA Prep Logistics, comes into play, making your e-commerce operations more effective and, ultimately, improving sales.
The Rise of Amazon FBA
Amazon's Fulfillment by Amazon (FBA) program has transformed the e-commerce landscape by taking care of essential elements like storage, packaging, and shipping on behalf of sellers. This allows e-commerce entrepreneurs to focus on growing their businesses while Amazon handles the logistics.
Key Benefits of Partnering with a 3PL for Amazon FBA
However, Amazon FBA comes with its own set of strict requirements and challenges that sellers need to navigate. That's why partnering with an expert Amazon FBA 3PL, like FBA Prep Logistics, provides an effective, tailored solution for meeting these demands, offering several benefits for e-commerce sellers:
Expert Knowledge: A 3PL like FBA Prep Logistics is well-versed in Amazon FBA's rigorous requirements and can provide expert guidance on packaging, labelling, and shipping.

Seamless Inventory Management: FBA Prep Logistics will optimize and streamline your inventory management processes, boosting customer satisfaction and sales.

Customized Solutions: Every e-commerce business is unique, and FBA Prep Logistics understands this, offering individualized solutions tailored to your needs.
Improved Fulfillment Speeds: By leveraging FBA Prep Logistics' strategic location in Bristol, PA, you can ensure faster order fulfillment and shipping speeds.

Personalized Support: FBA Prep Logistics offers a dedicated team that provides personalized support to help grow your Amazon FBA business.
Join us as we dive deeper into these benefits and explore how working with FBA Prep Logistics, your expert Amazon FBA 3PL partner, can drive your e-commerce success to new heights. To further expand your understanding of the benefits an Amazon FBA 3PL can provide, take a look at our Ultimate Guide to 3PL Order Fulfillment for E-commerce.
Streamlined Inventory Management with FBA Prep Logistics
The Foundation of E-commerce Success
Efficient and accurate inventory management is the foundation of a successful Amazon FBA business. Proper organization and storage of products mean faster order processing, which ultimately leads to increasing sales. FBA Prep Logistics, your trusted Amazon FBA 3PL partner, offers streamlined inventory management services designed to optimize your e-commerce operations and ensure the smooth functioning of your Amazon FBA business.
Seamless Inbound Freight and Receiving Processes
When you choose FBA Prep Logistics as your 3PL provider, we handle all aspects of inbound freight coordination and ensure your products are received efficiently. To minimize the risk of delays and unexpected fees, we work closely with carriers and customs brokers to streamline the process for your e-commerce business.
Expert Handling and Storage Solutions
Once your inventory arrives at our warehouse in Bristol, PA, our team of experts takes utmost care in the handling and storage of your products. We implement strict measures to ensure items are stored in the best conditions possible, taking into consideration factors such as humidity, temperature, and weight distribution. Improve the Efficiency of Your Supply Chain with Kitting and Assembly Solutions will help you further understand the importance of proper storage and handling.
Advanced Inventory Tracking and Organization
FBA Prep Logistics utilizes state-of-the-art technology and advanced inventory tracking systems to ensure your products are organized accurately and efficiently. Our warehouse management system ensures your items are easily locatable and ready to be shipped whenever an order is placed. Furthermore, we update real-time inventory levels and offer clear visibility for you to have full control over your stock.
Cycle Counts and Inventory Audits
Inventory accuracy is vital for maintaining high seller ratings on Amazon and preventing stockouts. At FBA Prep Logistics, we conduct regular cycle counts and inventory audits to identify and rectify discrepancies early on. This proactive approach minimizes errors and ensures consistent inventory levels for a healthy e-commerce operation. Our Ultimate Guide to 3PL Order Fulfillment for E-commerce provides valuable insights into the importance of systematic inventory audits.
Efficient Restocking Alerts and Processes
Combining our inventory management expertise with your sales data, FBA Prep Logistics' system generates timely restocking alerts, informing you when it's time to replenish your inventory. These alerts help you avoid stockouts and the associated negative impact on your Amazon seller metrics. Once alerted, we coordinate with your suppliers to receive and process new stock, ensuring a continuous flow of inventory.
Returns and Waste Management
With efficient returns management, we ensure customers' returned items are processed swiftly, retaining a positive brand image on the Amazon platform. In addition, FBA Prep Logistics is committed to responsible waste management, ensuring that any damaged or expired products are disposed of in compliance with environmental regulations. Our dedication to sustainable operations is evident in our guide on How FBA Prep Centers Save Your Amazon Business Time and Money.
Boost Sales with Streamlined Inventory Management
Effectively managing your inventory is more than just about keeping everything organized; it plays an essential role in an e-commerce business' growth and success. The better the inventory management, the more satisfied your customers will be, leading to increased sales and a stronger presence in the Amazon marketplace.
FBA Prep Logistics, your ideal Amazon FBA 3PL partner, offers comprehensive inventory management services that ensure efficient organization, storage, and tracking of your products. With our streamlined solutions, your Amazon FBA business can provide consistent and exceptional customer experiences, ultimately leading to improved sales and market dominance.
Start enhancing your e-commerce operations today by choosing FBA Prep Logistics as your inventory management solution and revel in the benefits of a well-oiled Amazon FBA machine.
3. Expert Amazon FBA Preparation and Compliance
As an e-commerce business owner, meeting Amazon's strict packaging and labeling requirements is crucial to avoid costly errors, delays, and potential penalties that can hinder your success. This is where FBA Prep Logistics comes in as an experienced Amazon FBA 3PL partner to provide you with expert preparation and compliance services.
3.1. Understanding Amazon FBA Requirements
Navigating the complex maze of Amazon FBA guidelines can be overwhelming and time-consuming for online sellers. To ensure compliance, it's necessary to stay up-to-date with Amazon's ever-changing rules and regulations. However, this can be a tedious task when you have an entire business to run. That's where FBA Prep Logistics steps in to ease your burden. Our team of experts is well-versed in Amazon's FBA requirements and will ensure that your products are prepared and shipped according to Amazon's guidelines.
3.2. Expertise in Product Packaging and Labeling
Proper packaging and labeling of your products play a crucial role in enhancing the overall customer experience and maintaining brand reputation. When you partner with FBA Prep Logistics, you can rest assured knowing that your products will be packaged professionally with the right materials, ensuring optimal protection during transit.
Additionally, our team fully understands Amazon's labeling requirements, including barcode placement, FNSKU labels, and shipment labels. We'll take care of these crucial details for you, so you can focus on growing your business. Remember, an accurately labeled product reduces the risk of frustrating delays and helps improve your inventory management.
3.3. Expert Handling of Restricted Products
Handling restricted and regulated products on Amazon can be tricky. As an Amazon FBA 3PL, FBA Prep Logistics has the skills and experience to manage these types of products effectively. With a comprehensive understanding of the guidelines for restricted products, we'll make sure that your business complies with Amazon's rules and regulations.
3.4. Efficient Kitting and Assembly Solutions
FBA Prep Logistics offers kitting and assembly solutions that can help you increase your sales and cater to the unique needs of your customers. By bundling products and offering personalized packages, you can enhance the value of your offerings, thereby boosting customer satisfaction. We'll handle the entire process efficiently, taking care of product bundling, labeling, and packaging, all while maintaining Amazon FBA's strict compliance.
3.5. Seamless Integration with Your Amazon Seller Account
At FBA Prep Logistics, we understand the importance of smooth, seamless integration with your Amazon Seller Account. Our systems are designed to sync seamlessly with your account, ensuring that all the necessary information is accurately updated and tracked. This makes it easier for you to manage your inventory, orders, and shipments without any hassle.
3.6. Quality Control and Inspection
One of the key aspects of a successful Amazon FBA business is maintaining a high-quality standard for your products. At FBA Prep Logistics, we take quality control very seriously – our team of specialists will thoroughly inspect your products before they are shipped to Amazon's warehouses, ensuring that they meet Amazon's stringent guidelines. This helps you maintain a solid reputation and ensures that you offer a consistent, high-quality experience to your customers.
3.7. Cost Savings and Efficiency
By partnering with a reliable Amazon FBA 3PL like FBA Prep Logistics, you can save time, effort, and money. Our services eliminate the need for you to invest in expensive equipment, storage space, and manpower for preparing and shipping your products. This ensures that you can maintain a lean and efficient operation, freeing up resources to focus on other aspects of your business.
Investing in expert Amazon FBA preparation and compliance services from FBA Prep Logistics is a wise choice for any e-commerce business owner looking to improve sales and customer satisfaction. By trusting us to handle these critical processes, you'll reduce errors, delays, and penalties, streamlining your operations and setting your business up for success on the Amazon platform.
Faster Order Fulfillment and Shipping Speeds
One of the key advantages of partnering with a professional Amazon FBA 3PL like FBA Prep Logistics is the increased speed at which your orders will be fulfilled and shipped. By utilizing our strategic location in Bristol, PA, along with our experienced team, we can assure that your products reach Amazon's warehouses more quickly than if you were to handle fulfillment in-house. Here's how:
4.1 Strategic Location
Our warehouse in Bristol, PA is conveniently located in close proximity to major transportation hubs and Amazon fulfillment centers. This ensures that your products arrive at their destination quickly and with minimal shipping costs. Our location makes it easy for us to access a variety of shipping methods such as air, ground, and even sea transport, which means we can offer you the most cost-effective options to keep your shipping expenses low.
4.2 Experienced Team
FBA Prep Logistics is not just any ordinary Amazon FBA 3PL – we have a team of skilled professionals who are well-versed in all aspects of e-commerce fulfillment. Our staff is committed to ensuring that your products are prepared and shipped according to Amazon's exacting standards, making the process as efficient as possible.
4.3 Streamlined Picking and Packing Process
Our warehouse is specifically designed to facilitate an optimized picking and packing process that allows for faster order turnaround. Our state-of-the-art inventory management system and barcode technology streamline our operations and enable our team to quickly locate and retrieve products when fulfilling orders. This eliminates time-consuming manual searches and reduces the likelihood of errors.
4.4 Quick Turnaround Time
At FBA Prep Logistics, we understand the importance of getting your orders out to Amazon as quickly as possible. A shorter lead time for your products means improved product rankings, a higher likelihood of winning the Buy Box, and ultimately, more sales.
4.5 Faster Delivery to Amazon's Warehouses
When working with FBA Prep Logistics as your Amazon FBA 3PL, you can expect your products to be shipped out to the Amazon warehouse without delay. Our efficient processes, strategic location, and strong relationships with reputable carriers ensure that your shipments will arrive at Amazon's fulfillment centers in the shortest possible time frame. This means you can start selling sooner and capitalize on Amazon's vast customer base.
4.6 Improved Product Rankings and Buy Box Chances
Time is of the essence in the competitive world of Amazon e-commerce, and faster order fulfillment can give you a significant advantage over your competitors. By shortening the lead time for your products, FBA Prep Logistics helps improve your product rankings on Amazon. This, in turn, increases the likelihood of your products being featured in the Buy Box, which can dramatically boost your sales.
4.7 Get Prime Eligibility
Another benefit of faster fulfillment and shipping is that your products can easily become eligible for Amazon Prime. By meeting Amazon's criteria for fast shipping (usually within two days), your products can display the coveted Prime badge, which can lead to increased sales from millions of Amazon Prime customers who prioritize speed and convenience.
In summary, FBA Prep Logistics' faster order fulfillment and shipping speeds offer numerous benefits to your e-commerce business. By ensuring that your products get to Amazon's warehouses quickly and efficiently, you can take advantage of better product rankings, an increased likelihood of winning the Buy Box, Prime eligibility, and ultimately, more sales. Partner with FBA Prep Logistics today and give your Amazon FBA business the competitive edge it needs.
Customizable Solutions and Personalized Support
At FBA Prep Logistics, we understand that every e-commerce business is unique, and that's precisely why we strive to provide tailor-made solutions to cater to your individual needs. Our personalized support helps take your Amazon FBA 3PL experience to the next level. In this section, we'll discuss various aspects of our customizable solutions and high-quality support, which will give you an edge over your competition.
Understanding Your Business for Developing Customized 3PL Plans
Our team at FBA Prep Logistics spends ample time in understanding your business requirements, goals, and needs. By doing so, we can create a 3PL plan that aligns with your business operations and facilitates your growth on Amazon.
Storage and Warehouse Solutions
We offer scalable storage solutions that adapt to your specific inventory size and growth. Our state-of-the-art warehouse management system (WMS) accommodates different types of products and storage conditions, ensuring they remain organized and readily available.
Specialized and Seasonal Service Offerings
FBA Prep Logistics recognizes that your e-commerce business may require specialized services at different stages or during peak seasons. Our team is equipped to handle special packaging needs, promotional inserts, and kitting, among other services. Our quick adaptability to seasonal demands means you will never fall short during those crucial high-sales periods.
Efficient Returns Management
Our customizable returns management process ensures that your Amazon FBA returns are processed quickly and efficiently. We work with you to determine the best course of action for each returned item, be it inspecting, repackaging, or discarding, maximizing your revenue recovery and reducing waste.
A Dedicated Support Team at Your Disposal
At FBA Prep Logistics, our goal is to provide exceptional personalized support to help you grow your Amazon FBA business. Our customer service team is always available to address your concerns and queries, and ensure that you have a seamless 3PL experience.
24/7 Support and Communication
We provide round-the-clock support and communication to keep you updated on the status of your inventory and orders. Our team works closely with you, providing proactive updates and addressing any issues promptly.
A Single Point of Contact
Our clients have access to a dedicated account manager who serves as a single point of contact for all their 3PL needs. The account manager works closely with you to understand your business objectives and ensures that our solutions align with those goals, resulting in improved overall performance and increased sales.
Transparent Reporting
We believe in maintaining complete transparency with our clients. FBA Prep Logistics provides detailed reporting, which includes inventory levels, shipment statuses, and other vital data to keep you in the loop at all times.
Flexibility to Adapt to Your Changing Needs
As your e-commerce business grows, your Amazon FBA 3PL requirements will undoubtedly change. Our flexible service offerings adapt to accommodate your evolving needs, allowing you to focus on seizing new opportunities and scaling your business with confidence.
Real-time Updates and Adaptations
Our advanced WMS provides real-time updates and can adjust to varying inventory levels, order volumes, and workflows. This empowers us to adapt to your business needs without impacting your customers' experience.
The Capability to Handle Complex Requirements
Whether your products have unique packaging requirements or your business operates in a niche market, we, at FBA Prep Logistics, have the skills and expertise to cater to a diverse range of needs. Our team stays updated on the latest Amazon FBA policies and actively seeks creative solutions, ensuring your e-commerce business thrives and maintains its competitive edge.
In conclusion, FBA Prep Logistics helps skyrocket your sales by offering customized solutions and unparalleled personalized support. Our dedicated account managers and comprehensive service offerings equip you with everything needed to make your Amazon business a success. Experience the FBA Prep Logistics difference for yourself and join our growing family of satisfied clients today!
Frequently Asked Questions
How does FBA Prep Logistics ensure efficient inventory management?

FBA Prep Logistics provides expert inventory management services, such as proper storage, organization, and tracking of your products. This ensures quick, efficient fulfillment, leading to increased customer satisfaction and sales.

What makes FBA Prep Logistics an expert in Amazon FBA compliance?

With extensive knowledge and experience, our team at FBA Prep Logistics takes care of all your Amazon FBA packaging and labeling requirements, including compliance with proper shipment preparations. This prevents costly errors, delays, and penalties to your e-commerce business.

How does FBA Prep Logistics help improve order fulfillment and shipping speeds?

Our strategic location in Bristol PA, coupled with an experienced team, ensures fast order fulfillment and on-time delivery to Amazon's warehouses. This shortens lead times, improves your product rankings, and increases your chances of winning the Buy Box.

What kind of customizable solutions does FBA Prep Logistics provide?

FBA Prep Logistics understands every e-commerce business is unique and offers tailor-made solutions to suit your specific needs. Combined with personalized support, we help you grow your Amazon FBA business and gain a competitive edge against rival sellers.

Why should I choose FBA Prep Logistics as my Amazon FBA 3PL partner?

Partnering with FBA Prep Logistics gives you access to expert inventory management, Amazon FBA compliance, fast order fulfillment, customizable solutions, and personalized support. These benefits lead to improved sales and streamlined operations, making us the ideal choice for your Amazon FBA 3PL partner.