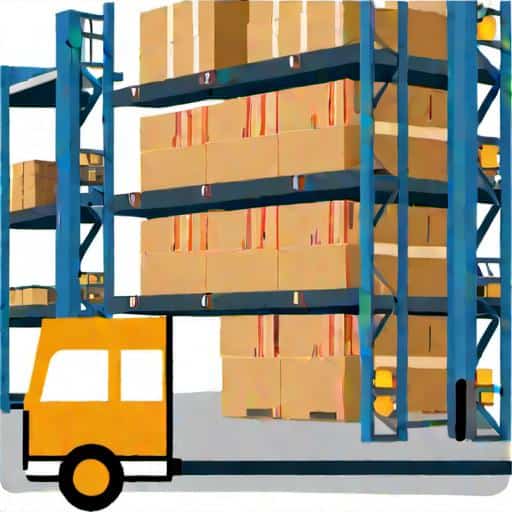 Introduction to Choosing the Right 3PL Provider for Your Business
As an e-commerce business owner, you're no stranger to the countless challenges of running a successful venture in today's online market. One of the most crucial decisions you'll make is finding the right Third-Party Logistics (3PL) provider to partner with. This is where Fulfillment 3PL services like FBA Prep Logistics come in – a reliable and efficient logistics solution created specifically for e-commerce sellers such as yourself.
In this guide, we'll explore the key benefits of working with FBA Prep Logistics as your 3PL fulfillment partner, so let's dive in!
Why Choosing the Right 3PL Partner Matters
Your decision about whom to trust with the logistics needs of your e-commerce business can significantly impact your overall success. Here are just a few reasons why it's so important to choose the right Fulfillment 3PL partner:
Hassle-free Operations
Partnering with the right 3PL provider allows you to focus on other aspects of your business, such as marketing, sales, and product development, while someone else takes care of the vital logistics tasks like order fulfillment, shipping, inventory management, and product packaging.
Customer Satisfaction
A seamless and efficient logistics process provided by a dependable Fulfillment 3PL can lead to an overall improvement in customer satisfaction and positive reviews, which are essential for winning the trust of potential buyers. Satisfied customers are more likely to recommend your business to others, leading to an increase in sales, repeat purchases, and customer loyalty.
Scalability and Growth
The right 3PL partner understands the unique needs of your e-commerce business and can offer flexible, scalable solutions to support your growth plans and expansion efforts. This not only allows your business to grow more quickly but helps you to manage logistics and operational costs.
Competitive Edge
In the world of e-commerce, you simply can't afford to lag behind your competitors. A reliable Fulfillment 3PL provider like FBA Prep Logistics enables you to continually optimize your logistics processes, ensuring that your customers receive their orders in a timely manner and your e-commerce operations are running smoothly.
Shortlisting Your 3PL Partner
There are several factors to consider while shortlisting your potential Fulfillment 3PL partners. Some of these include:
Reputation and reliability
Industry expertise and experience with e-commerce businesses
Range of services offered to cover your business needs
Ease of communication and responsive customer support
Affordability and pricing structure that suits your budget
With these considerations in mind, FBA Prep Logistics emerges as the perfect choice for your e-commerce business. In the following sections, we'll further discuss the wide range of services offered by FBA Prep Logistics, the distinct advantages it offers for Amazon sellers, how partnering with us can enhance your customer experience, and how our scalable solutions can efficiently support your business growth and expansion plans.
So, take the leap! Give your e-commerce business the competitive advantage it deserves with FBA Prep Logistics – your ultimate Fulfillment 3PL partner!
FBA Prep Logistics: A Comprehensive Fulfillment Solution
When it comes to managing your e-commerce business and selling on Amazon, having an all-encompassing fulfillment partner is crucial for success. FBA Prep Logistics offers a wide range of services to support your business operations, allowing you to focus on growth and customer satisfaction. So why choose FBA Prep Logistics as your go-to fulfilment 3PL? Let's find out!
Tailored Services for E-Commerce Sellers
FBA Prep Logistics is uniquely designed to cater to e-commerce sellers' needs. Our services are tailored to cover all aspects of your business, from order fulfillment to inventory management and product packaging. As a dedicated fulfilment 3PL provider, we understand the challenges faced by e-commerce retailers and have developed efficient processes to support and streamline your business operations.
Order Fulfillment
Fulfilling orders on time and accurately is essential for maintaining a high level of customer satisfaction. At FBA Prep Logistics, we take care of all the steps involved in order fulfillment, ensuring that your products reach your customers as quickly as possible.
Our state-of-the-art warehouse facilities strategically located in Bristol, PA, enables us to provide fast, reliable, and efficient order processing. We accept bulk shipments, store your inventory securely, and pick, pack, and ship orders as they come in. Moreover, we use sophisticated fulfillment software that integrates with your e-commerce platform, allowing for real-time tracking and reporting on the status of your orders.
Inventory Management
Accurate inventory management can make or break an e-commerce business. Thanks to our advanced inventory management system, you can keep track of your stock levels in real-time with full transparency, ensuring that you never run out of stock or face excessive holding costs.
With our fulfilment 3PL services, not only do we store your inventory securely, but we also monitor your stock levels and provide alerts when it's time to restock. With our expert guidance, you can make informed decisions about when and how much to replenish to avoid stockouts and overstocking.
Product Packaging and Labeling
At FBA Prep Logistics, we recognize the importance of product presentation in driving sales and building a strong brand image. That's why we offer customized packaging and labeling services to make your products stand out in the crowded e-commerce marketplace.
We're proficient in designing unique, high-quality packaging solutions that match your brand's aesthetic and protect your products during transit. Additionally, our labeling services ensure that your products meet all the necessary regulations and requirements, preventing costly delays and errors.
Flexible and Customizable Solutions
Our teams at FBA Prep Logistics understand that no two e-commerce businesses are the same, and that your specific needs and requirements might evolve as you grow. We take pride in offering flexible and customizable solutions for your fulfillment needs, allowing you to adapt and scale your operations as necessary.
Whether you need seasonal support during peak periods or long-term fulfillment solutions, we can work with you to develop a customized plan that suits your specific business requirements. With FBA Prep Logistics, you can trust that our fulfilment 3PL services will keep up with your expanding e-commerce enterprise.
Seamless Integration with Your E-Commerce Platform
Imagine having access to an integrated system that allows for seamless communication between your e-commerce platform and fulfillment process. At FBA Prep Logistics, our advanced software integration capabilities ensure a smooth and streamlined data exchange between your online store and our fulfillment center.
By connecting your e-commerce platform directly with our fulfilment 3PL services, you gain access to critical order and inventory information in real-time. This integration makes managing your inventory, tracking orders, and forecasting demand simpler and more efficient, maximizing your e-commerce business's productivity.
In conclusion, partnering with FBA Prep Logistics as your fulfilment 3PL provider will significantly streamline your e-commerce operations, allowing you to focus on what truly matters: growing your business and keeping your customers happy. Our comprehensive fulfillment solutions, customized services, and advanced technology integration capabilities place us at the forefront of e-commerce logistics. So why wait? Take your e-commerce business to new heights with FBA Prep Logistics by your side.
3. Why FBA Prep Logistics is the Perfect Partner for Amazon Sellers
As a medium-sized e-commerce business that mainly sells on Amazon.com, you might be skeptical of using a fulfilment 3PL service for the first time. However, let us assure you that FBA Prep Logistics is the go-to choice for Amazon sellers like you. As we delve deeper into the specific advantages of partnering with FBA Prep Logistics, you'll soon realize that we are here to facilitate your growth and streamline your logistics for Amazon shipments. Some of the advantages include:
3.1 FBA-Compliant Services
When it comes to Amazon, complying with their strict Fulfillment by Amazon (FBA) requirements is crucial to avoiding unnecessary penalties and issues. At FBA Prep Logistics, we have extensive knowledge of Amazon's policies, and our fulfilment 3PL services are specifically designed with Amazon sellers in mind. Our team ensures:
Proper labeling of items, including barcodes and Amazon-specific labels
Efficient packaging that adheres to Amazon's guidelines and reduces shipping costs
Quality checks before shipments and returns management for potential damages or missing items
3.2 Streamlined Logistics for Amazon Shipments
When your e-commerce business relies heavily on Amazon sales, it is essential to have a fulfilment 3PL partner who understands the intricacies of the Amazon ecosystem. FBA Prep Logistics simplifies and optimizes the following aspects of your supply chain management:
Inventory tracking and forecasting for a seamless stock replenishment process
Swift delivery to Amazon Fulfillment Centers, ensuring lower lead times and faster storage on Amazon's shelves
A reliable returns management process, compliant with Amazon policies, which helps improve customer satisfaction
3.3 Expert Advice on Supply Chain Management
As a first-time user of fulfilment 3PL services, you might have questions or concerns about managing an efficient and cost-effective supply chain. FBA Prep Logistics provides expert advice on supply chain management to help you optimize your operations and make the best decisions for your e-commerce business. Our guidance includes:
Strategic planning to optimize storage costs and maximize profits
Recommendations on the order management systems and eCommerce integrations
Tips on optimizing your product listing and shipment strategies, based on Amazon best practices
3.4 Customized Solutions for Your Business Needs
Every e-commerce business is unique, and its fulfilment 3PL requirements can vary. FBA Prep Logistics recognizes this and offers customized solutions tailored to your specific needs. We work closely with our clients to understand their goals, needs, and challenges, so we can provide the best possible support for their Amazon sales. Our customized solutions include:
Flexible storage options that adjust to your specific inventory fluctuations
A range of shipping methods best suited for your products and customer base
PICK and PACK services that accommodate various packaging requirements, including gift wrapping and branded packaging
3.5 Competitive Pricing and Transparent Billing
One major concern when considering a fulfilment 3PL partner is the cost implications for your e-commerce business. At FBA Prep Logistics, we believe in offering competitive pricing without hidden fees, enabling you to focus on your core business without worrying about the logistics. Our pricing model is transparent, allowing you to:
Enjoy reduced overhead costs, as we handle the warehousing, fulfilment, and shipping
Incorporate our 3PL pricing into your overall e-commerce strategy, ensuring you maintain profitability
Access detailed billing and reports to efficiently manage your expenses and monitor cost savings in real-time
Still unsure? Check out our ultimate guide to 3PL pricing for e-commerce for a comprehensive insight into what you can expect when partnering with us.
3.6 Time-Saving to Focus on Your Core Business
As the owner of a growing e-commerce enterprise, you already have plenty on your plate. By entrusting FBA Prep Logistics with your Amazon fulfilment 3PL tasks, you can free up valuable time to concentrate on the core aspects of your business, such as product sourcing, marketing, and customer relationships. Our expert team ensures efficient handling of your logistics, allowing you to:
Expedite product listing and sales, resulting in increased revenue
Allocate more resources to marketing and advertising efforts
Forge stronger relationships with key suppliers and partners for long-term success
To wrap it up, partnering with FBA Prep Logistics as your fulfilment 3PL for your Amazon-focused e-commerce business is undeniably beneficial. Our FBA-compliant services, streamlined logistics, expert guidance, and customized solutions not only simplify your operations but also pave the way for your brand's long-term success and growth. It's time to take your e-commerce business to new heights with FBA Prep Logistics as your trusted 3PL partner.
Enhance Your Customer Experience with FBA Prep Logistics
When it comes to running a successful e-commerce business, one of the key factors is to provide an exceptional customer experience. This aspect can significantly help in building customer loyalty, attracting new customers and increasing sales. Fulfilment 3PL service providers, like FBA Prep Logistics, can play a crucial role in enhancing your customer experience. Let's take a closer look at how partnering with FBA Prep Logistics can contribute to your business's success in this area.
Reliable and Fast Shipping Process
One major element that contributes to a positive customer experience is quick and reliable delivery. FBA Prep Logistics ensures that your orders are processed and shipped promptly, significantly reducing delivery times. As a result, your customers are more likely to leave positive reviews, recommend your business to others, and become repeat customers.
Order Accuracy and Quality Assurance
There's nothing more frustrating for customers than receiving an incorrect, damaged or poorly packaged product. FBA Prep Logistics takes the responsibility for order accuracy and offers quality assurance in every aspect of the fulfilment process. With a meticulous sorting, packing, and shipping system, FBA Prep Logistics minimizes errors and ensures your customers receive their orders in pristine condition.
Enhanced Returns Management
An efficient returns process is a vital aspect of great customer service. FBA Prep Logistics understands this and offers a hassle-free returns management system to assist your customers. By streamlining the returns process, your customers can feel confident in purchasing from your e-commerce store, knowing that they will be taken care of in case they need to return any products.
Real-Time Inventory and Order Tracking
In today's fast-paced e-commerce world, customers appreciate transparency and real-time updates on their orders. FBA Prep Logistics provides you with real-time inventory management and sophisticated order tracking, which you can share with your customers. This level of transparency helps build trust with your customers, leading to increased customer loyalty and repeat business.
Customized Packaging and Branding
FBA Prep Logistics also understands the importance of maintaining your brand identity throughout the fulfilment process. They offer customized packaging and branding options to ensure that your products stand out from the competition. This attention to detail helps create a memorable unboxing experience, further solidifying your brand's reputation among your customers.
Exceptional Customer Support
When enlisting the help of a fulfilment 3PL provider like FBA Prep Logistics, you're not merely hiring a service provider, but acquiring a dedicated partner committed to ensuring the success of your e-commerce business. FBA Prep Logistics takes this partnership seriously and backs its services with top-notch customer support, ready to address any concerns that may arise and ensure smooth operations at all times.
Reduced Shipping Costs
FBA Prep Logistics leverages its network of shipping partners and strategically located warehouses, allowing them to offer competitive shipping rates for your e-commerce business. By reducing shipping costs, you can pass on these savings to your customers, making your products more attractive and further improving customer satisfaction.
Scalability for Peak Sales Periods
During peak sales periods like holidays and special promotions, increased order volumes could strain your logistics operations. Fortunately, FBA Prep Logistics can seamlessly scale its services to address those fluctuating demands and ensure timely deliveries, even during peak periods. This allows you to keep your customers happy and maintain a positive brand reputation, regardless of order volume.
In conclusion, by partnering with FBA Prep Logistics, your e-commerce business can greatly enhance its customer experience by offering fast shipping, accurate order fulfilment, efficient returns management, and unparalleled support. By prioritizing customer satisfaction, FBA Prep Logistics helps drive positive reviews, customer loyalty, and increased sales for your e-commerce business, making them the ideal partner for your fulfilment needs.
5. Expanding Your E-Commerce Empire with FBA Prep Logistics
As your e-commerce business continues to grow, you'll require a fulfillment 3PL partner capable of supporting your expansion efforts. Partnering with FBA Prep Logistics provides you with scalable solutions that keep your operational and logistics costs in check while allowing you to pivot and grow efficiently. This section will provide a deeper understanding of how FBA Prep Logistics can empower your e-commerce business for long-term success.
5.1 Tailor-made Solutions for Your Unique Needs
FBA Prep Logistics offers tailor-made solutions for your ever-evolving business needs. Our customizable services are designed for businesses of all sizes, and we can support you through various growth stages. As your order volume changes, FBA Prep Logistics can easily adapt and accommodate your requirements. This flexibility allows you to focus on expanding your business without worrying about how to handle increased order fulfillment needs.
5.2 Advanced Inventory Management for Seamless Expansion
Effective inventory management is essential to your e-commerce business' smooth operations and expansion. FBA Prep Logistics offers advanced inventory management systems that easily adapt as your business grows. Regardless of your business expansion plans, our inventory management tools provide you with real-time updates and insights, enabling you to stay in control of your stock and avoid overstocking or stockouts. This ensures that we can scale alongside your business and keep operations running smoothly, even amidst rapid growth.
5.3 Geographic Expansion Made Easier
Forging partnerships with international marketplaces and expanding your e-commerce brand across different regions can be a complex and daunting process. FBA Prep Logistics simplifies this challenge by facilitating the shipping and logistics needs of your international orders. Our comprehensive understanding of e-commerce businesses allows us to liaise with global carriers and navigate complex customs requirements, enabling you to expand into international markets with ease.
5.4 Reduce Overhead While Scaling Your Business
As your business grows, managing logistics in-house can become overwhelming and costly. Partnering with fulfillment 3PL companies like FBA Prep Logistics saves you time and money by streamlining your logistics processes. Rather than investing in additional warehouse space, staff, and resources, FBA Prep Logistics manages fulfillment operations at scale, allowing you to focus on higher-impact aspects of your business to accelerate growth.
5.5 Seasonal Fluctuations Handled with Ease
One major advantage of partnering with FBA Prep Logistics is our ability to accommodate seasonal fluctuations in sales volume. As the experts in e-commerce, we understand that some months may be busier than others and that being agile and responsive is essential to your business success. Our scalable solutions ensure the smooth handling of peak order periods while maintaining our commitment to efficient, cost-effective delivery and customer service.
5.6 Leveraging Data-driven Insights for Continuous Improvement
To support your e-commerce business expansion, access to in-depth data and insights is crucial. FBA Prep Logistics provides robust reporting that offers actionable insights, helping you monitor and improve your logistics performance while you expand into new markets or products. Such comprehensive data-driven analysis empowers you to make informed decisions for your business growth strategies.
5.7 Expert Support for Any Challenges Ahead
E-commerce businesses face a multitude of unique challenges. Partnering with FBA Prep Logistics means you have access to a team of logistics experts who can guide, advise, and support you throughout your company's growth journey. Our expertise in e-commerce logistics ensures your expanding business has a supportive, knowledgeable partner at each step of the way, helping to avoid pitfalls and leverage growth opportunities.
In conclusion, FBA Prep Logistics is the ideal partner for your expanding e-commerce empire. Our tailor-made solutions, advanced inventory management, geographical expansion support, and expert guidance cater to all the unique needs of a growing e-commerce business. With FBA Prep Logistics as your fulfillment 3PL, navigating the challenges of e-commerce growth becomes a much simpler and more efficient process, allowing you to focus on what truly matters: long-term business success.
FAQs
1. What makes FBA Prep Logistics a reliable 3PL provider for e-commerce businesses?
FBA Prep Logistics is a reliable 3PL provider for e-commerce businesses because we offer a comprehensive set of services tailored to fit your needs. Our services include order fulfillment, inventory management, and product packaging specifically designed for e-commerce sellers. Moreover, our dedicated team of experts provides personalized support and guidance to help you navigate the complexities of supply chain management.
2. How does FBA Prep Logistics support Amazon sellers specifically?
We understand the unique needs and requirements of Amazon sellers, and have designed our services to cater to these demands. FBA Prep Logistics offers FBA-compliant services, ensuring that your shipments to Amazon meet their guidelines. We also help streamline logistics for Amazon shipments, allowing you to focus on growing your business instead of worrying about shipping and logistics.
3. Can FBA Prep Logistics improve my e-commerce business's customer experience?
Yes, FBA Prep Logistics can significantly enhance your e-commerce business's customer experience. Our fast and reliable fulfillment services ensure that your customers receive their orders quickly and accurately. By delivering a seamless shopping experience, we help you maintain customer satisfaction, receive positive reviews, and ultimately, drive increased sales.
4. Is FBA Prep Logistics capable of handling my e-commerce business's growth and expansion?
Absolutely! FBA Prep Logistics offers scalable fulfillment solutions designed to support your e-commerce business's growth and expansion plans. As your business scales up, we can easily accommodate the increased volume of orders and manage your logistics, allowing you to focus on growth without the added burden of operational costs.
5. How does FBA Prep Logistics ensure the efficient management of my e-commerce inventory?
FBA Prep Logistics employs a streamlined inventory management system to accurately track, manage, and maintain your product inventory. We ensure that your inventory is updated in real-time, preventing stockouts and overselling. Our team also provides valuable insights to help you make data-driven decisions on inventory optimization and demand forecasting.