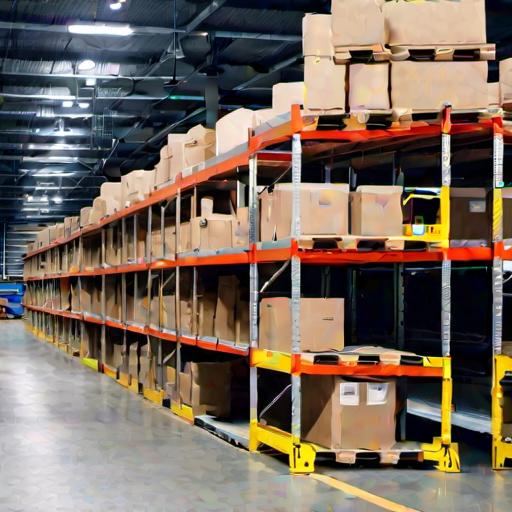 Why Toronto's E-commerce Businesses are Trusting 3PLs
Introduction
Toronto's e-commerce market has been experiencing rapid growth in recent years. For online businesses to succeed in this competitive environment, efficient supply chain management is more important than ever. With a multitude of tasks to juggle, many e-commerce companies have now turned to third-party logistics (3PL) providers for their supply chain needs. In this article, we'll discuss why e-commerce businesses should partner with 3PLs, like FBA Prep Logistics, as well as the numerous advantages they provide.
The Growing E-commerce Market in Toronto
As the largest city in Canada, Toronto has seen a significant increase in e-commerce activity, fueled by technological advancements and changing consumer preferences. This makes the city an attractive destination for new and existing businesses, which also translates to an increased need for reliable third-party logistics.
The Importance of Efficient Supply Chain Management
Efficient supply chain management is critical to an e-commerce company's success. In the fast-paced world of online sales, customers expect quick delivery, precise tracking, and stellar customer service. Managing the supply chain effectively not only ensures customer satisfaction but also allows businesses to minimize costs and stay ahead of competition.
How 3PLs Can Help Improve Supply Chain Operations
3PLs come into play by offering a comprehensive range of services, from warehousing and inventory management to order fulfillment and shipping. By outsourcing these tasks to an experienced 3PL, e-commerce businesses can focus on their core competencies, such as marketing and product development. Additionally, partnering with a 3PL like FBA Prep Logistics can help bridge the gap between a company's current capabilities and the ever-evolving demands of the market.
To understand the benefits of partnering with a 3PL in Toronto, we'll delve into the cost savings, improved inventory management, scalability, and the ability to focus on core business activities in the next section of this article.
So, if you're an e-commerce business owner in Toronto looking for ways to optimize your supply chain and gain a competitive edge, read on to discover why partnering with FBA Prep Logistics should be at the top of your list.
Benefits of Partnering with a 3PL in Toronto
As the e-commerce industry continues to flourish in Toronto, more and more businesses are looking for ways to streamline their supply chain operations. This is where partnering with a 3PL service can be a game changer. In this section, we will discuss the various advantages that Toronto-based e-commerce businesses can enjoy by collaborating with a 3PL like FBA Prep Logistics.
Cost Savings through Efficient Shipping Processes and Bulk Discounts
One of the most significant benefits of working with a 3PL is the potential for cost savings. A professional 3PL in Toronto, like FBA Prep Logistics, has established relationships with shipping carriers. These relationships allow them to negotiate better shipping rates, utilize bulk discounts, and manage your shipping process more efficiently. This, in turn, helps to reduce overall shipping costs, making your business more competitive and profitable. Plus, saving money with a 3PL company can greatly impact your bottom line.
Improved Inventory Management with Advanced Tracking and Forecasting Systems
3PLs specialize in inventory management by using sophisticated tracking and forecasting systems. These systems give your business the ability to monitor your inventory levels and product movement in real-time. They also provide valuable data to make informed decisions about stock replenishment, helping you optimize inventory levels and reduce carrying costs. Furthermore, having access to their advanced tracking systems can help ensure a seamless E-commerce Order Fulfillment process.
Scalability: Expand Your Operations without Investing in Additional Warehouse Space
By partnering with a 3PL, Toronto-based e-commerce businesses can scale their operations and meet fluctuating demand more efficiently. This is particularly beneficial for online sellers who experience seasonal changes in sales. A 3PL service like FBA Prep Logistics provides additional storage and fulfillment capacity on an as-needed basis. This means your business doesn't have to invest in extra warehouse space, which can be costly and time-consuming to manage. Instead, your focus can remain on growing your business.
Focus on Core Business Activities while the 3PL Handles Supply Chain Operations
Outsourcing your supply chain management to a reliable 3PL in Toronto will enable you to concentrate on your core business activities, such as marketing, product development, and customer relations. With a 3PL like FBA Prep Logistics handling your warehousing, shipping, and packaging needs, you and your team can spend more time on strategic planning and growing the business.
Seamless Cross-border Operations
Toronto e-commerce businesses that sell to customers in the United States can benefit from a 3PL that specializes in cross-border operations. A 3PL like FBA Prep Logistics understands the complexities of customs clearance, tax compliance, and international shipping requirements. By outsourcing these tasks to a knowledgeable 3PL, your business can seamlessly expand its reach to international customers, gaining a competitive edge in the global market.
Access to Expertise and Best Practices in Logistics
By partnering with a seasoned 3PL in Toronto, you have access to their wealth of experience and knowledge in logistics and supply chain management. They can help your business avoid common logistics pitfalls and implement best practices to optimize your operations. For example, FBA Prep Logistics offers hassle-free Amazon FBA prep services that help online sellers meet Amazon's strict requirements, ensuring a smooth and successful fulfillment process.
In conclusion, by partnering with a 3PL like FBA Prep Logistics, Toronto-based e-commerce businesses can benefit from cost savings, improved inventory management, scalability, and a focus on core business activities. Additionally, they can enjoy seamless cross-border operations and access to best practices in the logistics industry. These advantages can, in turn, contribute to the overall success and growth of your e-commerce business.
III. Why FBA Prep Logistics is the Top Choice for Toronto E-commerce Businesses
A. Local Presence in Bristol, PA
In a competitive e-commerce landscape, it is crucial for businesses to partner with a 3PL provider that understands the local market. FBA Prep Logistics' strategic location in Bristol, PA, close to the Canadian border, ensures a smooth and seamless connection with the Toronto market. With our 3PL Toronto services, businesses can cater to their Canadian customers more efficiently, reducing shipping times and ensuring customer satisfaction.
B. Specialization in Amazon FBA
As an e-commerce business, you know the importance of selling on Amazon.com. Our team at FBA Prep Logistics specializes in Amazon FBA services, ensuring that your products are prepped, packed, and shipped according to Amazon's strict guidelines. By partnering with us, you're entrusting your brand reputation to experienced professionals who genuinely understand the ins and outs of the Amazon e-commerce platform. This, in turn, allows you to focus on growing your business while we handle the complex processes of Amazon FBA fulfillment.
C. Customized Solutions for Each Client
Every e-commerce business has its unique requirements and challenges. At FBA Prep Logistics, we understand that adopting a one-size-fits-all approach won't cut it. That's why we offer customized solutions that cater to your specific needs and goals. Whether it's inventory forecasting, warehouse management, or shipping coordination, our 3PL Toronto services are tailored to address every aspect of your supply chain operations.
D. Exceptional Customer Service and Support
Customer service is a vital component of any successful collaboration. At FBA Prep Logistics, we take pride in offering top-notch customer support to all our clients. From the initial consultation to daily communication about your shipments, our dedicated account managers work tirelessly to ensure that every client feels valued and supported. As your trusted 3PL partner, we thrive on making your e-commerce journey as seamless and hassle-free as possible.
E. Cutting-Edge Technology and Automation
At FBA Prep Logistics, we use state-of-the-art technology and automation to streamline your supply chain processes. Our advanced tracking and forecasting systems offer real-time insights into your inventory levels and shipment statuses, enabling you to make informed decisions. This helps minimize the risk of stockouts and overstocks, ultimately saving your business time and money. By keeping up with the latest technological advancements in the industry, we strive to offer you the most efficient and accurate services possible.
F. A Proven Track Record of Success
Our years of experience serving e-commerce businesses in the Toronto area have helped us build a wealth of knowledge and expertise. Our proven track record of helping Toronto-based e-commerce businesses thrive speaks volumes about the quality and reliability of our services. Don't just take our word for it. Check out some of our success stories and see how we've been able to help other businesses like yours achieve their goals.
G. Secure and Scalable Warehousing Solutions
One of the main concerns for e-commerce businesses is finding secure and scalable warehouse space that accommodates inventory fluctuations throughout the year. FBA Prep Logistics offers flexible warehousing options that adapt to your changing business needs, ensuring that you don't have to worry about storage as your business grows. Toronto businesses can confidently partner with us, knowing that we have the capacity and security measures to safely store their products.
H. Proactive Approach to Problem-Solving
At FBA Prep Logistics, we believe in taking a proactive approach to problem-solving. Rather than waiting for issues to arise, we work with our clients to anticipate potential challenges and develop effective strategies to overcome them. This hands-on approach ensures that your supply chain operations run smoothly and efficiently, minimizing disruptions to your daily business activities.
In conclusion, partnering with FBA Prep Logistics for your 3PL Toronto needs offers numerous advantages such as local market expertise, Amazon FBA specialization, personalized solutions, exceptional customer support, cutting-edge technology, a proven track record, secure and scalable warehousing, and a proactive approach to problem-solving. By choosing FBA Prep Logistics, you can focus on what you do best—growing your e-commerce business—while we take care of the rest.
IV. Success Stories: How FBA Prep Logistics Helped Toronto Businesses Achieve Their Goals
A. Case Study 1: Overcoming Inventory Management and Fulfillment Challenges
One of our Toronto-based clients, a fast-growing e-commerce business selling specialized kitchen tools, came to us for help. They were struggling with inventory management and fulfillment. After partnering with FBA Prep Logistics, we implemented a streamlined, advanced tracking system that resolved their inventory management challenges. Moreover, we integrated our Hassle-Free Amazon FBA Prep Services and efficient shipping processes, which resulted in reduced fulfillment times. As a result, their customer satisfaction rates skyrocketed, and their business continued to grow.
B. Case Study 2: Meeting Scalability Demands without Adding Warehouse Space
Another Toronto-based e-commerce business, specializing in eco-friendly home decor products, was experiencing rapid growth. They realized that they needed scalable solutions for storage and shipping without investing in more warehouse space. FBA Prep Logistics stepped in and provided the perfect answer. With our scalable, flexible 3PL Fulfillment Service, they could expand their operations without worrying about warehouse capacity. This approach allowed them to dedicate more resources to product development and marketing, fueling their continuous growth.
C. Case Study 3: Supporting New E-commerce Businesses Through Supply-Chain Management
One of our success stories involves a Toronto-based entrepreneur who decided to start an e-commerce business selling athletic gear. With no prior experience in supply-chain management, they sought support and guidance from FBA Prep Logistics. We provided comprehensive assistance, covering everything from inventory management to shipping. Our experts guided them through the entire process and made sure every aspect of their supply chain ran smoothly. This partnership allowed them to focus on growing their business while leaving the complex logistics to us.
D. Enhanced Customer Service for All Toronto Clients
Every client we work with at FBA Prep Logistics receives exceptional customer service and support. Our dedicated team focuses on making every client feel valued and assisted, ensuring the best possible experience when partnering with us. Our top-notch customer service is an essential ingredient in the success of our Toronto-based clients, who can rely on us to provide timely, accurate, and helpful information as they grow their businesses.
E. Expanding Reach with Local Presence
With our local presence in Bristol, PA, we can offer seamless connections with the Canadian market, allowing e-commerce businesses in Toronto to expand their reach to customers across North America. This proximity has been a game-changer for many of our clients who have capitalized on this opportunity for business growth by partnering with FBA Prep Logistics.
F. Customized Solutions Make All the Difference
FBA Prep Logistics understands that every e-commerce business is different, requiring unique solutions to meet their specific requirements. By offering customized solutions for inventory management, shipping, and order fulfillment, we have been able to help Toronto-based businesses optimize their operations, reduce costs, and ultimately achieve their goals. By partnering with FBA Prep Logistics and tailoring our services to their needs, these businesses have gained a competitive advantage in the ever-evolving e-commerce landscape.
V. How to Get Started with FBA Prep Logistics in Toronto
A. Overview of the Onboarding Process for New Clients
Starting a partnership with FBA Prep Logistics is a seamless and straightforward process that puts your e-commerce business on the right track towards efficient and successful supply chain management. Here's a bird's eye view of the onboarding process:
Initial Consultation: Our experienced team members will discuss your needs, understand your business model, and provide insights into how our services can support your growth effectively.
Service Selection: Choose from our extensive list of services tailored for e-commerce businesses, like Hassle-Free Amazon FBA Prep Services in the USA, and design a custom solution that works best for your business.
Agreement and Integration: After agreeing on a service plan, our team will assist with the integration of our system, ensuring a smooth and hassle-free transition.
B. Key Steps, Information Needed, and Expected Timeline
To ensure efficient service and a smooth onboarding process, we suggest taking the following steps and providing the required information:
Provide essential details such as product types, sales volume, inventory size, and shipment frequency.
Sign up for account access to our online platform, which will provide real-time data on inventory, shipments, and tracking for complete transparency.
Discuss your shipping preferences and desired carriers.
Integrate our advanced inventory management system with your existing e-commerce platform and sales channels.
Coordinate with our team for a trial shipment or an initial test to verify the proper implementation of agreed-upon services, communication channels, and overall workflow.
The entire onboarding process can take anywhere from just a few days to a couple of weeks, depending on your business' scale and complexity. By following these steps and providing the necessary information, you'll be well on your way to leveraging the benefits of FBA Prep Logistics for your Toronto-based e-commerce business.
C. Get in Touch with Our Expert Team Today
Starting your journey towards more efficient and successful supply chain management is as simple as getting in touch with our expert team at FBA Prep Logistics. Our experienced professionals are well-versed in optimizing logistics for e-commerce businesses, making them some of the best resources you can access while navigating the world of supply chain management.
Whether you're a newer business just dipping your toes into e-commerce or a well-established organization in need of lean and optimized solutions to scale your operations, FBA Prep Logistics emphasizes our commitment to client success, making it an easy choice for your Toronto-based business. So, don't wait – contact us today and see the difference that a top-tier 3PL like FBA Prep Logistics can make in your supply chain operations!
Frequently Asked Questions
Why are e-commerce businesses in Toronto partnering with 3PL companies?

E-commerce businesses in Toronto are partnering with 3PL companies to improve their supply chain operations, cut costs on shipping and storage, and focus on their core business activities. By partnering with a reliable 3PL like FBA Prep Logistics, they are able to provide better customer service, scale up efficiently, and stay competitive in the market.

What are the benefits of partnering with FBA Prep Logistics for my Toronto-based e-commerce business?

FBA Prep Logistics offers Toronto e-commerce businesses various benefits, including cost savings through efficient shipping processes, improved inventory management, scalability, and peace of mind knowing your supply chain is in expert hands. Plus, with our specialization in Amazon FBA, we cater specifically to your platform of choice.

How is FBA Prep Logistics different from other 3PL providers?

FBA Prep Logistics is different from other 3PL providers due to our local presence, unique focus on Amazon FBA, and customized solutions designed to meet your business's requirements. We also pride ourselves on exceptional customer service and support, ensuring each client feels valued and has a smooth onboarding experience.

Can you share some success stories of FBA Prep Logistics helping e-commerce businesses in Toronto?

We have various success stories, such as helping a struggling business with inventory management and fulfillment issues, a growing business that needed scalable solutions without additional warehouse space, and a business new to e-commerce requiring support and guidance. Learn more about these stories here.

What is the onboarding process for new clients at FBA Prep Logistics in Toronto?

The onboarding process for FBA Prep Logistics involves a few key steps, including providing relevant information, discussing unique requirements, and setting up your account with our platform. Our team of experts will guide you throughout the process to ensure a smooth and hassle-free experience.