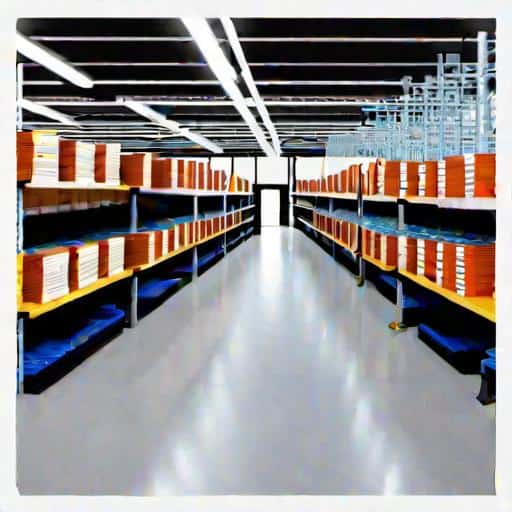 Introduction: The Growing Trend of Outsourcing to 3PL Fulfillment Centers
The e-commerce industry is booming, with millions of businesses selling their products online and striving to meet the ever-growing demands of customers. With increasing competition, it's more important than ever for brands to focus on streamlining their supply chain processes and ensuring efficient and hassle-free order fulfillment. Enter 3PL fulfillment centers: third-party logistics providers that play a vital role in helping e-commerce businesses optimize their inventory management and fulfilment strategies, maximize cost savings, and ensure customer satisfaction.
With the emergence of 3PL fulfillment centers like FBA Prep Logistics, a new era of supply chain management has begun, enabling businesses to leverage the expertise, technology, and infrastructure offered by these specialized companies. Based in Bristol PA, FBA Prep Logistics has established itself as a high-quality 3PL provider that e-commerce businesses can trust for seamless inventory management and impeccable order fulfillment.
But you might ask, "Why should I choose FBA Prep Logistics as my 3PL partner?" and "What benefits can I expect from outsourcing my fulfillment needs to such a third-party logistics provider?" In this article, we will delve into the various advantages that e-commerce businesses stand to gain by partnering with FBA Prep Logistics, highlighting not only our expertise in supply chain management but also our commitment to ensuring the success and growth of our clients' online retail operations.
Some of the key reasons to consider choosing FBA Prep Logistics as your 3PL fulfillment center partner include:
Read on to discover how these benefits can help transform your e-commerce operations and drive your success in today's competitive online retail landscape. So, let's explore FBA Prep Logistics' unique offerings and understand why it deserves your attention as the warehouse to choose for your e-commerce needs.
Efficient Inventory Management and Cost Savings
As an e-commerce business owner, you know how crucial efficient inventory management is to your bottom line. With FBA Prep Logistics, a top-notch 3PL fulfillment center, you can trust that your inventory is in good hands. Our state-of-the-art warehouses in Bristol PA provides our customers with a streamlined and cost-effective solution for managing and storing products. Let's explore how working with us can help you optimize your inventory management and significantly reduce your expenses:
Save on Storage Space
By outsourcing your storage needs to FBA Prep Logistics, you'll no longer need to maintain large warehouses or rent additional facilities to house your merchandise. Our efficient fulfillment center has ample space to accommodate all your inventory requirements – making it easy to scale up or down as demand dictates. As a result, you'll save money on rent, utilities, and other expenses associated with holding onto brick-and-mortar storage facilities.
Optimize Order Processing
In the world of e-commerce, quick and accurate order processing is non-negotiable. At FBA Prep Logistics, we pride ourselves on our ability to process orders with incredible speed and precision. Our cutting-edge software and well-trained staff ensure that every order is picked, packed, and shipped promptly and accurately. By streamlining order processing, we can significantly reduce shipping errors (such as sending the wrong product), which in turn minimizes costly returns and exchanges, protecting your bottom line.
Reduce Labor Costs
When you choose FBA Prep Logistics as your 3PL fulfillment center, you're effectively outsourcing a significant portion of your workforce needs. Our highly qualified team of experts will manage your inventory and handle your fulfillment requirements, meaning you don't need to hire, train, and maintain your own employees for these tasks. This not only saves you time and effort but also translates into notable labor cost savings.
Improve Inventory Accuracy
Maintaining accurate inventory data is of utmost importance for any e-commerce business. Our advanced warehouse management system continually updates your inventory levels, ensuring that you're always aware of the items you have in stock. This helps you avoid costly stockouts or overstocking, optimize your inventory turnover, and lower carrying costs.
Leverage Data Analytics
As a forward-thinking 3PL fulfillment center, FBA Prep Logistics provides powerful data analytics tools that will help you make informed decisions regarding your inventory. With our comprehensive reports, you can track sales trends, identify slow-moving items, and forecast future demand to ensure that your inventory aligns with market trends and consumer preferences.
Streamlined Shipping and Returns
An efficient and fuss-free shipping process is key to keeping your customers satisfied. At FBA Prep Logistics, our extensive network of carriers ensures that your orders are delivered rapidly, at the lowest possible shipping rates. Moreover, our easy-to-manage return policy keeps your customers satisfied when they need to exchange or return products, further enhancing your brand's reputation and customer loyalty.
In conclusion, partnering with FBA Prep Logistics as your 3PL Fulfillment Center can drastically optimize your e-commerce business's inventory management and provide significant cost savings. Our state-of-the-art warehousing, expert team, and efficient processes ensure that your focus remains on growing your business rather than dealing with the intricacies of supply chain management. So why wait? Join the growing trend of outsourcing logistics operations to FBA Prep Logistics and watch your e-commerce business soar to new heights!
Expertise in Amazon FBA and E-Commerce Fulfillment
At FBA Prep Logistics, our primary focus is on providing top-tier Amazon FBA and e-commerce fulfillment services. Our extensive experience and in-depth understanding of the Amazon marketplace allow us to offer tailored solutions that benefit your business. In this section, we'll explore how our expertise in these areas sets us apart as a 3PL Fulfillment Center.
Understanding the Intricacies of Amazon FBA
Navigating the complex world of Amazon FBA can be challenging, especially for those new to supply chain management. As a dedicated 3PL Fulfillment Center, our team at FBA Prep Logistics specializes in handling each aspect of Amazon's requirements, including:
Product labeling: Ensuring your products are correctly labeled according to Amazon's guidelines, maximizing visibility and preventing potential issues with listings.

FBA packaging: Providing proper packaging and bundling of your items to meet Amazon's strict standards, reducing the risk of damages during transit and storage.

Inventory management: Keeping track of your inventory levels and managing restocks strategically, helping you avoid stockouts and overstock situations that may lead to lost sales or additional storage fees.
E-Commerce Fulfillment Solutions for Other Sales Channels
While our expertise is centered around Amazon FBA, we also cater to e-commerce businesses selling on other platforms. This multi-channel approach means that we can fulfill orders for customers on various marketplaces and websites, giving you the flexibility to expand your online presence without worrying about logistics management on different platforms. This includes handling returns and assisting with customer support, allowing you to maintain a positive image and high customer satisfaction ratings across all your sales channels.
Seamless Integration with Your E-Commerce Platform
A critical aspect of choosing a 3PL Fulfillment Center is ensuring that their system integrates well with your e-commerce platform. At FBA Prep Logistics, our software seamlessly connects with popular e-commerce platforms like Shopify, WooCommerce, and Magento. This integration empowers you to automate and streamline key areas of your business, such as:
Order processing: Automatic syncing of orders between your e-commerce platform and our 3PL Fulfillment Center ensures speedy and accurate order fulfillment.

Real-time inventory tracking: Accurate, up-to-date inventory information across all your sales channels, giving you full control over your stock levels and providing insights needed for strategic decision-making.

Shipping and tracking: End-to-end tracking of all shipments, providing you and your customers with real-time updates and essential delivery information.
Personalized Service and Support
At FBA Prep Logistics, we pride ourselves on exceptional customer service and personalized support. By partnering with us as your chosen 3PL Fulfillment Center, you benefit from our expertise in Amazon FBA and e-commerce fulfillment, as well as our commitment to your business's success. We strive to build long-lasting relationships with our customers and provide tailored solutions that meet your unique needs. Our dedicated account managers work closely with you to:
Answer questions: Clarifying any doubts you may have about our services, processes, or the Amazon FBA ecosystem.

Troubleshoot issues: Resolving potential problems quickly and efficiently to minimize downtime and maintain operational efficiency.

Provide advice: Offering guidance and industry insights to help you optimize your fulfillment processes and drive sales growth.
By choosing FBA Prep Logistics as your 3PL Fulfillment Center, you can rest assured that you're partnering with a company that truly understands the challenges and opportunities presented by Amazon FBA and e-commerce fulfillment. With our expertise and customer-first approach, we're the ideal choice for businesses of all sizes looking to improve their supply chain management and achieve sustainable long-term success.
Focus on Core Business Functions
Every e-commerce business owner knows that managing logistics and fulfillment is a time-consuming process. That's where partnering with a 3PL fulfillment center like FBA Prep Logistics comes into play. By outsourcing your fulfillment needs to us, you can focus on what really matters – growing your business and maintaining strong relationships with your customers. In this section, we'll explore the various advantages of delegating your fulfillment needs to a trusted partner and how it can substantially benefit your business.
More Time to Develop and Launch New Products
Passionate entrepreneurs are always innovating, conceptualizing new products, and seeking ways to improve their offerings. When you work with a 3PL fulfillment center like FBA Prep Logistics, you get the opportunity to focus on the creative aspects of your business. No longer bogged down by day-to-day logistics, you can invest your time and energy into developing and launching new products that will generate more sales and help your business grow.
Enhanced Customer Service
Customer service is one of the pillars of any successful e-commerce business. By outsourcing your logistics to an experienced 3PL fulfillment center like FBA Prep Logistics, you can ensure that your customers receive their orders promptly and accurately, leading to increased satisfaction and loyalty.
Picture this: instead of spending hours managing inventory, packing orders, and booking shipments, you can concentrate on addressing customer queries, handling returns, and continuously improving the overall customer experience. You won't have to worry about any shipping mishaps or miscommunication, as our team of experts will handle everything, ensuring a smooth and seamless process for your customers.
Stronger Marketing and Branding Initiatives
With more time on hand, you can adorn your marketing hat and plan strategic, highly-effective marketing campaigns that increase brand awareness and drive new customers to your online store. Working with a 3PL fulfillment center like FBA Prep Logistics also allows you to create unique and customized packaging, enhancing your branding efforts and providing memorable unboxing experiences for your customers.
Access to Advanced Technology and Tools
In the fast-paced world of e-commerce, it's essential to stay updated with the latest technology and tools in the industry. As your 3PL fulfillment partner, FBA Prep Logistics offers you access to state-of-the-art systems and software for inventory management, order tracking, and warehouse organization. Not only does this help streamline your business operations, but it also equips you with valuable insights and analytics to make informed decisions and drive better results.
Reduced Overhead and Labor Costs
When you partner with a 3PL fulfillment center, it presents a massive cost advantage for your business. There's no need to maintain a physical warehouse or hire a dedicated team of warehouse staff. Your outsourced partner, FBA Prep Logistics, will handle all the aspects of warehouse management, eliminating the need for overhead costs such as rent, utilities, and maintenance. In addition, you save on labor costs, as you no longer have to manage the hiring and training of warehouse personnel.
More Opportunities for International Expansion
As e-commerce continues to flourish globally, international expansion is an opportunity that many business owners are exploring. With a 3PL fulfillment center like FBA Prep Logistics, expanding to new markets becomes a realistic and achievable goal. Our established network and expertise in handling cross-border logistics and fulfillment mean that you can scale your business to reach customers around the world without any significant hurdles.
In Conclusion
Outsourcing your e-commerce fulfillment to a 3PL center like FBA Prep Logistics is a strategic move that allows you to focus on your core business functions and maintain a competitive edge in a rapidly growing market. From efficient inventory management and cost savings to offering scalable, flexible solutions tailored to your business needs, FBA Prep Logistics has all the necessary ingredients to propel your e-commerce business to new heights. Partner with us today and embark on a journey towards increased productivity, profitability, and overall success.
5. Scalability and Flexibility in Adapting to Market Demand
As an e-commerce business owner, you know all too well that consumer demand and market trends can change rapidly. Partnering with a 3PL Fulfillment Center like FBA Prep Logistics can provide your business with the much-needed scalability and flexibility to adapt to these ever-changing dynamics. In this section, we'll explore the various ways in which a 3PL fulfillment center can make your business more agile and responsive to market fluctuations, ensuring your long-term success in the competitive e-commerce landscape.
5.1. Easily Scale Up or Down According to Business Needs
Working with a 3PL Fulfillment Center like FBA Prep Logistics means you can easily adjust your fulfillment operations according to your business's changing needs. Whether your sales are booming during the holiday season or slowing down in the off-season, a flexible 3PL provider can quickly scale the level of services to ensure you're always meeting your customers' expectations. Plus, you won't have to worry about overpaying for unused space or underutilizing your workforce during slower periods.
5.2. Access to a Vast Network of Distribution Centers
Partnering with a strong 3PL Fulfillment Center like FBA Prep Logistics grants your business access to a vast network of distribution centers. This extensive infrastructure enables you to reach your customers more efficiently and cost-effectively, regardless of their location or the size of their order. Moreover, by having your inventory strategically distributed across multiple warehouses, your e-commerce business can offer fast shipping to customers all over the country.
Consider our Ultimate Guide to Finding Your Perfect 3PL Location for more insights into the advantages of a strategic distribution network.
5.3. Adapt to Changing Market Conditions with Ease
In today's fast-paced e-commerce environment, it's crucial to stay agile and responsive to fluctuating market conditions. With an adaptable 3PL Fulfillment Center like FBA Prep Logistics by your side, you can easily adapt your business operations to keep up with changes in consumer preferences, regulations, and overall market trends. This flexibility allows you to stay ahead of the competition while maintaining high levels of customer satisfaction.
5.4. Capitalize on Growth Opportunities
When your e-commerce business is ready to expand into new markets or product categories, a versatile 3PL Fulfillment Center like FBA Prep Logistics can help you capitalize on these growth opportunities without any growing pains. Adding new products to your fulfillment process or entering new geographical markets will be seamless, thanks to the infrastructure and expertise provided by your 3PL partner. As a result, you can focus on product development and marketing strategies, leaving the fulfillment logistics to the professionals.
5.5. Accommodate Seasonal Variations and Promotional Events
Most e-commerce businesses experience seasonal fluctuations or host promotional events that can dramatically impact their fulfillment needs. With a responsive 3PL Fulfillment Center like FBA Prep Logistics, you can easily accommodate these variations, ensuring smooth operations during high-demand periods such as Black Friday, Cyber Monday, and the holiday season. Your 3PL partner can handle the sudden influx of orders, maintain accurate inventory levels, and deliver outstanding customer service, regardless of the season or event.
5.6. Simplify International Growth Plans
If you have ambitions to expand your e-commerce business globally, partnering with a 3PL Fulfillment Center like FBA Prep Logistics can make this transition much smoother. With their experience in handling international shipping, customs requirements, and regulatory compliance, your 3PL partner will ensure that your global expansion is hassle-free and cost-effective.
For more insights on scaling your e-commerce business, check out our article on Scaling Your E-commerce with FBA Prep.
In conclusion, partnering with a 3PL Fulfillment Center like FBA Prep Logistics can offer e-commerce businesses unparalleled scalability and flexibility in an ever-changing market. With a vast network of distribution centers, responsive solutions for fluctuating demand, and the expertise to handle international growth, your e-commerce business will be well-equipped for long-term success in the competitive online retail landscape. By outsourcing your fulfillment needs to a reliable 3PL partner, you can focus on what truly matters: growing your business and creating unforgettable customer experiences.
<h2>Frequently Asked Questions</h2>
<h3>1. How does outsourcing to FBA Prep Logistics improve my inventory management?</h3>
<p>At FBA Prep Logistics, we utilize advanced inventory management systems and best practices to ensure accurate, real-time tracking of your products. This eliminates the burden of manual inventory management, reduces the risk of errors, and maximizes efficiency. Our state-of-the-art facility lets you save on storage costs while keeping your products safe and secure.</p>
<h3>2. How do I integrate my Amazon FBA account with FBA Prep Logistics services?</h3>
<p>We make it easy to link to your Amazon FBA account with our services. Our team of experts are skilled in Amazon FBA integration and will walk you through the setup process, ensuring that all aspects of your fulfillment are seamlessly connected. This enables accurate order processing, tracking, and delivery.</p>
<h3>3. What benefits come from focusing on my core business functions instead of fulfillment tasks?</h3>
<p>Outsourcing fulfillment tasks to FBA Prep Logistics frees up valuable time and resources, allowing you to focus on crucial aspects of your e-commerce business, such as marketing, product development, and customer service. As a result, you'll be better equipped to drive your business toward success and growth.</p>
<h3>4. Will partnering with FBA Prep Logistics provide my business with scalability during peak seasons?</h3>
<p>Absolutely! We offer unmatched scalability and flexibility, ensuring that your business can easily adapt to the ever-changing market and consumer demands. Our warehouse can handle increased inventory levels and order volumes during peak seasons, ensuring you consistently meet customer expectations.</p>
<h3>5. How does FBA Prep Logistics commit to providing a high-quality fulfillment experience for my e-commerce business?</h3>
<p>We are dedicated to providing a best-in-class fulfillment experience for your e-commerce business. Our team of experts offers tailored solutions that cater specifically to your needs, ensuring a seamless and efficient process. By focusing on customer satisfaction and delivering top-notch service, we've become a trusted partner for many e-commerce sellers.</p>
<script type="application/ld+json">
{
"@context": "https://schema.org",
"@type": "FAQPage",
"mainEntity": [
{
"@type": "Question",
"name": "How does outsourcing to FBA Prep Logistics improve my inventory management?",
"acceptedAnswer": {
"@type": "Answer",
"text": "At FBA Prep Logistics, we utilize advanced inventory management systems and best practices to ensure accurate, real-time tracking of your products. This eliminates the burden of manual inventory management, reduces the risk of errors, and maximizes efficiency. Our state-of-the-art facility lets you save on storage costs while keeping your products safe and secure."
}
},
{
"@type": "Question",
"name": "How do I integrate my Amazon FBA account with FBA Prep Logistics services?",
"acceptedAnswer": {
"@type": "Answer",
"text": "We make it easy to link to your Amazon FBA account with our services. Our team of experts are skilled in Amazon FBA integration and will walk you through the setup process, ensuring that all aspects of your fulfillment are seamlessly connected. This enables accurate order processing, tracking, and delivery."
}
},
{
"@type": "Question",
"name": "What benefits come from focusing on my core business functions instead of fulfillment tasks?",
"acceptedAnswer": {
"@type": "Answer",
"text": "Outsourcing fulfillment tasks to FBA Prep Logistics frees up valuable time and resources, allowing you to focus on crucial aspects of your e-commerce business, such as marketing, product development, and customer service. As a result, you'll be better equipped to drive your business toward success and growth."
}
},
{
"@type": "Question",
"name": "Will partnering with FBA Prep Logistics provide my business with scalability during peak seasons?",
"acceptedAnswer": {
"@type": "Answer",
"text": "Absolutely! We offer unmatched scalability and flexibility, ensuring that your business can easily adapt to the ever-changing market and consumer demands. Our warehouse can handle increased inventory levels and order volumes during peak seasons, ensuring you consistently meet customer expectations."
}
},
{
"@type": "Question",
"name": "How does FBA Prep Logistics commit to providing a high-quality fulfillment experience for my e-commerce business?",
"acceptedAnswer": {
"@type": "Answer",
"text": "We are dedicated to providing a best-in-class fulfillment experience for your e-commerce business. Our team of experts offers tailored solutions that cater specifically to your needs, ensuring a seamless and efficient process. By focusing on customer satisfaction and delivering top-notch service, we've become a trusted partner for many e-commerce sellers."
}
}
] }
</script>
</body>