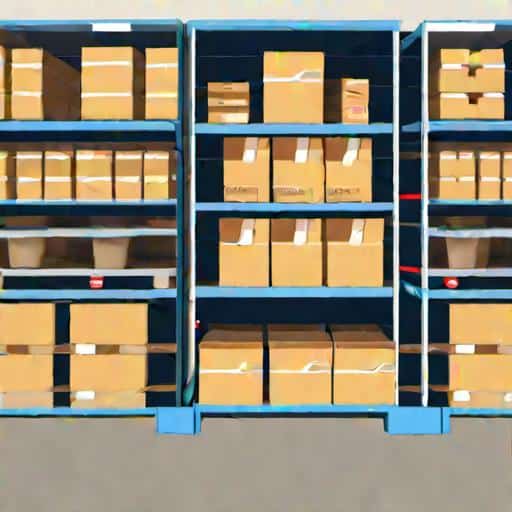 Streamline Your E-commerce with 3PL Prep Services from FBA Prep Logistics
Introduction
In today's fast-paced e-commerce world, business owners face a multitude of challenges, including managing their inventory, ensuring efficient order fulfillment, and delivering excellent customer experiences. That's where 3PL Prep services come in! FBA Prep Logistics, a leading 3PL warehouse located in Bristol, PA, specializes in providing top-notch third-party logistics (3PL) services tailored to the needs of e-commerce businesses, particularly those selling on amazon.com. By partnering with FBA Prep Logistics and utilizing their 3PL Prep services, you can streamline your e-commerce operations, allowing you to focus on what you do best – growing your business!
But what exactly is 3PL Prep, and why is it so crucial for the success of your online business? Let's dive into the world of third-party logistics and see how FBA Prep Logistics can help you take your e-commerce venture to new heights.
The Importance of Streamlining E-commerce Operations for Business Growth
As an e-commerce business owner, you know that efficiently managing your supply chain is the backbone of your success. Handling inventory, shipping, and returns can be time-consuming, complex, and costly. By streamlining your e-commerce operations through expert 3PL Prep services, you can:
Improve your order fulfillment process and delivery speed
Reduce operational costs and increase profitability
Enhance your customers' experiences, leading to higher satisfaction and loyalty
Free up your time and resources to focus on core business functions, such as marketing, product development, and more.
In the next sections, we'll explore in detail the advantages of working with FBA Prep Logistics, your trusted 3PL partner, and how their personalized solutions can transform your e-commerce business through seamless and efficient supply chain management.
You can check out our Ultimate Guide to 3PL Order Fulfillment for E-commerce to learn more about what 3PL services can do for your business.
II. Advantages of 3PL Prep Services for E-commerce Businesses
The e-commerce landscape is constantly evolving, and businesses need to keep up to stay competitive. One way to do this is to partner with a trustworthy 3PL prep company like FBA Prep Logistics. Here, we'll explore the key benefits of outsourcing e-commerce fulfillment through 3PL prep services.
A. Cost Savings and Efficiency
Managing your own warehouse, inventory, and fulfillment processes can be time-consuming and costly. By outsourcing these tasks to a 3PL prep company, you can significantly reduce overhead costs, labor expenses, and invest saved capital into other aspects of your e-commerce business. Moreover, a 3PL company with extensive industry knowledge can help you find the most cost-effective shipping rates, enabling additional cost savings.
B. Enhanced Customer Experience
With their expertise in handling and shipping products, 3PL prep providers like FBA Prep Logistics can potentially shorten delivery times and improve order accuracy, leading to increased customer satisfaction. Happy customers are more likely to become repeat buyers and recommend your brand to others, which means higher sales and business growth in the long run.
C. Access to Advanced Technology
Partnering with a leading 3PL prep company grants you access to cutting-edge supply chain technology. This can help you streamline your e-commerce operations with inventory management systems and real-time shipment tracking, ensuring that your customers' orders are fulfilled as efficiently as possible.
D. Expertise in Handling Amazon FBA Requirements
As a seller on Amazon, adhering to the platform's strict guidelines can be daunting. FBA Prep Logistics' expertise in Fulfillment By Amazon (FBA) means that your products will always be prepared and shipped according to Amazon's requirements. This can improve your seller performance ratings, which will ultimately increase your products' visibility and ranking on the platform.
E. Scalability and Flexibility
As your e-commerce business grows, so do your fulfillment needs. Outsourcing to a 3PL prep provider gives you the flexibility to scale your operations – up or down – quickly, without the need to invest in additional warehouse space or personnel. This allows your business to adapt to seasonal fluctuations in demand or capitalize on sudden market opportunities.
F. Focus on Core Business Functions
By outsourcing time-consuming fulfillment processes to a 3PL prep company, you can focus on your core business functions like marketing, product development, and customer support. This enables you to invest your time and energy in driving business growth, while your 3PL prep partner handles the day-to-day tasks of inventory management and order fulfillment.
G. Expanding into New Markets
3PL prep providers like FBA Prep Logistics can help you reach customers in new markets, both domestic and international. By leveraging their fulfillment network, you can easily and cost-effectively expand your business to reach more customers, thus boosting your revenue and brand visibility.
H. Reduced Risk of Stockouts and Overstocks
Effective inventory management can be challenging and time-consuming for e-commerce businesses. With the help of a 3PL prep company's advanced technology and expertise, you can optimize your inventory levels, reducing the risk of stockouts or overstocks, and preventing the loss of potential sales and customer dissatisfaction.
I. Environmental Sustainability
Many 3PL companies like FBA Prep Logistics are committed to implementing sustainable practices in their operations, such as reducing waste, recycling materials, and optimizing transportation routes. By partnering with such a company, you can contribute to a greener supply chain, reducing your business's ecological footprint while improving your environmental reputation.
In conclusion, partnering with a 3PL prep company like FBA Prep Logistics offers numerous advantages that can help take your e-commerce business to new heights. From cost savings and increased efficiency to improved customer satisfaction and streamlined inventory management, the benefits are clear. It's time to consider how 3PL prep services could help your e-commerce business succeed.
Personalized Solutions from FBA Prep Logistics
At FBA Prep Logistics, we understand that every e-commerce business is unique and has its own specific needs. That's why we go the extra mile to tailor our 3PL Prep services to meet your individual requirements. In this section, let's take a look at the various personalized solutions offered by our expert team:
1. Customized Inventory Management
Efficient inventory management is critical for the success of any e-commerce business, and we've got you covered. We provide customized inventory management solutions, making sure that your products are stored, tracked, and managed effectively. You can say goodbye to the stress of dealing with excess stock or out-of-stock situations; our team will handle that for you.
2. Expert Kitting Services
Do you sell products that require assembly or bundling before shipping? Our 3PL Prep services include expert kitting and bundling services to ensure that your products are put together correctly and efficiently. This not only saves you time but also creates a better customer experience, as your clients will receive professionally assembled and packaged products.
3. Precise Labeling and Packaging
An essential aspect of 3PL Prep is making sure your products are labeled accurately and professionally for shipment. This is especially important when dealing with Amazon FBA requirements. Our team at FBA Prep Logistics will take care of all your labeling and packaging needs, ensuring that your products comply with Amazon's rules and guidelines.
4. Handling Amazon FBA Requirements
We know how important it is for your e-commerce business to comply with the stringent requirements set by Amazon for FBA sellers. Our team is well-versed in all the rules and policies associated with Amazon FBA, so you can trust us to handle your 3PL Prep seamlessly and efficiently, allowing you to focus on growing your business.
5. Scalable Solutions for Growing Businesses
As your e-commerce business grows, your 3PL Prep needs will evolve too. At FBA Prep Logistics, our personalized solutions are designed to be scalable, so we can easily adapt to your changing needs. Whether you're expanding your product range or entering new markets, you can count on us to keep up with the pace of your business.
6. Seasonal and Promotional Support
Seasonal fluctuations and promotional events can bring on additional demands for many e-commerce businesses. Our 3PL Prep services are designed to help you navigate these busy periods by providing the necessary support to ensure your products are ready for shipment on time and in perfect condition.
7. Hassle-Free Returns Management
Managing returns and exchanges can be a time-consuming process, but our 3PL Prep services at FBA Prep Logistics include returns management to save you the headache. Let our team handle the logistics of returns so you can focus on providing great customer service and growing your business.
In conclusion, FBA Prep Logistics is committed to providing you with personalized and comprehensive 3PL Prep services that cater to the unique needs of your e-commerce business. By choosing us as your trusted partner, you can streamline your operations, enhance customer experience, and focus on what truly matters – growing your business. Give us a call today, and let's take your e-commerce enterprise to the next level!
IV. FBA Prep Logistics: Your Trusted 3PL Partner
Experience and Commitment to Serve Your E-commerce Business
At FBA Prep Logistics, we understand that every e-commerce business is unique, and customizing our 3PL prep services to meet your particular needs is our top priority. With years of experience in the industry, our team of dedicated professionals is more than capable of handling all types of e-commerce operations, regardless of size or scope. Our commitment to quality service and customer satisfaction is what sets us apart from the competition and makes us your ideal partner in streamlining your e-commerce business.
Our extensive experience with Amazon FBA requirements and marketplace trends ensures that your products always meet the necessary guidelines and have the best chance for success on such a competitive platform. Furthermore, we constantly stay up-to-date on the latest industry developments to provide our clients with cutting-edge solutions that keep them ahead of the game.
User-friendly technology for utmost transparency
Transparency is an essential aspect of any successful partnership, which is why we at FBA Prep Logistics have developed a user-friendly platform that allows you to keep track of your inventory and shipments. By providing you with real-time updates and easy-to-understand reports, you can make informed decisions and take complete control over your e-commerce operations.
Our custom-built technology also integrates seamlessly with your existing systems and platforms, such as Amazon Seller Central and other e-commerce channels, making for a smooth and hassle-free experience when managing your inventory across multiple channels.
Secure and Reliable 3PL Prep Services to Deliver Excellence
Your e-commerce business's success and reputation depend heavily on your products' safety and quality. When you choose FBA Prep Logistics as your 3PL prep partner, you can rest assured knowing that we treat your inventory with the utmost care and respect.
Our state-of-the-art warehouse facilities are equipped with advanced security measures, including 24/7 video surveillance and controlled access points. This ensures that your products remain safe and secure at all times, while our comprehensive quality control and inspection processes guarantee that your items are handled correctly and prepared to the highest standards.
Moreover, we comply with all regulatory requirements and industry best practices to ensure that our entire operation adheres to a strict code of integrity and professionalism. Your e-commerce business's trust and satisfaction are of paramount importance, which is why we continuously strive to maintain exceptional service levels and exceed your expectations.
Expediting your E-commerce Growth with Proven 3PL Prep Expertise
We understand the challenges and complexities associated with e-commerce and are passionate about helping our clients grow and thrive. By partnering with FBA Prep Logistics, you can streamline your processes, eliminate inefficiencies, and ultimately increase your profitability through our comprehensive 3PL prep solutions.
Our team of skilled professionals boasts vast experience in supply chain management, warehousing, and logistics, making us fully equipped to tackle any obstacles that might be hindering your e-commerce success. We are dedicated to providing personalized, scalable solutions that adapt to your changing needs as you continue to expand and grow in the ever-evolving e-commerce landscape.
So why wait? Let FBA Prep Logistics be your trusted partner in taking your e-commerce business to new heights. Together, we can navigate the complexities of the industry and propel your business to unparalleled success.
V. Take Your E-commerce Business to the Next Level with FBA Prep Logistics
Elevate Your Business with 3PL Prep Solutions
In today's rapidly evolving e-commerce landscape, businesses need the right support to remain competitive and achieve growth. Partnering with a professional 3PL Prep service provider such as FBA Prep Logistics is the key to unlocking your business potential. Our extensive range of services will streamline your supply chain operations and contribute to overall growth and success. Wondering how? Take Your Business to the Next Level with Logistics Service. Maximize Your E-Commerce Potential and Profit with Our Essential Guide to Outsourcing Your Supply Chain Management provides valuable insights.
Boost Efficiency Through Streamlined Processes
When you entrust FBA Prep Logistics with your 3PL Prep needs, we will devise efficient systems to manage and optimize crucial aspects of your supply chain. By doing so, we can alleviate the strain on your internal resources and enable your team to focus on other core business tasks. Check out How to Save Time & Money with 3PL Companies in NJ for examples of how our strategic approach can promote efficiency in your business operations.
Customization to Meet Your Unique Demands
At FBA Prep Logistics, we are well aware that each e-commerce business is unique. As such, our team of experts is dedicated to providing personalized solutions that meet your specific requirements. By tailoring our approach, we aim to help you achieve increased efficiency, customer satisfaction, and growth. Learn Why California FBA Prep Center is The New Gold Rush? and how we cater to diverse businesses and their needs.
Top-notch Customer Support for Seamless Collaboration
We understand the importance of clear communication and exceptional customer support in a successful 3PL partnership. With FBA Prep Logistics, you can expect to receive attentive and professional assistance throughout our collaboration – from start to finish. To emphasize our commitment to providing exceptional client experiences, take a look at our article about The Importance of Exceptional 3PL Customer Support.
Embracing the Future of E-commerce with 3PL Prep
By partnering with a trusted 3PL Prep service provider like FBA Prep Logistics, you will not only optimize your current operations but also future-proof your business. We keep a close eye on emerging industry trends and continually adapt our solutions to provide cutting-edge services for our clients. Discover how to Scale Your E-commerce with FBA Prep and get ahead of the competition.
Get Started with FBA Prep Logistics Today
---
Don't let the challenges of supply chain management and fulfillment hinder your e-commerce business's growth. By collaborating with FBA Prep Logistics, you can harness the capabilities and expertise of our proven 3PL Prep solutions. If you would like to discover more about how FBA Prep Logistics can streamline your e-commerce operations and boost your business performance, feel free to reach out to us anytime.
Ready to take the leap and transform your e-commerce business for the better? Let FBA Prep Logistics be your trusted 3PL partner and guide your journey to increased efficiency, competitiveness, and prosperity. It's time to put your trust in our hands and watch your e-commerce business soar to new heights!
Frequently Asked Questions</h2>
<dl>
<dt><strong>What are 3PL Prep Services?</strong></dt>
<dd>3PL (Third-Party Logistics) Prep Services are services provided by companies like FBA Prep Logistics that specialize in managing and streamlining various aspects of your e-commerce business, such as inventory management, kitting, labeling, and packaging. These services help businesses save time and resources while improving overall efficiency.</dd>
<dt><strong>How does FBA Prep Logistics offer tailored services for my e-commerce business?</strong></dt>
<dd>FBA Prep Logistics understands that each business is unique, and hence, offers personalized solutions to cater to the specific needs of your e-commerce business. From inventory management and kitting to labeling and packaging, we provide a range of customized services to meet your distinct requirements and help your business thrive.</dd>
<dt><strong>Can FBA Prep Logistics help with Amazon FBA requirements?</strong></dt>
<dd>Yes, FBA Prep Logistics has specialized expertise in meeting Amazon FBA requirements and can seamlessly handle the necessary processes to ensure compliance. Our team understands the ins and outs of partnering with Amazon, making sure your products are properly prepped for the marketplace.</dd>
<dt><strong>What makes FBA Prep Logistics a reliable 3PL partner?</strong></dt>
<dd>FBA Prep Logistics is committed to providing top-notch 3PL services for your e-commerce business. Our experienced team coupled with user-friendly technology for tracking and reporting ensures a smooth experience for our clients. Additionally, our secure and reliable warehouse facilities ensure the safety and integrity of your inventory.</dd>
<dt><strong>How can I get started with FBA Prep Logistics?</strong></dt>
<dd>To get started with FBA Prep Logistics, simply reach out to us by <a href="https://www.example.com/contact/">filling out the contact form on our website</a> or by giving us a call. Our team of experts will be happy to guide you through the process and help you streamline your e-commerce operations.</dd>
</dl>
<script type="application/ld+json">
{
"@context": "https://schema.org",
"@type": "FAQPage",
"mainEntity": [
{
"@type": "Question",
"name": "What are 3PL Prep Services?",
"acceptedAnswer": {
"@type": "Answer",
"text": "3PL (Third-Party Logistics) Prep Services are services provided by companies like FBA Prep Logistics that specialize in managing and streamlining various aspects of your e-commerce business, such as inventory management, kitting, labeling, and packaging. These services help businesses save time and resources while improving overall efficiency."
}
},
{
"@type": "Question",
"name": "How does FBA Prep Logistics offer tailored services for my e-commerce business?",
"acceptedAnswer": {
"@type": "Answer",
"text": "FBA Prep Logistics understands that each business is unique, and hence, offers personalized solutions to cater to the specific needs of your e-commerce business. From inventory management and kitting to labeling and packaging, we provide a range of customized services to meet your distinct requirements and help your business thrive."
}
},
{
"@type": "Question",
"name": "Can FBA Prep Logistics help with Amazon FBA requirements?",
"acceptedAnswer": {
"@type": "Answer",
"text": "Yes, FBA Prep Logistics has specialized expertise in meeting Amazon FBA requirements and can seamlessly handle the necessary processes to ensure compliance. Our team understands the ins and outs of partnering with Amazon, making sure your products are properly prepped for the marketplace."
}
},
{
"@type": "Question",
"name": "What makes FBA Prep Logistics a reliable 3PL partner?",
"acceptedAnswer": {
"@type": "Answer",
"text": "FBA Prep Logistics is committed to providing top-notch 3PL services for your e-commerce business. Our experienced team coupled with user-friendly technology for tracking and reporting ensures a smooth experience for our clients. Additionally, our secure and reliable warehouse facilities ensure the safety and integrity of your inventory."
}
},
{
"@type": "Question",
"name": "How can I get started with FBA Prep Logistics?",
"acceptedAnswer": {
"@type": "Answer",
"text": "To get started with FBA Prep Logistics, simply reach out to us by filling out the contact form on our website or by giving us a call. Our team of experts will be happy to guide you through the process and help you streamline your e-commerce operations."
}
}
] }
</script>