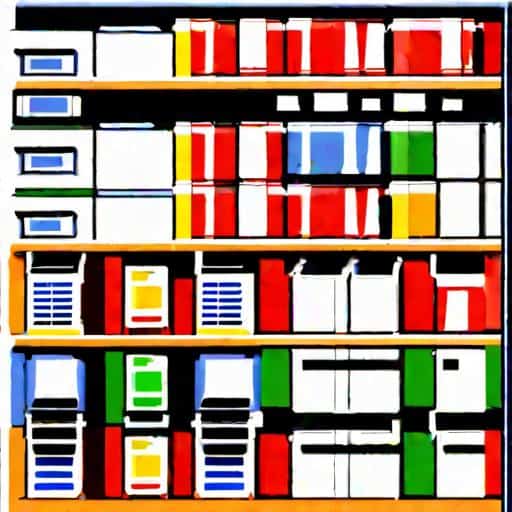 Introduction to Integrated Fulfillment for E-commerce
E-commerce has revolutionized the way we shop and do business. Today, customers expect their online purchases to be delivered quickly, accurately, and with a high level of professionalism. For e-commerce sellers, meeting this expectation is directly tied to success on platforms like Amazon. This is where integrated fulfillment comes in.
Integrated fulfillment is a comprehensive approach to managing the warehousing, packing, shipping, and customer support aspects of an e-commerce business. By unifying these critical functions under one roof, integrated fulfillment offers sellers the opportunity to streamline operations, reduce costs, and improve customer satisfaction.
In this section, we will briefly cover the following key benefits of integrated fulfillment for e-commerce sellers and customers:
1. Faster Order Processing
An integrated fulfillment model allows for more efficient order processing, as it eliminates the need for multiple touchpoints in the supply chain. This time-saving advantage results in faster and more accurate order fulfillment for your customers.
2. Reduced Shipping Costs
When you work with a single provider for your warehousing and fulfillment needs, you can often negotiate better shipping rates due to the volume of orders and deliveries being handled. This cost-saving aspect not only benefits your bottom line, but also makes your products more competitive in the marketplace.
3. Enhanced Customer Experience
By entrusting all aspects of your fulfillment process to a single partner, you can maintain a consistent brand experience for your customers. This includes professional packaging, seamless delivery, and dedicated customer support. A positive customer experience translates into higher chances of repeat purchases and customer referrals.
4. Improved Inventory Management
Integrated fulfillment providers often come with advanced technology and tools for tracking inventory levels and order fulfillment status. This real-time visibility into your stock helps you optimize storage space, prevent stock-outs, and effectively manage your inventory.
5. Scalable Growth
As your e-commerce business grows, your fulfillment needs and challenges will evolve as well. An integrated fulfillment partner can readily adapt to the changing demands of your business, ensuring that your operations remain smooth and efficient at all times.
Now that we have a basic understanding of what integrated fulfillment is and how it benefits both e-commerce sellers and customers, let's explore why FBA Prep Logistics is the best partner to provide these crucial services for your online business.
Why FBA Prep Logistics is Your Best Partner in Integrated Fulfillment
E-commerce businesses, especially those that primarily sell on Amazon, need reliable integrated fulfillment partners to succeed in today's competitive online marketplace. The logistics behind such sophistication can seem daunting, but that's where FBA Prep Logistics comes into the picture. With a proven track record and expertise in providing top-notch integrated fulfillment services, we are the best choice for e-commerce businesses looking to optimize their supply chain management process. Here, let's dive deeper into the reasons that make us the perfect partner for your integrated fulfillment needs and why you should choose FBA Prep Logistics.
Reputable and Established 3PL Partner
As a well-established 3PL service provider located in Bristol, PA, FBA Prep Logistics brings its vast experience working with industry leaders to support e-commerce businesses of all sizes. Our deep understanding of Amazon's policies and requirements ensures that we can mitigate any issues that might arise during the fulfillment process. With us, you are entrusting your supply chain management to a reliable partner that takes care of every detail, allowing you to focus on growing your business.
Scalable Solutions For Your Growing Business
Regardless of the size of your business, FBA Prep Logistics has tailored integrated fulfillment solutions to ensure that your needs are met. No matter if you're an up-and-coming e-commerce seller or a seasoned player in the online marketplace, our flexible solutions allow you to adapt to your expanding business without any hassle.
Streamlined Processes and Innovative Technology
FBA Prep Logistics is always at the forefront of technology and process improvements to deliver the highest standard of fulfillment services. Our state-of-the-art systems grant e-commerce businesses the ability to access real-time data and monitor their inventory effectively. This transparency in our operations fosters trust and seamless collaboration with our clientele.
Expert Customer Support
Customers are the lifeline of your business; hence they deserve exceptional customer support. Our highly trained and dedicated support team understands the importance of resolving issues with utmost competence and swiftness. We pride ourselves on providing outstanding customer support to e-commerce businesses and their customers alike, resulting in an unparalleled shopping experience.
Cost-effective and Efficient Solutions
Partnering with FBA Prep Logistics allows you to leverage our in-depth knowledge of industry best practices and optimize costs like never before. Our integrated fulfillment services ensure that your products are shipped from the most efficient route, minimizing expenses without compromising on delivery time. Our tailored and cost-effective solutions leave no stone unturned to keep your e-commerce business competitive.
Expertise in Amazon FBA Services
As an expert provider of integrated fulfillment services for Amazon sellers, we at FBA Prep Logistics have honed our skills and knowledge to help you navigate Amazon's stringent requirements. Our dedicated team of experts ensures that your items are prepped according to Amazon's guidelines, letting you avoid risks like account suspension or unexpected fees. This expertise not only keeps your business on the right track but also contributes to maximizing your sales potential on Amazon.
A Comprehensive Suite of Services
With FBA Prep Logistics, you can access all the integrated fulfillment services under one roof. From shipment handling to kitting, assembly, and labeling, we've got you covered. This comprehensive suite of services allows you to save time and effort in managing multiple service providers, giving you an edge in today's fiercely competitive e-commerce landscape.
So, when it comes to choosing the best partner in integrated fulfillment, FBA Prep Logistics checks all the boxes in terms of experience, capability, and tailored solutions, making us the top choice for e-commerce businesses. Don't take our word for it; give our services a try and witness the difference yourself. With FBA Prep Logistics as your integrated fulfillment partner, you are well on your way to streamline your supply chain management, optimize efficiency, and grow your business.
III. Streamlining Your Supply Chain Management with FBA Prep Logistics
Are you seeking to simplify and optimize your supply chain management processes? If so, you've come to the right place! FBA Prep Logistics offers a comprehensive range of services designed to streamline and enhance your e-commerce business's supply chain management. In this section, we'll explore the various integrated fulfillment services provided by our dedicated team at FBA Prep Logistics and demonstrate how they can benefit your business. Remember, an efficient supply chain is essential for e-commerce success!
3.1 Efficient Order Processing and Shipping
Say goodbye to delayed orders and dissatisfied customers with FBA Prep Logistics' seamless order processing and shipping solutions. Our team ensures the prompt and accurate processing of orders from your online store and manages the packaging and shipping processes for you. By leveraging our integrated fulfillment services, e-commerce businesses can focus on more important aspects such as marketing and product development, while we handle the logistics. Don't forget, timely deliveries are crucial for maintaining your brand's reputation and keeping customers happy. They'll know they can count on you!
3.2 Inventory Management & Warehousing
Managing your inventory can be a challenging task, but not with FBA Prep Logistics by your side. We offer cutting-edge inventory management solutions using real-time tracking and data analysis to ensure that your stock levels are always optimal. With our spacious and well-organized warehouse facilities in Bristol, PA, we store your products safely while maximizing storage efficiency. Thanks to FBA Prep Logistics, you can forget about the headache of inventory counting and storage space limitations.
3.3 Kitting & Assembly
Are your products composed of several components that need to be assembled before shipping? That's no issue for FBA Prep Logistics. Our kitting and assembly solutions make it easy for e-commerce sellers to offer multi-item products and bundles, ultimately enhancing the customer experience. By letting us handle the kitting and assembly process, you can focus on other essential aspects of your e-commerce business, such as innovation and growth.
3.4 Hassle-Free Amazon FBA Prep
As an e-commerce seller on Amazon, it's vital that your products meet their stringent FBA requirements. At FBA Prep Logistics, we provide hassle-free Amazon FBA prep services that ensure your products are properly prepped and packaged, in accordance with Amazon's guidelines. As your integrated fulfillment partner, we'll help you avoid costly Amazon penalties and gain a competitive advantage in the marketplace.
3.5 Customized Packaging & Branding Solutions
In the competitive world of e-commerce, standing out from the crowd is crucial. That's why FBA Prep Logistics offers customized packaging and branding solutions tailored to your unique business needs. We'll help you create a memorable unboxing experience that reflects your brand identity and captures the customer's attention. Furthermore, our commitment to eco-friendly practices means that we prioritize the use of sustainable, recyclable packaging materials.
3.6 Exceptional Customer Support
At FBA Prep Logistics, we believe outstanding customer support is at the heart of any successful integrated fulfillment partnership. Our exceptional 3PL customer support team is always ready to help by answering your questions, addressing your concerns, and providing real-time updates on your orders and inventory. With FBA Prep Logistics, you'll never be left in the dark.
3.7 Returns Management
Returns processing can be a time-consuming and complex process for e-commerce sellers. Luckily, FBA Prep Logistics offers comprehensive returns management services that take the hassle out of handling returns and exchanges. We handle all aspects of the returns process, including product inspections, refunds, and inventory adjustments, so you don't have to worry about a thing. Remember, a smooth returns process can increase customer satisfaction and loyalty levels.
3.8 Continuous Improvement & Scalability
As your e-commerce business grows and evolves, so do your supply chain management needs. FBA Prep Logistics is committed to continuously improving our integrated fulfillment services through advanced technology, streamlined processes, and flexibility in responding to your changing needs. By partnering with us, your e-commerce business will be well-equipped to scale and face future challenges head-on.
In summary, FBA Prep Logistics' integrated fulfillment services provide a holistic approach to streamlining your e-commerce supply chain management. By handling everything from order processing to returns management, our dedicated team helps you save time, reduce costs, and improve customer satisfaction. Give your e-commerce business the strategic advantage it needs to succeed by partnering with FBA Prep Logistics today!
IV. Maximizing Your Sales Potential on Amazon with FBA Prep Logistics
1. Expertise in FBA Management
Partnering with FBA Prep Logistics ensures a seamless integrated fulfillment experience, especially for e-commerce businesses focused on selling through Amazon. We understand the intricacies and the unique demands of Amazon's Fulfillment by Amazon (FBA) program. Our team of experts specializes in managing FBA processes specifically tailored to Amazon sellers' needs, so you can focus on growing your business without the hassles of logistics.
2. Comprehensive FBA Services
With our extensive range of services, FBA Prep Logistics is your one-stop solution for all FBA-related needs, including:
Inventory Management: Efficiently track, manage, and control inventory levels to prevent stockouts or overstocking, ensuring items are available for fast replenishment at Amazon's warehouses.
Amazon FBA Prep: Our hassle-free Amazon FBA Prep Services include essential steps like labeling, bundling, repackaging, creating FNSKU labels, and more, which meet Amazon's stringent requirements and enable your products to be sent to Amazon warehouses without delay or penalization.
Kitting and Assembly: Combining or modifying products into bundles or multi-packs (e.g., a gift set) is an effective way to increase sales potential. Our kitting and assembly solutions boost your product offering and make inventory management more efficient.
3. Warehouse Location for Faster Shipping
FBA Prep Logistics is strategically located in Bristol, PA, giving you the advantage of quick and efficient shipping to Amazon fulfillment centers along the East Coast, Midwest, and Northern regions. This strategic positioning reduces transit times and shipping costs while ensuring your products reach Amazon warehouses and customers more quickly. In a competitive e-commerce market, faster delivery times can make all the difference in winning the buy box and delighting customers.
4. Improved Amazon Seller Metrics
One of the key benefits of partnering with FBA Prep Logistics for your integrated fulfillment needs is the boost in your Amazon seller metrics. Good performance metrics are crucial for maintaining a healthy account and achieving a higher seller rank on Amazon. We help you improve essential metrics like:
Order Defect Rate (ODR): By accurately handling inventory and order management, we reduce defects, cancellations, and negative feedback rates that can harm your seller reputation.
Late Shipment Rate (LSR): Our streamlined and efficient processes ensure timely shipping, helping you maintain a low LSR.
Order Cancellation Rate: By minimizing stockouts and efficiently fulfilling orders, we reduce the likelihood of order cancellations.
5. Seamless Uniformity Between Channels
Are you operating on multiple sales channels? No problem! FBA Prep Logistics offers integrated fulfillment solutions that support all major e-commerce platforms, such as Shopify, WooCommerce, and more. By partnering with us, you can maintain a consistent and smooth experience across all your sales channels while taking advantage of our Amazon FBA expertise.
6. Tactical Support and Consultation
FBA Prep Logistics doesn't just provide order fulfillment services. As a partner in your e-commerce journey, our team offers strategic and tactical support to help you grow your Amazon sales. With access to industry insights and best practices, we can guide you on optimizing product listings, using Amazon advertising, generating more reviews, and taking advantage of other Amazon-specific growth strategies.
7. Scalability for Peak Seasons
A big challenge for many Amazon sellers is effectively handling peak demand periods, such as the holiday season or Prime Day. FBA Prep Logistics equips you with the capacity to scale your business effortlessly during high-demand seasons. We accommodate fluctuations in order volume without compromising efficiency, guaranteeing that your products continue to reach customers quickly and smoothly.
8. Comprehensive Reporting and Analytics
Finally, FBA Prep Logistics provides detailed reporting and analytics to help you monitor your Amazon sales performance. Visibility into your sales figures, inventory levels, and order processing statuses enables you to make informed decisions and fine-tune your e-commerce strategies, ultimately maximizing your sales potential on Amazon.
VI. Experience the FBA Prep Logistics Difference
Leveraging the power of integrated fulfillment services provided by FBA Prep Logistics can significantly boost your Amazon sales. Our tailored solutions, Amazon FBA expertise, and exceptional support offer an unparalleled edge for e-commerce sellers, turning supply chain management into a competitive advantage for your business. If you're ready to experience the benefits of seamless integrated fulfillment, get started with FBA Prep Logistics today.
Get Started with FBA Prep Logistics for a Seamless Integrated Fulfillment Experience
After learning about integrated fulfillment and the benefits it brings to your e-commerce business, it's time to take the next step. Partnering with FBA Prep Logistics guarantees a seamless experience, and in this section, we'll guide you through the process of integrating our services into your operations.
5.1 Why Choose FBA Prep Logistics
To begin, let's recap some of the top reasons you should choose FBA Prep Logistics for your integrated fulfillment needs:
Experience: Our team consists of seasoned professionals with years of experience in the industry who understand the ins and outs of supply chain management and e-commerce logistics.
Customization: FBA Prep Logistics offers personalized solutions tailored to your unique business needs, making it easy for you to streamline your supply chain management.
Amazon expertise: We specialize in helping businesses succeed on Amazon, as seen in How Amazon FBA 3PL Improves Sales.
Cost savings: By partnering with FBA Prep Logistics, you'll save money and time by optimizing your supply chain and reducing costly errors.
Reliability: We are committed to delivering exceptional customer support, ensuring that your e-commerce fulfillment runs smoothly.
5.2 Getting Started with FBA Prep Logistics
Now that you're convinced FBA Prep Logistics is the best partner for your e-commerce needs, follow these simple steps to get started:
Research: Begin by reading about our various services, such as Hassle-Free Amazon FBA Prep Services in the USA and Finding the Best Logistics in NJ. This way, you'll have a better understanding of what we can offer your business.
Contact us: After getting familiar with our services, reach out to our team by filling out the contact form on our website, sending an email, or giving us a call. Our friendly professionals will answer any questions you may have.
Discuss your needs: We will work closely with you to understand your business's unique requirements and develop customized solutions to better serve you. This includes a thorough assessment of your supply chain and logistics needs.
Develop a plan: Together, we will create an integrated fulfillment strategy to help you streamline your e-commerce operations, boost sales, and turn your business into a success.
Implement the plan: FBA Prep Logistics will guide you through the implementation process, making sure each aspect of your integrated fulfillment solution is executed flawlessly. Whether handling inventory management, order fulfillment, or Amazon FBA prep, our team has you covered.
5.3 Experience the Difference with FBA Prep Logistics
Taking the leap to partner with a 3PL provider for your integrated fulfillment can be a game-changer for your e-commerce business. As demonstrated throughout this article, FBA Prep Logistics offers comprehensive, expert solutions that can streamline your supply chain, boost your sales on platforms like Amazon, and help you achieve success in the e-commerce space.
Don't miss out on the opportunity to maximize your e-commerce potential and profit. Make the wise decision to partner with FBA Prep Logistics today and experience the benefits of integrated fulfillment. Get started now and watch your business thrive!
Frequently Asked Questions about FBA Prep Logistics</h1>
<h2 id="introduction-to-integrated-fulfillment-for-e-commerce">Introduction to Integrated Fulfillment for E-commerce</h2>
<h3>What is integrated fulfillment and how does it benefit e-commerce businesses?</h3>
<p>Integrated fulfillment is a comprehensive process where logistics, inventory management, and order fulfillment are seamlessly combined and optimized. This approach benefits e-commerce businesses by ensuring improved efficiency, faster delivery times, and increased customer satisfaction.</p>
<h2 id="why-fba-prep-logistics-is-your-best-partner-in-integrated-fulfillment">Why FBA Prep Logistics is Your Best Partner in Integrated Fulfillment</h2>
<h3>What sets FBA Prep Logistics apart from other 3PL providers?</h3>
<p>FBA Prep Logistics provides tailored solutions for e-commerce sellers, specializing in Amazon fulfillment. With an experienced team, state-of-the-art facilities and technology, and a track record of successful partnerships, they are committed to addressing the unique needs of their clients in a cost-effective and efficient manner.</p>
<h2 id="streamlining-your-supply-chain-management-with-fba-prep-logistics">Streamlining Your Supply Chain Management with FBA Prep Logistics</h2>
<h3>What services does FBA Prep Logistics offer to simplify and optimize supply chain management?</h3>
<p>FBA Prep Logistics offers a wide range of services, including inventory management, order fulfillment, kitting and assembly, shipping services, and returns processing. Furthermore, they provide expert guidance and support on optimizing your supply chain for maximum efficiency, helping e-commerce businesses focus on growth.</p>
<h2 id="maximizing-your-sales-potential-on-amazon-with-fba-prep-logistics">Maximizing Your Sales Potential on Amazon with FBA Prep Logistics</h2>
<h3>How does FBA Prep Logistics help e-commerce businesses succeed on Amazon?</h3>
<p>FBA Prep Logistics supports businesses through advanced analytics, listing optimization, and expert guidance. By combining operational excellence and data-driven insights, they help e-commerce sellers improve their Amazon product listings, resulting in greater visibility, sales, and success.</p>
<h2 id="get-started-with-fba-prep-logistics-for-a-seamless-integrated-fulfillment-experience">Get Started with FBA Prep Logistics for a Seamless Integrated Fulfillment Experience</h2>
<h3>How do I get started with FBA Prep Logistics' integrated fulfillment services?</h3>
<p>To get started with FBA Prep Logistics, simply visit their website and fill out the contact form. Their team will get in touch to discuss your specific needs, tailor a solution, and guide you through the onboarding process. Partnering with FBA Prep Logistics will ensure a streamlined and seamless fulfillment experience for your e-commerce business.</p>
<script type="application/ld+json">
{
"@context": "https://schema.org",
"@type": "FAQPage",
"mainEntity": [
{
"@type": "Question",
"name": "What is integrated fulfillment and how does it benefit e-commerce businesses?",
"acceptedAnswer": {
"@type": "Answer",
"text": "Integrated fulfillment is a comprehensive process where logistics, inventory management, and order fulfillment are seamlessly combined and optimized. This approach benefits e-commerce businesses by ensuring improved efficiency, faster delivery times, and increased customer satisfaction."
}
},
{
"@type": "Question",
"name": "What sets FBA Prep Logistics apart from other 3PL providers?",
"acceptedAnswer": {
"@type": "Answer",
"text": "FBA Prep Logistics provides tailored solutions for e-commerce sellers, specializing in Amazon fulfillment. With an experienced team, state-of-the-art facilities and technology, and a track record of successful partnerships, they are committed to addressing the unique needs of their clients in a cost-effective and efficient manner."
}
},
{
"@type": "Question",
"name": "What services does FBA Prep Logistics offer to simplify and optimize supply chain management?",
"acceptedAnswer": {
"@type": "Answer",
"text": "FBA Prep Logistics offers a wide range of services, including inventory management, order fulfillment, kitting and assembly, shipping services, and returns processing. Furthermore, they provide expert guidance and support on optimizing your supply chain for maximum efficiency, helping e-commerce businesses focus on growth."
}
},
{
"@type": "Question",
"name": "How does FBA Prep Logistics help e-commerce businesses succeed on Amazon?",
"acceptedAnswer": {
"@type": "Answer",
"text": "FBA Prep Logistics supports businesses through advanced analytics, listing optimization, and expert guidance. By combining operational excellence and data-driven insights, they help e-commerce sellers improve their Amazon product listings, resulting in greater visibility, sales, and success."
}
},
{
"@type": "Question",
"name": "How do I get started with FBA Prep Logistics' integrated fulfillment services?",
"acceptedAnswer": {
"@type": "Answer",
"text": "To get started with FBA Prep Logistics, simply visit their website and fill out the contact form. Their team will get in touch to discuss your specific needs, tailor a solution, and guide you through the onboarding process. Partnering with FBA Prep Logistics will ensure a streamlined and seamless fulfillment experience for your e-commerce business."
}
}
] }
</script>