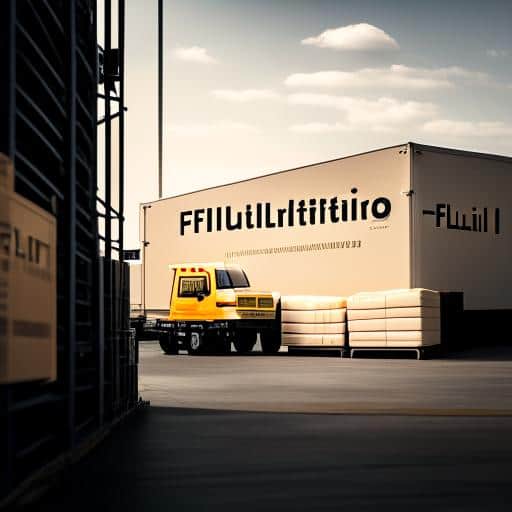 Discover the Simplest Method for Amazon Order Fulfillment in NJ
Introduction
Running a successful e-commerce business and selling on Amazon can be an incredibly rewarding experience. However, it's not without its challenges – especially when it comes to handling the order fulfillment process. As your e-commerce business grows, the task of managing inventory, packing, shipping, and dealing with returns becomes increasingly complex and time-consuming. This is precisely where finding a reliable and experienced 3PL partner comes into play! Choosing the right logistics partner can make all the difference between a seamless and efficient fulfillment process and a disorganized, stressful operation.
In this article, we will introduce you to FBA Prep Logistics, a trustworthy 3PL warehouse located in Bristol, PA. We will also explain how our comprehensive range of services can cater to the specific needs of Amazon sellers, including the easiest way to fulfill orders on Amazon in NJ. Finally, we'll guide you on how to get started with our services and start experiencing the convenience of a simplified and hassle-free Amazon order fulfillment process.
So, let's dive in and learn more about FBA Prep Logistics and how we can help you elevate your Amazon business to new heights!
Discover the Simplest Method for Amazon Order Fulfillment in NJ
II. What is FBA Prep Logistics
FBA Prep Logistics is a trusted and reliable 3PL warehouse located in Bristol, PA with a core focus on providing exceptional services tailored specifically for Amazon sellers. If you are an e-commerce business owner, especially a new one, navigating through supply chain management can feel intimidating; that's where we come in to make your journey as seamless and efficient as possible. Our expertise lies in helping growing and median-sized e-commerce businesses to succeed with top-of-the-line storage, preparation, and fulfillment solutions for selling on Amazon.
###Why FBA Prep Logistics?
Our understanding and dedication to meeting Amazon's requirements while offering personalized attention make us the perfect partner for any e-commerce business looking to sell on Amazon. Our proximity to New Jersey gives us an additional edge, ensuring faster and more affordable delivery of your products in the region.
###Experience you can trust
FBA Prep Logistics boasts years of experience working with e-commerce businesses like yours, evolving from a small startup to the reliable solution provider that we are today. Throughout the years, we have gained extensive knowledge in what works and what doesn't, allowing us to provide effective solutions that meet your business needs.
###**Our unique approach__[Easiest Way to Fulfill Orders on Amazon in NJ]__
At FBA Prep Logistics, we pride ourselves on offering a comprehensive range of services that cater to your unique business needs. We understand that every e-commerce business is different, and we work tirelessly to ensure that we provide you with tailored services that help you streamline your operations while maintaining high-quality standards. Moreover, our experience in handling a wide variety of product types allows us to offer the perfect solutions for all kinds of Amazon sellers.
###Close to the action
Strategically located in Bristol, PA, our warehouse is just a stone's throw away from the bustling e-commerce market in New Jersey. This convenient location allows us to provide the fastest possible delivery services to your customers in NJ while keeping shipping costs down. As a result, you can focus on growing your business while we manage the logistics for you.
FBA Prep Logistics truly understands the challenges faced by e-commerce businesses – especially those selling on Amazon – and works relentlessly to cater to their unique needs. Our commitment to providing the easiest way to fulfill orders on Amazon in NJ makes us the ideal choice for your business.
III. Services Offered by FBA Prep Logistics
At FBA Prep Logistics, we offer a suite of comprehensive services specifically designed to cater to the needs of Amazon sellers, ensuring the easiest way to fulfill orders on Amazon in NJ. We understand the intricacies of Amazon's rules and regulations, and we're committed to providing you with solutions that perfectly align with their requirements. From inventory storage to Amazon FBA prep, we've got you covered every step of the way.
1. Inventory Storage
One of the most critical aspects of running a successful e-commerce business is maintaining accurate and efficient inventory storage. With our state-of-the-art warehouse in Bristol, PA, you benefit from the ideal location near NJ that allows for the quickest and most cost-effective delivery to customers in the region. Our secure and well-organized storage facilities also help you keep track of your inventory and prevent stockouts or overstocking situations.
2. Amazon FBA Prep
Getting your products ready for Amazon FBA can be a time-consuming and tedious process. Fortunately, our team at FBA Prep Logistics offers expert Amazon FBA prep services to help you stay compliant and prevent any issues with Amazon. We ensure that all items are correctly labeled, packaged, and prepped according to Amazon's guidelines. By taking care of these essential tasks, we free up your time to focus on growing your business.
3. Order Fulfillment
Fulfilling orders promptly and efficiently is what keeps your customers coming back for more. Our order fulfillment services handle picking, packing, and shipping your orders, allowing for the easiest way to fulfill orders on Amazon in NJ. Through our streamlined process, we ensure that your products reach your customers in a timely fashion, boosting customer satisfaction and encouraging repeat purchases.
4. Customized Solutions
We understand that each e-commerce business is unique. At FBA Prep Logistics, we take the time to get to know your business and its specific needs. We'll work closely with you to develop tailor-made solutions that help to optimize your supply chain and improve your overall efficiency. With our expertise and dedication to providing personalized services, you can rest assured that we're always working in the best interests of you and your business.
5. Strict Adherence to Amazon Requirements
Amazon has precise requirements, and it's essential to remain compliant, or you risk penalties and potential account suspension. Our team stays up to date on Amazon's policies and guidelines, ensuring that your products are prepped and shipped in accordance with their rules. This meticulous approach guarantees a smooth and hassle-free selling experience for you and your customers.
6. Expedited Shipping Services
For Amazon sellers in the NJ area, our convenient location in Bristol, PA, ensures that your products will be shipped quickly and efficiently. With our expedited shipping services, you can provide your customers with fast delivery times, making their shopping experience even more enjoyable and allowing you to stay ahead of your competitors.
By leveraging the power of FBA Prep Logistics and our wide array of services, you'll enjoy the easiest way to fulfill orders on Amazon in NJ. Our top priority is to help you succeed by handling the essential tasks that keep your e-commerce business running smoothly. Discover the most effective e-Commerce solutions with us, and take your Amazon business to new heights.
IV. Benefits of Partnering with FBA Prep Logistics
Cost-Effectiveness
One of the most significant advantages of partnering with FBA Prep Logistics is the cost-effectiveness of our services. By leveraging our expertise and tailored solutions, you can reduce your operational expenses and focus on activities that generate revenue for your business. Plus, our competitive pricing in comparison to other 3PL providers ensures that you receive excellent value for your investment.
Scalability
Whether you're a small business or a growing e-commerce enterprise, we understand that flexibility and scalability are vital to your operations. At FBA Prep Logistics, we offer scalable solutions that accommodate fluctuations in demand, ensuring that you always have the necessary resources and support to respond effectively to market changes. We provide seamless scaling options, so you don't have to worry about operational bottlenecks when expanding your product offerings or entering new markets.
Operational Efficiency
Our team of supply chain management experts will work closely with your business to streamline your operations, resulting in improved efficiency and performance. Our comprehensive suite of services, including inventory management, order fulfillment, Amazon FBA prep, and more, are designed to help you minimize order processing times, ensure accuracy, and enhance customer satisfaction. With FBA Prep Logistics, your business can achieve greater efficiency and ultimately, higher profitability.
Location Advantage
Our Bristol, PA, warehouse location offers a strategic advantage for businesses targeting customers within the New Jersey region. Proximity to NJ allows for faster and more cost-effective product delivery, resulting in an improved buying experience for your customers. By partnering with us, you can take advantage of our strategic location to streamline your freight shipping and better serve your clientele in the area.
Dedicated Support
At FBA Prep Logistics, we believe in building long-lasting relationships with our clients. Our dedicated support team is always ready to address any issues or concerns you may have, ensuring a positive experience for both your business and its customers. With our personalized approach, we make sure that every aspect of your order fulfillment process runs smoothly, so you can focus on growing your Amazon business.
Maximize Market Reach
Are you looking to expand your market reach beyond New Jersey? No problem! Our team has extensive experience in managing cross-border e-commerce logistics, so you can be sure that you're tapping into new markets with the support and expertise you need. We know that expanding your business can be daunting – that's why we're here to help make the transition as easy as possible.
Compliance with Amazon Requirements
FBA Prep Logistics is well-versed in Amazon's specific requirements and guidelines, ensuring that your products are always prepped and dispatched in compliance with their stipulations. This attention to detail means that your products will be properly prepped and packaged, reducing the risk of order delays or rejections due to non-compliance.
In conclusion, partnering with FBA Prep Logistics for your Amazon order fulfillment in NJ offers your business numerous benefits that contribute to its growth and success. By leveraging our cost-effective services, scalable solutions, operational efficiency, strategic location, and dedicated support, you can streamline your fulfillment process and focus on what matters most – growing your Amazon business. It's time to experience the easiest way to fulfill orders on Amazon in NJ.
V. How to Get Started with FBA Prep Logistics
Are you ready to enjoy the easiest way to fulfill orders on Amazon in NJ? Partnering with FBA Prep Logistics is just a few simple steps away! In this section, we will guide you through the easy-to-follow process of setting up an account and beginning your journey to a hassle-free order fulfillment experience.
Step 1: Contact FBA Prep Logistics
To start your journey towards hassle-free order fulfillment, reach out to our team by visiting our website, or by giving us a call. Our experts are always available to discuss your business needs and understand how we can best help you scale and grow on Amazon.
Step 2: Create Your Account
Once you've discussed your requirements with our team, we'll help you set up a secure and easy-to-use account on our platform. Accessing your account will provide you with real-time insights into your inventory, order fulfillment, and overall logistics management for a seamless experience.
Step 3: Send Us Your Inventory
With your account set up, the next step is to send us your inventory. Our warehouse is strategically located close to major shipping hubs, ensuring that your products reach our facility as quickly and efficiently as possible. Once we receive your items, we'll meticulously inspect and store them in our secure facility.
Step 4: Link Your Amazon Account
Now it's time to connect your Amazon Seller Central account with FBA Prep Logistics. This step is crucial, as it allows us to synchronize your orders and manage your inventory effectively. Our seamless integration with Amazon will ensure that we're always up-to-date with your orders, providing a smooth and error-free fulfillment process.
Step 5: Experience Effortless Order Fulfillment
With your inventory in our capable hands, you can now sit back and relax as we handle all aspects of order fulfillment on your behalf. We'll pick, pack, and ship your products in compliance with Amazon's guidelines, providing your customers with timely deliveries and ensuring high satisfaction levels.
Step 6: Maintain Constant Communication with Our Support Team
Our dedicated customer support team works closely with you to ensure that all your questions and concerns are addressed promptly and effectively. With our commitment to ensuring a smooth experience for both your business and your customers, you can trust that we're always here to support you and your growing e-commerce venture.
Step 7: Scale Your Business With Confidence
As your business grows, FBA Prep Logistics will be right by your side, providing the scalable and efficient services you need to keep up with demand and continue your success on the Amazon platform. Our flexible solutions are designed to adapt to your changing needs, ensuring that we're always ready to help you achieve your goals.
In Conclusion
Partnering with FBA Prep Logistics for your Amazon order fulfillment in NJ is the ultimate solution to streamline your e-commerce operation while maximizing customer satisfaction. Our extensive list of services, strategic location, outstanding customer support, and commitment to excellence make us the top choice for Amazon sellers looking for an easy and dependable way to fulfill orders. It's time for you to experience the benefits of our cost-effective, scalable, and personalized solutions – reach out to FBA Prep Logistics today and discover how we can take your e-commerce business to new heights.
FAQs
1. What makes FBA Prep Logistics different from other 3PL providers?

FBA Prep Logistics specializes in Amazon FBA order fulfillment, catering to the specific needs of e-commerce sellers. We offer personalized solutions, a dedicated support team, and are committed to meeting Amazon's requirements, all while providing cost-effective and efficient services.

2. How can using FBA Prep Logistics help my Amazon business grow?

Partnering with FBA Prep Logistics allows you to focus on growing your business while we handle the inventory storage, Amazon FBA prep, and order fulfillment. As a result, you can efficiently deliver products to your customers and scale your operations as needed.

3. Can you explain the process of partnering with FBA Prep Logistics?

Our easy-to-follow process starts with setting up an account at FBA Prep Logistics. Once your account is established, we'll guide you through the necessary steps to integrate your Amazon seller account, allowing us to efficiently manage your Amazon order fulfillment in NJ and beyond.

4. How does FBA Prep Logistics maintain quality control and ensure my products meet Amazon's requirements?

FBA Prep Logistics adheres to Amazon's strict guidelines and utilizes robust quality control measures to ensure your products are ready for the marketplace. Our experienced team is trained to manage the entire FBA prep process, ensuring a seamless fulfillment experience.

5. What support does FBA Prep Logistics provide once I have started using their services?

Our dedicated support team is readily available to address any issue or concern that may arise. We work closely with our clients to ensure a positive experience for both their business and customers, making FBA Prep Logistics your go-to partner in Amazon order fulfillment.