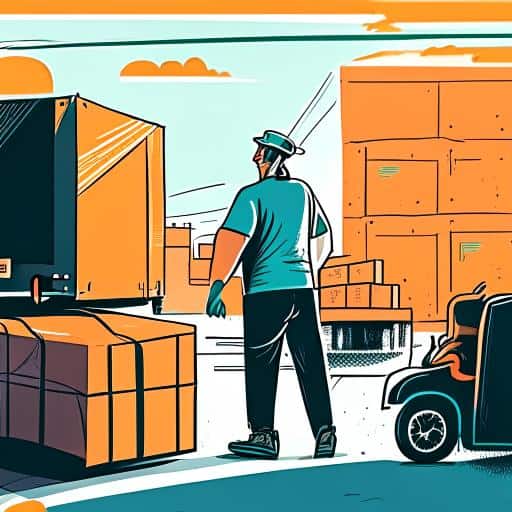 Introduction: Embracing the Benefits of Effective Amazon Distribution in NJ
As an e-commerce business owner, you're in a constant race to grow and thrive in the dynamic world of the online marketplace. One crucial aspect that can make or break your business is mastering the art of product distribution. In particular, understanding how to optimize your Amazon product distribution in NJ is essential for success. That's where FBA Prep Logistics, a reliable 3PL warehouse partner, comes in to handle your supply chain concerns and help you emerge as a winner in the Amazon arena.
In this article, we'll explore the benefits of efficient Amazon product distribution for your e-commerce business and dive into how FBA Prep Logistics can support you throughout your journey. So, grab your coffee, sit back, and let's unravel the secrets to mastering Amazon distribution in New Jersey!
Why Efficient Amazon Distribution Matters
For any e-commerce business, efficient product distribution is the backbone of success. It's not just about getting your products from point A to point B, but doing so in a cost-effective, timely, and compliant manner. This is especially true for medium-sized businesses selling on Amazon.com. A well-optimized distribution process ensures faster delivery, higher customer satisfaction, and ultimately, increased sales and profitability.
However, navigating the complex world of Amazon FBA (Fulfillment by Amazon) requirements, fee structures, and compliance guidelines can be overwhelming. The good news is, you don't have to handle these challenges alone. Working with a specialized warehouse partner like FBA Prep Logistics helps you put your best foot forward in the Amazon marketplace.
Meet FBA Prep Logistics: Your Trustworthy Partner for Amazon Distribution in NJ
Located in Bristol, PA, FBA Prep Logistics is a 3PL warehouse service provider specifically catering to the unique needs of medium-sized e-commerce businesses selling on Amazon. We not only provide cost-effective and reliable storage and fulfillment solutions but also have deep expertise in managing your inventory to optimize your Amazon business. With a clear understanding of your challenges and goals related to Amazon distribution in NJ, we are here to help you make a mark in the competitive e-commerce landscape.
So, buckle up and let's explore how partnering with FBA Prep Logistics can add significant value to your e-commerce business and set you up for success in the Amazon marketplace.
2. Partnering with the Right 3PL Warehouse: Why FBA Prep Logistics is Your Go-To Solution
As a medium-sized e-commerce business, especially one that sells on Amazon, you want to ensure your supply chain operations run smoothly and efficiently. But, how do you achieve this without losing focus on your core business strategies? The secret lies in partnering with the right third-party logistics provider. In this section, we'll discuss why FBA Prep Logistics is the go-to solution for optimizing your Amazon product distribution in NJ.
2.1 Advanced Fulfillment and Inventory Management Services
At FBA Prep Logistics, we take pride in offering state-of-the-art fulfillment and inventory management services tailored to the unique needs of your e-commerce business. Our technology-driven solutions help you maintain accurate inventory levels, streamline order processing, and ensure your customers receive their orders in a timely fashion. We also have the expertise to handle various tasks like picking, packing, and shipping products while adhering to Amazon's stringent guidelines.
2.2 Experience and Deep Understanding of Amazon Marketplace
With years of experience in the Amazon marketplace, our team knows what it takes to navigate the platform's complex ecosystem. We understand the challenges faced by medium-sized e-commerce businesses, and provide customized solutions to tackle these hurdles effectively.
2.3 Data-Driven Strategies
Our data-driven approach enables us to make informed decisions that help enhance your Amazon product distribution in NJ. By analyzing your sales patterns, customer preferences, and industry trends, we offer insights and strategies to optimize your inventory levels, improve your product listings, and boost your sales performance on the platform.
2.4 Hands-on Account Management
At FBA Prep Logistics, we believe in building long-lasting relationships with our clients. That's why we assign a dedicated account manager to each business we work with. This single point of contact ensures clear communication and offers personalized support to address all of your supply chain concerns.
2.5 Transparent Pricing and Scalable Solutions
Our transparent pricing structure and scalable solutions allow you to enjoy efficient and affordable Amazon product distribution in NJ. Choose from our flexible pricing plans that suit your business needs, and rest easy knowing there are no hidden fees or additional charges.
2.6 Compliance with Amazon's Guidelines
Complying with Amazon's guidelines can be a daunting task, but our team's extensive knowledge ensures your products meet all requirements. By following these guidelines meticulously, we not only help you avoid penalties, but also increase your chances of winning the Buy Box, which ultimately translates into more sales and higher profits.
2.7 Real-time Reporting and Analytics
Stay on top of your inventory, shipments, and order fulfillment with our real-time reporting and analytics features. By keeping you updated on all key performance metrics, we help you make informed, strategic decisions that contribute to your business's growth.
2.8 Dedicated Customer Support
Our responsive and dedicated customer support team is always available to address any questions or concerns you may have. We value your satisfaction, which is why our support team goes above and beyond to ensure your needs are met promptly and professionally.
2.9 Strategic Warehouse Location
Our strategically located warehouse in Bristol, PA ensures efficient delivery of your products to NJ and other prime locations on the East Coast. Our location, combined with our strong network of logistics partners, offers you cost-effective and timely shipping solutions.
2.10 Hassle-Free Partnership
Working with FBA Prep Logistics means enjoying a hassle-free partnership with a team of experts focused on your business's success. We take care of your Amazon product distribution in NJ while you concentrate on your core business operations and growth strategies.
In Conclusion
FBA Prep Logistics is the reliable partner you need to optimize your Amazon product distribution in NJ. With advanced fulfillment and inventory management services, deep understanding of the Amazon marketplace, and our commitment to client satisfaction, we help medium-sized e-commerce businesses thrive on the platform. Choose FBA Prep Logistics today, and elevate your Amazon business to new heights.
Store and Fulfill: Smart Storage and Efficient Fulfillment with FBA Prep Logistics
The Importance of Strategic Storage and Fulfillment
In an era where online shopping has become the norm, you may have wondered "how to optimize your Amazon product distribution in NJ?" Seamless e-commerce operations are key to the success of your business. As an Amazon seller, finding the sweet spot between storage, inventory management, and timely order fulfillment is your ticket to growth and success. This is where FBA Prep Logistics steps in – making your NJ-based Amazon business thrive like never before.
Streamlined Inventory Management for E-commerce Success
Our state-of-the-art storage facilities are designed to offer smart, organized, and easily accessible solutions for your inventory management needs. With FBA Prep Logistics, you can finally wave goodbye to any worries related to stock management, thanks to our:
Real-time inventory tracking: Our technology-driven approach allows you to stay updated on the ins and outs of your inventory at all times. You will always know how much stock you have, preventing stock-outs, and ensuring that your customers receive their products on time.

Efficient pallet racking system: Space optimization plays a critical role when it comes to effective storage solutions. Our warehouse racks can accommodate different sizes of pallets, cartons, and cases, maximizing the available space to ensure that you get the most from your investment.

Climate-controlled storage: Our storage facilities are equipped to maintain the appropriate temperature and humidity levels, safeguarding your products from environmental damage and ensuring their optimal condition for successful sales.
24/7 security and surveillance: Safety and security come first when it comes to storing your products. Our warehouses are monitored round the clock through surveillance cameras and are strategically secured to keep any potential risk at bay.
Speedy Order Fulfillment to Keep Up with Customer Demand
Our warehouse in Bristol, PA offers the perfect location to streamline your Amazon product distribution, thanks to its proximity to major transportation hubs. Efficiently fulfilling orders destined for New Jersey and beyond is now within your reach! Here's what you can expect with FBA Prep Logistics:
Fast processing and shipping: Say goodbye to delayed orders and unhappy customers! Our team is committed to processing your orders quickly and accurately, ensuring they are shipped to their destinations as swiftly as possible.

Cost-effective shipping solutions: Not only are we committed to delivering your products on time, but we also make it happen while keeping your transportation costs as low as possible. By optimizing shipping routes and consolidating shipments, we help you save money without compromising on service quality.

Hands-on inventory management: Besides providing you with top-notch storage solutions, our team is also adept at handling your stock. From receiving inventory and checking for any discrepancies to organizing items and labeling them according to Amazon's specifications, you can trust us with all your inventory handling needs.
Customized packaging: We understand that different products require different packaging solutions. That's why we offer customized packaging to suit each product's unique needs, ensuring they are well-protected and ready for shipment. Plus, we're well-versed in Amazon's packaging guidelines, so you can rest easy knowing your products are compliant.

Returns management: Handling returns can be tricky, but not with FBA Prep Logistics! We have a dedicated team to tackle all your return management needs, from processing to restocking, ensuring returns are handled efficiently and your customers are satisfied.
With FBA Prep Logistics at your side, Master Your Order Fulfillment Process in NJ: A Step-by-Step Guide becomes an easy reality. Our smart storage solutions and efficient fulfillment process will not only optimize your Amazon product distribution in NJ but also help your business reach new heights. So, are you ready to elevate your e-commerce game? Let us be the partner you've been looking for to make it happen!
4. Boosting Your Amazon Sales Rank: How our Expertise in Amazon Requirements Cuts Cost & Increases Profit
When it comes to navigating the highly competitive Amazon marketplace, not only do you need to focus on providing top-quality products and exceptional customer service, but it's also crucial to optimize every aspect of your supply chain and distribution. Using our expertise in Amazon requirements, FBA Prep Logistics can help you cut costs and increase profit margins, which will inevitably lead to a higher sales rank on the platform. Let's dive into how our services and skills make this possible.
4.1. Familiarity with Amazon FBA Guidelines and Fee Structure
As seasoned experts in Amazon product distribution, we at FBA Prep Logistics are well-versed in the many guidelines and regulations set forth by Amazon for its FBA sellers. Our thorough understanding of Amazon's FBA requirements and fees allows us to manage your inventory efficiently and in compliance with these rules, ensuring your e-commerce business runs smoothly without hiccups or delays.
By optimizing your inventory management to minimize storage fees and avoid incurring additional, unnecessary costs, we help you make the most of your budget. This, in turn, leaves you room to allocate resources to other crucial aspects of your business, such as marketing and product development.
4.2. Expertise in Packaging and Labeling Requirements
It's no secret that proper packaging and labeling can make or break the customer experience when it comes to online shopping. That's why our team is meticulous when it comes to meeting Amazon's strict packaging and labeling requirements.
Our experience in the field has taught us the ins and outs of Amazon's guidelines, ensuring that your products are packaged securely and your labels are printed clearly to prevent any mishaps during the fulfillment process. By adhering to these best practices, we can reduce the risk of damaged items and product returns, resulting in both cost savings and increased customer satisfaction.
4.3. Comprehensive Product Inspection and Quality Control
At FBA Prep Logistics, we understand that your brand reputation is everything in the world of e-commerce. To help you maintain a positive image among your customers, we implement rigorous product inspection and quality control procedures in line with Amazon's ever-evolving standards.
Our vigilant approach to quality surveillance enables us to identify and address potential issues before they escalate, preventing negative reviews and ensuring that your customers are always thrilled with their purchases.
4.4. Streamlined Data Management and Multichannel Integration
We recognize that staying ahead in today's fast-paced e-commerce landscape requires seamless data management and integrated solutions. To help keep your Amazon product distribution in NJ optimized, FBA Prep Logistics supports multichannel integration for a more efficient exchange of information between different sales platforms.
By embracing the latest technological advancements in the industry, we can provide you with real-time inventory tracking, order management, and fulfillment status updates, which are crucial factors when aiming to minimize lead time and maximize sales.
4.5. Proficiency in Fulfillment by Amazon Delivery Options and Transit Times
Last but not least, our expertise in FBA delivery options and transit times enables us to work effectively within Amazon's strict delivery timelines. By consistently meeting these tight deadlines, we ensure that your products arrive at their destinations on time and in excellent condition, earning you higher customer satisfaction ratings and boosting your sales rank on the platform.
End of Section 4
By leveraging our expertise in Amazon requirements and best practices, FBA Prep Logistics is equipped to help you optimize your product distribution in NJ, cut costs, and increase your profit margins. Partnering with us ensures that your e-commerce business triumphs in the ever-growing Amazon marketplace by providing you with reliable and efficient services tailored to your unique needs. Don't leave your success to chance; let FBA Prep Logistics provide the support and guidance you need to elevate your Amazon sales rank and reach new heights.
Conclusion: Let FBA Prep Logistics Elevate Your Amazon Business to New Heights in NJ
Optimizing your Amazon product distribution in NJ is no small feat. With the ecommerce market constantly evolving, the importance of having a reliable and efficient partner to handle your inventory management and fulfillment needs cannot be overstated. That is where FBA Prep Logistics steps in and shows you the path to success in the ever-competitive Amazon marketplace.
Carefully Tailored Solutions for Medium-sized E-Commerce Businesses
At FBA Prep Logistics, we understand how crucial it is for medium-sized e-commerce businesses to stand out from the crowded market. With our expertize and commitment, we endeavor to deliver customizable e-Commerce solutions that cater to your unique demands and propel your business forward.
Smart Storage, Efficient Fulfillment, and Cost-Effective Shipping
By choosing FBA Prep Logistics, you invest in high-quality smart storage facilities and efficient order fulfillment. Our strategically located warehouse in Bristol, PA not only ensures timely deliveries to New Jersey and beyond but also allows you to save on shipping costs. We'll work tirelessly to provide you with the most efficient supply chain possible.
In-Depth Knowledge of Amazon FBA Guidelines and Fees
Our experts are well-versed with Amazon FBA requirements, enabling us to manage your inventory effectively to avoid unwanted fees. We also take the load off your shoulders by complying with packaging, labeling, and dispatch rules, so you don't have to worry about potential slip-ups.
More than Just a 3PL Warehouse – A Trusted Partner in Your Journey
As a digital marketing assistant at FBA Prep Logistics, I can vouch for our dedication to helping you succeed in the Amazon platform. Our services cover all aspects of supply chain management, right from warehousing to shipping, returns, and cross-docking. Remember, with us, the success of your business is our ultimate goal!
Get Ready to Soar!
In conclusion, learning how to optimize your Amazon product distribution in NJ is a game-changer for any e-commerce venture. By partnering with FBA Prep Logistics, not only do you gain access to innovative and customized solutions for your unique business needs, but you also have a steadfast ally by your side, ready to support your growth in the competitive Amazon marketplace.
So, what are you waiting for? Give your business the boost it deserves and FBA Prep Logistics will be right beside you every step of the way. It's time to turn your Amazon business dreams into reality!
Frequently Asked Questions
How can FBA Prep Logistics help my medium-sized e-commerce business thrive in the Amazon marketplace?

At FBA Prep Logistics, we offer customized fulfillment and inventory management solutions tailored to the unique needs of your medium-sized e-commerce business. Our team of experts understands the challenges of navigating Amazon, and will work with you to improve efficiency, cut costs, and boost your Amazon sales rank.

Why should I choose FBA Prep Logistics as my 3PL warehouse partner?

Our Bristol PA-based warehouse is strategically located for efficient order fulfillment throughout New Jersey, and we offer smart storage solutions designed to optimize your inventory management. Additionally, our expertise in Amazon FBA requirements means we can help you reduce costs and increase profit margins.

How does FBA Prep Logistics ensure efficient and cost-effective fulfillment for my orders?

With our advanced fulfillment services and understanding of Amazon's guidelines, FBA Prep Logistics is committed to optimizing both storage and fulfillment processes. This ensures a faster turnaround time for your orders, leading to better customer satisfaction and a higher product ranking on the platform.

Can FBA Prep Logistics help me boost my Amazon sales rank and increase profits?

Yes, our expertise in Amazon requirements allows us to effectively manage your inventory, packaging, and labeling needs in compliance with FBA guidelines. This, in turn, can help you reduce costs, increase profit margins, and ultimately improve your product's ranking on the platform.

What makes FBA Prep Logistics different from other 3PL warehouse providers?

We distinguish ourselves by offering personalized service, a deep understanding of Amazon's ever-evolving ecosystem, and a commitment to helping you elevate your e-commerce business to new heights. Partnering with FBA Prep Logistics means getting the support and expertise your business needs to thrive in the competitive Amazon marketplace.