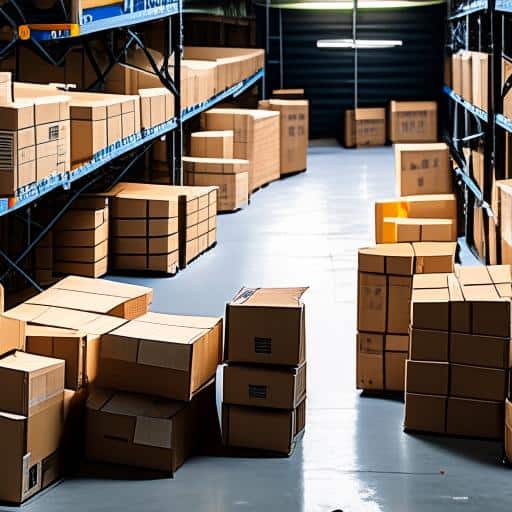 Optimize and Grow Your Business with Amazon FBA in NJ
1. Introduction to Amazon FBA in NJ
Welcome to the world of Amazon FBA (Fulfillment by Amazon), a game-changing fulfillment method that allows e-commerce entrepreneurs like yourself to take advantage of Amazon's vast resources, technology, and customer base. Amazon FBA in NJ offers new and experienced sellers an opportunity to grow and scale their businesses by providing access to top-notch inventory management, fulfillment, and shipping services.
But what if you could take your business to the next level with an experienced 3PL (Third Party Logistics) warehouse partner that's focused on helping you optimize your operations while staying ahead of your competitors? Enter FBA Prep Logistics, a 3PL warehouse conveniently located in Bristol, PA, just a short distance from New Jersey. As your dedicated logistics partner, we aim to streamline your e-commerce business and help you achieve tremendous growth.
In this guide, we'll walk you through how partnering with FBA Prep Logistics can benefit your Amazon FBA business in NJ, from our customized services to our team's expertise in supply chain management. Let's dive in!
New Jersey's Strategic Location for Online Sellers
New Jersey, with its close proximity to major metropolitan areas such as New York City and Philadelphia, is a prime location for e-commerce entrepreneurs to establish and grow their online businesses. With easy access to large consumer markets, excellent transportation infrastructure, and a high population density, NJ online sellers can ensure faster delivery times and enhanced customer satisfaction.
FBA Prep Logistics understands the importance of a great location. That's why our warehouse in Bristol, PA, is just a stone's throw away from New Jersey, providing you with a convenient and efficient 3PL solution for your Amazon FBA business.
FBA Prep Logistics: Your Trusted 3PL Warehouse Partner
It's no secret that managing your online business can be overwhelming, especially when it comes to the intricacies of supply chain management. That's where FBA Prep Logistics comes in. With our expertise in handling the various aspects of your e-commerce enterprise, you can focus on what matters most – growing your brand and increasing your sales.
As an e-commerce business owner, you might be new to the idea of using a 3PL partner. But don't worry; at FBA Prep Logistics, we're committed to providing you with a seamless, hassle-free experience by offering tailored services that cater to your specific needs.
Stay tuned as we explore the benefits of partnering with FBA Prep Logistics and how our customized services can help you achieve e-commerce success with Amazon FBA in NJ.
The Benefits of Growing Your Business with FBA Prep Logistics
Welcome to one of the best decisions you'll ever make for your e-commerce business!
As a digital marketing assistant at FBA Prep Logistics, I can assure you that choosing our 3PL warehouse for your operations can be a game-changer for your Amazon FBA in NJ. By catering to the unique needs of e-commerce entrepreneurs like you, we provide a range of services and benefits that will help you to grow your business while keeping it highly competitive.
In this section, we'll outline how partnering with FBA Prep Logistics will drastically benefit your business, especially if you are new in the supply chain management space. Here are the benefits we'll cover:
Seamless supply chain management
Inventory management and storage made easy
Achieve success with expert resources and skills
Resource optimization for better profits
Enhanced customer satisfaction
Flexibility and scalability for future growth
Seamless Supply Chain Management
At FBA Prep Logistics, we take the burden of supply chain management tasks off your shoulders. No need to coordinate with multiple vendors or worry about managing your supply chain. We are here to streamline the process and integrate all aspects of your logistics operations, from inventory procurement to the final delivery to the customer. This will help you focus more on what you're good at – marketing and selling your products.
Inventory Management and Storage Made Easy
Enjoy stress-free inventory management with our range of warehousing solutions. Our strategically placed warehouse is in close proximity to both the NJ and PA markets. This allows us to effectively handle storage, organize your products, and track your inventory with the latest technology. Our state-of-the-art facilities ensure that your products are safe, secure, and ready for shipment at a moment's notice.
Achieve Success with Expert Resources and Skills
The complexities and challenges of e-commerce can be overwhelming, especially for newcomers. By choosing FBA Prep Logistics, you're not only tapping into our top-tier infrastructure but also accessing our team of experienced supply chain professionals. We understand the intricacies of Amazon FBA requirements and offer unmatched customer service, ensuring you have optimal support in navigating this competitive market.
Resource Optimization for Better Profits
Increased efficiency can lead to higher profits, and partnering with FBA Prep Logistics does just that for your Amazon FBA in NJ business. By trusting us with your fulfillment operations, you save valuable time and resources that can be reinvested in other crucial areas of your business. Taking advantage of our experience and resources allows you to see significant improvements in your bottom line.
Enhanced Customer Satisfaction
Leveraging our efficient operations and fast shipping times, you'll be able to exceed your customers' expectations, leading to higher satisfaction levels. This, in turn, results in positive reviews and word-of-mouth marketing, giving you an edge over competitors and paving the way for customer loyalty and business growth.
Flexibility and Scalability for Future Growth
Capturing more market share in the coming years will likely require you to scale your operations. FBA Prep Logistics is prepared to support your growth with easily adjustable warehousing and fulfillment services. As your business expands, so does our ability to cater to your increased requirements.
In conclusion, choosing FBA Prep Logistics for your Amazon FBA in NJ operations can lead to tremendous benefits for your e-commerce business. With unparalleled expertise and seamless logistics management, you gain the ability to optimize your resources, improve customer satisfaction, and scale your business to new heights.
So, are you ready to experience these benefits first-hand and give your business the competitive edge it needs to excel in the market?
FBA Prep Logistics Customized Services
Choosing the right 3PL partner is crucial for growing Amazon FBA sellers in NJ who are looking for efficiency, reliability, and tailored solutions that cater to their specific needs. At FBA Prep Logistics, we take pride in offering customized services that not only meet your requirements but also help optimize your business operations. Our team of experts goes above and beyond to ensure your products are compliant with Amazon FBA guidelines. In this section, we will delve deeper into the variety of services we offer for successful e-commerce entrepreneurship.
3.1 Product Labeling
One of the most important aspects of selling on Amazon is making sure your products are labeled correctly. Incorrect labeling can lead to delays in shipment processing, increased fees, or even suspension of your account. At FBA Prep Logistics, we understand the importance of accurate labeling and compliance with Amazon FBA's requirements. Our dedicated team handles product labeling with precision, ensuring your products arrive at Amazon's warehouses without any hiccups. Say goodbye to labeling errors, and let us take care of labeling for you!
3.2 Kitting
Kitting is an essential service for Amazon FBA sellers in NJ who offer multi-pack or bundled product offers. With our kitting services, we can combine various Individual items or SKUs into a single unit, which is then shipped to Amazon as one product. Our expert team can help you optimize your kitting needs, ensuring proper packaging, organization, and speedy delivery. By leveraging our kitting services, you can create unique product bundles and increase your chances of winning the Buy Box on Amazon.
3.3 Packing
Proper packing is crucial for ensuring your products reach Amazon Fulfilled Centers safely and securely. Our team at FBA Prep Logistics works diligently to pack your products according to Amazon's guidelines and your preferences. We handle a variety of product types, from fragile items to large shipments, all with the same level of care and attention to detail. You can trust us to efficiently pack your products, ensuring they arrive at their destination without damage or delays.
3.4 Inventory Management
Efficient inventory management is essential for any successful e-commerce business. By partnering with FBA Prep Logistics, you gain access to our comprehensive inventory management system designed to help you track your stocks, manage order fulfillment, and plan for future inventory needs. With real-time updates and notifications, you can stay on top of your inventory levels and avoid stockouts or overstocking situations.
3.5 Shipping and Freight Coordination
Shipping products to Amazon FBA warehouses can be challenging and time-consuming, especially for new sellers. FBA Prep Logistics makes this process seamless and hassle-free by coordinating shipping and freight on your behalf. Using an integrated network of carriers, we ensure your products reach their destination quickly and cost-effectively. Our team is experienced in navigating Amazon's complex inbound shipping requirements and guidelines, saving you time and limiting potential penalties that may come with mismanaging your shipping process.
3.6 Customer-Oriented Approach for First-Time 3PL Users
We understand that using a 3PL service for the first time can be intimidating, especially for small to medium-sized e-commerce businesses. That's why we pride ourselves on our customer-oriented approach, catering to your specific needs and walking you through every step of the process. Our support and onboarding process ensure you feel confident and well-informed when outsourcing your logistics to FBA Prep Logistics.
In conclusion, FBA Prep Logistics offers a comprehensive suite of tailored services designed to help Amazon FBA sellers in NJ streamline their supply chain and grow their businesses. From product labeling to shipping coordination, we are here to support you in every aspect of your e-commerce operations, optimizing efficiency and profitability. Experience the difference that our customized solutions can make for your business, and let us be your 3PL partner in success.
4. How FBA Prep Logistics Helps You Stay Ahead of Your Competition in New Jersey
A competitive edge in today's ever-growing e-commerce landscape is invaluable. Partnering with FBA Prep Logistics enables you to leverage our extensive expertise, resources, and proven strategies to ensure success with Amazon FBA in NJ. In addition to our unmatched capabilities, our company's competitive advantage lies in our customized solutions that address your unique business challenges. Let's dive deeper into how FBA Prep Logistics can help you stay ahead of your competitors in the New Jersey e-commerce space.
4.1 FBA Prep Logistics' Proximity to Amazon Fulfillment Centers
Our strategically located warehouse in Bristol, PA, being only an hour away from New Jersey, offers easy access to several Amazon Fulfillment Centers in the region. This proximity reduces shipping times, transit costs, and ensures your products are available for Amazon Prime shipping, attracting more customers and increasing your competitiveness.
4.2 Highly Efficient and Optimized 3PL Processes
FBA Prep Logistics employs innovative storage and warehouse management techniques to maximize efficiency and minimize overall costs. Our teams are experienced and have a thorough understanding of Amazon FBA in NJ requirements. This in-depth knowledge allows us to optimize processes, resulting in fewer errors, faster shipping, and improved customer satisfaction. These advantages will ultimately contribute to building a strong reputation for your online store, distinguishing you from competitors.
4.3 Tailored and Scalable Solutions
No two businesses are the same, and at FBA Prep Logistics, we understand and respect this fact. Our customized services cater to the specific needs of your business, ensuring that your products meet all Amazon requirements. Our scalable solutions mean that as you grow, we will adapt and grow with you.
4.4 Expertise in Amazon FBA Guidelines
Mistakes while selling on Amazon can lead to account suspensions and loss of sales. The FBA Prep Logistics team is well-versed with Amazon FBA guidelines and requirements and will work closely with you to ensure compliance at every step. This meticulous approach empowers you to focus on expanding your product offerings and growing your customer base, giving you a marked advantage over the competition.
4.5 Cost-effective Services for a Competitive Edge
Our ability to offer tailored services at affordable rates enables you to enjoy the benefits of a professional 3PL partnership without breaking the bank. You can cut down your shipping costs and pass these savings on to your customers as attractive prices, ultimately boosting your competitiveness.
4.6 Keeping Up with Industry Trends
FBA Prep Logistics always stays abreast of the latest trends and industry developments. This allows us to fine-tune and adapt our service offerings, helping you stay current and relevant to your target audience. In an ever-changing e-commerce environment, it's essential to keep up with new technologies and strategies. By working with FBA Prep Logistics, you'll always be one step ahead of your competition.
In conclusion, our expertise, tailored solutions, and strategic location make FBA Prep Logistics the ideal partner for your Amazon FBA in NJ. Empower your business with our experience and resources, and watch as your competitiveness, customer satisfaction, and sales soar above the competition.
5. Getting Started with FBA Prep Logistics
Taking the first step towards a successful partnership with FBA Prep Logistics is incredibly straightforward. Here, we will provide a roadmap to help New Jersey-based e-commerce businesses navigate the process, from setting up an account to scheduling their first shipment. Our aim at FBA Prep Logistics is to ensure a seamless experience, so your business can start enjoying the benefits of a well-managed, growth-focused 3PL partnership.
5.1 Create Your Account with FBA Prep Logistics
To get started, your first step is to create an account with FBA Prep Logistics. Our user-friendly account setup process is designed to save your valuable time while ensuring all essential information is captured. Entering details about your Amazon FBA in NJ business accurately will help us tailor our services to cater to your specific needs.
5.2 Assess Your Business Requirements
Before jumping into product shipments, it's essential to identify the areas where your e-commerce business needs assistance. Some may require pack solutions in NJ, while others might be looking to improve their supply chain through effortless packing. Make a list of your needs in product labeling, kitting, packing, and other aspects of order fulfillment. This exercise will help you make the most out of your partnership with FBA Prep Logistics.
5.3 Schedule Your First Shipment
Scheduling your first shipment with FBA Prep Logistics is designed to be hassle-free. With the precise understanding of your business requirements, you can plan shipments efficiently. We offer flexibility in scheduling, including options for quick and easy freight shipping along the East Coast, ensuring your products are prepped and shipped with ease.
5.4 Optimize Your Inventory Management
Inventory management can make or break an e-commerce business. Thus, it's crucial to leverage the services available through FBA Prep Logistics to up your inventory game. We can help you implement automated Shopify supply chain management and master ecommerce returns solutions. Our team is here to ensure you're in complete control of your stock levels and order management.
5.5 Collaborate and Communicate for Success
The success of your partnership with FBA Prep Logistics depends on effective communication and collaboration. With our hands-on, customer-oriented approach, we make sure to keep an open line of communication, addressing individual concerns and requirements with diligence. Don't hesitate to reach out to our team of experts who are committed to help you get the best 3PL services for Amazon sellers in PA and the New Jersey region.
5.6 Monitor and Review Your Partnership Progress
Lastly, capitalize on the transparent metrics of our performance and review how your partnership with FBA Prep Logistics has benefitted your e-commerce business. Take advantage of valuable insights like shipping cost breakdowns and inventory management guides to continually optimize and ultimately, grow your Amazon FBA in NJ business.
In conclusion, partnering with FBA Prep Logistics is an impactful decision that can elevate your e-commerce business to new heights. By following these guidelines and utilizing our expertise, New Jersey-based entrepreneurs can ensure their Amazon FBA enterprise is well-prepared for success. FBA Prep Logistics is here to help create a lasting partnership that focuses on expansion and prosperity, so don't hesitate to take that first step.
FAQs: Optimize and Grow Your Business with Amazon FBA in NJ
Why should I choose FBA Prep Logistics for my Amazon FBA business in New Jersey?
FBA Prep Logistics is the perfect choice because of its focus on the needs of e-commerce entrepreneurs. They offer customized services, strategically located warehouse, and cost-effective solutions, enabling sellers to optimize and grow their businesses. FBA Prep Logistics also caters to first-time 3PL users with a customer-oriented approach.
What are the benefits of partnering with FBA Prep Logistics for my e-commerce business?
FBA Prep Logistics handles supply chain management, inventory, and storage, allowing you to focus on your core business activities. With experience, skills, and resources, they help you achieve success in the competitive e-commerce market. Moreover, their tailored services ensure your products meet Amazon's FBA guidelines.
What customized services does FBA Prep Logistics offer?
FBA Prep Logistics offers a range of tailored services, such as product labeling, kitting, and packing, making sure your products meet Amazon FBA guidelines. Their customer-centric approach makes them an ideal choice for first-time 3PL users, as they cater to the needs of e-commerce entrepreneurs.
How does FBA Prep Logistics help me stay ahead of my competition in New Jersey?
FBA Prep Logistics helps you outperform competitors by providing quick and efficient shipping, strategically located warehouses, and cost-effective services. These advantages attract more customers, generate more sales, and ultimately allow you to outperform other Amazon FBA sellers in the New Jersey region.
How do I get started with FBA Prep Logistics for my e-commerce business in New Jersey?
To begin your partnership with FBA Prep Logistics, simply set up an account, schedule shipments, and enjoy the benefits of a well-managed, growth-focused 3PL partnership. As a first step, visit their website or contact them for more information on how to start growing your e-commerce business in New Jersey.