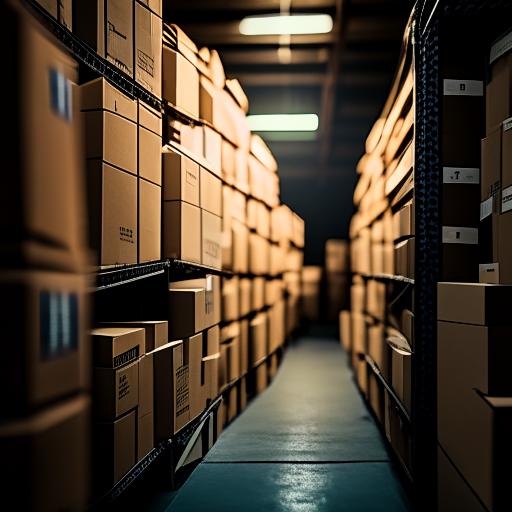 1. Introduction to Amazon Seller Inventory Management
Welcome to the world of Amazon Seller Inventory Management! Whether you are new to e-commerce or a seasoned pro, conquering your inventory management is imperative for the overall success of your online business. Being an Amazon seller requires great attention to detail and an even stronger commitment to understanding the ins and outs of managing your products. But fear not, we at FBA Prep Logistics are here to help you navigate through the maze of inventory management. In this segment, we will provide you with a brief overview of what Inventory Management means for Amazon Sellers and highlight its importance in driving success for e-commerce businesses.
1.1 What is Inventory Management?
Inventory management refers to the process of ordering, storing, and tracking an online seller's stock in a systematic and organized manner. An effective inventory management system should be equipped with:
Reliable stock counting methodology
Accurate sales forecasting mechanisms
Reordering strategies that consider lead times, supplier MOQs, and shipping logistics
Warehousing solutions for efficient storage and handling
When it comes to Amazon sellers, inventory management becomes even more critical as it directly impacts the seller's performance, seller ranking, and customer satisfaction. That's where Amazon Seller Inventory Management steps in to ensure you have a smooth and efficient process in place.
1.2 Why is Inventory Management Important for Amazon Sellers?
When running an Amazon store, it can be challenging to keep track of multiple variables – fluctuating demands, seasonal patterns, and promotional events. Having an effective inventory management system is crucial for several reasons.
Customer Satisfaction: Managing your inventory efficiently means fulfilling customers' orders promptly. Doing so keeps your customers happy and helps build a strong reputation for your business. Remember, satisfied customers are more likely to convert into repeat buyers!

Optimal Cash Flow: Keeping too much inventory ties up valuable working capital, whereas having too little stock can cause lost sales. Efficient inventory management will strike the perfect balance, allowing you to maintain a healthy cash flow.

Inventory Turnover: A high inventory turnover translates into lower holding costs and maximizes profits. Proper Amazon Seller Inventory Management will ensure your products consistently move off the shelves while allowing new ones to take their place.
Maximize Profits: When you have your finger on the pulse of critical inventory data, you can make informed decisions that will lead to increased sales and ultimately, grow your bottom line.
With FBA Prep Logistics by your side, Amazon sellers can rest assured that their inventory management system is in good hands and perfectly suited to achieve success in the competitive e-commerce market.
Stay tuned for more insights into how FBA Prep Logistics can revolutionize your Amazon Seller Inventory Management process. As we journey through this article, we will cover various facets of inventory management and provide valuable tips that will propel your e-commerce business to greater heights. So, buckle up and get ready to master the art of Amazon Seller Inventory Management!
2. Increased Efficiency and Cost Savings with FBA Prep Logistics
As an Amazon seller, finding ways to boost efficiency and save on costs is a top priority. That's where FBA Prep Logistics comes into play. Our 3PL warehouse in Bristol, PA, offers a range of services designed to optimize your Amazon seller inventory management process. By partnering with us, you'll reap numerous benefits, from streamlining operations to reducing overhead and saving time. But how exactly do we achieve this? Let's dive in.
2.1 Streamlined Operations with Expert Support
Our team at FBA Prep Logistics is comprised of seasoned professionals well-versed in the intricacies of Amazon's marketplace. We understand that top-notch inventory management is critical to your success. From handling inbound shipments and product inspections to storage and picking, our team will manage every aspect of your inventory process. Our experience and attention to detail ensure accuracy and minimal delays, proving that switching to FBA Prep Logistics as your inventory management partner offers a streamlined experience.
2.2 Reduced Overhead and Storage Costs
Finding the right balance between stock availability and storage costs can be challenging. With FBA Prep Logistics, you'll gain access to flexible storage solutions designed to cater to your unique business needs. We offer scalable storage options so you only pay for the space you need, thus reducing overhead costs. FBA Prep Logistics' centralized location on the East Coast also allows for lower shipping costs, which translates into savings for your business.
2.3 Time Savings through Automation and Integration
Running an e-commerce business on Amazon can easily consume much of your time. By partnering with FBA Prep Logistics, you can take advantage of our cutting-edge tools and automation solutions. Our warehouse management system integrates seamlessly with your Amazon Seller account, allowing for real-time data syncing and enhanced visibility. By automating processes like order fulfillment and inventory tracking, you can save valuable time to focus on scaling your business and increasing profits.
2.4 Access to Valuable Insights and Analytics
The key to efficient Amazon seller inventory management lies in data-driven decision-making. With FBA Prep Logistics, you'll gain access to crucial metrics and insights that can help you optimize your inventory process. We provide detailed reports on inventory turnover, storage costs, sales performance, and more, allowing you to make informed decisions on stock replenishment, pricing strategies, and promotional activities.
2.5 Free up Internal Resources for Growth
By outsourcing your inventory management process to FBA Prep Logistics, you'll free up valuable resources within your own team. This allows you to allocate those resources to other core business functions, such as marketing, product development, and customer support. By focusing on growing your business and improving your products, you'll ultimately boost your brand's reputation and customer satisfaction.
2.6 Benefit from Our Resource Network
As a 3PL warehouse, we've established relationships with various carriers and vendors throughout the industry. By partnering with FBA Prep Logistics, you can gain access to our network and take advantage of potential cost savings and quicker shipping times. This includes a faster and more efficient supply chain, as described in our article about discovering the secret to a faster and more efficient supply chain.
In conclusion, partnering with FBA Prep Logistics for your Amazon seller inventory management needs can lead to increased efficiency, reduced overhead, and significant cost savings for your e-commerce business. Our expertise, cutting-edge tools, and commitment to excellence allow us to streamline your entire inventory process, letting you focus on what matters most: growing your business and maximizing profits. With FBA Prep Logistics by your side, you'll be well on your way to e-commerce success.
3. Ensuring Stock Availability and Preventing Stockouts
As an Amazon seller, maintaining optimal stock levels is crucial to your success. In this section, we will discuss the importance of proactive Amazon Seller Inventory Management and how FBA Prep Logistics can help you keep the right stock levels to avoid stockouts and missed sales opportunities. With the right tools, expertise, and services, you can ensure that your e-commerce business thrives by consistently meeting customer demand.
3.1 The Importance of Inventory Management
An effective Amazon Seller Inventory Management process prevents stockouts and overstocking. Stockouts lead to unhappy customers and lost sales, while overstocking ties up your valuable capital and increases storage costs. By striking a balance between these extremes, you can optimize your inventory and maximize your profitability.
3.2 Proactive Inventory Management with FBA Prep Logistics
Partnering with FBA Prep Logistics gives you access to a range of inventory management tools and services that make it easy for you to maintain optimal stock levels for your Amazon products. Our Discover the Secret to a Faster and More Efficient Supply Chain article highlights how our state-of-the-art technology and seasoned industry professionals can assist in streamlining your supply chain, helping you to keep enough inventory to meet fluctuating demand.
3.3 Data-Driven Decision Making
Harnessing the power of data analytics is essential for successful Amazon Seller Inventory Management. FBA Prep Logistics can provide you with accurate, real-time data on your inventory levels, which you can use to make informed decisions about restocking your products.
Additionally, our team of experts can help you identify trends and patterns in your sales data and provide insights into customer behavior, enabling you to make data-driven decisions regarding future stock levels and better forecast customer demand.
3.4 Demand Forecasting and Replenishment Planning
One of the core features of FBA Prep Logistics services is our demand forecasting and replenishment planning tools. By analyzing historical sales data, seasonal trends, and other relevant factors, we help you anticipate fluctuations in demand for your products. This intelligence allows for more accurate restocking decisions, ensuring you have the right amount of inventory on hand at all times.
Following the guidance in our Master Your Order Fulfillment Process in NJ: A Step-by-Step Guide, we work closely with you to develop a replenishment plan that seamlessly integrates with your unique sales cycle and order fulfillment process. This strategy helps to prevent stockouts and reduce the likelihood of overstocking.
3.5 Just-In-Time (JIT) Inventory Management
FBA Prep Logistics also supports Just-In-Time (JIT) inventory management for Amazon sellers looking to minimize inventory holding costs while still maintaining optimal stock levels. JIT inventory management revolves around receiving products just in time for them to be shipped to customers, reducing the need for excess inventory storage. Our expertise in Effortless Packing ensures that your products are quickly and efficiently prepped and shipped, making JIT inventory management a viable option for your business.
3.6 Stock Level Monitoring and Alerts
To help you stay on top of your Amazon Seller Inventory Management responsibilities, FBA Prep Logistics offers stock level monitoring and alerts. When your inventory levels reach a predefined threshold, you'll receive an alert, notifying you it's time to restock. These timely notifications and our quick Pack Solutions in NJ help Amazon sellers stay ahead of the game and prevent costly stockouts.
It's clear that maintaining optimal stock levels is crucial for Amazon sellers. By partnering with FBA Prep Logistics, you'll have access to advanced inventory management tools and services to avoid stockouts and keep your customers happy. Ultimately, effective inventory management with FBA Prep Logistics leads to a streamlined supply chain, optimal restocking strategies, and increased profits for your e-commerce business. So, give yourself the best chance to thrive in the competitive Amazon marketplace by choosing FBA Prep Logistics as your partner for Amazon Seller Inventory Management.
4. Staying Compliant with Amazon's Requirements
4.1 Importance of Compliance in Amazon Inventory Management
As an Amazon seller, it's crucial to stay compliant with Amazon's requirements to ensure smooth operations and prevent any disruptions to your business. Meeting these expectations will not only improve customer satisfaction but also help increase your seller rating. At FBA Prep Logistics, we have a deep understanding of Amazon's rules and regulations, which enables us to provide our partners with Amazon Seller Inventory Management services that adhere to the highest standards set by the platform.
4.2 Understanding Amazon's Storage and Shipping Policies
Being well-versed in Amazon's storage and shipping policies is a crucial aspect of managing your inventory. This includes:
Proper packaging: Ensuring that your products are correctly packaged for safe storage and on-time delivery to customers.
Accurate labeling: Following Amazon's FBA labeling requirements to avoid mix-ups or returns. This includes barcodes, expiration dates, and country of origin information.
Timely shipments: Ensuring that products are stocked and shipped within Amazon's timelines to improve your performance metrics and avoid penalties.
Long-term storage fees: Keeping track of your inventory turnover, reducing your holding time, and promptly removing any stale inventory to avoid long-term storage fees.
4.3 How FBA Prep Logistics Ensures Compliance
At FBA Prep Logistics, we take the stress out of complying with Amazon's requirements. With our comprehensive inventory management system, you can rest assured that your products will be handled with care and precision. Here's how we ensure compliance with Amazon's policies:
Packaging expertise: Our team is skilled in packaging a variety of products, using appropriate materials and methods to protect your items during storage and transportation.
Labeling accuracy: We follow Amazon's FBA labeling guidelines to the letter to avoid any confusion or mistakes, helping you maintain a strong seller rating.
Timely shipments: Our strategic location in Bristol, PA, allows for efficient shipping to Amazon fulfillment centers. With our streamlined processes, we make sure that your products arrive on time, every time.
Inventory turnover management: Our Amazon Seller Inventory Management system monitors your inventory levels, enabling you to make informed decisions regarding stock replenishment and removal to avoid long-term storage fees.
4.4 Streamlining Your FBA Experience
We at FBA Prep Logistics believe in supporting our partners throughout the entire process, from onboarding and inventory setup to ongoing monitoring and management. Our goal is to help Amazon sellers like you avoid the pitfalls of non-compliance and save time, money, and resources. That's why we offer a range of services to streamline your FBA experience, such as effortless packing, cost reduction strategies, and order fulfillment best practices.
4.5 Ensuring Compliance Beyond Inventory Management
In addition to inventory management, compliance with Amazon's seller guidelines also extends to areas such as product listing optimization, returns management, and customer service. As experienced e-commerce professionals, we understand the importance of covering all aspects of Amazon seller compliance, and we offer tailored services addressing each area to set you up for success on the platform.
Wrapping it Up
By choosing FBA Prep Logistics as your Amazon Seller Inventory Management partner, you'll benefit from our proficient understanding of Amazon's requirements and guidelines. We are committed to keeping your inventory compliant, helping you maintain a strong seller rating, avoid penalties, and grow your business. So why wait? Experience the FBA Prep Logistics difference and focus on what matters most: expanding your brand's reach and maximizing profits!
5. Scaling Your Business with FBA Prep Logistics
Effective Amazon Seller Inventory Management is a crucial aspect of growing your e-commerce business and maximizing profits. As your business expands, inventory management can become increasingly challenging. Partnering with FBA Prep Logistics is an exceptional solution that not only helps manage your inventory effectively but also paves the way for the rapid growth of your Amazon store. In this section, we'll outline how FBA Prep Logistics' expertise can be the cornerstone of your growth strategy.
5.1. Adaptable & Customizable Services
At FBA Prep Logistics, we understand that every business is unique, and we are committed to providing tailored inventory management solutions to suit your specific needs. Whether you are a new e-commerce seller or an established brand looking to expand, our adaptable and customizable services will scale alongside your business, enabling seamless growth.
5.2. Streamlined Inventory Management
Our state-of-the-art warehouse management system allows for the efficient management of your Amazon inventory while offering real-time visibility to monitor stock levels. This in-depth oversight enables you to make data-driven decisions that will drive profitable growth, allowing you to discover the most effective e-commerce solutions.
5.3. Time & Cost Savings
By outsourcing your Amazon Seller Inventory Management to FBA Prep Logistics, you'll save valuable time and resources that would otherwise be spent on labor-intensive tasks like packing, shipping, and handling returns. Our vast experience in the industry enables us to navigate complex supply chains, ensuring your products reach their destination quickly and efficiently, while the comprehensive shipping cost breakdown for Amazon sellers ensures transparency in our processes.
5.4. Expanding Your Market Reach
To ensure that your Amazon store continues to grow, you need to reach new customers while retaining your existing ones. With FBA Prep Logistics' extensive distribution network, we can help expand your market presence beyond your current customer base – enabling faster and more efficient supply chain management to reach new audiences.
5.5. Improved Customer Experience
Our dedication to customer satisfaction helps you build and maintain your reputation as a reliable Amazon seller, leading to increased sales and customer loyalty. By ensuring prompt and accurate order fulfillment and using our return center for Shopify](/2027/top-5-cross-docking-best-practices-for-your-shopify-store-2/), we strive to offer the best possible customer experience on your behalf, driving repeat business and attracting new customers.
5.6. Expert Support & Guidance
With years of industry experience, FBA Prep Logistics takes pride in offering exceptional customer service. Our team of experts is on hand to offer support and guidance, helping you navigate the ins and outs of Amazon Seller Inventory Management. Our goal is to empower you to focus on growing your business rather than getting bogged down in the day-to-day operational challenges of managing your inventory.
By partnering with FBA Prep Logistics to manage your Amazon Seller Inventory, you're investing in the growth and enhanced profitability of your e-commerce business. Our collaborative approach, combined with our extensive industry expertise, will ensure a seamless transition as your Amazon store scales, keeping you competitive and agile in the ever-evolving world of e-commerce.
In conclusion, it's time to invest in scaling your e-commerce business by choosing FBA Prep Logistics as your 3PL partner. Our adaptable, customizable, and efficient services are designed with your growth and success in mind. Don't let inventory management hold you back – harness the power of FBA Prep Logistics and watch your Amazon store thrive!
Frequently Asked Questions</h2>
<h3>1. What is FBA Prep Logistics, and how can it help my Amazon business?</h3>
<p>FBA Prep Logistics is a trusted third-party logistics (3PL) company specializing in Amazon Seller Inventory Management. We partner with Amazon Sellers to streamline their inventory management process, reduce overhead, and save time – all while ensuring compliance with Amazon's requirements.</p>
<h3>2. How does FBA Prep Logistics increase efficiency and save costs for my business?</h3>
<p>Our team of experts helps optimize the entire inventory management process, from receiving, storing, and shipping goods. This eliminates time-consuming tasks, reduces errors, and lowers your operational costs. You can then focus more on growing your business and increasing profits.</p>
<h3>3. Can FBA Prep Logistics help prevent stockouts and ensure stock availability?</h3>
<p>Absolutely! We provide proactive and data-driven inventory management services that help maintain optimal stock levels, preventing stockouts and lost sales. With our expertise, you can avoid inventory issues and ensure stock availability for your customers.</p>
<h3>4. How does FBA Prep Logistics ensure compliance with Amazon's requirements?</h3>
<p>Our team stays current with all of Amazon's storage and shipping policies, ensuring that your inventory is prepared, stored, and shipped according to their guidelines. This reduces the risk of non-compliance, which could lead to delays, penalties, and suspended accounts.</p>
<h3>5. Can partnering with FBA Prep Logistics help me scale my Amazon business?</h3>
<p>Yes, our tailored inventory management solutions are designed to support your business growth. As you expand your product range and sales volume, our scalable services will help manage your inventory efficiently, maximize your profits, and ensure a smooth scaling process.</p>
<script type="application/ld+json">
{
"@context": "https://schema.org",
"@type": "FAQPage",
"mainEntity": [
{
"@type": "Question",
"name": "What is FBA Prep Logistics, and how can it help my Amazon business?",
"acceptedAnswer": {
"@type": "Answer",
"text": "FBA Prep Logistics is a trusted third-party logistics (3PL) company specializing in Amazon Seller Inventory Management. We partner with Amazon Sellers to streamline their inventory management process, reduce overhead, and save time – all while ensuring compliance with Amazon's requirements."
}
},
{
"@type": "Question",
"name": "How does FBA Prep Logistics increase efficiency and save costs for my business?",
"acceptedAnswer": {
"@type": "Answer",
"text": "Our team of experts helps optimize the entire inventory management process, from receiving, storing, and shipping goods. This eliminates time-consuming tasks, reduces errors, and lowers your operational costs. You can then focus more on growing your business and increasing profits."
}
},
{
"@type": "Question",
"name": "Can FBA Prep Logistics help prevent stockouts and ensure stock availability?",
"acceptedAnswer": {
"@type": "Answer",
"text": "Absolutely! We provide proactive and data-driven inventory management services that help maintain optimal stock levels, preventing stockouts and lost sales. With our expertise, you can avoid inventory issues and ensure stock availability for your customers."
}
},
{
"@type": "Question",
"name": "How does FBA Prep Logistics ensure compliance with Amazon's requirements?",
"acceptedAnswer": {
"@type": "Answer",
"text": "Our team stays current with all of Amazon's storage and shipping policies, ensuring that your inventory is prepared, stored, and shipped according to their guidelines. This reduces the risk of non-compliance, which could lead to delays, penalties, and suspended accounts."
}
},
{
"@type": "Question",
"name": "Can partnering with FBA Prep Logistics help me scale my Amazon business?",
"acceptedAnswer": {
"@type": "Answer",
"text": "Yes, our tailored inventory management solutions are designed to support your business growth. As you expand your product range and sales volume, our scalable services will help manage your inventory efficiently, maximize your profits, and ensure a smooth scaling process."
}
}
] }
</script>