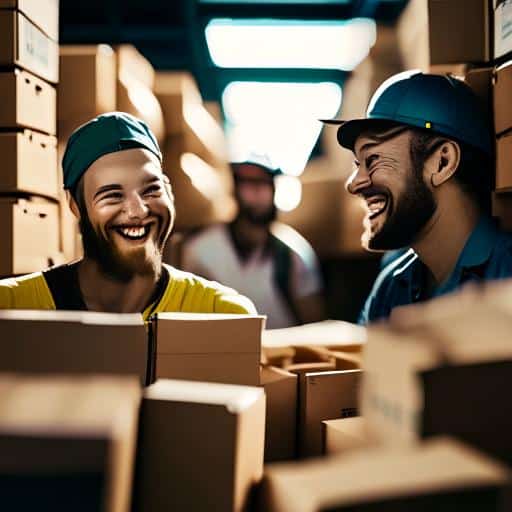 Introduction to Shopify Shipping Fulfillment Services
Welcome to FBA Prep Logistics, a top-of-the-line 3PL warehouse located in Bristol, PA. We specialize in providing seamless and efficient Shopify shipping fulfillment services for e-commerce businesses. Our goal is to help our clients, like you, streamline their supply chain, reduce operational costs, and ultimately grow their online sales. If you're new to supply chain management or have never worked with a 3PL warehouse before, you're in the right place! In this article, we'll cover everything you need to know about optimizing your Shopify shipping and fulfillment process.
As the trusted partner of numerous mid-sized e-commerce businesses, we understand that no two businesses are the same. That's why we offer tailor-made solutions designed to address the unique challenges faced by our clients. In this guide, we'll discuss the various advantages you'll gain by outsourcing your shipping and fulfillment responsibilities to FBA Prep Logistics and how our state-of-the-art services can transform your e-commerce operations.
Are you ready to elevate your e-commerce business to the next level? From the benefits of outsourcing to our custom shipping solutions, keep reading to discover how FBA Prep Logistics ensures a smooth and hassle-free experience for our clients.
Table of Contents
Stay tuned as we dive into the numerous advantages of partnering with FBA Prep Logistics for your Shopify shipping fulfillment services. From cost-effectiveness to scalability and efficiency, we're confident our expertise will benefit your e-commerce business in more ways than one.
2. Advantages of Outsourcing Shopify Fulfillment to FBA Prep Logistics
Outsourcing your Shopify shipping fulfillment services to FBA Prep Logistics offers numerous advantages to the growth and efficiency of your e-commerce business. As an established 3PL warehouse, we understand the challenges that emerging e-commerce entrepreneurs face, and we're here to take care of those complexities, allowing you to focus on growing your business. Let's delve into the primary benefits that come with partnering with FBA Prep Logistics for your Shopify fulfillment.
2.1. Enhanced Efficiency with Time and Resources
By outsourcing your fulfillment to FBA Prep Logistics, you eliminate the hassle of managing orders, shipping products, and handling returns. With our advanced systems in place, your logistical processes become more streamlined, ensuring accurate, timely, and smooth shipping experiences for your customers. This approach saves valuable time that you can allocate to product development, marketing, and other crucial aspects of your e-commerce business.
2.2. Cost-Effectiveness by Reducing Warehouse and Labor Expenses
Running your warehouse and managing a full-time fulfillment workforce can be expensive and consume a significant portion of your resources. Outsourcing your Shopify fulfillment services to us eliminates the need to invest in warehousing and recruitment, as we offer a flexible 'pay-as-you-go' model. Our competitive pricing allows you to benefit from bulk discounts and our large network of shipping partners, which significantly lowers your shipping and material costs in the long run.
2.3. Scalability
FBA Prep Logistics provides a flexible fulfillment model that easily adapts to your needs as your e-commerce business evolves. Whether you're experiencing seasonal fluctuations, expanding your product range, or entering new markets, our readily available infrastructure can manage increased order volume with ease. This adaptability ensures business continuity without risking delays or stockouts, resulting in satisfied customers and repeat business.
2.4. Real-time Inventory Management
One integral part of running an e-commerce business is controlling your stock levels. Our seamless Shopify integration and advanced technology make tracking your inventory in real-time a breeze. Access to accurate, up-to-date data on your inventory levels prevents stockouts and excess stock, helping you make well-informed purchasing decisions.
2.5. Improved Customer Satisfaction
By streamlining your customer's shopping experience, FBA Prep Logistics can help you maintain a positive brand image. Our efficient shipping process, supported by a highly reliable order management system, ensures that your customers receive their orders promptly. Additionally, our team of dedicated customer service professionals assists with customer inquiries and returns, thereby demonstrating your company's commitment to exceptional customer service.
2.6. Expertise and Experience
Our seasoned team, backed by years of experience in Shopify fulfillment services, brings that same knowledge and expertise to your e-commerce business, ensuring efficient supply chain management. We stay updated on industry trends, shipping regulations, and new technologies, enabling you to take advantage of our insights and optimize your supply chain even further.
2.7. Focus on Core Competencies
By outsourcing your Shopify shipping fulfillment services to FBA Prep Logistics, you free up crucial time and resources to focus on what matters most – growing your business. Equipped with the expert support from our team, you can direct your energy on strategic planning, innovation, and the development of new revenue streams.
In summary, FBA Prep Logistics provides a one-stop solution for all your Shopify fulfillment needs. From increasing efficiency to reducing warehouse and labor expenses, our services help you scale your business and improve customer satisfaction remarkably. So why wait? Consider outsourcing your Shopify fulfillment to FBA Prep Logistics and experience the difference it makes in your e-commerce journey.
How FBA Prep Logistics Streamlines Your Shopify Fulfillment Process
As a Shopify store owner, you want an efficient and trustworthy third-party logistics partner to manage your fulfillment processes. That's where FBA Prep Logistics comes in, providing exceptional services to utilize a streamlined system that makes order management as smooth as possible. In this section, we'll dive into how FBA Prep Logistics improves your Shopify fulfillment process through an advanced order management system and seamless integration with the Shopify platform.
Leveraging Advanced Order Management Systems
At FBA Prep Logistics, we use cutting-edge warehouse management systems (WMS) to ensure that your Shopify shipping fulfillment services operate efficiently, accurately, and with minimal delays. Our WMS allows us to:
Centralize Customer Data: Our system compiles all necessary customer information in one place, making it easier to access and track order details. This data consolidation increases efficiency, reduces the chances of errors, and improves overall order management.

Optimize Inventory Management: Our advanced WMS accurately monitors and manages inventory levels, preventing stockouts and overstock situations. We provide real-time inventory updates, allowing you to make informed decisions about stock replenishment and effectively manage your supply chain.

Streamline Order Picking and Packing: By using advanced warehouse management techniques like batch picking, zone picking, and wave picking, our team can quickly and accurately process orders, preparing them for shipment with minimal delays.
Real-time Order Tracking: Our advanced WMS offers real-time order tracking capabilities, providing you and your customers with up-to-date information on the progress of the fulfillment process and estimated delivery times.

Efficient Return Management: Managing returns can be a challenging aspect of order fulfillment. Our advanced system streamlines the returns process by handling and recording returns, issuing refunds or exchanges, and maintaining accurate inventory records.
Seamlessly Integrating with the Shopify Platform
FBA Prep Logistics believes in providing easy and hassle-free integration with your Shopify store, ensuring a smooth Shopify shipping fulfillment experience. Our integration process includes:
Easy Set-Up: Setting up and integrating your Shopify store with FBA Prep Logistics is quick, simple, and painless. With just a few clicks, you can connect your store to our fulfillment services and start enjoying the benefits of our seamless integration.

Automatic Order Import: Once your Shopify store is synced with our system, new orders are automatically imported into our WMS. This eliminates the need for manual data entry and reduces the risk of errors, ensuring that your orders are processed accurately and swiftly.

Inventory Syncing: FBA Prep Logistics' 3PL warehouse constantly updates your Shopify store with the latest inventory information. This accurate inventory tracking helps you avoid overselling and guarantees the best customer experience.
Shipping Notification: Once an order is processed, our system automatically sends a shipping notification to your Shopify store and the customer. This way, your customers always know the status of their orders and can easily track their shipments.

One Dashboard for Everything: When you integrate your Shopify store with FBA Prep Logistics, you gain access to an easy-to-use dashboard that displays all relevant information related to your orders and inventory. You can track order status, monitor inventory levels, and control returns from this central hub, simplifying your order management process.
Growing Your Business with FBA Prep Logistics
Partnering with FBA Prep Logistics grants your Shopify business access to an advanced order management system, seamless integration with the Shopify platform, and exceptional services tailored to your unique needs. Our expertise in Shopify shipping fulfillment services empowers you to focus on growing your e-commerce business while we efficiently handle fulfillment processes. Discover how our effortless packing, inventory management, and quick order fulfillment services can help optimize your supply chain and automate your Shopify store to achieve greater success.
4. FBA Prep Logistics' Custom Shipping Solutions for Your Shopify Business
When it comes to running a successful e-commerce business, every Shopify store owner has unique needs and preferences. Recognizing this, FBA Prep Logistics prides itself on offering customized Shopify shipping fulfillment services designed to help our clients thrive in the competitive online marketplace. In this section, we'll delve into some of the ways we provide tailor-made shipping solutions to best meet the requirements of your Shopify store.
4.1 Personalized Packaging Options
First impressions matter when it comes to delivering a memorable customer experience. So, why not make the unboxing experience a pleasant one for your customers? At FBA Prep Logistics, we offer a range of customized packaging options to suit your e-commerce store's branding and needs. From branded packaging materials to eco-friendly alternatives, we help you create a lasting impression on your customers.
4.2 Access to Discounted Shipping Rates
One of the primary benefits of partnering with FBA Prep Logistics is our ability to secure discounted shipping rates, thanks in part to our relationships with major shipping providers. Shopify store owners can reduce their shipping costs, allowing them to stay competitive by offering lower prices to customers.
4.3 Flexible Storage Solutions
As your Shopify business grows, so do your inventory and storage requirements. FBA Prep Logistics understands the importance of scalable solutions, offering secure warehouse storage that can expand to accommodate your ever-changing needs. With our efficient supply chain management systems, we ensure your inventory is in good hands and your growth is supported.
4.4 Comprehensive Order Management
To make sure that your Shopify store operates without a hitch, our Shopify shipping fulfillment services include advanced order management. From processing orders to handling returns and exchanges, our dedicated team at FBA Prep Logistics takes care of every detail so you can focus on what you do best – growing your e-commerce business.
4.5 Real-time Inventory Tracking
In the fast-paced world of e-commerce, staying informed on your inventory levels is crucial for smooth operation. FBA Prep Logistics' Shopify fulfillment services offer real-time inventory tracking, allowing you to make informed decisions on when to restock products. Our advanced inventory management system ensures that you never miss a sale due to stockouts, providing you with peace of mind.
4.6 Expert Returns Handling
Returning products can be a pain, both for you and your customers. With FBA Prep Logistics, rest assured that we provide specialized ecommerce returns handling tailored to your Shopify store's needs. We aim to make the returns process as smooth as possible while minimizing potential losses for your online business.
4.7 Cross-docking for Efficient Fulfillment
Reducing storage and transportation costs are crucial for e-commerce businesses to thrive. At FBA Prep Logistics, we implement strategic cross-docking practices designed to shorten the time your products spend waiting in warehouses, allowing you to efficiently and cost-effectively move inventory to customers.
4.8 Kitting and Bundling Services
Our Shopify shipping fulfillment services also include kitting and bundling, which entail combining multiple items into a single product package. This unique service helps you create attractive product bundles for your customers, ultimately increasing sales and enhancing the shopping experience. Trust FBA Prep Logistics' team to skillfully assemble your product kits with care and precision.
In conclusion, FBA Prep Logistics is committed to providing bespoke shipping fulfillment services that cater to the unique needs of your Shopify business. With our personalized approach, scalable solutions, and dedication to streamlining the fulfillment process, it's easy to see why more and more e-commerce store owners are choosing us as their go-to partner in logistics and shipping.
Get Started with FBA Prep Logistics to Optimize Your Shopify Shipping and Fulfillment Process
Now that you know the advantages of outsourcing your Shopify shipping fulfillment services to FBA Prep Logistics, you might wonder how to get started with the process. We've got you covered. In this section, we will explain the simple steps you need to follow to optimize your Shopify fulfillment process and elevate your e-commerce business.
Step 1: Get in Touch with FBA Prep Logistics
The first step towards benefitting from our expertise in Shopify fulfillment is to contact us. You can either give us a call, send an email, or fill out the online form on our website to get in touch with our team of experts. They'll be more than happy to assist you with any questions or concerns you might have about our services.
Step 2: Discuss Your Requirements
After establishing contact, we'll schedule a consultation with you. We'll talk about your business and your unique requirements – be it inventory management, e-commerce solutions, or order fulfillment for your Shopify store. This is essential for us to tailor our services to suit your specific needs.
For instance, if you're dealing with a high volume of orders every month and struggling to handle returns efficiently, our experts will guide you on mastering e-commerce returns for Shopify. Or perhaps you need guidance on building your own return center for Shopify, our team will advise you accordingly.
Step 3: Set Up Integration with Shopify
To streamline your Shopify shipping and fulfillment process, we'll help you set up an integration between your Shopify store and our advanced order management system. This ensures seamless communication of your orders from Shopify to our warehouse, and real-time updates on inventory levels and order statuses.
You'll be able to focus on your core business functions while we take care of the Shopify fulfillment process, from picking and packing to getting your products delivered fast.
Step 4: Enjoy Our Customized Shipping Solutions
FBA Prep Logistics offers a variety of customized shipping solutions to make your e-commerce customers' experience memorable. As a warehouse with excellent connections to major carriers, we can provide you with discounted shipping rates. Plus, we also offer customized packaging, meeting your branding needs without breaking the bank.
Don't forget to read our ultimate guide to inventory management for East Coast Shopify owners to ensure you keep accurate stock levels and avoid issues such as stockouts and overselling.
Step 5: Track, Monitor and Optimize
We believe in continuous improvement – and with our transparent, easy-to-use dashboard, you'll have complete visibility of your inventory, shipments, and orders. You can track, monitor, and analyze your Shopify shipping fulfillment services, identifying areas that need improvements, and working with our team to refine the processes further, ensuring optimized performance and fantastic customer experiences for your online store.
And that's it! By following these simple steps, you'll be well on your way to optimizing your Shopify shipping and fulfillment process with FBA Prep Logistics. Our team of experts will always be there to support you in making your e-commerce business a success. So let's work towards transforming your supply chain management and providing your customers with a shopping experience they'll never forget.
Frequently Asked Questions
How does FBA Prep Logistics improve the efficiency of my Shopify store's shipping and fulfillment?
FBA Prep Logistics streamlines your shipping and fulfillment process by integrating their advanced order management system with your Shopify store. This seamless integration allows you to quickly process and fulfill orders, resulting in faster shipping times and higher customer satisfaction.
Can outsourcing fulfillment to FBA Prep Logistics save my business money?
Yes, outsourcing your Shopify shipping and fulfillment process to FBA Prep Logistics can save your business money by reducing overhead costs, benefiting from our discounted shipping rates, and scaling your operations according to your business needs.
Are FBA Prep Logistics' shipping solutions customizable for my Shopify store?
Absolutely, FBA Prep Logistics offers tailor-made shipping solutions to suit each client's specific needs. Examples include customized packaging, discounted shipping rates, inventory management, and more, ensuring the best possible experience for your e-commerce customers.
How do I get started with FBA Prep Logistics?
Getting started with FBA Prep Logistics is easy. Simply contact us through our website or give us a call, and our dedicated team of experts will guide you through the process of integrating our services into your Shopify store. We'll work closely with you to ensure a seamless and hassle-free experience.
Is FBA Prep Logistics suitable for small and medium-sized e-commerce businesses?
Yes, FBA Prep Logistics is designed to cater to the needs of small and medium-sized e-commerce businesses. Our flexible, scalable shipping and fulfillment services ensure that regardless of your business size, you can optimize your operations and deliver exceptional customer experiences.