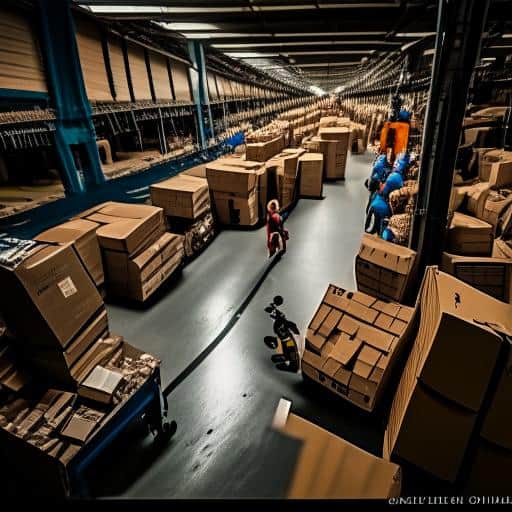 Introduction: Why PA Sellers Need a Reliable Amazon Shipping Partner
E-commerce has exploded in recent years, and with Pennsylvania emerging as a strategic location for Amazon sellers, the need for efficient Amazon shipping has become more important than ever. In today's competitive marketplace, businesses must not only meet customer expectations but also streamline their operations to maintain profits and achieve growth. This is where partnering with a reliable 3PL warehouse, such as FBA Prep Logistics, becomes a game-changer for your e-commerce business in PA. By utilizing reliable Amazon shipping in PA, you can significantly improve your sales and customer satisfaction while reducing shipping mishaps and managing essential aspects of your operation.
The Growth of E-commerce and Amazon Sellers in PA
With a significant increase in online shopping, PA has seen a surge in Amazon sellers aiming to tap into the ever-growing market. Pennsylvania's strategic location, being within a one-day drive of more than 40% of the US population, makes it a prime spot for Amazon sellers to leverage quick shipping times and satisfy customers. The recent rapid growth of e-commerce and Amazon sellers in PA highlights the need for a solid and efficient shipping partner that can match the competitive industry demands.
The Importance of Efficient Amazon Shipping for Increased Sales and Profits
Having an efficient Amazon shipping partner is crucial for increasing sales, optimizing profits, and ultimately growing your e-commerce business. With timely and accurate shipping, you can impress your customers, reduce order cancellations, and ultimately encourage repeat purchases. Efficient shipping also helps you maintain a positive seller rating on Amazon, which plays a crucial role in boosting your product rankings and brand visibility on the platform. Partnering with a reputable 3PL warehouse can potentially save you thousands of dollars in long-term operational costs, manpower, and equipment investments, allowing you to stay agile and competitive in the ever-evolving e-commerce landscape.
Why Partnering with a 3PL Warehouse, Specifically FBA Prep Logistics, Can Boost Your E-commerce Business
As a PA-based Amazon seller, partnering with a local 3PL warehouse like FBA Prep Logistics offers numerous benefits, such as faster shipping times and tailored order fulfillment services. By working with a 3PL warehouse that specializes in Amazon shipping in PA, you can ensure compliance with Amazon's guidelines, avoid potential shipping issues, and ultimately stay ahead of the competition. FBA Prep Logistics not only streamlines your shipping process but also contributes to your overall business growth by allowing you to focus on other essential aspects, such as marketing, product development, and customer support.
In the following sections, we'll go through the basics of Amazon shipping and the valuable advantages that FBA Prep Logistics can offer your PA-based Amazon business, including streamlining the shipping process and providing expert guidance for compliance with Amazon's standards. So, let's dive right in and discover how FBA Prep Logistics can transform your Amazon shipping experience in PA!
II. Understanding the Basics of Amazon Shipping
As an Amazon seller, it's essential to understand the basics of shipping and how it impacts your e-commerce business. This section will cover the differences between the three main Amazon shipping methods: Fulfilled by Amazon (FBA), Fulfilled by Merchant (FBM), and Seller Fulfilled Prime (SFP). We'll also highlight the various shipping requirements and guidelines, and emphasize the importance of accurate and timely order fulfillment.
1. FBA, FBM, and SFP: What's the Difference?
Fulfilled by Amazon (FBA): With FBA, sellers send their inventory to Amazon's warehouses. Amazon is responsible for storing, packing, and shipping the products to customers. Amazon also handles customer service and returns for FBA products. Despite its high fees, many sellers choose FBA due to Amazon's vast infrastructure, leading to fast shipping and increased sales.
Fulfilled by Merchant (FBM): In FBM, the seller takes responsibility for storing, packing, shipping, and handling customer service for their products. While FBM can save on Amazon fees, it requires the seller to manage the entire order fulfillment process. Timely and accurate shipping is crucial for maintaining a good seller reputation.
Seller Fulfilled Prime (SFP): SFP allows qualified sellers to display the "Prime" badge on their FBM products, meaning they offer the same fast shipping and customer benefits as FBA. To participate in SFP, sellers must meet strict criteria and performance metrics.
2. Amazon Shipping Requirements and Guidelines
To ensure a smooth Amazon shipping process, it's vital to follow the platform's shipping requirements and guidelines for every order. These include:
Providing accurate product information and dimensions
Complying with packaging and shipping standards
Meeting shipping and delivery performance metrics
Consistently tracking shipments and updating tracking information
Failing to follow these guidelines may result in order cancellation, refunds, account suspension, or even permanent removal from the Amazon marketplace.
3. Importance of Accurate and Timely Order Fulfillment
When it comes to Amazon shipping in PA, providing quick, accurate, and efficient order fulfillment is crucial for your e-commerce business. Slow shipping times and inaccurate order fulfillment can lead to:
Negative customer reviews and ratings
Lower seller performance metrics
Decreased sales and profits
Damage to brand reputation
By understanding the basics of Amazon shipping and following the platform's requirements and guidelines, sellers can enhance their fulfillment process and avoid potential problems. But with all the complexities of managing Amazon shipments, it can be challenging for sellers to ensure they consistently meet or exceed customer expectations. That's where partnering with a 3PL warehouse like FBA Prep Logistics comes in. Our expertise and services in Amazon shipping in PA can help you stay on top of your orders and delight your customers. Check out our top cost reduction strategies for Amazon sellers in PA to discover more ways to boost your success.
In the upcoming sections, we'll dive into the advantages of utilizing FBA Prep Logistics for Amazon shipping in PA and explain how we can streamline your e-commerce fulfillment process.
III. Advantages of Utilizing FBA Prep Logistics for Amazon Shipping in PA
As a PA-based Amazon seller, it's essential to have an efficient and reliable shipping partner to help grow your e-commerce business. FBA Prep Logistics offers several advantages over its competitors, making it the ideal choice for Amazon shipping in PA. In this section, we will discuss the benefits of partnering with FBA Prep Logistics and how our tailored services can help boost your sales and profits.
3.1 Importance of Having a Local 3PL in PA to Enhance Shipping Speed and Efficiency
A local 3PL provider like FBA Prep Logistics offers several benefits to Amazon sellers based in PA. One significant advantage is the proximity to your customer base, allowing for quicker shipping times and reduced transit costs. Faster shipping not only keeps your customers happy but also gives your store a competitive edge, especially for those enrolled in programs like Amazon Prime. Moreover, having a local partner allows for easier communication and better access to your inventory, should you need to make adjustments.
3.2 Tailored Services for Amazon Sellers
At FBA Prep Logistics, we understand the unique needs and challenges faced by Amazon sellers, which is why we offer tailored services such as:
FBA Prep: As a trusted Amazon shipping partner, we ensure that your items are prepped and packaged according to Amazon's stringent guidelines. This includes accurate labeling, poly bagging, and bundling, ensuring your products reach Amazon's fulfillment centers without any issues.

Kitting and Assembly: Whether you're offering bundled products or need specific items assembled before shipment, FBA Prep Logistics has you covered. Our kitting and assembly services ensure your products are ready for shipping and perfectly presented to your customers.

Returns Management: With FBA Prep Logistics, managing returns becomes an easy and hassle-free process. We'll receive, inspect, and process returned items on your behalf, allowing you to focus on growing your business and ensuring customer satisfaction.
3.3 Expert Knowledge of Amazon Guidelines to Ensure Compliance and Avoid Issues
Navigating Amazon's shipping and fulfillment rules can be daunting for both new and established sellers. Understanding and adhering to these guidelines is crucial for avoiding potential fines and delays. When you partner with FBA Prep Logistics, our Amazon shipping experts ensure that your shipments meet all requirements, allowing your store to remain in good standing and maintain a strong seller reputation.
3.4 Competitive Pricing to Maximize Profits
At FBA Prep Logistics, we believe in providing high-quality services at competitive prices. By offering flexible and transparent pricing models, we help our clients manage their shipping costs and maximize profits. In addition, we continually strive for operational efficiency, ensuring that our clients receive excellent value for their investment.
3.5 Dedicated Customer Support
Our commitment to customer satisfaction doesn't end with our tailored services and expert knowledge. FBA Prep Logistics takes pride in providing exceptional customer support to all of our clients. Whether you have questions or concerns about your shipments or need assistance with returns management, our team is always available to help.
In summary, partnering with FBA Prep Logistics for your Amazon shipping in PA offers numerous advantages, including enhanced speed and efficiency, tailored services, expert knowledge of Amazon guidelines, competitive pricing, and dedicated customer support. If you're looking to grow your e-commerce business and thrive as an Amazon seller, FBA Prep Logistics is ready to support you every step of the way. Check out our step-by-step guide to see how we can help your business soar to new heights. Happy selling!
IV. How FBA Prep Logistics Streamlines the Amazon Shipping Process for PA Sellers
As an e-commerce business owner, the last thing you want is to be bogged down by the intricacies of Amazon shipping in PA. Enter FBA Prep Logistics, your one-stop solution to simplifying your Amazon fulfillment process. We handle every aspect of your order fulfillment with ease, leaving you the time to focus on your core business.
Let's take a detailed look at how our services can help streamline the Amazon shipping process for our fellow PA sellers.
1. Inventory management and real-time tracking
Ensuring optimal inventory levels and keeping track of your stock at all times can be a daunting task. FBA Prep Logistics utilizes cutting-edge technology that allows for seamless inventory management and real-time tracking of your products. Our system constantly updates your inventory status, ensuring that you always know the exact quantities you have on hand. Say goodbye to stockouts and lost sales!
2. Order processing and automated shipping label generation
Manual order processing can be time-consuming and prone to errors. FBA Prep Logistics automates this process, from receiving an order to generating shipping labels. Our platform accepts orders directly from your Amazon seller account and automatically generates the required shipping labels. This level of automation not only saves you time but also ensures that your shipments are correctly labeled, reducing the risk of potential issues down the line.
3. Order packing and shipping in compliance with Amazon standards
Compliance with Amazon's packing and shipping guidelines is crucial for a successful e-commerce business. Failure to meet these standards can result in penalties, delays, and, in worst-case scenarios, suspension of your Amazon seller account.
FBA Prep Logistics is well-versed in these guidelines and guarantees that all your shipments are packed and prepared according to Amazon's exacting standards. Our dedicated team is trained to handle a wide variety of products, ensuring safe and secure packaging that meets and exceeds the requirements of your customers.
4. Timely pickups and coordination with carriers
Coordinating pickups with carriers can be a logistical challenge for many businesses. FBA Prep Logistics takes the headache out of this process by managing these pickups on your behalf. We work closely with reputable carriers, ensuring that pickups are scheduled efficiently to maximize your delivery speed and minimize the chances of any delays. Timely pickups translate into faster shipments, happier customers, and better sales for your Amazon store.
5. Returns management and handling of customer concerns
Online shopping has paved the way for increased returns, and managing these can be a complex and time-consuming task. FBA Prep Logistics provides comprehensive returns management services, taking the burden off your shoulders.
We handle all aspects of the returns process, including receiving returned items, inspecting them for damage or tampering, restocking, and documenting reasons for return. Furthermore, we liaise with your customers, addressing their concerns with empathy and professionalism. This customer-centric approach ensures a positive experience for your buyers and protects your business reputation.
Embrace the Efficiency of FBA Prep Logistics
In conclusion, FBA Prep Logistics is designed to simplify and streamline the Amazon shipping process for PA sellers, allowing you to focus on growing your business. By partnering with us, you benefit from our expertise in inventory management, order fulfillment, compliance, carrier coordination, and returns management.
Take the next step towards a more seamless Amazon shipping experience in PA by connecting with FBA Prep Logistics today! Watch your business soar as we handle the complexities of Amazon fulfillment for you, and you invest your time and energy in what truly matters – your e-commerce business.
Getting Started with FBA Prep Logistics: A Step-by-Step Guide for PA Sellers
Let's dive into the process of how you can get started with FBA Prep Logistics and take advantage of our tailored services for efficient Amazon shipping in PA. Follow these five easy steps to begin your journey towards a streamlined and optimized e-commerce operation:
1. Creating an account and setting up your seller profile
The first step to working with FBA Prep Logistics is to create your account on our platform. Fill in the required information, including your business details and contact information. Once this is completed, we will promptly review your account and send you a confirmation email with further instructions. As you set up your seller profile, be sure to provide accurate data to ensure seamless integration with our services.
2. Connecting your Amazon store to FBA Prep Logistics' platform
After your account is up and running, it's time to connect your Amazon store to our platform. This process allows FBA Prep Logistics to receive your orders directly from Amazon and automatically sync inventory data. By establishing this connection, you ensure a streamlined process for Amazon shipping in PA, eliminating the need for manual data entry and reducing the potential for errors.
3. Sending your inventory to our warehouse for storage and fulfillment
Once your Amazon store is connected to our platform, it's time to prepare and send your inventory to our warehouse, located in Bristol, PA. We'll provide detailed instructions on how to package your products according to Amazon's guidelines and how to ship your inventory to our facility.
Upon arrival at our warehouse, your inventory will be checked to ensure proper packaging and accurate product count. We'll then store your items in our secure facility, easily accessible for fast and efficient order fulfillment whenever a customer places an order.
4. Monitoring and managing orders through our user-friendly dashboard
As your partner for Amazon shipping in PA, FBA Prep Logistics provides an easy-to-use dashboard for you to stay up-to-date on your inventory levels, orders, and shipments in real-time. Our platform offers thorough reporting and analytics, giving you insights into your e-commerce operation and helping you make informed decisions about inventory management, sales strategies, and shipping options to optimize your business.
5. Enjoying the benefits of efficient, hassle-free Amazon shipping in PA!
With everything set up, you can now focus on growing your business while we take care of the logistics. As your Amazon orders come in, we efficiently pick, pack, and ship them to your customers, ensuring compliance with Amazon's standards and guidelines. No more worrying about mismanaged shipments, late deliveries, or unhappy customers; we make sure your Amazon shipping in PA runs smoothly, leading to increased customer satisfaction and ultimately more sales.
Moreover, when it comes to returns, our team at FBA Prep Logistics efficiently handles the process, communicating with the customers and coordinating the return of damaged or unwanted items. We help minimize the impact of returns on your business while maintaining high-quality customer service.
By following this comprehensive step-by-step guide, PA-based Amazon sellers can leverage the expertise and services of FBA Prep Logistics to enjoy a more streamlined and efficient e-commerce operation. Our partnership ensures an optimized and seamless shipping process that ultimately leads to better customer satisfaction, increased sales, and a thriving e-commerce business. So, why wait? Join us today and experience the benefits of efficient Amazon shipping in PA with FBA Prep Logistics!
Frequently Asked Questions
1. What are the key differences between FBA, FBM, and SFP?
Fulfilled by Amazon (FBA) is a service provided by Amazon where they handle your inventory, storage, shipping, customer service, and returns. Sellers using FBM (Fulfilled by Merchant) handle order fulfillment themselves or outsource to a third-party warehouse like FBA Prep Logistics. Seller Fulfilled Prime (SFP) allows you to offer the Prime badge on your products even if you ship them from your own warehouse or outsource to a 3PL, as long as the items meet the Prime shipping requirements.
2. How does FBA Prep Logistics assist with Amazon shipping requirements?
FBA Prep Logistics is well-versed in Amazon's shipping requirements and ensures that your orders are packed, labeled, and shipped according to Amazon's guidelines. We help prevent issues related to incorrect packaging, labeling, or shipping, thereby maintaining your Amazon account's health and success.
3. Why is it advantageous to use a local 3PL like FBA Prep Logistics in PA?
By partnering with a local 3PL in PA, you can significantly reduce transit times, shipping costs, and enhance overall efficiency. A local warehouse like FBA Prep Logistics can streamline your Amazon shipping process, from inventory management and order processing to packing and coordinating with carriers for timely delivery.
4. What kind of services does FBA Prep Logistics offer for Amazon sellers?
FBA Prep Logistics provides an array of tailor-made services for Amazon sellers, such as FBA preparation, kitting, inventory management, order processing, shipping label generation, packing, coordination with carriers, and returns management while strictly adhering to Amazon's guidelines. Our expert team ensures that your e-commerce business runs seamlessly, allowing you to focus on sales and growth.
5. How do I get started with FBA Prep Logistics?
Getting started with FBA Prep Logistics is straightforward. Create an account, set up your seller profile, connect your Amazon store with our platform, send your inventory to our warehouse, and monitor orders through our user-friendly dashboard. Our team will handle the rest – from inventory management and order fulfillment to shipping and returns – ensuring efficient Amazon shipping for your PA-based business.