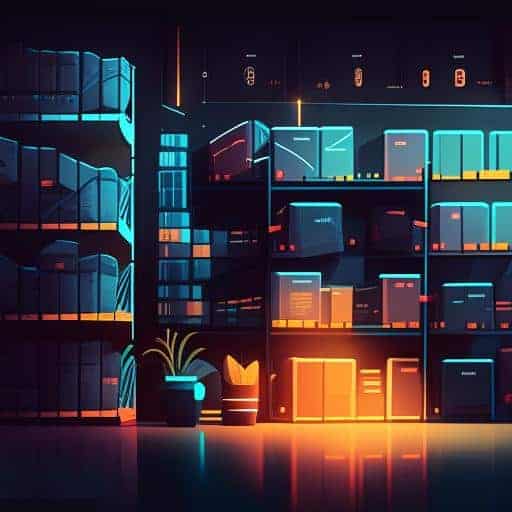 Revolutionize Your NJ Shopify Inventory Management with Our Services
Introduction: Why NJ Shopify Inventory Management is Crucial for Your Business
In the ever-evolving world of e-commerce, maintaining a well-managed inventory is crucial for the success of your Shopify store. NJ Shopify inventory management forms the backbone of your business operations, ensuring accurate product availability, efficient order fulfillment, and ultimately leading to satisfied customers and increased sales.
Operating in a highly competitive market like New Jersey, efficient inventory management is not a luxury, but rather a necessity to thrive. FBA Prep Logistics, with its expertise in supply chain management and 3PL services, is your go-to partner for transforming your NJ Shopify inventory management and elevating your business to new heights.
In this article, we'll explore the various aspects of how FBA Prep Logistics can revolutionize your inventory management process, leaving you with more time to focus on other important aspects of growing your online business. Let's have a look at some of the benefits of partnering with FBA Prep Logistics for your Shopify inventory management:
Streamline Your Operations
Efficient inventory management involves a lot more than just keeping track of the number of items in stock. It includes regular monitoring, timely updates, organized storage, and optimized order fulfillment. FBA Prep Logistics takes care of all these tasks for your Shopify store, ensuring a streamlined process that leaves no room for errors.
Accurate Inventory Control
Accurate inventory control ensures you always have a clear picture of exactly what products are in stock and when to reorder. FBA Prep Logistics provides real-time data and insightful analytics that not only keep your inventory updated but also help you make better decisions, improve your bottom line, and take your business to the next level.
Improved Order Fulfillment
A quick and efficient order fulfillment process leads to happier customers who are more likely to come back for more. By providing seamless integration with your Shopify store, FBA Prep Logistics makes order management and processing smoother than ever before. Check out our Step-by-Step Guide to learn more about order fulfillment process management.
Scalability and Flexibility
NJ Shopify inventory management with FBA Prep Logistics ensures that your business can always adapt to accommodate growth and changing customer demands. Our advanced warehouse management system and experienced team can handle any volume of inventory, allowing you to scale your business without worrying about storage limitations or operational bottlenecks.
Cost-Efficient Inventory Management Solutions
Managing your inventory in-house can be both time-consuming and costly. FBA Prep Logistics offers you a variety of cost reduction strategies that are designed to make your NJ Shopify inventory management more efficient and budget-friendly, ultimately boosting your store's profitability.
The power of effective NJ Shopify inventory management is undeniable. Partnering with FBA Prep Logistics gives you the strategic advantage needed to stay ahead of the competition and focus on what you do best – providing an exceptional customer experience and growing your online business. Stay tuned to learn more about our personalized inventory solutions and streamlined processes that can take your inventory management game to the next level.
Revolutionize Your NJ Shopify Inventory Management with Our Services
2. Personalized Inventory Solution through FBA Prep Logistics
One of the key factors to the success of your Shopify store is having an efficient inventory management system in place. That's where our NJ-based FBA Prep Logistics comes into play. We provide a highly customized solution for your NJ Shopify inventory management, tailored specifically to meet the unique requirements of your business. The personalization we offer ensures a smooth inventory management process and paves the way for robust business growth. Here's a detailed look at what sets our services apart:
2.1. Comprehensive Assessment of Your Business Needs
Before we start working on your NJ Shopify inventory management, our first step is to conduct a thorough assessment of your business requirements. We take the time to understand your product range, order volumes, storage needs, and any specific logistical challenges you may have. This helps us create a personalized solution that perfectly aligns with your e-commerce store.
2.2. Customized Storage and Order Processing Solutions
Different businesses often have specific storage and order processing needs. With FBA Prep Logistics, you can be assured that your storage requirements are met in the most efficient way. We make sure your products are stored safely and in conditions that preserve their quality. Moreover, our advanced order processing system is designed to handle both high-speed and intricate or fragile items, ensuring swift and accurate order fulfillment.
2.3. Dynamic Real-Time Inventory Management
We understand the importance of having accurate inventory data at your fingertips. That's why our NJ Shopify inventory management system offers dynamic, real-time inventory tracking. This functionality allows you to monitor your stock levels, track sales, analyze trends, and make informed decisions about product procurement and pricing. You'll never have to worry about overselling or stockouts with our real-time inventory management system in place.
2.4. Seamless Integration with Shopify
FBA Prep Logistics has seamless integration with Shopify, making it a breeze to managing your inventory. As a result, all important data, including orders, inventory levels, and tracking information, are synchronized between your Shopify store and our inventory management system. This level of integration ensures a hassle-free experience without any need for manual data entry or importing/exporting CSV files.
2.5. Scalable Solutions for Your Growing Business
As your Shopify business grows, your inventory management needs are bound to change. To ensure that your business keeps growing without a hitch, our NJ Shopify inventory management system is designed to scale with you. Whether you experience a sudden increase in order volume or you're slowly expanding your product range, our system can be easily tailored to adapt to your growing requirements.
2.6. Expert Consultation and Continuous Improvement
Our commitment to your success extends beyond providing you with customized inventory solutions. We also offer expert consultation and guidance to help you understand your business's operational landscape. This includes advice on industry best practices, ways to enhance your inventory management system, and strategies for overall business growth. Your dedicated FBA Prep Logistics account manager will always be just a phone call or email away to offer support and guidance whenever needed.
In conclusion, partnering with FBA Prep Logistics for your NJ Shopify inventory management not only ensures a smooth and efficient inventory process but also fosters the long-term growth and success of your e-commerce store. By taking the time to understand your unique business requirements and offering tailored solutions, we ensure that your inventory management experience is optimized, and you're able to focus on what you do best: growing your Shopify store.
Streamlined Processes and Efficient Order Fulfillment
Managing your NJ Shopify inventory isn't always an easy task, especially when you're trying to focus on other aspects of your business like marketing, customer service, and sales. But what if we told you there's a way to streamline your inventory management processes and achieve better efficiency and order fulfillment rates without sacrificing your time and effort on other crucial business tasks? The answer lies in partnering with FBA Prep Logistics in NJ for your Shopify inventory management. In this section, we will discover the various ways our services can help your business achieve the highest levels of efficiency and order fulfillment.
Complete 3PL Services from FBA Prep Logistics
When it comes to NJ Shopify inventory management, our team at FBA Prep Logistics provides comprehensive third-party logistics (3PL) services to make the entire process seamless and cost-effective. Our experts possess ample experience in supply chain management, which means we understand the ins and outs of efficiently managing your inventory. Our complete suite of 3PL services includes:
Receiving and storage: We take care of receiving your shipments, handling, and storing your inventory in our secured and well-organized facilities.
Pick and pack: Our accurate and efficient pick and pack processes ensure that your customers receive the exact products they ordered in perfect condition, without any delay.
Shipping: We handle all aspects of shipping, including domestic and international deliveries, using cost-effective and reliable shipping methods that ensure your products reach their destinations on time.
Returns management: Dealing with returns can be a challenging task, but our expert team makes it hassle-free by efficiently managing all aspects of returns processing for you.
Intelligent Inventory Management System Integration
Having an intelligent inventory management system is essential to ensure streamlined processes and efficient order fulfillment. FBA Prep Logistics integrates directly with your NJ Shopify store to provide real-time visibility and control over your inventory. This integration enables you to:
Monitor stock levels and ensure optimal stock replenishment.
Forecast inventory needs based on sales trends and seasonal fluctuations.
Automate inventory management tasks like order tracking and stock updating.
Receive alerts and notifications on inventory status and potential issues.
Seamless Order Processing and Delivery
One of the most significant contributing factors to achieving efficient order fulfillment is seamless order processing. When you partner with FBA Prep Logistics, we take care of the entire order fulfillment process:
Customized Solutions for Minimized Errors and Timeliness
Every business is unique, and so are its inventory requirements and challenges. At FBA Prep Logistics, we understand this, which is why we offer tailor-made NJ Shopify inventory management solutions to cater specifically to your business needs. By customizing our services, we minimize the risk of errors in the process, reduce lead times, and ensure that order fulfillment remains high, regardless of fluctuations in demand.
Collaborative Team Effort
Achieving efficient order fulfillment is all about working smart, and at FBA Prep Logistics, that means our team works together with you to create and implement the best solutions that suit your NJ Shopify inventory management requirements. Our team of experts actively communicates with your business throughout the inventory management process, ensuring smooth operation and giving you the peace of mind that comes with knowing your Shopify store's inventory is in good hands.
In conclusion, partnering with FBA Prep Logistics goes beyond just outsourcing your NJ Shopify inventory management tasks. Our services enable your business to achieve streamlined processes and efficient order fulfillment through a combination of comprehensive 3PL services, advanced integrations, customer-specific solutions, and collaborative team efforts. By choosing FBA Prep Logistics, you're investing in the future of your Shopify store, ensuring it grows, succeeds, and continues to deliver exceptional customer experiences.
Exceptional Customer Service and Support
At FBA Prep Logistics, our commitment to providing exceptional customer service and support is a cornerstone of our operations. We understand the importance of expert guidance and seamless assistance throughout your NJ Shopify inventory management journey, so we have built a robust customer service framework ensuring your success. In this section, we will explore the various aspects of our top-notch customer service and how it can benefit your Shopify store.
24/7 Availability
Our dedicated customer support team is available to assist you 24/7, ensuring that your queries and concerns are addressed promptly. We believe that effective communication is key to maintaining a smooth operation and our support team is always ready to help.
Personalized Support
In addition to being available around the clock, our customer service representatives are trained to provide personalized support to cater to your unique Shopify requirements. Our team takes the time to understand your business goals, inventory management processes, and any challenges you face to provide customized solutions and recommendations that guarantee efficient NJ Shopify inventory management.
Seamless Onboarding
Transitioning to a new 3PL provider can be challenging; however, our onboarding process ensures a seamless experience for your Shopify store. We meticulously plan and execute each step, from initial consultation and account setup to integrating with your Shopify store and coordinating with your suppliers. This way, you can be confident knowing that your inventory management is in expert hands.
Proactive Communication
At FBA Prep Logistics, we believe in proactive communication that keeps you informed and updated about your inventory status, order processing, returns management, and other crucial aspects of your supply chain. Our team regularly communicates with you through various channels, from email updates to phone calls, ensuring you are always in the loop at every stage of your NJ Shopify inventory management journey.
Expertise in Shopify Inventory Management
Our team at FBA Prep Logistics possesses in-depth knowledge and understanding of Shopify inventory management, allowing us to offer unparalleled support and guidance to your eCommerce business. With years of experience in the industry, we can provide innovative solutions and employ best practices to ensure top-tier NJ Shopify inventory management services.
Expedited Issue Resolution
We are well-aware that unforeseen issues and challenges can arise in inventory management; our customer service team is committed to quickly resolving any issues you may encounter. Rest assured, our support staff will work tirelessly to ensure your inventory management operations remain on track.
Continuous Improvement
FBA Prep Logistics keeps up with industry trends and invests in training for our customer service team to ensure we continually improve our support services. By staying ahead of industry developments, we ensure seamless inventory management for your Shopify store.
In conclusion, partnering with FBA Prep Logistics guarantees that your eCommerce business benefits from our exceptional customer service and support. By addressing your unique needs, providing 24/7 assistance, ensuring seamless onboarding, maintaining open communication channels, leveraging extensive Shopify inventory management experience, and efficiently resolving issues, we contribute to the growth and success of your Shopify store. Make the smart choice and let FBA Prep Logistics handle your NJ Shopify inventory management, ensuring a fruitful relationship that will positively impact the success of your business.
Make the Smart Choice – FBA Prep Logistics
Choosing the right NJ Shopify inventory management partner has real-time effects on your business's bottom line and customer satisfaction. At FBA Prep Logistics, we understand the complexities involved in managing and fulfilling inventory, especially for Shopify businesses. Here are the top reasons why FBA Prep Logistics is the go-to partner for effective inventory management in New Jersey:
Comprehensive Service Offerings
Our suite of e-Commerce Solutions covers every aspect of Shopify inventory management. Whether you need assistance with storage, packing, or order fulfillment, our experts will tailor a solution to fit your unique business requirements. Moreover, if you experience a spike in customer returns, we will help you master E-commerce Returns for Shopify while keeping your customers happy.
Experts on Your Side
With years of experience in the 3PL industry, our team of professionals is equipped with in-depth supply chain knowledge and expertise. Our seasoned staff will ensure that your inventory is meticulously managed, and any potential issues are addressed proactively for a seamless operation.
Time and Cost Savings
Why spend countless hours handling tedious inventory tasks when our dynamic team can do it for you? By leveraging our vast industry experience and tried-and-tested strategies, you can focus on growing your business while we take care of your inventory needs. For instance, our cost-effective solutions, like Cross-docking best practices for your Shopify store can help you reduce storage costs and improve efficiency in the long run.
Flexible Scalability
One size does not fit all! If your business experiences seasonal fluctuations or rapid growth, our flexible services can easily adapt to your changing inventory needs. No matter what stage your business is in, FBA Prep Logistics will be your trusted partner in efficiently managing your stock and fulfilling orders.
Delighting Your Customers
At FBA Prep Logistics, our ultimate goal is to help you provide a memorable experience for your customers while keeping them coming back for more. With our exceptional services, such as Discover the Secret to a Faster and More Efficient Supply Chain and Get Your Products Delivered Fast, you can be confident that your customer expectations will be exceeded every time.
Transparent Communication and Reporting
Keeping your finger on the pulse of your inventory levels is essential for your Shopify store's success. When partnering with FBA Prep Logistics, you can expect transparent communication and regular inventory reports. This way, you always have detailed and up-to-date information at hand, allowing you to make informed decisions for your business.
In conclusion, partnering with FBA Prep Logistics for your NJ Shopify inventory management needs is the smart, future-proof move for your business. Our comprehensive services and industry expertise ensure that your inventory is in good hands, freeing you to concentrate on what you do best – growing your business! Don't leave crucial aspects like inventory management to chance; trust FBA Prep Logistics for guaranteed success now and in the future. Reach out to us today and let us revolutionize your inventory management experience!
Frequently Asked Questions</h2>
<h3>1. Why is NJ Shopify inventory management so important for my business?</h3>
<p>Effective inventory management is crucial for the success of your Shopify store. It helps maintain optimal stock levels, prevents stockouts or overstocking issues, and ultimately, keeps customers satisfied with timely order delivery. By leveraging FBA Prep Logistics' NJ-based services, you can ensure smooth operations and business growth.</p>
<h3>2. How does FBA Prep Logistics provide a personalized inventory solution for my Shopify store?</h3>
<p>FBA Prep Logistics understands that every Shopify store has unique requirements. That's why we offer customized service plans that cater to your specific needs, such as order fulfillment, inventory management, and shipment tracking. Our tailored solutions help optimize your store's supply chain, making it more efficient and profitable.</p>
<h3>3. Can FBA Prep Logistics help improve order fulfillment efficiency for my Shopify store?</h3>
<p>Absolutely! Our team at FBA Prep Logistics is well-versed in supply chain management and 3PL services. By streamlining processes such as order picking, packing, and shipping, we help your Shopify store achieve better efficiency and faster order fulfillment, leading to increased customer satisfaction and positive reviews.</p>
<h3>4. How does FBA Prep Logistics ensure exceptional customer service and support for my NJ Shopify inventory management?</h3>
<p>At FBA Prep Logistics, we pride ourselves on offering dedicated customer support and management solutions for your NJ Shopify inventory management. Our team of experts is always available to provide seamless assistance and guidance, ensuring you have all the support you need for a smooth and successful inventory management experience.</p>
<h3>5. Why should I choose FBA Prep Logistics for my NJ Shopify inventory management?</h3>
<p>FBA Prep Logistics is the smart choice for NJ Shopify businesses, thanks to our expertise in inventory management, personalized services, and exceptional support. We take care of every aspect of your inventory management process, ensuring that your store operates smoothly, maintains satisfied customers, and achieves sustained success.</p>
<script type="application/ld+json">
{
"@context": "https://schema.org",
"@type": "FAQPage",
"mainEntity": [{
"@type": "Question",
"name": "Why is NJ Shopify inventory management so important for my business?",
"acceptedAnswer": {
"@type": "Answer",
"text": "Effective inventory management is crucial for the success of your Shopify store. It helps maintain optimal stock levels, prevents stockouts or overstocking issues, and ultimately, keeps customers satisfied with timely order delivery. By leveraging FBA Prep Logistics' NJ-based services, you can ensure smooth operations and business growth."
}
}, {
"@type": "Question",
"name": "How does FBA Prep Logistics provide a personalized inventory solution for my Shopify store?",
"acceptedAnswer": {
"@type": "Answer",
"text": "FBA Prep Logistics understands that every Shopify store has unique requirements. That's why we offer customized service plans that cater to your specific needs, such as order fulfillment, inventory management, and shipment tracking. Our tailored solutions help optimize your store's supply chain, making it more efficient and profitable."
}
}, {
"@type": "Question",
"name": "Can FBA Prep Logistics help improve order fulfillment efficiency for my Shopify store?",
"acceptedAnswer": {
"@type": "Answer",
"text": "Absolutely! Our team at FBA Prep Logistics is well-versed in supply chain management and 3PL services. By streamlining processes such as order picking, packing, and shipping, we help your Shopify store achieve better efficiency and faster order fulfillment, leading to increased customer satisfaction and positive reviews."
}
}, {
"@type": "Question",
"name": "How does FBA Prep Logistics ensure exceptional customer service and support for my NJ Shopify inventory management?",
"acceptedAnswer": {
"@type": "Answer",
"text": "At FBA Prep Logistics, we pride ourselves on offering dedicated customer support and management solutions for your NJ Shopify inventory management. Our team of experts is always available to provide seamless assistance and guidance, ensuring you have all the support you need for a smooth and successful inventory management experience."
}
}, {
"@type": "Question",
"name": "Why should I choose FBA Prep Logistics for my NJ Shopify inventory management?",
"acceptedAnswer": {
"@type": "Answer",
"text": "FBA Prep Logistics is the smart choice for NJ Shopify businesses, thanks to our expertise in inventory management, personalized services, and exceptional support. We take care of every aspect of your inventory management process, ensuring that your store operates smoothly, maintains satisfied customers, and achieves sustained success."
}
}] }
</script>