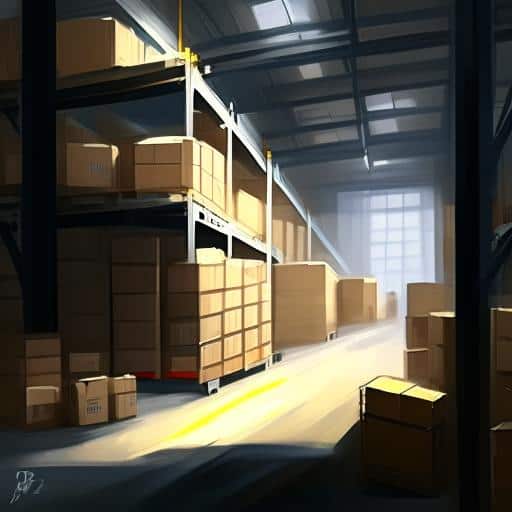 Title: Affordable and Flexible East Coast Warehouse Storage for Your Shopify Business
1. Introduction: Discovering the Perfect East Coast Warehouse Storage Solution
Hello, fellow eCommerce enthusiasts! Are you searching for an affordable and efficient warehousing solution that caters to your Shopify business needs? Look no further! At FBA Prep Logistics, a top-notch 3PL warehouse located in Bristol, PA, we understand the struggles of an e-commerce business owner, especially when it comes to supply chain management and storage solutions.
As your digital marketing assistant, I am excited to guide you through the benefits of our East Coast warehouse storage and the essential services we provide to support your growing Shopify business. This article was specifically written with you, our target audience of medium-sized eCommerce businesses, in mind. You might be new to supply chain management or have never used a 3PL before, and that's perfectly fine! We're here to help you navigate the world of warehousing and logistics, simplifying the process and ensuring you make the best decisions for your online venture.
With this in mind, we'll cover some critical aspects of our services, including:
Location advantages of our Bristol, PA warehouse
Tailored services that consider your unique Shopify business needs
Our ability to scale and adapt as your business expands
A flexible and affordable pricing model catering to different business sizes
Ready to learn more about how FBA Prep Logistics' superior East Coast warehouse storage services can be an asset to your Shopify business? Let's dive right in!
Please note: In this article, you will find references and internal links as Ahrefs to previous articles that can provide further insights into specific topics. Feel free to explore them at your convenience.
2. Location Advantages: Store Your Inventory Closer to Your Customers
2.1 Strategic Placement in Bristol, PA: The Gateway to the East Coast Market
Choosing the optimal East Coast warehouse storage is a crucial element in running a successful eCommerce business. FBA Prep Logistics is strategically located in Bristol, PA, making it an ideal choice for your Shopify business storage needs. Being situated near major cities like New York, Washington D.C., and Philadelphia, it allows for quick and efficient shipping to the most populous areas of the East Coast. This prime location can not only help boost customer satisfaction in terms of delivery times but also contribute to reduced shipping costs.
Discover the Secret to a Faster and More Efficient Supply Chain
2.2 Proximity to Major Transportation Networks
The importance of being close to major transportation networks cannot be overstated. When searching for an East Coast warehouse storage facility, proximity to highways, ports, and airports can significantly impact your shipping efficiency. FBA Prep Logistics understands this and is located near crucial transportation infrastructure. Our accessibility to these networks shortens the time taken to ship orders, leading to happier customers and more repeat business.
Streamline Your Freight Shipping in the East Coast with These Quick and Easy Tips
2.3 Reduced Shipping Costs with Zone Skipping
Did you know that shipping costs can be lowered with a strategy called Zone Skipping? By consolidating shipments and moving them closer to their final destination before releasing them to carriers, we can help your Shopify business save on shipping costs. FBA Prep Logistics employs this cost-saving method by taking advantage of our ideal location on the East Coast. This can ultimately lead to lower shipping fees, positively impacting your bottom line.
Shipping Cost Breakdown for Amazon Sellers on the East Coast
2.4 Improved Customer Satisfaction and Retention
In today's fast-paced eCommerce environment, customers expect their orders to arrive quickly. Having an East Coast warehouse storage facility that is situated close to your customer base can drastically improve the time taken for deliveries. FBA Prep Logistics' location in Bristol, PA, means that we are perfectly positioned to efficiently cater to the needs of your East Coast customers. When your customers receive their packages in a timely manner, their satisfaction increases, leading to higher customer retention rates for your Shopify business.
Get Your Products Delivered Fast
2.5 Environmentally Friendly Shipping Methods
At FBA Prep Logistics, we understand the importance of environmentally friendly practices in an ever-evolving world. Our strategic position on the East Coast helps reduce the overall carbon footprint of your shipments. By shortening delivery distances and reducing the number of trucks on the road, CO2 emissions are lowered. This not only benefits the environment but also aligns with the eco-conscious values of modern consumers.
In conclusion, the strategic location of FBA Prep Logistics in Bristol, PA offers your Shopify business numerous advantages, such as reduced shipping costs, improved customer satisfaction, and more while staying environmentally friendly. By choosing our East Coast warehouse storage solution, you're investing in a bright and successful future for your eCommerce business.
---
3. Tailored Services: FBA Prep Logistics Keeps Your Shopify Business Needs in Mind
Operating a successful Shopify store requires more than just top-notch products. It's equally important to have a reliable, expert partner handling the logistical side of your business. That's where FBA Prep Logistics comes in, offering a range of tailored services designed to meet the unique needs of your eCommerce business. Let's dive into some of these services and see how our team can help you through every step of your order fulfillment process.
3.1 Receiving: Swift and Seamless
One of the most crucial aspects of a warehouse partnership is the receiving process. Our East Coast warehouse storage ensures each inbound shipment is managed with precision. Not only do we closely coordinate with your suppliers to ensure all arrivals go smoothly, but we also conduct thorough quality control checks upon receiving your products. Inventory discrepancies will be promptly flagged and communicated to you, ensuring optimal inventory management.
3.2 Storage: Optimized and Secure
Safety and efficiency are always top priorities at FBA Prep Logistics. Our spacious, secure warehouse facilities are designed to safely store your inventory, and our team organizes products to maximize accessibility. With our meticulous attention to detail, your inventory is consistently accounted for in real-time, securing your valuable assets and protecting your bottom line.
3.3 Inventory Management: Keeping You in the Loop
With our expert inventory management services, you'll have complete visibility and control over your stock quantities, movement, and expiration dates. We integrate seamlessly with Shopify to provide real-time inventory updates and low stock alerts, ensuring that you're always on top of your inventory levels. This optimization can help you minimize stockouts, reduce waste, and maximize sales opportunities.
3.4 Pick and Pack: Speedy and Accurate Order Fulfillment
Our pick and pack process combines efficiency with accuracy, utilizing technology and skilled professionals to swiftly fulfill your orders while maintaining the highest levels of quality assurance. The result is a streamlined order fulfillment process that delivers the best possible experience for you and your customers. You can rest assured that your items will be well-packaged and shipped on time, enhancing your customers' satisfaction with every purchase.
3.5 Shopify Integration: Seamless and Supportive
We fully understand the importance of integration with your Shopify store. Our team has extensive experience working with eCommerce businesses, and as a result, we offer seamless compatibility with your existing systems. Your orders will automatically sync between our warehouse and Shopify in real-time, reducing errors and ensuring accurate data. And should you ever face any hiccups along the way, our expert support staff is on standby, ready to assist you with your integration concerns.
3.6 Custom Solutions: Adaptable and Client-Focused
Every eCommerce business is unique, and at FBA Prep Logistics, we appreciate the need for adaptable warehouse solutions that cater to your specific requirements. We understand that cookie-cutter services just won't cut it for a growing business like yours. As such, our team works closely with you to develop customized solutions for receiving, storage, inventory management, and order fulfillment, all geared towards optimizing the logistical side of your Shopify operation.
3.7 Why Tailored Services Matter: Rising Above the Competition
In today's fast-paced eCommerce world, standing out from the competition is paramount. This is especially true when it comes to logistics, where subpar service can quickly tank your reputation. By choosing FBA Prep Logistics and leveraging our bespoke east coast warehouse storage services, your Shopify business will enjoy streamlined operations and unparalleled customer satisfaction. And as any savvy entrepreneur knows, satisfied customers are the surest path to long-term success.
In summary, FBA Prep Logistics' tailored service offerings ensure that we keep your Shopify business at the forefront of our operations. Our fully-equipped warehouse facilities in Bristol, PA allow us to effectively manage every aspect of your supply chain, from receiving to storage, inventory management, and order fulfillment. Giving you the advantage of a seamlessly integrated, efficient, and dedicated partner that caters to your unique business needs, all while keeping your customers delighted. Do you have any questions about our services or would like to get started? Find all the answers [**here**]( you should enter the contact-us or getting started URL).
Scalability and Flexibility: FBA Prep Logistics Grows with Your Business
As your Shopify store grows, so does the demand for efficient logistics management and warehousing solutions. FBA Prep Logistics understands this and ensures our East Coast warehouse storage services are designed to accommodate businesses of different sizes and stages. Let's delve into how our scalable and adaptable offerings can support your business, from fledgling startups to thriving enterprises.
4.1 Adaptable Storage Spaces to Suit Your Needs
Our East Coast warehouse storage facilities are designed to accommodate a wide range of inventory sizes. This means you won't have to worry about paying for unnecessary space if you're just starting out, and you can easily secure extra room when needed. Our expansive warehouse allows us not only to cater to your current storage requirements, but also to the future growth of your business.
4.2 Customizable Services to Match Your Business Model
We know that every e-commerce business is unique, and that's why we provide tailored services to suit your individual needs. Whether packing and shipping or freight management, we can create a customized solution to ensure optimal efficiency for your specific operation.
4.3 Pay-as-You-Grow Pricing Model: Optimize Your Spending
One of our core features at FBA Prep Logistics is our flexible pricing model. We don't believe in locking you into long-term contracts; instead, you pay solely for the space and services you require. This pay-as-you-grow approach ensures that you can allocate resources effectively, allowing more room for investing in other aspects of your business, such as marketing or product development.
4.4 Seamless Transition Between Services: Minimize Growing Pains
Growing a Shopify store can be challenging, as logistical demands increase along with your customer base. FBA Prep Logistics strives to make this process as smooth as possible by providing seamless transitions between our different e-commerce solutions. So, whether you need to scale up inventory management, switch to a different shipping carrier, or tackle new shipping regulations, you can count on us to make it hassle-free.
4.5 Partnering with FBA Prep Logistics: Unleashing The Power of Collaboration
A crucial aspect of our scalability and flexibility is our commitment to fostering strong partnerships with our clients. We work closely with Shopify store owners to understand their unique business needs and align our services with their goals. Through regular consultation and feedback, we can continuously improve our warehouse storage and logistics management offerings to ensure you're always satisfied with the level of service we provide.
4.6 Added Benefits: Streamline Operations and Reduce Overhead Costs
In addition to providing adaptable warehouse storage and logistics management services, we also help you streamline your operations and reduce your overall overhead costs. By centralizing your inventory, managing your logistics, and increasing efficiency, we enable you to save both time and resources, which you can put towards other vital aspects of your business.
In Conclusion: Future-Proof Your Shopify Store with FBA Prep Logistics
In a rapidly-growing e-commerce market, scalability and flexibility are essential for any Shopify store. FBA Prep Logistics' East Coast warehouse storage services provide just that, ensuring that as your business flourishes, your logistics and storage needs continue to be met effectively and efficiently. Our customizable and adaptable services, pay-as-you-grow pricing model, seamless transitions, aligned partnerships, and additional benefits all contribute to future-proofing the success of your Shopify store.
Don't hesitate to reach out and start the journey with FBA Prep Logistics, your perfect partner for growth and success in the world of e-commerce!
5. Why Choose FBA Prep Logistics: The Best Choice for Your East Coast Warehouse Storage
If you want to provide exceptional service to your customers while keeping control of your inventory and shipping costs, FBA Prep Logistics is the perfect partner for your Shopify store. As the go-to East Coast warehouse storage solution, we have a proven record of providing top-notch services to meet your specific needs. Here's a summary of the main points we've discussed throughout the article that supports why partnering with us is a smart decision:
5.1. Unbeatable Location
Our strategic placement in Bristol, PA, offers you the opportunity to store your inventory closer to your customers. With easy access to major East Coast cities, shipping times are reduced, and your customers receive their orders quickly. This prime location not only improves customer satisfaction but also contributes to lower shipping costs. Explore our amazing location in more detail here.
5.2. Comprehensive Services Tailored for Shopify Businesses
We understand that every eCommerce business is unique, which is why we offer a range of services tailored to meet your store's specific needs. From receiving and storage to inventory management and pick and pack services, we prioritize Shopify integration and support. Find more about our specialized services here.
5.3. Scalability and Flexibility to Grow with You
Our East Coast warehouse storage is perfect for businesses of all sizes, as it can effortlessly adapt to your growing needs. With no long-term contracts required, our affordable pricing model ensures that you only pay for the space and services you need. Discover the benefits of our scalability and flexibility here.
5.4. Seamless Integration with Your Shopify Store
We know how important it is to have your logistic operations running smoothly. That's why we have dedicated Shopify specialists to ensure seamless integration with your store. Learn all about our Shopify support here.
5.5. Commitment to Your Success
We take pride in our ability to build lasting partnerships with businesses just like yours. Our dedication and commitment to understanding your specific needs and providing customized warehouse solutions make us the best choice for your East Coast warehouse storage. Read our client testimonials for more insights.
In summary, partnering with FBA Prep Logistics gives you access to an unbeatable location, an array of tailored services, a scalable and flexible storage solution, seamless Shopify integration, and a dedicated logistics team committed to your success. We're here to help take your e-commerce business to new heights, so let us handle your logistics while you focus on growing your brand and providing an outstanding customer experience. Get in touch with our team today and discover how FBA Prep Logistics can level up your logistics game. You won't be disappointed!
FAQs: East Coast Warehouse Storage for Shopify Businesses with FBA Prep Logistics
What are the location advantages of FBA Prep Logistics for my Shopify business?

FBA Prep Logistics offers a strategic location in Bristol, PA, which enables quick and efficient shipping to major East Coast cities. This prime location helps in reducing shipping costs and improving customer satisfaction.

What services does FBA Prep Logistics provide for my eCommerce business?

We offer a range of tailored services to cater to the unique needs of your eCommerce business using Shopify. This includes receiving, storage, inventory management, pick and pack services, and seamless Shopify support and integration.

How does FBA Prep Logistics support scalability and flexibility for my business?

We cater to businesses of different sizes and are ready to adapt as your business grows. Our affordable warehouse storage solutions come without long-term contractual requirements, so you only pay for the space and services you need.

How does FBA Prep Logistics ensure seamless integration with Shopify?

Our team at FBA Prep Logistics understands the Shopify platform's intricacies and provides seamless integration and support to ensure smooth operations for your eCommerce business.

Why should I choose FBA Prep Logistics as my East Coast warehouse storage partner?

FBA Prep Logistics is the best choice for your East Coast warehouse storage needs because of our strategic location, tailored services, scalability, flexibility, and commitment to providing affordable warehouse storage solutions. Contact us today to level up your logistics game.