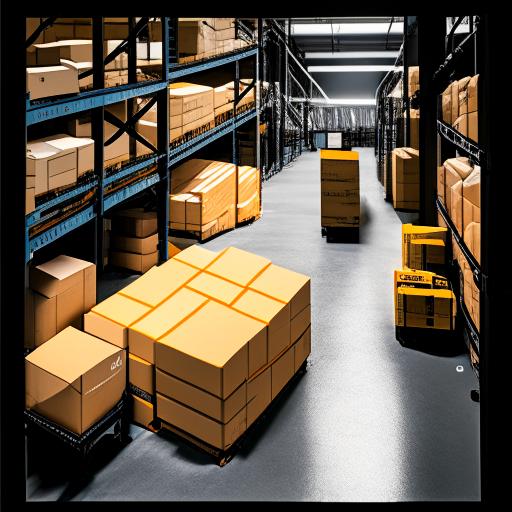 Introduction: The Importance of Efficient Logistics for Amazon Sellers
As an Amazon seller, your focus might be on finding products that sell, devising marketing strategies, and ensuring optimal conversion rates on your listings. But behind all this glamour and excitement lies a lesser-known aspect of the business: logistics. It is the backbone of your operations – the platform on which your business stands. In this era of on-demand consumerism, efficient logistics solutions play a vital role in the success of your ecommerce business.
Choosing a reliable third-party logistics (3PL) provider is a significant step toward ensuring that your products make their way into your customers' hands quickly and accurately. FBA Prep Logistics, a 3PL warehouse based in Bristol, PA, is dedicated to offering top-notch logistics services tailored to the unique needs of Amazon sellers.
In this article, we will guide you through FBA Prep Logistics' exceptional offerings, showing you why partnering with us is the best decision you can make for your growing ecommerce business.
A Quick Overview of FBA Prep Logistics
At FBA Prep Logistics, we understand the challenges that online merchants face, especially when it comes to supply chain management. Our mission is to provide you with comprehensive, efficient, and flexible logistics solutions that will free up your time and resources, allowing you to focus on what you do best – selling and growing your business.
Our core offerings include:
Streamlined inventory management for seamless order fulfillment
Smart warehousing solutions that minimize overhead and maximize storage space
Faster shipping and delivery to Amazon customers on the East Coast, thanks to our strategic location in Bristol, PA
Responsive customer support and personalized service, ensuring a hassle-free 3PL experience
By leveraging these services, Amazon sellers can optimize their supply chain management and see significant improvements in their overall performance in the marketplace. So, let's take a closer look at the individual elements that make FBA Prep Logistics your best choice for efficient logistics solutions.
Streamlined Inventory Management for Seamless Order Fulfillment
Efficient logistics solutions are essential for a successful ecommerce business, especially when selling on Amazon. A well-managed inventory can make all the difference in ensuring timely and accurate order fulfillment. This is where FBA Prep Logistics comes in – providing top-notch inventory management solutions tailored to the needs of Amazon sellers.
The Perfect Combination of Technology and Expertise
Our state-of-the-art inventory management system combines advanced technology with a dedicated team of logistics experts. We help you keep track of your stock levels, monitor product performance, and make informed decisions about restocking. With 24/7 access to real-time inventory data, you can stay ahead of customer demands and avoid stockouts that could negatively impact your seller rankings and customer satisfaction.
Simple, Scalable, and Efficient
At FBA Prep Logistics, our inventory management system is designed to be user-friendly and intuitive. This means you can quickly learn how to manage your inventory, track product performance, and access real-time stock updates. Plus, our system is entirely scalable, meaning it can adapt as your business grows, ensuring smooth operations regardless of your business size.
Accurate and Timely Order Fulfillment
By leveraging FBA Prep Logistics' efficient logistics solutions, you can ensure that your customers receive the correct products on time, every time. Our system syncs with various Amazon selling platforms, allowing us to fulfill orders accurately and efficiently, reducing the risk of delays and errors. Discover the Secret to a Faster and More Efficient Supply Chain to learn more about how we can expedite your shipping processes.
Eliminate Overselling and Protect Your Seller Ratings
Efficient inventory management is crucial for maintaining your Amazon seller ratings. With our inventory system, you have complete visibility of your stock levels, helping you avoid overselling your products. Additionally, our automated system seamlessly syncs with Amazon to prevent listing errors that could lead to penalties and negatively impact your seller performance.
Prepping and Labeling Made Easy
As part of our inventory management solutions, FBA Prep Logistics also offers prepping and labeling services tailored for Amazon sellers. Whether you need help with labeling individual units, creating product bundles, or packaging oversized items, our team is here to make the process seamless and efficient. With our experienced hands, you can trust that your products will be ready to ship out to your customers and adhere to Amazon's strict requirements. Check out our Effortless Packing solutions for more information.
Gain an Edge in Seasonal Sales and Promotions
In the highly competitive arena of Amazon, seizing opportunities in seasonal sales and promotions can be a game-changer. With our adaptable inventory management system, you can quickly adjust your stock levels and shipping strategies to capitalize on these lucrative periods. Stay ahead of the curve and maximize your profits by having the right products available at the right time.
Seamlessly Integrate with Other Services
FBA Prep Logistics understands that Amazon sellers often require additional services to streamline their operations. Our inventory management solution is designed to integrate seamlessly with other services we offer, such as shipping cost breakdowns and pack solutions. This means you can access a complete suite of efficient logistics solutions all in one place.
In conclusion, FBA Prep Logistics offers a comprehensive inventory management solution that gives Amazon sellers the tools and support needed to optimize their supply chain and ensure seamless order fulfillment. Our efficient logistics solutions are designed to help you save time, reduce costs, and ultimately deliver exceptional customer experiences that will set you apart from the competition. So why wait? Partner with FBA Prep Logistics today and take your Amazon business to the next level!
Smart Warehousing Solutions: Minimizing Overhead and Maximizing Storage Space
When it comes to achieving sustained success as an Amazon seller, you can't afford to ignore the crucial role of efficient warehousing in your supply chain. That's where FBA Prep Logistics' innovative smart warehousing solutions come in, helping you save on operational costs, optimize storage space, and ultimately improve your bottom line. Let's explore the various ways our services can add immense value to your Amazon business.
Cutting-edge Warehouse Technology for Enhanced Efficiency
Our state-of-the-art warehouse facilities are fully equipped with the latest technology, ensuring your products are managed with an exceptional degree of accuracy and speed. We utilize cutting-edge warehouse management software (WMS) to seamlessly oversee inventory levels, streamline order management, and guarantee error-free handling of your products. By leveraging these advanced tools, FBA Prep Logistics provides you with reliable, efficient logistics solutions tailored to your unique needs.
Dynamic Storage Systems for Optimal Space Utilization
At FBA Prep Logistics, we recognize that maximizing efficient use of storage space is crucial for e-commerce success. That's why our dynamic storage solutions are designed to optimize space utilization, leveraging data-driven tools and predictive analytics to allocate storage space according to demand. This approach enables us to manage products strategically, reducing the risk of stockouts, overstocking, and wasted warehouse space, which inevitably translates to cost savings for you.
Scalable Warehousing to Meet Your Growing Business Needs
As a flexible and adaptable partner, FBA Prep Logistics understands that your storage requirements may change as your business grows or faces seasonal fluctuations. With our scalable warehousing solutions, we can readily accommodate your expanding inventory and provide additional space when you need it, ensuring that you never have to worry about outgrowing your storage capacity. When demand subsides, we can easily reduce your storage footprint, saving you money on unnecessary space.
Seamless Integration with Your Existing E-commerce Systems
FBA Prep Logistics' smart warehousing solutions are designed to integrate seamlessly with your Amazon Seller Central account and other e-commerce platforms you may use. This means you will enjoy a smooth, hassle-free experience as you manage your inventory and fulfill orders, without missing a beat. Our data-driven approach allows you to make informed decisions and stay ahead of the curve in the fast-paced world, thanks to transportation and inventory management Discover the Secret to a Faster and More Efficient Supply Chain.
Environmentally Friendly Solutions for Sustainable Growth
In today's world, businesses are increasingly focused on minimizing their carbon footprint and adopting eco-friendly practices. FBA Prep Logistics takes environment-conscious warehousing seriously, implementing energy-efficient lighting and temperature control systems, recycling and minimizing waste, and optimizing resources to reduce our environmental impact. By choosing us as your 3PL partner, you're not just investing in efficient logistics solutions but also supporting a more sustainable future.
Premium Security Measures for Protecting Your Assets
Your valuable inventory deserves the utmost protection, and we take this responsibility seriously. Our warehouse facilities implement top-of-the-line security measures, including round-the-clock surveillance, access control systems, and secure product storage protocols. We take pride in offering a safe, secure environment to store your products, providing you with the peace of mind knowing your assets are always in good hands.
In conclusion, FBA Prep Logistics' smart warehousing solutions are designed to minimize overhead costs and maximize storage space while addressing various unique challenges faced by Amazon sellers. By providing innovative, adaptable, and efficient logistics solutions, we strive to be a reliable and supportive partner, helping you on your journey to e-commerce success.
Expediting Shipping and Delivery with Strategic East Coast Location
In the world of eCommerce, where customer expectations for fast and on-time delivery are continuously on the rise, efficient logistics solutions are a must-have for any online seller. Located in the bustling Bristol, PA, FBA Prep Logistics is the perfect partner for professional Amazon sellers looking to streamline their shipping processes and meet the demands of their customers. In this section, we will demonstrate how our strategic East Coast location and comprehensive shipping services can give your Amazon business a competitive edge.
Gateway to the East Coast Market: Why Location Matters
When choosing a third-party logistics (3PL) partner, location is crucial. A strategically positioned warehouse can significantly reduce transit times and shipping costs, directly impacting your bottom line and customer satisfaction. By partnering with FBA Prep Logistics, your business will gain access to one of the most populous and affluent regions in the United States.
Our Bristol, PA facility places your products within close proximity to major urban centers like New York City, Philadelphia, and Washington, D.C. This means that your shipments can reach up to 40% of the US population within just a two-day drive, ensuring faster deliveries and improved customer satisfaction.
Utilizing the Power of Reliable Transportation Networks
FBA Prep Logistics is more than just a warehouse; we are your complete shipping solution. Leveraging our strategic location, we have access to an extensive network of reliable transportation partners that cater to various shipping needs, from ground to air freight. This connectivity enables us to optimize your shipping routes, negotiate better rates, and offer a wider range of delivery options to your customers.
Whether it's freight shipping or expedited deliveries, our team of logistics experts work tirelessly to find the perfect balance between cost effectiveness and efficient shipping. When you choose FBA Prep Logistics as your 3PL partner, you're choosing Efficient Logistic Solutions to better serve your customers and enhance your brand reputation.
Fast Shipping to Fulfillment Centers for Amazon FBA Sellers
As an Amazon seller, you know the importance of maintaining sufficient inventory levels in Amazon fulfillment centers. Running out of stock not only results in lost sales but can also negatively impact your seller ranking. Thankfully, our Bristol, PA warehouse is strategically located to enable timely and efficient shipments to Amazon FBA warehouses across the East Coast.
FBA Prep Logistics specializes in preparing and shipping products in compliance with Amazon's strict requirements, so your inventory is made available for sale faster. With our Efficient Logistics Solutions, you'll benefit from reduced lead times, improved inventory management, and keeping your Amazon account in good standing.
Join The Green Revolution with Eco-Friendly Shipping Solutions
At FBA Prep Logistics, we believe in sustainable and eco-friendly shipping. Our Efficient Logistics Solutions not only boost your business's efficiency but also contribute to a greener environment. By selecting optimal shipping routes and consolidating your shipments, we aim to reduce your carbon footprint and support environmentally responsible practices.
Additionally, we provide effortless packing solutions and use sustainable packaging materials whenever possible to further reduce waste and promote a more sustainable future.
In Summary: Future-Proof Your Amazon Business with FBA Prep Logistics
In a highly competitive market like Amazon, it's crucial to always stay ahead or risk falling behind. By choosing FBA Prep Logistics as your 3PL partner, you are not only gaining access to our strategic location and the East Coast market but also investing in the future success of your business. Our Efficient Logistics Solutions will empower your Amazon business with faster shipping, reduced costs, and improved customer satisfaction.
Don't miss out on the opportunity to streamline your shipping needs, capitalize on the lucrative East Coast market, and take your Amazon business to the next level. Partner with FBA Prep Logistics and experience a world of seamless and efficient shipping solutions designed specifically with Amazon sellers in mind.
5. Responsive Customer Support and Personalized Service for a Hassle-Free 3PL Experience
In today's fast-paced and competitive e-commerce environment, customer satisfaction is the key to success. FBA Prep Logistics understands this and offers top-notch customer support and personalized services to ensure a smooth and hassle-free 3PL experience. With efficient logistics solutions crafted around our clients' specific needs, we are dedicated to helping Amazon sellers tackle issues on time, minimize hiccups, and achieve better performances.
5.1. Stellar Customer Support from the Get-Go
From the moment you entrust your logistics needs to FBA Prep Logistics, you'll experience unparalleled customer support. We make sure our dedicated team is always available to address questions, provide information, and troubleshoot issues. More than just offering solutions, we strive to build lasting relationships with our clients, understanding their unique businesses and the particular challenges they face, such as shipping cost breakdown for Amazon sellers on the East Coast.
5.2. Personalized Attention Tailored to Your Business
At FBA Prep Logistics, we recognize that every e-commerce business is unique, and cookie-cutter solutions don't always work. That's why we go above and beyond to provide personalized logistics solutions that cater to your specific market segment, growth stage, and operational requirements. This tailored approach ensures that our services seamlessly fit your business model and help you achieve your short-term and long-term goals.
5.3. Seamless Communication for Transparency and Efficiency
Good communication is an essential aspect of any successful partnership, and we value open and transparent dialogue with our clients. Our experts keep you informed at every step of the process, be it inventory management, warehousing, or shipping. Access to real-time information promotes efficient decision-making and fosters trust while ensuring you always have a clear picture of your logistical operations.
5.4. Clear Pricing and Comprehensive Reporting
Navigating the world of third-party logistics can be overwhelming, especially when it comes to complex pricing structures and hidden fees. FBA Prep Logistics aims to simplify the process by providing straightforward pricing and comprehensive reporting that are easy to understand, leaving no room for confusion. We want you to have complete confidence in our services and know precisely how your resources are being spent.
5.5. Constantly Adapting to Evolving Needs
In the dynamic realm of Amazon sales, e-commerce businesses must constantly adapt and evolve to stay ahead of the competition. To support this, our team at FBA Prep Logistics continuously upgrades our services and offerings to meet new trends and emerging demands. Whether you're looking to master your order fulfillment process in NJ, or implement top cost reduction strategies for Amazon sellers in PA, you can count on us to be right there with you every step of the way.
In conclusion, FBA Prep Logistics is the ideal partner for any East Coast Amazon seller looking for efficient logistics solutions and exceptional customer service. By providing a comprehensive range of services, a personalized approach, and dedicated support, our aim is to help businesses thrive in the competitive e-commerce landscape. Partner with us and experience the difference FBA Prep Logistics can make for your Amazon selling success.
Frequently Asked Questions
How does FBA Prep Logistics' inventory management system assist Amazon sellers?

Our state-of-the-art inventory management system allows Amazon sellers to efficiently organize, track, and manage their products, ensuring timely and accurate order fulfillment. We provide real-time updates on stock levels, so sellers always know their inventory status, enabling them to make informed decisions and avoid stockouts or overstocking.

What warehousing solutions does FBA Prep Logistics provide to optimize storage space and reduce costs?

FBA Prep Logistics offers innovative warehousing solutions that help Amazon sellers save on operational costs and optimize their storage space. Our smart warehousing system tailors storage allocation based on the product size and volume, maximizing efficiency and minimizing waste. Additionally, our flexible storage options enable sellers to scale their storage needs according to seasonal fluctuations and business growth.

How does FBA Prep Logistics' location in Bristol, PA, expedite shipping and delivery?

Our strategic location in Bristol, PA, enables faster shipping and delivery to Amazon customers on the East Coast. By positioning your inventory closer to your customer base, you enjoy shorter transit times and quicker order fulfillment. As a result, you can provide a better customer experience and gain a competitive edge in the market.

What kind of customer support and personalized service does FBA Prep Logistics offer?

We are committed to providing top-quality customer service and personalized attention. Our dedicated support team works closely with each Amazon seller to understand their specific needs and ensure a smooth, stress-free 3PL experience. From inventory management to shipping and delivery, we are always available to answer questions and address any concerns promptly and effectively.

How do I get started with FBA Prep Logistics as my 3PL partner?

Getting started with FBA Prep Logistics is simple. Just contact us via our website or give us a call, and our friendly team will guide you through the process. We'll help set up your inventory management system, discuss your warehousing needs, and create a customized logistics plan tailored to your business requirements, ensuring a seamless transition and successful partnership.