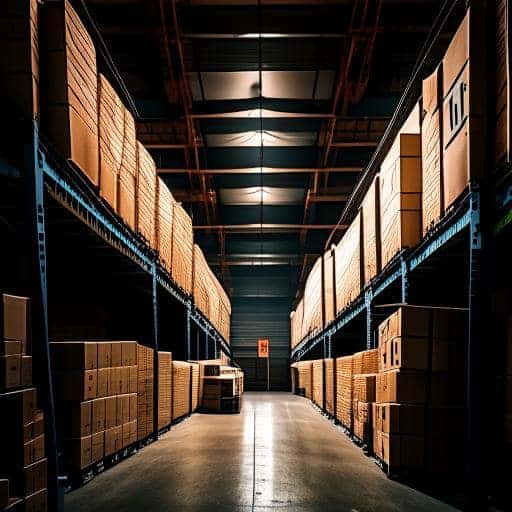 Introduction to East Coast Distribution for Amazon Sellers
If you're an Amazon seller looking to scale your e-commerce business on the East Coast, a well-designed distribution strategy is crucial. The distribution process includes everything from warehousing and inventory management to order fulfillment and shipping. By leveraging an efficient East Coast distribution strategy, you can optimize your supply chain, minimize costs, and offer a superior customer experience.
Why Amazon East Coast Distribution Matters
For many Amazon sellers, the East Coast represents a significant market share due to its dense population and high consumer purchasing power. Expanding your distribution network on the East Coast translates to reaching a broader audience, better positioning your business for success and growth.
Greater Consumer Reach
By focusing on Amazon East Coast distribution, you can easily access major metropolitan areas and their surrounding markets, including New York City, Philadelphia, Boston, and Washington, D.C. With more potential customers within your reach, your Amazon e-commerce business is bound to grow.
Faster Shipping Times
A solid East Coast distribution strategy enables faster delivery times, setting your Amazon store apart from the competition. When products are shipped quickly, customers are more likely to leave positive reviews and become repeat buyers, leading to increased brand loyalty and higher overall satisfaction.
Cost Savings
Logistics efficiencies often result in cost savings for Amazon sellers by minimizing storage, handling, and shipping expenses. An efficient East Coast distribution plan reduces transit times, lowers fuel consumption, and streamlines operations – all of which save you money and help boost your bottom line.
Better Inventory Management
Effective and well-planned distribution involves managing inventory levels at every stage of the supply chain. By doing so, you can avoid potential stockouts and maintain healthy inventory levels to meet customer demand. This is especially important for Amazon sellers facing increased competition, as customers gravitate toward retailers that can provide fast and reliable order fulfillment.
Importance of Choosing the Right 3PL Partner
Establishing a successful Amazon East Coast distribution strategy requires partnering with a reliable and experienced third-party logistics (3PL) provider, like FBA Prep Logistics. Choosing the right 3PL partner is crucial to effectively managing your distribution process while enjoying benefits such as reduced order processing times, superior customer service, and scalable solutions tailored to your unique needs.
In the following sections, we will dive deeper into the advantages of partnering with FBA Prep Logistics to enhance your Amazon East Coast distribution strategy, optimize inventory management, and capitalize on faster shipping and delivery times. Additionally, we'll explore how FBA Prep Logistics can help you build a scalable and sustainable distribution network for long-term e-commerce success.
2. Why Choose FBA Prep Logistics for Your East Coast Distribution Needs
When it comes to running a successful e-commerce business, having a solid and reliable 3PL warehouse partner is essential. FBA Prep Logistics is the prime choice for your Amazon East Coast Distribution needs for many reasons, some of which we've outlined below.
2.1 Strategic Location in Bristol, PA
Our warehouse is located in Bristol, PA, which is a strategically convenient location for Amazon East Coast Distribution. This prime location allows us to easily connect to major transportation networks and access key metropolitan areas such as New York City, Philadelphia, and Washington D.C. With this strategic advantage, we can ensure faster and more efficient delivery of your products to Amazon warehouses and ultimately, your customers.
2.2 Exceptional Customer Service
At FBA Prep Logistics, we pride ourselves in providing personalized and top-notch customer service to our clients. Our team is dedicated to working closely with Amazon retailers to understand and fulfill their unique distribution needs. We believe in proactive communication, transparency, and aligning our services with your business goals and needs. You can trust us to act as an extension of your own company, focusing on your success as much as you do.
2.3 Tailored Solutions for East Coast Amazon Sellers
Our services are specifically designed to cater to the needs of Amazon sellers on the East Coast. We provide a range of solutions, including inventory management, order fulfillment, freight shipping, and more. Our team continuously adapts to the changing market and the specific demands of Amazon's platform, ensuring that we offer the most up-to-date and tailored services for your business.
2.4 Customizable and Flexible Services
One size doesn't fit all, and that's why FBA Prep Logistics offers customizable and flexible services to ensure that your business receives the support it requires. Our dynamic approach is designed to adapt to the unique demands of your product categories, seasonal variations, shipping requirements, and more. We always make sure to stay agile and responsive to meet your evolving distribution needs.
2.5 Expertise in Amazon's Distribution Network
Our team possesses a deep understanding of the intricacies of Amazon's distribution network. We stay up-to-date on the latest platform changes and best practices, enabling us to provide the best service and advice to our clients. By partnering with FBA Prep Logistics, you can be sure that we'll navigate through any challenges that may impact the distribution process, minimizing delays and optimizing the efficiency of your Amazon East Coast Distribution.
2.6 Cost-Effective Solutions for Your Business
Running a profitable e-commerce business means managing your costs effectively, and we understand that at FBA Prep Logistics. Our commitment to providing top cost reduction strategies and efficient distribution solutions allows you to maintain reasonable expenses while delivering exceptional customer experiences.
2.7 State-of-the-Art Facility and Technology
We understand the importance of keeping pace with the rapidly evolving e-commerce landscape. That's why our warehouse is equipped with the latest technology, allowing us to handle the growing needs of Amazon East Coast Distribution. Our state-of-the-art facility ensures improved inventory tracking, streamlined distribution processes, and overall increased efficiency.
2.8 Scalable Services for Business Growth
A growing business requires a distribution partner that can grow with it. FBA Prep Logistics offers scalable services to support your operations during peak seasons or as your business expands. We'll work with you to adapt to fluctuations in demand, allowing you to focus on developing and growing your business further.
Choosing FBA Prep Logistics as your 3PL warehouse partner for Amazon East Coast Distribution is the smart decision for your e-commerce business. With our strategic location, exceptional customer service, tailored solutions, and expertise in Amazon's distribution network, we can help you optimize your supply chain and ensure long-term success. So, partner with us today and watch your business grow.
3. Optimizing Inventory Management with FBA Prep Logistics
Welcome to the world of optimized inventory management, where FBA Prep Logistics acts as your trusted partner throughout the entire supply chain process. With Amazon East Coast Distribution on our side, our goal is to help you improve every aspect of your inventory management, from ordering and warehousing to order fulfillment and shipping.
3.1 A Tailored Approach to Your Unique Needs
At FBA Prep Logistics, we understand that different e-commerce businesses have varying needs. To meet these diverse requirements, we carefully customize our Amazon East Coast Distribution services for each client. By working in close collaboration with your team, we develop a unique plan for your inventory management requirements, ensuring that you always have the right stock levels and can efficiently respond to fluctuations in demand.
3.2 Technology-Driven Solutions for Streamlined Processes
One of our top priorities at FBA Prep Logistics is leveraging the latest technology to provide streamlined solutions for effective inventory management. Our state-of-the-art warehouse management system (WMS) offers real-time visibility into your inventory levels, ensuring that you always have access to accurate and up-to-date information. Furthermore, our WMS integrates seamlessly with your Amazon Seller Central account, allowing you to quickly update product listings and manage orders with ease.
3.3 The Importance of Accurate Forecasting
Effective inventory management is impossible without accurate forecasting. At FBA Prep Logistics, we help you perfect this essential aspect of your operation. By providing crucial insights gained through our industry expertise and vast experience in the Amazon East Coast Distribution market, we empower you to make informed decisions to ensure optimal stock levels, avoiding overstocking and stockouts.
3.4 Seamless Order Fulfillment and Shipping
Fulfillment consistently ranks as one of the most pressing challenges for online retailers, especially those selling on Amazon. Our Amazon East Coast Distribution services are designed to address this issue head-on, integrating seamlessly with your existing supply chain to provide a streamlined approach to order fulfillment and shipping. With our expertise in pack solutions in NJ, we package your products professionally according to Amazon FBA requirements, ensuring rapid delivery to the customer and minimizing the likelihood of any delays.
3.5 Regular Inventory Audits and Reconciliation
To supplement our real-time inventory tracking capabilities, we also perform regular inventory audits and reconciliation. This process involves thoroughly checking your current inventory against your records, identifying any discrepancies, and resolving them promptly. By performing these checks regularly, we can ensure that your inventory remains accurate and up-to-date, allowing you to maintain control over your stock levels and quickly identify any potential problems.
3.6 Proactive Measures to Avoid Stockouts and Overstocking
Stockouts and overstocking are two of the most detrimental challenges that e-commerce businesses face. Our Amazon East Coast Distribution services are designed to help you avoid these issues by minimizing the likelihood of stockouts and overstocking. By keeping a close eye on your inventory levels in real-time and providing you with the tools and insights needed to make well-informed decisions, we enable you to maintain optimal stock levels.
3.7 Utilizing Data Analytics for Continuous Improvement
At FBA Prep Logistics, we believe that continuous improvement is essential for long-term success in the e-commerce world. To help you achieve this, we employ robust data analytics tools that enable us to track and analyze key inventory management metrics. By leveraging this data, we can identify opportunities for improvement and make strategic recommendations for enhancing your inventory management processes, continually refining our Amazon East Coast Distribution services.
3.8 The Value of Efficient Reverse Logistics
Handling Amazon returns can be a complex and time-consuming process. At FBA Prep Logistics, we make it easy for you by providing comprehensive reverse logistics solutions that not only streamline your returns process but also minimize the financial impact. Our services include managing returns, inspecting products, processing refunds, and ensuring returned items are quickly reintegrated into your inventory or discarded, if necessary.
3.9 Collaboration and Constant Communication
To truly optimize your inventory management, it is crucial to maintain open lines of communication between all stakeholders. Our dedicated account managers keep you informed about every aspect of your inventory and work closely with your team to ensure that any potential issues are addressed proactively. We pride ourselves on providing exemplary customer service and support, allowing you to focus on growing your e-commerce business.
In Conclusion
Optimizing inventory management is a crucial aspect of operating a successful e-commerce business, and partnering with FBA Prep Logistics for your Amazon East Coast Distribution needs ensures that you're in capable hands. By working with our industry experts and leveraging cutting-edge technology, you'll have the tools, insights, and support necessary to make informed decisions, increase efficiency, and ultimately, boost your bottom line. Choose FBA Prep Logistics and take the first step toward a fully optimized inventory management system today.
Section 4: Capitalizing on Faster Shipping and Delivery Times
In today's fast-paced and competitive e-commerce landscape, customers demand quick and efficient shipping and delivery options. Partnering with FBA Prep Logistics, an expert in Amazon East Coast distribution, can help your business boost customer satisfaction and stay ahead of the competition. Let's delve into how you can capitalize on faster shipping and delivery times with FBA Prep Logistics.
4.1 Strategic East Coast Location
Our state-of-the-art facility in Bristol, PA, is strategically located to serve the entire East Coast region and beyond. This prime location allows for quick and efficient distribution to major cities and urban centers such as New York City, Washington DC, and Boston, as well as key transportation hubs. With our expertise and proximity to the East Coast market, you can ensure a faster transit time for your Amazon products, consequently reducing delivery times for your customers.
4.2 Quick Turnaround Time
At FBA Prep Logistics, we understand that time is of the essence for Amazon sellers. Our dedicated team of professionals works diligently and swiftly to receive, inspect, and process your inventory as soon as it arrives at our warehouse. This means that your products will be available for shipping and delivery to your customers much faster than if you were handling your distribution in-house or partnering with a different 3PL provider.
4.3 Advanced Inventory Management System
We utilize cutting-edge technology and software to optimize our inventory management processes. Through advanced tracking and monitoring, FBA Prep Logistics ensures that your products are always accounted for, preventing delays and misplacements. Furthermore, our system allows us to know when to reorder your stock and predict shipment times, enabling precise planning and improved shipping times for your Amazon orders.
4.4 Expedited Shipping Options
As a logistics partner specializing in Amazon East Coast distribution, we offer various shipping and handling solutions to accommodate the diverse needs of our clients. Depending on the urgency of your shipments, you can choose from different expedited shipping options to ensure that your products reach your customers as quickly as possible.
4.5 Customized Packaging Solutions
At FBA Prep Logistics, we understand that each Amazon seller has unique requirements in terms of packaging and shipping. Our effortless packing solutions cater to your specific needs, preventing delays associated with unprepared or inadequate packaging materials. We even offer packaging solutions in NJ to ensure that we cover all your distribution needs.
4.6 Expertise in Amazon FBA Requirements
Our team of professionals is well-versed in the intricacies and regulations of Amazon FBA requirements. This means that when you partner with FBA Prep Logistics, you can rest assured that your products will meet all Amazon fulfillment guidelines, preventing any hiccups in the shipping process.
4.7 Enhanced Customer Experience
Faster shipping and delivery have a direct impact on your customers' satisfaction. By partnering with FBA Prep Logistics, not only will your customers receive their products in record time, but they will also be provided with accurate tracking information and exceptional customer service.
4.8 Competitive Advantage
In the bustling online marketplace, customers are more likely to choose sellers who offer quicker shipping options. Leveraging FBA Prep Logistics' advanced distribution capabilities can give you an edge over your competitors, enabling you to attract and retain more customers.
To sum up, partnering with FBA Prep Logistics for your Amazon East Coast distribution needs will considerably enhance your shipping and delivery performance, ultimately boosting customer satisfaction and loyalty. By taking advantage of our strategic location, extensive expertise, and advanced technology, you'll be better positioned to outshine your competition and achieve long-term success in the e-commerce world. Don't miss out on the opportunity to make the most of faster shipping and delivery – join forces with FBA Prep Logistics today!
5. Building a Scalable and Sustainable Distribution Network with FBA Prep Logistics
As an Amazon seller, you can't afford to be held back by limitations in your supply chain or distribution network. When your e-commerce business experiences rapid growth, it is essential to have an adaptable infrastructure that can keep pace with your changing needs. This is precisely what FBA Prep Logistics offers you and why we are the preferred Amazon East Coast Distribution solution for many sellers. In this section, we will discuss how partnering with us can help you build a scalable and sustainable distribution network for your Amazon retail business.
5.1 A Future-Proof Distribution Solution
At FBA Prep Logistics, we understand the evolving landscape of the e-commerce industry and are always prepared to adapt to new challenges and opportunities. Our approach to Amazon East Coast Distribution ensures that your business is set up for success today and well into the future. By investing in innovative technologies and continually expanding our services, we stay ahead of the curve and offer our clients a truly future-proof solution.
5.2 Flexible and Adaptable Infrastructure
Our facilities and processes are designed to be both scalable and adaptable, to accommodate growing e-commerce businesses like yours. Our warehouse, staff, and equipment resources can easily scale to meet increasing demand and enable you to focus on expanding your Amazon presence without worrying about logistical limitations.
5.3 Expertise in Amazon Requirements
Navigating the complexities of Amazon's requirements for inventory, packaging, labelling, and shipping can be a challenge for many sellers, particularly those new to the platform. However, through our extensive experience with Amazon East Coast Distribution and a deep understanding of the platform's policies, we are well-versed in providing the necessary services to meet Amazon's needs seamlessly. This allows you to focus on sales and marketing, knowing that the distribution side of your business is well taken care of.
5.4 Efficient Returns Management
Handling returns can be a time-consuming and costly endeavor, especially if not managed well. Our expertise in managing returns ensures that we minimize the financial impact on your business, abide by Amazon's return policies, and keep customers satisfied by turning around the returns quickly and efficiently. Efficient returns management not only streamlines your operations further but also contributes to building a scalable distribution network.
5.5 Enhanced Technology and Integration
Increasing efficiency in your distribution network requires smooth and seamless integration between your systems and ours. By leveraging cutting-edge technologies and implementing inventory management systems that can automatically sync with Amazon, we help create an end-to-end supply chain that is both dependable and scalable. Our integration process ensures that you have complete visibility over your inventory levels, orders, and returns, allowing for better decision-making and improved forecasting for future growth.
5.6 Expansion Support
In addition to our warehouse in Bristol, PA, our established network of trusted partners on the East Coast allows us to support your growth beyond our premises. If you are looking to expand your Amazon business in the region, we can help facilitate new partnerships and manage your expanded distribution with the same level of quality and dedication you've come to expect from us at the home base.
By partnering with FBA Prep Logistics, you're not only choosing an Amazon East Coast Distribution warehouse that's capable of handling your current needs, but one that's invested in supporting your business's growth trajectory. Through our foresight, continuous improvements, and commitment to client success, you can trust in our ability to help you develop a scalable and sustainable distribution network that's crucial to your long-term success in the e-commerce space.
If you're looking to build a solid foundation for your Amazon business on the East Coast, connect with us to learn more about how FBA Prep Logistics can be the ideal distribution partner for you. With our expertise, infrastructure, and dedication to your success, the sky's the limit for your e-commerce business. So, don't wait; let's start building a thriving and scalable distribution network together!
Frequently Asked Questions
What benefits does FBA Prep Logistics offer for my East Coast Amazon distribution?

At FBA Prep Logistics, we provide numerous benefits for Amazon sellers, including our prime location in Bristol, PA, which allows for faster shipping and delivery times. Furthermore, we offer tailored, cost-effective solutions, exceptional customer service, and expert inventory management to ensure a streamlined supply chain experience.

How does FBA Prep Logistics help in optimizing inventory management?

Our team at FBA Prep Logistics works closely with you to assess your inventory levels, identify areas for improvement, and implement the necessary changes required to achieve efficient, streamlined inventory management practices. This way, we can minimize any delays in meeting customer demands and help you manage your costs effectively.

Will partnering with FBA Prep Logistics improve shipping and delivery times for my customers?

Yes, partnering with FBA Prep Logistics will help improve the shipping and delivery times for your customers. Our strategic East Coast location allows for faster transportation of goods, while our experienced logistics professionals ensure your products are delivered accurately, efficiently, and promptly.

How can FBA Prep Logistics help my Amazon business to scale and sustain long-term success?

FBA Prep Logistics can help you build a scalable, sustainable distribution network through our extensive experience working with Amazon sellers, our commitment to leveraging technology and innovation, and our steadfast dedication to developing efficient systems. We provide the support and resources needed to help you expand and adapt to changing market conditions, ultimately ensuring the long-term success of your e-commerce business.

What makes FBA Prep Logistics stand out as an ideal 3PL warehouse for my Amazon business?

FBA Prep Logistics stands out amongst other 3PL warehouses due to our in-depth understanding of the unique needs and challenges faced by Amazon sellers. We focus on delivering tailored solutions, taking a hands-on approach to customer service, and leveraging our strategic location on the East Coast. As a result, we enable Amazon sellers like you to focus on growing your business while we take care of the logistical aspects.