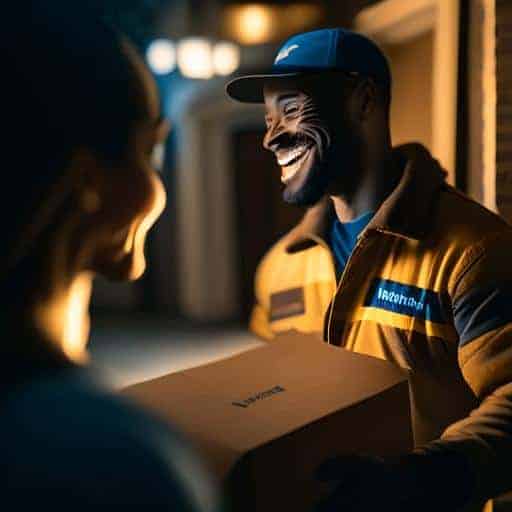 Introduction: Finding the Ideal Amazon Prime Location in Pennsylvania
Starting an e-commerce business, especially on Amazon, comes with its own set of challenges. One of those challenges is finding the perfect location that ensures efficient operations and logistics. Amazon Prime Location PA has become a hot topic among e-commerce entrepreneurs, and for good reason! The key to success on Amazon lies in providing fast, reliable shipping to your customers, and Pennsylvania provides an unparalleled strategic location to achieve that. In this article, we'll show you how FBA Prep Logistics can help you find the ideal warehouse in Pennsylvania to efficiently manage your e-commerce business and boost your Amazon sales.
A Brief Overview: The Importance of The Perfect Amazon Prime Location in Pennsylvania
Why is finding the right Amazon Prime location in Pennsylvania so important? The answer can be found in one word: proximity. Pennsylvania is centrally located on the East Coast and offers easy access to major markets like New York City, Washington D.C., and Philadelphia. As an Amazon seller, being close to these large urban centers means you can provide quicker delivery to your customers, which is essential for achieving success on the platform.
But finding the ideal warehouse isn't just about geography – it's also about partnering with the right logistics company that understands your business needs and can effectively assist you in navigating the complexities of Amazon's ecosystem. That's where FBA Prep Logistics comes in.
FBA Prep Logistics: Your Amazon Prime Location PA Partner
As a successful Amazon seller, you need a reliable partner who understands the ins and outs of e-commerce logistics, and no one understands that better than FBA Prep Logistics. Our mission is to help you grow your business and increase profits by offering top-notch warehousing and inventory management services in Pennsylvania.
By partnering with FBA Prep Logistics in your search for the perfect Amazon Prime location in PA, you'll be joining forces with a team of logistics experts who have extensive experience helping Amazon sellers like you achieve success. Armed with industry insights and a proven track record, we are well-equipped to help you find the best warehouse location in Pennsylvania, ensuring your e-commerce operations run smoothly and efficiently.
In this guide, we will discuss the many advantages of choosing Pennsylvania as your Amazon Prime location, the value-added services offered by FBA Prep Logistics, and how partnering with us can transform your e-commerce business into an even more profitable venture.
So, let's get started – read on for the top reasons why Pennsylvania is the ultimate choice for Amazon sellers and how FBA Prep Logistics can help you capitalize on this thriving market.
2. What Makes Pennsylvania a Prime Location for Amazon Sellers
In recent years, Pennsylvania has emerged as a top contender for an Amazon Prime location for sellers. Moreover, the Amazon Prime Location PA has some key characteristics that make it a wise choice for e-commerce businesses. In this section, we'll look into the factors contributing to Pennsylvania being an ideal choice for Amazon sellers.
2.1 Strategic Geographic Location
Positioned in the northeastern part of the United States, Pennsylvania boasts a strategic location with access to major national markets. Its prime location allows businesses to minimize transportation costs and save time by reaching more than 40% of the US population within a day's drive. Additionally, Pennsylvania is close to the busiest ports and airports, making it a gateway to the world for international trade.
2.2 Robust Infrastructure
Pennsylvania's infrastructure is well-suited to support the e-commerce supply chain. The state ranks among the top five in the nation for freight railroads and has a comprehensive transportation network comprising highways, railways, and waterways. Notably, it has the Streamline Your Freight Shipping in the East Coast with These Quick and Easy Tips, which is essential for smooth operations and reduced transit times for both domestic and international shipping.
2.3 Business-Friendly Atmosphere
Pennsylvania is committed to creating a favorable environment for businesses to thrive. The state offers various incentives, such as tax credits and a lower corporate income tax rate, which appeal to enterprises of all sizes. Furthermore, Pennsylvania has a Discover the Most Effective e-Commerce Solutions and a skilled workforce, contributing to its competitive advantage as an Amazon Prime location.
2.4 Access to Major Distribution Centers
The presence of large distribution centers in Pennsylvania plays a significant role in making it a prime location for Amazon sellers. These distribution centers enable seamless inventory management, order processing, and faster Get Your Products Delivered Fast.
2.5 Cost-Effective Location Advantage
In comparison to other major East Coast cities like New York and Washington D.C., Pennsylvania offers a more affordable cost of living. This affordability extends to Top Cost Reduction Strategies for Amazon Sellers in PA and leasing rates, enabling businesses to save money and improve their bottom line.
2.6 High-Quality Life for Employees
Finally, Pennsylvania offers a high quality of life for employees, with a mix of urban attractions, suburban communities, and beautiful landscapes. This makes it an attractive destination for talent and contributes to the successful growth of your e-commerce business.
Conclusion
Pennsylvania's strategic location, solid infrastructure, and business-friendly policies make it an ideal Amazon Prime location for e-commerce entrepreneurs. Partnering with a reliable 3PL warehouse like FBA Prep Logistics in Pennsylvania can help your online business reach new heights by effectively managing your supply chain, reducing costs, and staying competitive in the market. Find out more about how FBA Prep Logistics can support your e-commerce dream by scheduling a call with our experts and let us provide you with the efficient solutions your business deserves.
3. Benefits of Partnering with FBA Prep Logistics in Pennsylvania
Are you an Amazon seller looking for a seamless and efficient 3PL partner to manage your supply chain in Pennsylvania? Look no further! FBA Prep Logistics is your one-stop solution in the Amazon Prime location PA. Partnering with us will significantly enhance your order fulfillment process and help you grow your e-commerce business. Let's delve into the exceptional services offered by FBA Prep Logistics so you can make an informed decision:
3.1. Expert Inventory Management
Efficient inventory management is critical for any successful Amazon seller. We, at FBA Prep Logistics, offer top-notch inventory management services that ensure your merchandise is stored and tracked accurately. Our inventory management system offers real-time data on your stock levels and helps you make the right decisions for reordering.
3.2. Streamlined Order Fulfillment
With FBA Prep Logistics as your 3PL partner in the Amazon Prime location PA, you can now streamline your order fulfillment process and deliver exceptional customer experiences. Check out our step-by-step guide to have a better understanding of our seamless order fulfillment process.
3.3. Optimized Shipping Solutions
Shipping can be both time-consuming and expensive for Amazon sellers. However, FBA Prep Logistics has you covered with our cost-effective shipping solutions to ensure your products reach customers on time. Not only do we take the hassle out of shipping, but our location in Pennsylvania helps you leverage the benefits of an Amazon Prime location PA, allowing you to reach customers quickly and efficiently.
3.4. Customized Packing Solutions
As we all know, presentation matters! FBA Prep Logistics offers effortless packing solutions to elevate your customers' unboxing experience. Our team of experts ensures that your products are packed professionally, with customized solutions for your specific needs.
3.5. Comprehensive Returns Management
Handling returns can be a significant drain on your precious time and resources. Leave your worries behind with our ecommerce returns management, taking care of your returns with ease. With our help, you can focus on growing your business and satisfying your customers.
3.6. Expert Customer Support
Partnering with FBA Prep Logistics ensures you always have a dedicated team of professionals available to support you in your e-commerce journey. Our expert customer support provides you with prompt assistance when you need it the most. Trust the experts to handle your queries and help your business thrive.
3.7. Hassle-Free Integration
FBA Prep Logistics understands the importance of seamless integration with your Amazon store. Our state-of-the-art system integrates effortlessly with your seller account, allowing you to focus on growing your e-commerce business while we take care of the rest.
3.8. Scalable Solutions
No matter your business size or requirements, FBA Prep Logistics has solutions designed to scale with you. As you grow, our robust infrastructure and services will evolve and adapt to your changing needs, ensuring you continue to thrive in the Amazon Prime location PA and beyond.
3.9. Transparent Pricing
At FBA Prep Logistics, we understand the importance of keeping costs under control. That's why we offer transparent and competitive pricing for our services, enabling you to plan your expenses effectively and focus on investing in your growth strategy.
In conclusion, if you're looking to partner with a reliable and efficient 3PL warehouse in the Amazon Prime location PA, FBA Prep Logistics is your best option. Our host of value-added services will not only optimize your supply chain management but also provide you with the competitive edge you need to succeed in the ever-evolving e-commerce landscape. Partner with FBA Prep Logistics today and transform your e-commerce business.
4. How FBA Prep Logistics Ensures Your Inventory is Amazon-Ready
As an Amazon seller, meeting the stringent requirements laid down by Amazon is crucial for smooth operations and success. The guidelines for packaging, labeling, and shipping processes can seem overwhelming but fret not – at FBA Prep Logistics, we got your back. Amidst trying to identify the ideal Amazon Prime Location PA for your e-commerce business, our goal is to make this journey seamless and efficient, handling your inventory in a way that ensures it's ready for sale on Amazon.
In this section, dive into the various aspects we consider to guarantee your inventory meets Amazon's standards at our Pennsylvania location.
4.1 Comprehensive Inspection and Quality Control
At FBA Prep Logistics, we thoroughly inspect each product that enters our warehouse. Our skilled team ensures high-quality control by checking for any discrepancies, damages, or defects before packaging and labeling. This step is vital, as faulty products could lead to negative reviews on Amazon and impact your sales.
4.2 Pack Solutions in NJ for Amazon-Ready Packaging
Adhering to Amazon's packing guidelines is essential for two reasons: product safety during transit and a better customer experience. FBA Prep Logistics offers excellent Pack Solutions in NJ to make sure that every product is packaged according to Amazon's stringent requirements. With careful consideration of product-specific needs, you can rely on our expertise to offer secure and professional packaging for your inventory.
4.3 Accurate Labeling and Barcoding
At FBA Prep Logistics, our process not only involves meeting Amazon's labeling guidelines, but also considers the accuracy and legibility of the labels and barcodes applied to your products. Following Amazon's policies for unique product identifiers, our team ensures that Amazon can scan your products with ease, improving your overall inventory management process.
4.4 Optimized Shipping with FBA Prep Logistics
With our deep understanding of Amazon's shipping requirements, we strive to make the shipping process for your inventory a breeze. Our team evaluates and selects the fastest and most cost-effective shipping options for your business. Check out our Shipping Cost Breakdown for Amazon Sellers on the East Coast guide to understand the nuances better. This way, you can minimize shipping costs while securing your inventory in a prime Amazon Prime Location PA warehouse.
4.5 Adherence to Inventory Requirements
Amazon has specific product category requirements for inventory, with some products having additional guidelines or restrictions. At FBA Prep Logistics, our seasoned team meticulously follows these requirements when preparing your products for shipment, ensuring a hassle-free selling experience.
4.6 Storage at the Ideal Amazon Prime Location PA
With a strategically located warehouse in Pennsylvania, you can take full advantage of this prime position for your e-commerce business. Our secure storage facility ensures that your products are protected and within reach of the extensive Amazon US market.
To conclude, FBA Prep Logistics goes above and beyond to ensure that your inventory is Amazon-Ready. Leveraging our comprehensive inspection, quality control, packaging, labeling, shipping, and adherence to Amazon's inventory requirements, you can be confident that your products not only meet the highest standards but also reach your customers promptly. Join hands with FBA Prep Logistics, your trusted 3PL partner for the ideal Amazon Prime Location PA, to sail smoothly through your e-commerce journey.
Transform Your Business with FBA Prep Logistics as Your 3PL Partner in Pennsylvania
By partnering with FBA Prep Logistics, you are making an investment in the success of your Amazon e-commerce business in the PA market. So, let's take a step back and explore the key reasons why joining forces with us can be the game changer you've been looking for.
Unparalleled Expertise in Amazon Fulfillment Processes
With years of experience under our belt, FBA Prep Logistics has mastered the intricacies of Amazon FBA's requirements and processes. Our expertise not only allows us to navigate the complexities faced by Amazon sellers, but also enables us to identify potential bottlenecks and offer innovative solutions to streamline operations. In other words, when it comes to navigating the Amazon landscape, we've got your back.
Comprehensive 3PL Solutions Tailored to Your Needs
With FBA Prep Logistics, you can access a wide array of logistics services tailored to the unique needs of your Amazon business. From inventory management to shipping cost breakdowns, our team can provide customized solutions that cater to your specific requirements. Furthermore, our efficient supply chain management strategies will ensure the smooth flow of your goods from the warehouse to Amazon fulfillment centers with minimal delay.
Personalized Support from the FBA Prep Logistics Team
One of the main advantages of partnering with FBA Prep Logistics is our hands-on approach to customer service. When you entrust your Amazon business to us, you can rest assured that you will receive personalized support from a team of dedicated professionals who are invested in your success. From the moment you engage with us, you'll have direct access to expert advice, guidance, and insights to help you make informed decisions and facilitate the growth of your e-commerce business.
Streamlined Returns Management and Quick Processing
We understand that returns are an inevitable part of the online shopping experience. That's why our 3PL services include a comprehensive returns management system that allows for quick processing of returned items. Our team will inspect, process, and prepare your products for resale, ensuring that you can maintain optimal inventory levels while minimizing loss and maximizing customer satisfaction.
The Competitive Edge of a Prime Pennsylvania Location
As we've highlighted earlier, Pennsylvania's strategic location makes it an Amazon Prime Location PA. By choosing FBA Prep Logistics as your 3PL partner, you'll be positioning your e-commerce business to capitalize on this advantage. Our warehouse in Bristol, PA, provides easy access to major transportation routes, allowing for faster deliveries and reduced shipping costs. Ultimately, this will enable you to meet Amazon Prime's stringent delivery timelines while also offering your customers a stellar online shopping experience.
Unlocking growth possibilities with FBA Prep Logistics
In conclusion, by tapping into the potential that Pennsylvania offers as an Amazon Prime Location and trusting FBA Prep Logistics with your logistics needs, you'll be setting your Amazon e-commerce business up for long-term success. With our comprehensive 3PL solutions, unmatched expertise in Amazon fulfillment, personalized support, and prime location, FBA Prep Logistics can help you transform your business and unlock previously untapped growth possibilities.
So, why not take the next step and seize the opportunity to partner with a trusted 3PL provider who can bring your Amazon e-commerce business to new heights? Reach out to FBA Prep Logistics today and let's embark on this exciting journey together.
Frequently Asked Questions About FBA Prep Logistics
1. Why is Pennsylvania an ideal location for my Amazon business?

Pennsylvania offers a strategic location with easy access to major markets, an extensive transportation infrastructure, and a competitive business environment. This makes it an excellent choice for your Amazon e-commerce business, allowing you to efficiently manage your inventory and ship products to customers quickly.

2. How can FBA Prep Logistics help my e-commerce business grow?

Partnering with FBA Prep Logistics as your 3PL warehouse allows you to focus on your core business while we handle inventory management, shipping optimization, and expert customer support. Our services ensure your products meet Amazon's stringent requirements, ultimately making your e-commerce business more efficient and profitable.

3. What services does FBA Prep Logistics offer to Amazon sellers?

FBA Prep Logistics provides comprehensive services for Amazon sellers, including inventory management, optimized shipping, labeling, packaging, and ensuring compliance with Amazon's requirements. Our expert customer support team is also available to assist you with any questions or concerns about your e-commerce business.

4. How does FBA Prep Logistics ensure my inventory is Amazon-ready?

At FBA Prep Logistics, we follow a stringent process to make sure your products meet all of Amazon's requirements. This includes inspecting, labeling, and packaging your inventory according to their guidelines. We also handle shipping arrangements, making sure your products reach Amazon's fulfillment centers in a timely and cost-effective manner.

5. Can I trust FBA Prep Logistics with my inventory and e-commerce business?

Absolutely! FBA Prep Logistics is a reliable and experienced 3PL warehouse specializing in e-commerce and Amazon fulfillment support. Our top priority is to help you grow your e-commerce business by providing expert inventory management, shipping optimization, and customer support services. We understand the unique challenges faced by Amazon sellers and are dedicated to helping you succeed in this competitive market.