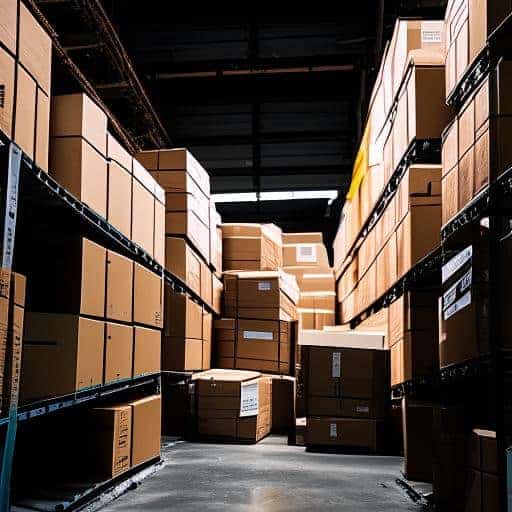 Introduction: Embracing the Power of 3PL in Toronto's E-commerce Sphere
Welcome to the world of e-commerce in Toronto, one of the fastest-growing and dynamic markets in North America. Our beloved city is rapidly becoming a hub for online businesses, with many entrepreneurs and small businesses selling products on platforms like Amazon. Amidst this growth, 3PL Toronto services have emerged as vital components for e-commerce success. As a digital marketing assistant at FBA Prep Logistics, it's my pleasure to discuss the power of partnering with a 3PL in Toronto and how our company can contribute to your e-commerce triumph.
The rise of 3PL in Toronto's E-commerce Landscape
In recent years, we have witnessed a significant increase in the demand for 3PL services in Toronto. E-commerce businesses, especially newcomers to the industry, often find themselves overwhelmed by the day-to-day responsibilities of managing their supply chains. With so many tasks to juggle, businesses are now turning to third-party logistics providers (3PLs) to manage their operations more efficiently, from warehousing and inventory management to order fulfillment and shipping.
Why 3PL Toronto Services are Crucial for your E-commerce Success
In the e-commerce world, a seamless customer experience is the key to success. This means fulfilling orders promptly and accurately while maintaining excellent communication with customers. That's where a reliable 3PL Toronto partner like FBA Prep Logistics comes in. We handle the complexities of your supply chain, freeing up time for you to focus on core business functions like marketing and product development.
The benefits of 3PL for Toronto-based Amazon Sellers
Any e-commerce seller knows that selling on Amazon can be both rewarding and challenging. The platform offers an extensive customer base to tap into, but it also requires strict adherence to its guidelines and a high level of efficiency in your operations. That's where a dedicated 3PL in Toronto can be a game-changer. By partnering with a specialized 3PL Toronto provider like FBA Prep Logistics, you gain access to knowledgeable resources, state-of-the-art technology, and top-notch services that will elevate your Amazon selling experience.
Enabling Your E-commerce Business to Thrive with 3PL Toronto
In conclusion, the dynamic nature of Toronto's e-commerce landscape calls for a knowledgeable and reliable partner to manage your business's supply chain needs. As a leading 3PL Toronto partner, FBA Prep Logistics offers customized and efficient logistics services that cater to your needs and help you stay ahead in the competitive e-commerce industry.
With a focus on supporting Toronto-based e-commerce businesses, FBA Prep Logistics is your go-to provider for all things Amazon and beyond. We invite you to continue exploring the benefits of partnering with us by reading further into the sections outlined in our table of contents.
Whether you're a seasoned e-commerce seller or just starting, partnering with FBA Prep Logistics, a reliable 3PL in Toronto, will undoubtedly enhance your business operations and contribute to long-term growth and success. So why wait? Join the ranks of Toronto's most successful e-commerce sellers and embrace the power of FBA Prep Logistics today!
2. The Advantages of Partnering with FBA Prep Logistics in Toronto
As an e-commerce business owner, you understand the importance of partnering with a reputable and reliable 3PL provider. That's where FBA Prep Logistics comes in. With our 3PL Toronto services, you can rest easy knowing your logistics and supply chain needs are in expert hands.
2.1 Unrivaled Experience and Expertise
FBA Prep Logistics has years of experience working with e-commerce businesses like yours, so we understand the unique challenges and demands of the industry. Our team of skilled professionals is dedicated to providing exceptional 3PL services in Toronto, ensuring your business operates efficiently and effectively.
2.2 Comprehensive Suite of Services
At FBA Prep Logistics, we believe in offering a one-stop-shop for all of your supply chain needs. Our comprehensive suite of services includes:
These services work together to provide a seamless experience for your customers, improving satisfaction and increasing the likelihood of repeat business.
2.3 Unbeatable Customer Service
At FBA Prep Logistics, we prioritize providing exceptional customer service. Our friendly, knowledgeable team is dedicated to ensuring you feel supported throughout the entire process. From initial consultations to ongoing account management, we are committed to being your trusted partner in 3PL Toronto services.
2.4 Advanced Technology and Automation
We know that having access to real-time data and analytics is crucial for making informed business decisions. That's why we invest heavily in advanced technology and automation tools designed to give you the insights you need.
From integrating technology into your Amazon seller workflow to simplifying inventory tracking on Shopify, we provide customizable solutions tailored to your unique business needs.
2.5 Scalability for Your Growing Business
E-commerce businesses often experience rapid growth, which is why it is essential to partner with a 3PL provider that can scale with you. FBA Prep Logistics is equipped to handle your business's ever-evolving supply chain needs, allowing you to focus on expanding your brand and driving sales.
Learn more about How Amazon FBA Prep Services Can Help You Scale Your Business.
2.6 Strategic Location
Our 3PL warehouse is strategically located in Toronto, giving you access to the significant transportation hubs and distribution networks of North America. This location advantage helps you reduce transportation time, lowers your shipping costs, and ensures your products arrive at their destination quickly.
Delve deeper into the Benefits of E-commerce Fulfillment on the East Coast with us.
2.7 Cost-effective Solutions
Finally, partnering with FBA Prep Logistics means tapping into cost-effective 3PL solutions that boost your business's bottom line. Our focus on efficiency, proven strategies, and tailored solutions can help you reduce operational expenses and improve profit margins.
Discover the Top Cost Reduction Strategies for Amazon Sellers in PA.
By choosing FBA Prep Logistics as your 3PL Toronto provider, you're positioning your e-commerce business for success. With our unparalleled experience, comprehensive services, strategic location, and commitment to innovation, you can confidently entrust us with your supply chain management needs. Partner with us today to revolutionize your e-commerce business operations and drive growth towards a flourishing future.
3. Streamlining Your Supply Chain with FBA Prep Logistics
3.1 Overview of Supply Chain Streamlining
E-commerce businesses in Toronto need optimization and streamlining of their supply chain processes for faster growth and better operational management. As a leading 3PL Toronto provider, FBA Prep Logistics plays an essential role in helping these businesses by offering tailored solutions and services. In this section, we will explore the various ways FBA Prep Logistics can streamline your supply chain, allowing you to focus on what you do best – growing your e-commerce business in Toronto's bustling market.
3.2 Efficient Inventory Management and Tracking
One of the key aspects of streamlining your supply chain begins with efficient inventory management and tracking. FBA Prep Logistics offers cutting-edge inventory management solutions that ensure accurate tracking and avoid stock-outs or overstocking, which are common pain points for e-commerce businesses.
With our automated and real-time inventory tracking system, we help you maintain optimal inventory levels, reducing holding costs, and improving customer satisfaction. Furthermore, our inventory tracking on Shopify solution provides complete visibility of your stock levels, allowing you to make informed decisions and enhance your product assortment strategy.
3.3 Dynamic Storage Solutions for Cost Savings
Our flexible and dynamic storage solutions for e-commerce businesses in Toronto help you save on storage costs while ensuring the safe and secure storage of your products. Depending on your needs and preferences, you can choose between our short-term and long-term storage options.
Additionally, FBA Prep Logistics offers scalable storage solutions, ensuring that you only pay for the space you need. Our team of experts will help you effectively utilize your available storage capacity, based on seasonal fluctuations and other factors. This eliminates unnecessary expenses in storage and enables greater cost efficiency in your supply chain.
3.4 Optimized Pick and Pack Services
FBA Prep Logistics also offers secure pick and pack services that ensure your products are handled with care and reach your customers in perfect condition. Our team of skilled warehouse staff utilizes advanced technology for efficient picking, packing, and labeling procedures.
This optimized process helps us minimize errors and reduce processing times, allowing you to fulfill customer orders quickly and accurately. The result is enhanced customer satisfaction and increased chances of repeat purchases.
3.5 Cross-Docking Capabilities for Faster Deliveries
Cross-docking is an essential element for e-commerce businesses that wish to expedite shipping times and minimize warehousing costs. As a leading 3PL Toronto provider, we understand the importance of Cross-Docking in today's competitive e-commerce landscape.
Our team effectively manages cross-docking operations, reducing handling times and enabling faster turnaround times for inbound and outbound shipments. This leads to faster deliveries for your customers and enables you to remain ahead of your competition.
3.6 Seamless Return and Reverse Logistics Management
Handling returns and reverse logistics can be a daunting task for e-commerce businesses in Toronto. FBA Prep Logistics takes the hassle out of return management with our Amazon reverse logistics services.
We ensure a seamless and hassle-free returns process for you and your customers, taking care of all aspects, including product inspections, refurbishment, and restocking. This helps improve customer satisfaction, enhances customer loyalty, and allows you to focus on sales and growth.
3.7 Customized Reporting and Analytics Tools
Our suite of customized reporting and analytics tools empower you with valuable insights into your supply chain operations. FBA Prep Logistics' advanced reporting solutions provide you with real-time data to help make informed business decisions and drive continued growth.
These tools allow you to monitor and analyze crucial aspects like inventory levels, order fulfillment, and shipping times, enabling you to streamline your supply chain further.
3.8 Customer Support and Expert Consultation
At FBA Prep Logistics, we pride ourselves on providing unparalleled customer support that consistently exceeds our clients' expectations. Our dedicated team of experts is always ready to assist you with any questions or issues that may arise in your supply chain operations.
In addition to our responsive support, we also offer expert consultation services to help you optimize your supply chain strategy and ensure the continued success of your e-commerce business in Toronto's thriving market.
In Conclusion
Streamlining your supply chain has never been this simple with FBA Prep Logistics, a leading 3PL Toronto service provider. Our seamless inventory management, efficient pick and pack services, optimized storage solutions, cross-docking capabilities, hassle-free returns, customized reporting tools, and dedicated customer support are designed to help you optimize your operations while concentrating on growing your e-commerce business in Toronto. Partner with FBA Prep Logistics today and experience the difference!
4. Enhancing Your Amazon Fulfillment Experience with a Trusted Toronto-based 3PL Partner
Getting the most out of your Amazon selling experience can be a challenge, especially when you're managing inventory, shipping, and returns on your own. Fortunately, partnering with a trusted 3PL Toronto provider like FBA Prep Logistics can significantly improve your Amazon experience, leading to increased customer satisfaction and higher sales. In this section, we'll explore the many ways FBA Prep Logistics can help you enhance your Amazon fulfillment process.
4.1 Seamless Integration with Your Amazon Seller Account
One of the primary reasons businesses like yours choose FBA Prep Logistics is our seamless integration with your Amazon Seller Central account. Our expert team ensures a smooth connection between our 3PL services and your Amazon account, allowing for real-time inventory tracking and order management. This integration ultimately saves you valuable time, giving you the flexibility and freedom to focus on scaling your business effectively.
4.2 Expertise in FBA Prep and Compliance
Selling on Amazon requires strict adherence to their Fulfillment by Amazon (FBA) requirements. As a top 3PL Toronto provider, FBA Prep Logistics has in-depth knowledge of these Amazon regulations, ensuring that your products are prepped and packaged correctly. We take care of label and barcode creation, sorting and bundling, poly-bagging, and more, all while maintaining full compliance with Amazon's guidelines. This expertise eliminates the stress and worry that often come with adhering to FBA regulations, providing you with peace of mind.
4.3 Fast and Accurate Order Fulfillment
The FBA Prep Logistics team is dedicated to delivering fast and accurate order fulfillment for your Amazon orders. Our state-of-the-art warehouse in Toronto allows us to efficiently process orders and ship them out quickly, reducing shipping times and enhancing customer satisfaction. Our advanced technology and experienced staff ensure that order accuracy is a priority, reducing the risk of costly returns and negative customer feedback.
4.4 Multi-Channel Fulfillment Solutions
We understand that you may be selling on multiple platforms beyond Amazon, and our 3PL Toronto services cater to this need. FBA Prep Logistics offers multi-channel fulfillment solutions that make managing orders from various sales channels a breeze. Whether you're selling on Shopify, eBay, or your e-commerce website, we can handle the entire fulfillment process, from picking and packing to shipping and returns. This comprehensive service allows you to expand your sales reach and grow your business without the added stress of managing multiple fulfillment channels. Check out our article on e-commerce logistics to learn more about maximizing your online presence.
4.5 Efficient Returns Management
Returns management is an essential aspect of any Amazon business, and FBA Prep Logistics has you covered. Our expert team handles the entire returns process, from receiving returned items to inspecting and determining their eligibility for resale. If the product meets Amazon's stringent guidelines, we'll repackage and restock it, ready for future orders. Our efficient handling of returns not only saves you time but also minimizes loss and increases your overall profits. We've outlined more about effective returns management in our previous article.
4.6 Dedicated Customer Support
At FBA Prep Logistics, customer satisfaction is our top priority. That's why we offer dedicated customer support for all our 3PL Toronto clients. Our expert team is available to address any concerns or questions you may have, ensuring that you receive timely updates and expert guidance every step of the way. Our commitment to personalized service sets us apart from other 3PL providers, fostering long-term partnerships and business success.
In conclusion, partnering with FBA Prep Logistics is an excellent way to enhance your Amazon fulfillment experience. Our seamless integration with your Amazon Seller Central account, combined with our expertise in FBA compliance, fast order fulfillment, multi-channel support, efficient returns management, and stellar customer service make us the go-to 3PL Toronto provider for e-commerce businesses like yours. By choosing FBA Prep Logistics, you'll unlock greater efficiency, higher customer satisfaction, and increased sales, propelling your business toward new heights of success.
5. Testimonials: Success Stories of Toronto-based E-commerce Businesses Partnering with FBA Prep Logistics
In this section, we'll explore some real-life success stories of Toronto-based e-commerce businesses that have reaped the benefits of partnering with FBA Prep Logistics, a trusted and powerful 3PL in Toronto. These companies have transformed their businesses by leveraging our top-notch and reliable 3PL services. Read on to learn how FBA Prep Logistics has helped these businesses achieve their goals.
5.1. Boosted Customer Satisfaction for a Growing Fashion Retailer
Emma, the owner of a fast-growing online fashion retail store, was struggling to keep up with the rapid increase in customer orders. She decided to partner with FBA Prep Logistics, a boutique 3PL Toronto company, to handle her order fulfillment needs. Within just a few weeks, her customers began raving about her brand's lightning-fast shipping and exceptional customer service. By delegating her order fulfillment to our expert team, Emma was able to focus on growing her business while keeping her customers happy and coming back for more.
5.2. Streamlined Inventory Management for a Health and Wellness E-commerce Business
Jake, the founder of a thriving health and wellness e-commerce company, faced a common challenge: managing and tracking inventory. After discovering FBA Prep Logistics through an Efficient PA Order Fulfillment Services for Your E-commerce Store article, he decided to give us a try. Our advanced inventory management system made it easy for Jake to keep track of his products, reduce stockouts, and avoid costly overstocking. By harnessing the power of our 3PL Toronto services, Jake's business experienced increased efficiency and ultimately higher profit margins.
5.3. Optimized Amazon Sales for a Tech Gadget Company
Laura, the owner of a tech gadget e-commerce store, was struggling to maximize her Amazon FBA sales due to inefficient fulfillment processes. After researching the Benefits of Using Shopify Shipping on the East Coast, she decided to partner with FBA Prep Logistics. Once we took over her Amazon FBA operations, Laura noticed a significant improvement in sales, boosted by our quick order processing, reliable pick and pack services, and strategic inventory management. Within a matter of months, partnering with FBA Prep Logistics helped Laura scale her Amazon business like she never imagined possible.
5.4. Enhanced Product Returns and Reverse Logistics Process for an Online Home and Garden Store
Michael, the founder of an online home and garden store, was drowning in product returns, which negatively impacted his company's reputation. After reading about Amazon Reverse Logistics for East Coast Sellers, he decided to give FBA Prep Logistics a try. Our expert team streamlined his returns process, managing reverse logistics efficiently and saving him time and resources. As a result, Michael's customer satisfaction rates improved, and his business regained its shining reputation.
5.5. Expert Guidance and Support for a Budding Entrepreneur
Sophia, a young entrepreneur with big dreams, was just starting her journey in the e-commerce world. She knew she needed a reliable and experienced 3PL Toronto partner that could guide her through the fulfillment process and help her achieve her goals. After learning about FBA Prep Logistics from The Definitive Guide to Amazon PPC Advertising for NJ Sellers, she knew we were the perfect fit for her business. Sophia appreciated our expertise, personalized solutions, and ongoing support, helping her grow her business from just an idea to a thriving e-commerce store.
These examples illustrate the impact partnering with FBA Prep Logistics, a dependable 3PL Toronto company, can have on your e-commerce business. By providing tailored, efficient, and high-quality services, we help our clients streamline their logistics, improve customer experiences, and achieve their business goals. Partnering with FBA Prep Logistics can transform your e-commerce operations and propel your business to new heights.
Frequently Asked Questions</h2>
<div itemscope itemtype="https://schema.org/FAQPage">
<div itemprop="mainEntity" itemscope itemtype="https://schema.org/Question">
<h3><span itemprop="name">1. How can FBA Prep Logistics benefit my e-commerce business in Toronto?</span></h3>
<div itemprop="acceptedAnswer" itemscope itemtype="https://schema.org/Answer">
<p><span itemprop="text">Partnering with FBA Prep Logistics, a well-established 3PL warehouse in Toronto, allows you to streamline your supply chain management, increase inventory storage efficiency, and optimize fulfillment processes. Ultimately this translates into timely order deliveries, enhanced customer satisfaction, and greater profitability.</span></p>
</div>
</div>
<div itemprop="mainEntity" itemscope itemtype="https://schema.org/Question">
<h3><span itemprop="name">2. Why should I choose FBA Prep Logistics over other 3PL warehouses?</span></h3>
<div itemprop="acceptedAnswer" itemscope itemtype="https://schema.org/Answer">
<p><span itemprop="text">At FBA Prep Logistics, we understand the unique needs of e-commerce businesses, especially those selling on Amazon. Our team of experts in supply chain management and fulfillment operations provides you with a tailored approach that helps you scale faster, improve inventory turnover, and ensure quick order processing — all while maintaining a high level of customer satisfaction.</span></p>
</div>
</div>
<div itemprop="mainEntity" itemscope itemtype="https://schema.org/Question">
<h3><span itemprop="name">3. How does FBA Prep Logistics help me optimize my supply chain?</span></h3>
<div itemprop="acceptedAnswer" itemscope itemtype="https://schema.org/Answer">
<p><span itemprop="text">FBA Prep Logistics works hand-in-hand with you to analyze your entire supply chain, identify gaps and bottlenecks, and develop tailored solutions. By leveraging our advanced technology, expertise, and strategically located warehouse, we help you reduce inefficiencies, minimize costs, and boost overall operational performance.</span></p>
</div>
</div>
<div itemprop="mainEntity" itemscope itemtype="https://schema.org/Question">
<h3><span itemprop="name">4. How does FBA Prep Logistics simplify the Amazon fulfillment process?</span></h3>
<div itemprop="acceptedAnswer" itemscope itemtype="https://schema.org/Answer">
<p><span itemprop="text">Our team at FBA Prep Logistics ensures complete compliance with Amazon's strict requirements for inventory storage and order fulfillment. We handle inventory management, order picking, packing, labeling, and shipping, allowing you to focus on marketing, sales, and other core aspects of your Amazon business. This leads to a smoother and more efficient Amazon fulfillment experience.</span></p>
</div>
</div>
<div itemprop="mainEntity" itemscope itemtype="https://schema.org/Question">
<h3><span itemprop="name">5. What do other Toronto-based e-commerce businesses say about working with FBA Prep Logistics?</span></h3>
<div itemprop="acceptedAnswer" itemscope itemtype="https://schema.org/Answer">
<p><span itemprop="text">Our clients consistently praise FBA Prep Logistics for our exceptional services, industry expertise, and commitment to customer success. E-commerce businesses in Toronto have experienced significant improvements in order fulfillment speed, customer satisfaction, and overall business growth through partnering with us. Check out our testimonials section for real-life success stories from delighted clients.</span></p>
</div>
</div>
</div>
<p><em>If you're an e-commerce business in Toronto looking for a reliable 3PL partner to help you stay ahead of the game, FBA Prep Logistics is here to support you. Our mission is to empower every step of your supply chain, ensuring fast growth, and increased customer satisfaction. Experience the difference with FBA Prep Logistics and take your e-commerce business to new heights.</em></p>