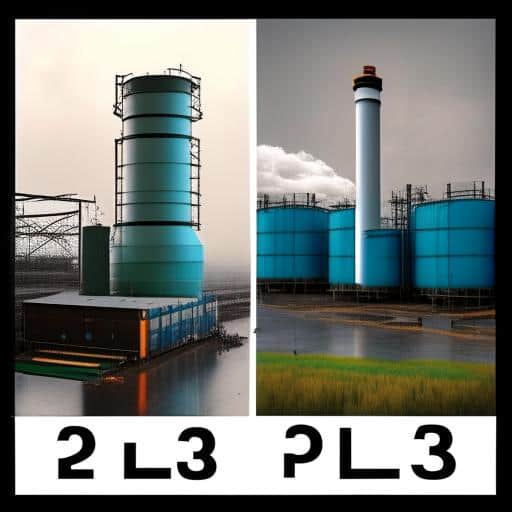 1. Introduction: The Benefits of Partnering with a 3PL in New Jersey
In today's highly competitive e-commerce landscape, standing out on Amazon requires a focused approach that prioritizes efficiency, cost-effectiveness, and meeting customers' needs. One deciding factor that can set you apart from the competition is having a reliable partner to manage your supply chain efficiently while ensuring top-notch order fulfillment. That's where partnering with the right 3PL company in New Jersey comes into play – and FBA Prep Logistics is the perfect candidate!
In this section, we will explore some key benefits of working with FBA Prep Logistics, a 3PL provider in New Jersey, to demonstrate how our services can help you scale your Amazon business seamlessly. Let's dive in!
1.1. Prime Location
As a New Jersey-based company, FBA Prep Logistics has a competitive advantage due to its proximity to major hubs of economic activity along the East Coast. Its strategic location enables quick and efficient shipping to multiple destinations, thus ensuring timely delivery for your customers.
1.2. Cost Savings
When you partner with an experienced 3PL like FBA Prep Logistics, you stand to save on multiple fronts. From lower shipping costs and expedited deliveries to reduced overhead (such as warehousing and labor costs), our solutions can significantly impact your bottom line.
1.3. Expertise in Amazon FBA
Navigating the intricacies of Amazon's FBA program can be quite challenging for businesses unfamiliar with supply chain management. By leveraging FBA Prep Logistics' vast experience and deep understanding of FBA requirements, you can bypass the learning curve and focus on growing your business.
1.4. Scalable Solutions
As your business grows, your logistics needs evolve. With FBA Prep Logistics, you have access to scalable solutions that grow alongside your business. Our flexible warehousing and fulfillment options mean you never have to worry about outgrowing your logistics partner.
1.5. Focus on Your Core Business
Outsourcing your logistics to FBA Prep Logistics frees up valuable time and resources – allowing you to focus on amplifying your core competencies, identifying new opportunities, and driving business growth.
1.6. Improved Customer Satisfaction
We understand how important customer satisfaction is in the e-commerce market. Our streamlined operations and quick order fulfillment ensure your customers receive their products on time and in perfect condition – leading to happy and loyal customers.
Now that we have set the stage with a compelling introduction to working with 3PL companies in New Jersey, we invite you to explore how FBA Prep Logistics can help your e-commerce business thrive on Amazon with our unmatched services and solutions. Be sure to check out the subsequent sections, as well, to gain deeper insights into how our streamlined order fulfillment process, expertise in FBA requirements, and flexibility can make all the difference in your e-commerce journey.
Streamlined Order Fulfillment Process for Improved Efficiency
One of the reasons our 3PL company in New Jersey stands out from the rest is FBA Prep Logistics' dedication to providing a highly efficient order fulfillment process specifically tailored to accommodate your e-commerce business. Here, we will explore our various methods and strategies that allow us to improve efficiency while ensuring your orders are accurately and promptly delivered. This section will be broken down into the following subtopics:
1. Quick Turnaround Times
As an e-commerce business owner, you understand that fast delivery times are crucial for maintaining customer satisfaction and gaining repeat orders. By partnering with FBA Prep Logistics, you'll never have to worry about slow shipping times. Our strategic location in New Jersey ensures swift order processing and delivery within the East Coast market, making us one of the top 3PL Companies New Jersey has to offer.
2. Robust Inventory Management System
Effective inventory management is a critical component of a successful e-commerce operation. At FBA Prep Logistics, we use advanced inventory tracking technology that integrates seamlessly with your online store, ensuring that inventory levels are continuously updated. This not only simplifies the inventory tracking process for you, but also significantly reduces the chances of stock-outs or excess inventory – both of which can adversely affect your business.
3. Accuracy in Order Processing
A crucial aspect of a streamlined order fulfillment process is the accurate picking and packing of products. FBA Prep Logistics has established strict protocols to minimize errors during this critical stage. Our capable staff is well-trained in using our advanced fulfillment systems, ensuring efficient order handling with minimal mistakes. With our secure pick and pack service, your customers can trust that they will receive the correct product every time.
4. Real-time Order Tracking for Complete Transparency
One of the key features of our optimized order fulfillment process is our real-time order tracking service. This feature is designed to keep both you and your customers informed about the progress of each order. This level of transparency not only enhances customer satisfaction but also provides you with valuable insights into your business, enabling you to take quick action on any order-related issues.
5. Returns Management
Efficiently handling returns is an often overlooked aspect of the order fulfillment process, but it's crucial to maintain a positive customer experience. FBA Prep Logistics offers hassle-free returns management services, which makes it convenient for customers to return products while allowing you to promptly process and restock the returned items.
6. Integration with Popular E-commerce Platforms
To ensure a frictionless partnership, FBA Prep Logistics offers seamless integration with popular e-commerce platforms such as Shopify and Amazon. This allows you to fully automate order placements and inventory updates, saving you precious time and effort.
7. Sustainable and Eco-friendly Practices
Our commitment to providing efficient order fulfillment services extends beyond just quick processing times and accuracy. We also care deeply about our environmental impact, which is why we implement eco-friendly practices whenever possible. By using sustainable packaging materials and optimizing packaging size, we reduce both material waste and shipping costs – benefitting both your business and the environment.
8. Scalable Services for Business Growth
As your e-commerce business grows, so do your order fulfillment needs. At FBA Prep Logistics, we understand this and are proud to offer scalable services that expand or contract as your business requirements change. With FBA Prep Logistics, your supply chain can keep up with your growth and expansion.
In conclusion, by partnering with FBA Prep Logistics – one of the top 3PL Companies New Jersey has to offer – your e-commerce business will benefit from our streamlined order fulfillment process designed specifically for the unique challenges of online sales. With our fast turnaround times, precise order processing, transparent real-time order tracking, and highly scalable services, we create an ideal infrastructure for your e-commerce business to thrive.
3. Expertise in FBA Requirements and Compliance
If you are new to supply chain management, understanding e-commerce policies, and the stringent requirements of Amazon's FBA program can be a significant challenge. Mistakes can lead to costly penalties or even suspensions, which could stunt your business's growth. This is where 3PL Companies in New Jersey like FBA Prep Logistics can be a game-changer.
3.1 Deep Understanding of Amazon FBA Requirements
At FBA Prep Logistics, we have a wealth of expertise in managing the intricacies of Amazon's ever-evolving requirements. Our specialists stay up-to-date with the latest policies and guidelines, ensuring a smooth FBA process for your e-commerce business. We can help you understand and navigate through Amazon's policies while adhering to their strict labeling and packaging rules. Our experts are trained to deal with the nitty-gritty of FBA regulations, from barcoding and labeling to hazardous goods handling.
3.2 Reducing the Risk of Costly Penalties
Partnering with us means reduced chances of incurring penalties from Amazon. We thoroughly inspect your inventory to verify compliance with Amazon's rules. Be it accurate weight and dimension measurements or proper labeling of each individual product, our attention to detail is second to none. By doing so, we help in avoiding rejections, heavy fines, and even suspensions that may severely damage your reputation as an Amazon seller.
3.3 Efficient Inventory Management
Besides packaging and labeling, we play an essential role in managing your inventory effectively. Our sophisticated inventory management software keeps track of in stock quantities, flags slow-moving items, and monitors sales velocity. With Simplify Inventory Tracking on Shopify, you can track inventory across channels, while our team assists you in making data-driven decisions on stock replenishment, reducing the risk of stockouts or costly overstock situations.
3.4 Smooth Coordination with Amazon
Our strong working relationship with Amazon enables us to coordinate seamlessly with their fulfillment centers and address any issues promptly. This working relationship helps ensure that your products reach the Amazon warehouses without any hiccups, saving you both time and money by avoiding potential bottlenecks and delays.
3.5 Handling FBA Returns and Reverse Logistics
Returns are an unavoidable aspect of e-commerce, and managing them efficiently is crucial for maintaining customer satisfaction. We specialize in handling Amazon FBA returns and reverse logistics with utmost efficiency. Our comprehensive guide to Amazon reverse logistics for East Coast sellers equips you with the knowledge you need to stay ahead of your competition and keep your customers delighted. FBA Prep Logistics helps you handle returns without breaking a sweat, ensuring a hassle-free experience for both you and your customers.
3.6 Staying Abreast of Shipment Policies and Tariffs
Emerging tariffs and changing shipment policies can impact your business directly. Our experts stay current on these developments, enabling us to inform and guide you through any adjustments necessary to avoid unnecessary expenses and delays in shipment.
3.7 Prepping Products as per Amazon's Guidelines
One crucial aspect of FBA is preparing your products correctly for shipment. Combining our knowledge of Amazon's stringent guidelines with our expertise, we ensure your inventory is prepped to perfection. Be it bundling, poly bagging, or various other prep requirements, we have every angle covered, ensuring a flawless transition from our warehouse to Amazon's fulfillment centers. Learn more on how Amazon FBA prep services can help you scale your business.
3.8 In Conclusion
Partnering with FBA Prep Logistics, a top-tier 3PL Company in New Jersey, significantly reduces the burden of staying compliant with Amazon's increasingly complex FBA requirements. With our expertise in FBA logistics, inventory management, and error reduction, we help save your business time and money while maintaining a positive reputation on Amazon. As your e-commerce growth partner, we're there to ensure smooth sailing for your supply chain management, making the FBA process a breeze.
4. Flexible and Scalable Solutions for Growing Businesses
In today's rapidly evolving e-commerce landscape, it's essential for businesses to have the ability to adapt quickly to changes in market demand, sales volumes, and product offerings. At FBA Prep Logistics, we understand the unique challenges and needs of growing businesses, especially those selling on Amazon. That's why we offer flexible and scalable warehousing and logistics solutions that make it easy for our clients to expand their operations as needed without significant increases in costs or disruptions to their supply chain. In this section, we'll explore the numerous benefits of partnering with a 3PL that provides adaptability in logistics, seamless scalability, inventory management, and an a la carte menu of services to help e-commerce businesses succeed on Amazon.
4.1 Adaptability in logistics
One of the key reasons 3PL companies, like FBA Prep Logistics, have become an essential partner for e-commerce businesses is our ability to adapt to ever-changing market conditions. Whether it's a sudden surge in demand for a specific product or the need to expand into new markets, we can swiftly adjust shipping routes, storage space, and other logistics services as required. This adaptability helps our clients avoid logistical bottlenecks, ensuring their products reach customers as quickly as possible, while minimizing additional expenses.
4.2 Seamless scalability
As the business landscape evolves, so too must your e-commerce operations. With our scalable solutions, 3PL companies can accommodate growth, allowing business owners to focus on their core competencies. Whether you experience a surge in sales during peak shopping seasons or want to expand your product lines, our solutions help you scale your supply chain with ease. Our flexible warehousing options and end-to-end logistics support provide a strong foundation for growth, enabling you to fulfill larger order volumes without significant investments in warehouse space or additional staff members.
4.3 Inventory management
Efficient inventory management is critical to maintaining a healthy cash flow and ensuring your products are available for purchase at all times. Our state-of-the-art warehouse management system allows us to accurately track and manage your inventory levels in real-time, helping you avoid stockouts and excess inventory. With our customized reporting and forecasting capabilities, we provide you with valuable insights that enable you to make data-driven decisions and optimize your inventory levels, streamlining your supply chain, and enhancing your customers' shopping experiences.
4.4 A la carte services
At FBA Prep Logistics, we recognize that not all e-commerce businesses have the same needs, so we offer a comprehensive suite of services that you can pick and choose from to create the perfect solution for your specific business requirements. Our menu of services includes:
Order fulfillment and shipping
Inventory management and warehousing
FBA packaging and labeling
Returns processing and reverse logistics
Customized reporting and analytics
By tailoring our services to your unique business needs, we help you achieve the perfect balance of efficiency, cost savings, and customer satisfaction.
4.5 Focus on your core competencies
By outsourcing your logistics operations to a reliable and experienced 3PL provider like FBA Prep Logistics, you're able to dedicate more time and resources to improving your e-commerce store, marketing your products, and building strong relationships with your customers. This focus on your core competencies results in a more efficient, profitable, and successful business in the long run. Our expert team takes care of all aspects of your logistics, ensuring smooth and efficient operations, allowing you to concentrate on what you do best – growing your e-commerce business to new heights.
In conclusion, partnering with FBA Prep Logistics, a renowned 3PL Company in New Jersey, provides e-commerce businesses with essential support and services to thrive in a competitive marketplace. By leveraging our flexibility, scalability, and the ability to tailor our services to unique needs, your business will be well-positioned to respond effectively to the ever-changing e-commerce landscape. For more information on how FBA Prep Logistics can help your business succeed on Amazon, check out The Ultimate Guide to E-commerce Logistics in East Coast.
5. Case Study: How an E-commerce Business Thrived with FBA Prep Logistics in New Jersey
In this section, we want to share the success story of a medium-sized e-commerce company that primarily sells products on Amazon. By partnering with FBA Prep Logistics, one of the leading 3PL companies in New Jersey, they managed to save time, reduce costs, and effectively manage their supply chain. The insights from this case study can help you understand the benefits of working with a 3PL in New Jersey and why FBA Prep Logistics is the best choice for your business.
Background
The e-commerce company, which we will call "EcoFriendly", specializes in selling eco-friendly and sustainable household products. As the business gained momentum and their sales volumes started to increase, they realized the importance of streamlining their order fulfillment process and improving overall efficiency. Additionally, with Amazon's strict FBA requirements and compliance guidelines, EcoFriendly needed a logistics partner with comprehensive knowledge and experience in meeting these criteria. That's when they decided to partner with FBA Prep Logistics, one of the best 3PL companies in New Jersey, to manage their supply chain operations.
Speedy and Efficient Order Fulfillment
Before partnering with FBA Prep Logistics, EcoFriendly struggled with high error rates and delays in their order fulfillment process. FBA Prep Logistics' efficient order fulfillment services were instrumental in addressing these issues. By implementing advanced inventory tracking systems, FBA Prep Logistics enabled EcoFriendly to have real-time visibility of their stock levels, reducing errors and ensuring speedy delivery of orders. The increase in fulfillment efficiency led to improved customer satisfaction, ultimately driving more sales for EcoFriendly.
Expertise in FBA Compliance
It's no secret that complying with Amazon's strict FBA requirements can be a daunting task for many e-commerce businesses, and EcoFriendly was no exception. Before engaging FBA Prep Logistics, the e-commerce company faced numerous fines and penalties for non-compliance issues. Fortunately, FBA Prep Logistics' thorough understanding of Amazon's requirements and process expertise enabled them to deal with potential compliance issues proactively. Their guidance and timely intervention helped EcoFriendly avoid costly penalties and adverse impacts on their Amazon seller ratings.
Scalability and Flexibility
As their business rapidly grew, EcoFriendly needed flexible and scalable solutions to accommodate the increasing volume of product orders. FBA Prep Logistics provided them with tailor-made warehousing and logistics solutions that were easy to scale up or down based on their specific needs. This flexibility eased the pressure on EcoFriendly's in-house team, allowing them to focus on other core business operations and fueling their growth even further.
Cost Savings
One of the critical objectives for EcoFriendly was to reduce their e-commerce supply chain costs. By partnering with FBA Prep Logistics in New Jersey, a location with significant e-commerce fulfillment benefits, they achieved substantial savings on shipping costs. FBA Prep Logistics also helped EcoFriendly to optimize their inventory levels and reduce overall storage costs. Ultimately, these cost savings contributed to an increase in EcoFriendly's profit margins.
Ongoing Support and Strategic Partnership
FBA Prep Logistics isn't just a 3PL provider for EcoFriendly; they are a strategic partner, offering ongoing support and guidance to help the e-commerce company continue its growth. With access to the ultimate guide to e-commerce logistics in the East Coast and other valuable resources, EcoFriendly can count on FBA Prep Logistics to help them stay ahead of the competition and anticipate any changes in Amazon's policies or market trends.
Conclusion: Collaboration for Success
This case study demonstrates the significant benefits that e-commerce businesses, like EcoFriendly, can gain by partnering with 3PL companies in New Jersey, such as FBA Prep Logistics. Their expertise in FBA compliance, efficient order fulfillment services, and scalable warehousing solutions can save time, reduce costs, and ensure the ongoing success of your e-commerce operations.
Now that you have a clearer understanding of how partnering with FBA Prep Logistics can empower your e-commerce business, don't hesitate to reach out to us and explore our customized solutions for your unique needs.
FAQs
How does FBA Prep Logistics streamline the order fulfillment process for e-commerce businesses?

At FBA Prep Logistics, we focus on providing fast turnaround times, efficient inventory management, and reducing errors in the order fulfillment process. Our team of experts knows the ins and outs of FBA requirements and stays up-to-date on the latest changes, ensuring quick and accurate shipment of your products to Amazon fulfillment centers.

What expertise does FBA Prep Logistics have in FBA requirements and compliance?

Our team at FBA Prep Logistics has years of experience in working with Amazon FBA requirements and compliance rules. We ensure that your products are properly labeled, packaged, and prepared according to Amazon's guidelines, eliminating the risk of costly penalties and shipment delays to your customers.

How does FBA Prep Logistics provide flexible and scalable solutions for growing businesses?

We understand that e-commerce businesses needs change as they grow and expand. That's why, at FBA Prep Logistics, we tailor our warehousing and logistics solutions to accommodate your business's unique needs. We offer flexible storage options, customized fulfillment plans, and the ability to quickly adapt to changes in order volume or product offerings.

Can you share an example of a business that has thrived with FBA Prep Logistics in New Jersey?

In our Case Study section, we described how an e-commerce business partnered with FBA Prep Logistics in New Jersey and experienced significant improvements in supply chain management, time savings, and reduced costs. By leveraging our services, the business was able to focus on its core operations and grow its online presence on Amazon.

Why should I choose FBA Prep Logistics as my 3PL partner in New Jersey?

Choosing FBA Prep Logistics as your 3PL partner means selecting a company that is dedicated to providing an excellent customer experience, streamlined order fulfillment, expertise in FBA compliance, and flexible, scalable solutions that can grow with your business. We invite you to learn more about our services and discover how partnering with us can benefit your Amazon e-commerce business.