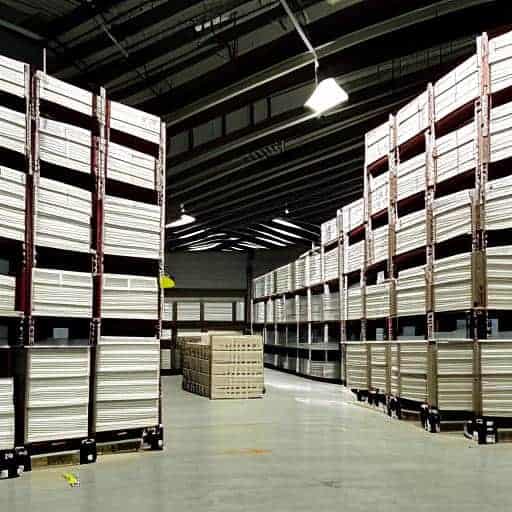 Introduction to FBA Prep Warehouses
As a median-sized e-commerce business primarily selling on Amazon.com, you might be new to supply chain management and unfamiliar with the concept of third-party logistics (3PL) providers. In this section, we will introduce the concept of FBA Prep Warehouses and their role in easing the process of selling on Amazon for e-commerce businesses like yours. We'll also explain how FBA Prep Logistics, a top-notch 3PL warehouse located in Bristol, PA, takes care of all the prep and fulfillment aspects, allowing you to focus on growing your business.
What is an FBA Prep Warehouse?
An FBA (Fulfillment by Amazon) Prep Warehouse specializes in handling, preparing, and shipping your inventory to Amazon Fulfillment Centers. This vital part of the supply chain process ensures that your products are in compliance with Amazon's stringent packing and labeling requirements, so you can confidently ship your products to their fulfillment center without any worry or hassles.
Role of FBA Prep Warehouses in E-commerce Business
When it comes to selling on Amazon.com, partnering with the right FBA prep warehouse is essential to your success. Here are a few key ways that an FBA prep warehouse helps streamline your e-commerce operations:
Product Preparation: An FBA prep warehouse takes care of labeling, packaging, and bundling your products according to Amazon's guidelines, eliminating any room for error.

Inventory Storage: The warehouse stores your products until they are ready to be shipped to Amazon's fulfillment centers, ensuring they are secure and protected.

Kitting and Assembly: Some products require kitting or assembly before they can be shipped. An FBA prep warehouse has the expertise to handle these tasks efficiently.
Shipping to Amazon: The warehouse ensures that all documentation, shipping labels, and packing slips are prepared correctly, filed, and monitored, ensuring a smooth shipping process to Amazon's fulfillment centers.

Managing Returns: FBA prep warehouses also handle return management, making sure returned items are processed as per Amazon guidelines.
FBA Prep Logistics: Your Trusted 3PL Partner
At FBA Prep Logistics, we understand the challenges that come with managing Amazon's fulfillment process. We've tailored our services around the unique needs of e-commerce businesses, so you can trust us to help you navigate this space successfully. Our top-rated 3PL warehouse offers:
Reliable product preparation services, adhering to Amazon's guidelines
Safe and secure inventory storage
Efficient kitting, assembly, and bundling services
Seamless shipping solutions to Amazon fulfillment centers
Effective handling of product returns
As your trusted partner, we're dedicated to ensuring your inventory is correctly prepped, stored, and shipped to Amazon. With our tailored services and commitment to customer satisfaction, we're confident that FBA Prep Logistics is the 3PL warehouse you've been searching for. In the following sections, we'll dig deeper into the FBA process, the advantages of partnering with FBA Prep Logistics, and tips to maximize your FBA prep service's efficiency. Ready to take your Amazon business to the next level? Let's get started!
2. Understanding the FBA Process
Learning the ins and outs of the FBA process is essential for any e-commerce business owner who wants to sell on Amazon. In this section, we will discuss the various stages involved in the FBA process, from storing your products to handling returns. Furthermore, we will highlight how partnering with an excellent 3PL warehouse like FBA Prep Logistics can save time, ensure accuracy, and prevent unexpected issues.
2.1. Storing Your Product Inventory
The first step in the FBA process is storing your products in a suitable location. As an e-commerce business owner, you have the option of either managing your own warehouse or outsourcing warehouse management to a reliable fba prep warehouse such as FBA Prep Logistics. Outsourcing can help you avoid time-consuming and costly warehouse management tasks, allowing you to focus on your core business activities.
2.2. Preparing Your Products
After your products are stored in a secure fba prep warehouse, they need to be prepared for shipment to Amazon fulfillment centers. This preparation process involves tasks such as labeling, sorting, and packing your products to meet Amazon's specific requirements. Partnering with FBA Prep Logistics ensures your products are prepped accurately and efficiently, adhering to Amazon's strict guidelines and streamlining the FBA process.
2.3. Shipping to Amazon Fulfillment Centers
Once your products are prepared, they must be shipped to Amazon fulfillment centers. Given that Amazon manages numerous fulfillment centers across the globe, it is crucial to choose the right location to store your items. FBA Prep Logistics specializes in helping you select the best fulfillment centers for your business needs, reducing shipping times and costs as well as ensuring seamless order fulfillment.
2.4. Receiving and Storing Products at Fulfillment Centers
When your products reach Amazon fulfillment centers, they are checked for accuracy, received, and stored. It is vital to ensure that all products arrive at the centers in excellent condition and comply with Amazon's guidelines to avoid potential penalties. FBA Prep Logistics' expertise in prepping your inventory correctly alleviates the risk of mistakes during this stage, keeping your seller reputation intact.
2.5. Picking, Packing, and Shipping Orders
As customers place orders, Amazon picks, packs, and ships the products to them on your behalf. This process is vital to maintaining customer satisfaction and ensuring timely deliveries. By using a trusted fba prep warehouse like FBA Prep Logistics to manage your inventory correctly, you can reduce the risk of errors in this step and ultimately enhance your customers' shopping experience.
2.6. Handling Customer Service and Returns
Amazon handles customer service for FBA products, including order-related questions and returns. As a seller, you need to have a reliable process in place to accept and process returns for your Amazon FBA business. FBA Prep Logistics can assist in managing Amazon reverse logistics for your business, streamlining the return process and reducing the burden on your internal team.
2.7. Monitoring and Managing Inventory Levels
Maintaining adequate inventory levels is key to avoiding stockouts and offering a reliable shopping experience to your customers. FBA Prep Logistics helps you simplify Inventory tracking on Shopify and other e-commerce platforms, ensuring optimal inventory management. By outsourcing your inventory management to our experienced team, you can focus on expanding your product range and growing your business.
2.8. The Importance of Partnering with FBA Prep Logistics
By now, it's evident that partnering with a comprehensive 3PL warehouse like FBA Prep Logistics can streamline the FBA process for your e-commerce business. Our dedicated team will manage inventory storage and preparation, assist with shipping to Amazon fulfillment centers, and ensure compliance with Amazon guidelines. This expertise will save you valuable time and reduce the risk of errors, allowing you to concentrate on growing your e-commerce business and maximizing your profits.
In conclusion, understanding the FBA process from start to finish is the key to success for e-commerce businesses selling on Amazon. By partnering with a reliable and trustworthy 3PL warehouse like FBA Prep Logistics, you can ensure a smooth FBA process and effectively manage your supply chain. Trust the experts at FBA Prep Logistics to handle your warehousing, preparation, and fulfillment needs, and watch your Amazon business reach new heights!
3. The Advantages of Using FBA Prep Logistics
As a growing e-commerce business, partnering with a top-tier fba prep warehouse is essential. FBA Prep Logistics, located in Bristol PA, provides numerous advantages that can elevate your e-commerce business and make selling on Amazon a seamless and rewarding experience. Let's dive into some of the best reasons why you should choose FBA Prep Logistics for your warehousing and preparation needs.
3.1 Cost Savings
One of the primary benefits of using FBA Prep Logistics is the cost savings that come along with it. Our flexible pricing and a la carte services are designed to align with your budget and e-commerce needs. By outsourcing your FBA prep to us, you can save on labor, operational costs, and potential inventory storage fees imposed by Amazon.
3.2 Tailored Services
We understand that each e-commerce business has unique requirements, and that's why we offer customized services to cater precisely to your needs. Be it efficient PA order fulfillment or hassle-free Shopify returns in NJ, our solutions are designed to address your specific challenges and help you run your business efficiently.
3.3 Trustworthiness
When it comes to handling your inventory, trust is paramount. FBA Prep Logistics takes this responsibility seriously, with a proven track record of excellence and attention to detail. Our team of trained professionals follows strict guidelines in guaranteeing that your products are prepared and shipped according to Amazon's requirements, minimizing the risk of delays, returns, or loss of inventory.
3.4 Seamless Integration
Our fba prep warehouse has been designed to integrate seamlessly with your business operations. From the ultimate guide to e-commerce logistics on the East Coast to our user-friendly account setup process, FBA Prep Logistics ensures a smooth transition and ongoing collaboration with your team.
3.5 Scalability
As your e-commerce business grows, so do your warehousing and fulfillment needs. FBA Prep Logistics offers scalability that adjusts to your company's changing demands. Our warehouse can accommodate fluctuating inventory levels, ensuring efficient management of your products during peak seasons or product launches, without disrupting your business flow.
3.6 Technology-Driven Solutions
At FBA Prep Logistics, we understand the importance of keeping up with the latest industry trends and technologies. Our advanced systems are designed to streamline your FBA process further through simplifying inventory tracking on Shopify and improving the overall efficiency of e-commerce operations.
3.7 Exceptional Customer Service
Our commitment to providing top-notch customer service is unwavering. We believe in fostering strong relationships built on trust, consistent communication, and transparency. Our support team is readily available to address your concerns and ensure that you are always updated on the status of your inventory.
3.8 Expert Knowledge and Continuous Improvement
Our team at FBA Prep Logistics stays updated on industry best practices, leveraging our expertise to ensure that your e-commerce business remains competitive. We continually adapt and implement new processes, providing valuable insights on how to maximize the efficiency of your FBA prep service.
3.9 Compliance with Amazon's Regulations
FBA Prep Logistics strictly adheres to Amazon's stringent guidelines, such as reliable Amazon FBA warehousing. Our team's thorough understanding of Amazon rules and regulations ensures your inventory is prepped, shipped, and managed in accordance with their standards, keeping your business on track for success.
3.10 Comprehensive Services
From building your own return center for Shopify to securing your shipments, FBA Prep Logistics offers an all-in-one solution for your e-commerce needs. Partnering with us is not just about warehousing and preparation but also about taking advantage of our wide range of comprehensive services that help your business thrive.
In conclusion, choosing FBA Prep Logistics as your fba prep warehouse is a strategic move that can help you optimize your e-commerce business, save on costs, and increase efficiency. Our proven track record, advanced technology, and commitment to excellence make us the ideal choice for e-commerce businesses looking to succeed on Amazon. Experience for yourself the difference that FBA Prep Logistics can make in your supply chain management process.
Steps to Outsource Your FBA Prep to FBA Prep Logistics
Congratulations on taking the first step to streamline your supply chain management by considering FBA Prep Logistics as your trusted partner for warehousing and product preparation! This section will provide you with a step-by-step guide on how to outsource your FBA prep and fulfillment to FBA Prep Logistics. Let's dive in!
1. Set up an account with FBA Prep Logistics
First and foremost, create an account with FBA Prep Logistics to gain access to our wide range of services and the support of our highly experienced team dedicated to helping your e-commerce business grow. Setting up an account is straightforward and provides you with a comprehensive portal to manage your inventory and orders easily.
2. Connect your Amazon Seller account
Integrating your Amazon Seller account with your FBA Prep Logistics account helps streamline the shipping process. We'll be using Amazon's API to seamlessly connect our services, ensuring that your product data, order information, and shipping preferences are readily accessible for a smooth and efficient process.
3. Share your inventory information
After connecting your accounts, provide FBA Prep Logistics with all necessary inventory information, including product descriptions, SKU numbers, and any particular requirements for packaging or labeling. Our warehouse team will use this information to ensure accurate and efficient processing of your products, meeting all of Amazon's requirements.
4. Ship your products to our warehouse
With strategically located warehouses on the East Coast, rest assured that FBA Prep Logistics will securely store and manage your inventory. Ship your products with confidence, knowing that our experienced team will work diligently to handle them according to the highest standards.
5. Keep track of inventory levels
As a smart e-commerce business owner, you know the importance of keeping a close eye on your inventory. With our advanced inventory tracking system, you'll have real-time access to your products' status at all times, ensuring you'll never run out of stock.
6. Utilize our FBA Prep services
Once your products have arrived at our warehouse, our team will take care of all your FBA prep needs. From inspection and labeling to bundling and polybagging, our fba prep warehouse services are designed to meet Amazon's strict requirements, ensuring your products are ready for shipment to their fulfillment centers.
7. Leave the shipping to us
We'll handle the entire shipping process, saving you time and reducing the risk of delays. By taking advantage of our discounted shipping rates, you'll enjoy significant cost savings. Our team will ensure your products are properly labeled and shipped to the appropriate Amazon fulfillment centers, in compliance with their shipping guidelines.
8. Monitor your order fulfillment
With our easy-to-use dashboard, watch as your orders are seamlessly fulfilled via our efficient pick and pack service. Your customer's satisfaction is our top priority, and we'll make sure their orders are processed accurately and promptly.
9. Handle returns with ease
As a one-stop-shop for all your FBA needs, FBA Prep Logistics also provides efficient Amazon reverse logistics to handle any returns hassle-free. Our system will track, inspect, and process all returned items, ensuring you are always informed of the return status.
10. Reap the benefits of an expert partnership
Outsourcing your FBA prep and fulfillment to our experienced team means you can focus on growing your business without worrying about the complexities of supply chain management. With FBA Prep Logistics, you'll enjoy cost savings, scalable services, and unparalleled support—leading to long-lasting, successful partnerships.
In conclusion, outsourcing your FBA prep and logistics to FBA Prep Logistics is a smart decision that will result in significant benefits for your e-commerce business. By following these straightforward steps, you'll begin a partnership that will allow you to focus on what matters most—growing and expanding your business. So, let FBA Prep Logistics be the reliable partner you need to make your e-commerce venture a resounding success!
5. Tips to Maximize the Efficiency of Your FBA Prep Service
Optimizing your FBA prep processes is crucial to enhance your e-commerce business' performance, reduce costs, and provide a seamless customer experience. At FBA Prep Logistics, we continually adapt and implement industry best practices to offer high-quality services, resulting in long-lasting partnerships with our clients. In this section, we will share valuable tips and insights to help e-commerce business owners maximize the efficiency of their FBA prep service.
5.1. Plan Ahead to Avoid Delays
Knowing your product launch dates and sales forecasts are essential for efficient FBA prep. By providing this information to your fba prep warehouse provider, you can ensure that your inventory is always ready to ship and that you won't experience unexpected stockouts. This will allow your 3PL partner to allocate resources appropriately and streamline the FBA prep process.
5.2. Implement Clear Labeling and Packaging Standards
By providing detailed and accurate labeling and packaging guidelines to your FBA prep warehouse, you can minimize errors and improve order accuracy. This can significantly reduce the chances of returns and negative customer feedback.
5.3. Leverage Real-Time Inventory and Tracking Tools
Integrating real-time inventory and tracking tools into your operations can give you valuable insights into your stock levels, helping you make more informed decisions and preventing overselling, stockouts, and storage fees. FBA Prep Logistics offers simplify inventory tracking on Shopify, giving you better control over your inventory.
5.4. Optimize Your Product Listings
With countless products available on Amazon, standing out from the competition is vital for your business' success. A well-optimized product listing can improve your search rankings and attract potential customers. Make sure to use high-quality images, engaging descriptions, and relevant keywords to optimize your listings.
5.5. Choose the Right Shipping Method
Determining the most cost-effective and timely shipping method is critical for both you and your customers. At FBA Prep Logistics, we understand the importance of reliable shopify transportation, and we are committed to helping you find the best shipping options for your business.
5.6. Keep Up with Industry Trends and Best Practices
Staying updated with the latest industry trends and best practices can help you identify new opportunities and make informed decisions for your e-commerce business. Regularly attending industry events, reading blogs and articles, and following well-known industry influencers can keep you informed about the latest developments.
5.7. Offer Outstanding Customer Support
Providing exceptional customer support is essential for keeping your customer base loyal and receiving positive feedback on your Amazon listings. Make sure to promptly address all customer queries and proactively communicate any delays or issues that may arise.
5.8. Utilize Amazon Advertising and Promotions
Making use of Amazon's advertising and promotional tools can increase your product visibility and help boost your sales. Run targeted pay-per-click (PPC) campaigns, promotional offers, and sponsored products ads to drive traffic to your listings.
5.9. Understand Amazon's Fees and Guidelines
Being well-aware of Amazon's various fees and guidelines can help you avoid unexpected costs and potential sanctions. Closely monitor your Inventory Performance Index (IPI) and seller account health to stay in line with Amazon's requirements.
5.10. Continually Evaluate and Improve Your Processes
Regularly assessing and optimizing your FBA prep processes can reveal areas of inefficiency and potential bottlenecks. By making ongoing adjustments and improvements, you can ensure your business remains competitive and cost-effective.
5.11. Build a Strong Partnership with Your 3PL Provider
Establishing a solid relationship with your 3PL provider is crucial for reaping the benefits of outsourcing your FBA prep and warehousing needs. Transparent communication, clear expectations, and a mutual understanding of business objectives can lead to a successful collaboration and long-lasting partnership.
By implementing these tips and working closely with a reliable, experienced FBA prep warehouse like FBA Prep Logistics, you can attain seamless operations and achieve impressive results for your e-commerce business. Let us be your trusted partner, and together, we can conquer the world of Amazon FBA.
If you would like to learn more about our services or have additional questions, please don't hesitate to contact us. Let's begin our journey to success together!
FAQs: FBA Prep Logistics
What is FBA Prep Logistics and how can it help my e-commerce business on Amazon?

FBA Prep Logistics is a reliable third-party logistics (3PL) warehouse located in Bristol, PA that specializes in preparing, storing, and shipping products for Amazon sellers. We take care of all the complexities involved in fulfilling your orders, allowing you to focus on growing your online business. By partnering with FBA Prep Logistics, you gain access to cost-effective, tailored services, and the expertise needed to streamline your supply chain management processes.

How does a partnership with FBA Prep Logistics benefit my e-commerce business?

Partnering with FBA Prep Logistics provides numerous benefits to your e-commerce business:

Cost savings: Our competitive pricing structure makes it affordable to outsource your FBA warehousing and preparation needs.
Tailored services: We offer customized services to suit the specific requirements of your business and products.
Trustworthiness: Our professional team ensures accurate order fulfillment and complies with Amazon's strict guidelines.
Seamless integration: We easily integrate with your existing systems, making the transition to our services quick and easy.
Scalability: Our flexible services can grow alongside your business, accommodating your needs at every stage.

What are the steps involved in outsourcing my FBA prep to FBA Prep Logistics?

To outsource your FBA prep and warehousing needs to FBA Prep Logistics, follow these steps:

Create an account with us by providing your name, contact information, and business details.
Communicate your product and packaging requirements with our team through our provided communication channels.
Provide your shipping information, including your Amazon seller account details, for seamless order fulfillment.
Our team will work closely with you to ensure a hassle-free experience tailored to your business needs.

How does FBA Prep Logistics ensure the accuracy of my inventory?

At FBA Prep Logistics, we prioritize inventory accuracy to prevent stockouts and costly mistakes. Our dedicated team carries out regular inventory checks and uses advanced inventory management software to maintain an up-to-date record of your products. This enables us to provide real-time inventory updates and ensure that your FBA prep and fulfillment processes run smoothly.

What tips can you share to maximize the efficiency of my FBA prep service?

To optimize your FBA prep processes, consider the following tips:

Communicate your product requirements clearly to ensure efficient preparation and packaging.
Follow Amazon's guidelines on product labeling and packaging to avoid delays and penalties.
Monitor and optimize your inventory levels to prevent stockouts and reduce storage costs.
Plan for seasonal fluctuations in product demand and adjust your order fulfillment strategies accordingly.
Partner with a trustworthy 3PL provider like FBA Prep Logistics, who continually adapts and implements industry best practices.

-details>