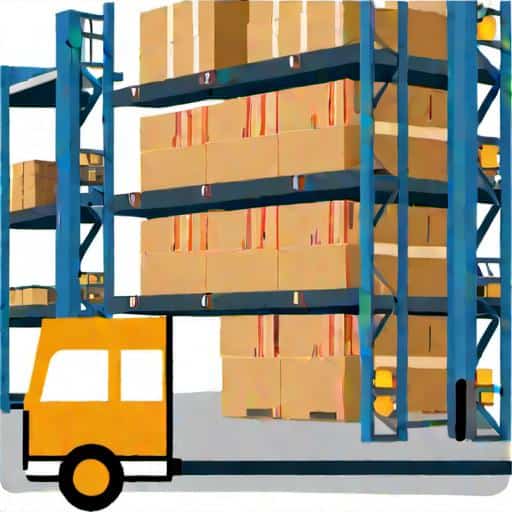 Introduction: Setting the Stage for E-Commerce Success
The e-commerce landscape has become fiercely competitive, with many businesses vying for a slice of the lucrative online marketplace. Success in this arena requires a combination of strong branding, a compelling product offering, and a seamless customer experience. One crucial aspect that businesses often overlook, however, is the need for a reliable and efficient fulfilment partner. And that's precisely where FBA Prep Logistics comes in. In this article, we'll discuss how our fulfilment 3PL expertise can help your e-commerce business thrive by maximizing efficiency, minimizing costs, and providing superior customer service.
The Importance of a Dependable Fulfilment 3PL Partner
With online shopping becoming increasingly popular, customers have come to expect prompt service and rapid delivery. As a result, e-commerce businesses must find a fulfilment 3PL provider that can manage their inventory efficiently, expedite shipping, and ensure that each order is processed correctly. Moreover, the right partner should adapt to your business's growth, accommodate new product lines, and stay up-to-date with industry developments – ensuring long-term resilience and scalability.
Introducing FBA Prep Logistics: Your Ideal 3PL Warehouse Solution
FBA Prep Logistics is an industry-leading fulfilment 3PL warehouse located in Bristol, PA. Specializing in providing e-commerce businesses with top-notch supply chain management and logistics solutions, we pride ourselves on helping companies of all sizes achieve their full potential. What sets FBA Prep Logistics apart is our commitment to excellence – combining cutting-edge technology, expert knowledge, and unwavering dedication to customer satisfaction.
Elevate Your E-Commerce Business with a Comprehensive Range of Services
At FBA Prep Logistics, we understand that each e-commerce business is unique – with its own set of needs and aspirations. That's why we aim to provide a wide array of fulfilment services designed to help your venture reach new heights:
Streamlined Supply Chain Management: Ensure that your business runs smoothly with our comprehensive range of supply chain management services, tailored to meet your unique requirements.
Superior Warehouse Management: Trust our state-of-the-art facility and dedicated team to take care of all your inventory storage, picking, and packing requirements.
Seamless Integration with Amazon FBA: Capitalize on the massive customer base of Amazon.com by effortlessly integrating our services with the Amazon FBA program.
Dedicated Customer Support & Transparent Communication: Experience the FBA Prep Logistics difference with our unwavering commitment to clear and proactive communication, as well as personalized customer support.
Armed with these crucial assets, you can focus on what you do best: growing your brand and delighting customers. In the following sections, we'll delve deeper into how FBA Prep Logistics can become a trusted partner in your e-commerce journey – providing unmatched fulfilment 3PL services that cater to your every need. So buckle up and let's start exploring the world of FBA Prep Logistics!
2. Streamlining Your Supply Chain Management with FBA Prep Logistics
2.1 The Value of Effective Supply Chain Management
To stay competitive in today's e-commerce market, businesses need to constantly improve and streamline their supply chain management processes. A well-oiled supply chain can provide a competitive advantage, ensuring faster delivery times, reduced lead times, better inventory management, and ultimately, a more efficient business operation. That's precisely where FBA Prep Logistics comes into play. As a top-notch fulfilment 3PL provider, we help e-commerce businesses enhance their supply chain management, allowing them to focus on their core competencies while we take care of the rest.
2.2 Our Comprehensive Range of Services
FBA Prep Logistics offers a wide range of services tailored to fit the unique needs of each e-commerce business. Our experts are here to guide you through every step of the process, offering specialized solutions to optimize your operations. Some of our services include:
Inventory management: Accurate and efficient inventory management is essential for e-commerce success. We use advanced technology to keep track of your products, providing real-time updates and ensuring optimal stock levels at all times.
Order fulfilment: At FBA Prep Logistics, our team of fulfilment specialists works tirelessly to process orders promptly and accurately, ensuring that your products reach their destinations on-time and in perfect condition.
Shipping and delivery: With our robust carrier network, we can guarantee fast and cost-effective shipping options to meet your customers' delivery expectations. We offer a variety of shipping methods and can handle both domestic and international shipments.
Returns management: Our hassle-free returns management strategy simplifies the process of handling returns, creating a seamless experience for both your business and your customers.
2.3 Personalized Solutions for a Seamless Integration
We understand that no two e-commerce businesses are the same, which is why we customize our solutions to meet your specific needs and requirements. Our team of experts will analyze your business model, sales channels, and target audience, then create a tailor-made plan designed to optimize your supply chain and adapt it to the ever-changing e-commerce landscape. This personalized approach ensures a smooth integration with your existing operations, reducing disruptions and facilitating a seamless transition into our fulfilment 3PL network.
2.4 Leveraging Advanced Technology
In a fast-paced industry like e-commerce, leveraging the latest technology is essential to remain competitive. At FBA Prep Logistics, we use cutting-edge software and systems to automate and streamline key aspects of supply chain management, from inventory tracking to order processing. Not only does this allow for improved operational efficiency, but it also ensures accurate data and real-time reporting, giving you valuable insights to make data-driven decisions and scale your business.
2.5 Our Experienced Team: Your Supply Chain Management Partners
The backbone of our fulfilment 3PL services is our experienced team of supply chain management experts. Our dedicated professionals possess a wealth of industry knowledge, allowing us to provide the best possible services and support to our clients. At FBA Prep Logistics, we firmly believe in forging long-lasting relationships, and our team is committed to working closely with you to achieve your business goals.
2.6 The Benefits of Streamlined Supply Chain Management
Partnering with FBA Prep Logistics for your supply chain management needs comes with a multitude of benefits for your e-commerce business. Some of the advantages include:
Reduced overhead costs: By outsourcing your supply chain management to our fulfilment 3PL services, you eliminate the need for investment in infrastructure, software, and personnel, significantly cutting down on operational expenses.
Quicker order processing: Our team's efficiency in handling order fulfilment translates to faster processing time and quicker deliveries, leading to improved customer satisfaction.
Scalability: As your business expands, our flexible and scalable solutions will grow with you, allowing you to seamlessly handle increased order volumes during peak seasons or as demand dictates.
In conclusion, streamlining your supply chain management is a critical aspect of e-commerce success. At FBA Prep Logistics, our comprehensive range of services, customized solutions, advanced technology, and dedicated team of experts make us the go-to partner for e-commerce businesses aiming to elevate their supply chain management processes. As a top-tier fulfilment 3PL provider, we are committed to helping you optimize your operations and propel your business to new heights.
The Power of Our Fulfillment Capabilities: Storing, Picking, and Packing Done Right
At FBA Prep Logistics, we understand the critical role that efficient and reliable fulfillment plays in the success of your e-commerce business. Our team is dedicated to providing top-tier fulfillment services that make us an essential addition to your supply chain management strategy. In this section, we'll take a closer look at the warehouse management, picking, packing, and shipping processes at FBA Prep Logistics and demonstrate how our expertise results in cost-effective and dependable fulfillment services that will meet and exceed your needs.
State-of-the-art Warehouse Facilities
Our fulfillment 3PL services begin with our state-of-the-art warehouse facilities. Located in Bristol, PA, our warehouses are designed with space optimization and product safety in mind. The layout is tailored to maximize storage capacity, streamline product flow through the facility, and ensure that your inventory is stored securely and efficiently. With FBA Prep Logistics handling your warehousing needs, you can trust that your inventory is in the best hands, freeing up time and resources for you to focus on other aspects of your business.
Seamless Picking Process
Once an order is received, timely and accurate order fulfillment is crucial to maintain customer satisfaction. Our picking process is designed to minimize errors while maximizing efficiency. Our expert staff uses cutting-edge technology and proven picking methods to quickly and accurately locate and retrieve your items from the warehouse. With our seamless picking process, you can be confident that the right product is sent to your customers every time.
Expert Packing Solutions
Delivering a positive customer experience extends beyond the product itself and includes the unboxing experience as well. At FBA Prep Logistics, we take pride in packing your items with the utmost care and attention to detail, ensuring a professional presentation that reflects well on your brand. Our team is proficient at determining the best packaging materials and packing solutions for each order, taking into account factors such as size, weight, and fragility. By partnering with us, you can rest easy knowing that your products are securely packaged and prepared for transit.
Efficient Shipping and Delivery
At the heart of our fulfillment 3PL services is an unwavering commitment to getting your products into your customers' hands as quickly as possible. Our strategic location in Bristol, PA, helps us easily access major transportation hubs and carriers, ensuring that your items are shipped promptly and efficiently. We provide real-time tracking information for every shipment and work closely with various carriers to ensure timely deliveries. Our dedication to efficient shipping and delivery means that your customers receive their orders promptly, which in turn helps you maintain a reputation for excellent service.
Accurate Inventory Management
Effectively managing your inventory is crucial to the success of your e-commerce business. Our team at FBA Prep Logistics employs advanced inventory management software to provide you with real-time inventory updates, help forecast demand, and ensure that your products are always in stock. Accurate inventory management reduces the risk of stockouts, overstocks, and ultimately saves your business money in the long run.
Customizable 3PL Services
At FBA Prep Logistics, we understand that your e-commerce business is unique, which is why we provide customizable 3PL services designed to cater to your specific needs. From handling Shopify returns to providing secure pick and pack services, we can tailor our services to best suit your business requirements, ensuring the fulfillment process is seamless and stress-free.
Meeting Your Unique Requirements
We recognize that each e-commerce business has its unique set of challenges and requirements. That's why we go the extra mile to create a fulfillment experience that meets your specific needs and leaves a lasting positive impression on your customers. Our trained staff is equipped to handle unique packaging requests, gift wrapping, and further special requirements your business may demand.
In conclusion, FBA Prep Logistics' comprehensive fulfillment 3PL services deliver the expertise and efficiency your e-commerce business needs to thrive. From our state-of-the-art warehousing facilities to our skilled picking and packing processes, every aspect of our fulfillment operation is designed with your success in mind. When you choose FBA Prep Logistics, you can trust that your products are in the best hands, giving you more time and energy to focus on what matters most: growing your business.
4. Navigating the Complex World of Amazon FBA: Let FBA Prep Logistics Be Your Guide
4.1. Understanding the Landscape of Amazon FBA
Navigating the complicated, fast-paced world of Amazon FBA can be daunting for any e-commerce business. Mistakes in planning and execution can result in costly fees, suspended accounts, or damage to your brand's reputation. That's where FBA Prep Logistics steps in as a trusted partner in your journey towards success on Amazon. Our comprehensive understanding of the FBA program allows us to provide seamless integration with your business, minimizing errors, maximizing efficiency, and helping you scale your operations effectively. Read this Ultimate Guide to learn about Amazon FBA's reverse logistics for East Coast sellers.
4.2. Expertise in FBA Prep and Shipment Services
One of the primary areas where FBA Prep Logistics shines is our specialization in FBA prep and shipment. Our skilled team ensures that your products are prepared according to Amazon's strict requirements, which can include labeling, bundling, and packaging your items. Additionally, we manage all the necessary documentation, shipping labels, and pallet configurations, ensuring that your shipments reach Amazon's warehouses without any hiccups. By trusting us with these intricate tasks, your e-commerce business avoids costly fees or delays associated with non-compliant items. Learn how FBA Prep services can help you scale your business here.
4.3. Efficient Inventory Management for Amazon FBA Sellers
Efficient inventory management is crucial for Amazon FBA sellers to avoid running out of stock or incurring long-term storage fees. At FBA Prep Logistics, we utilize smart warehousing technologies to help you manage your inventory effectively. Our real-time tracking and reporting allow you to monitor your stock levels, while our intuitive system suggests optimal order quantities and replenishment cycles. By partnering with us, e-commerce businesses can ensure the seamless flow of their products and capitalize on high-demand sales opportunities.
4.4. Amazon FBA Returns and Reverse Logistics Assistance
Handling and processing returns can be a daunting task for any e-commerce business. On the Amazon FBA platform, proper management of returns is crucial to maintaining a healthy account and favorable seller metrics. FBA Prep Logistics excels in assisting with Amazon FBA returns and reverse logistics processes. We inspect and process returned items, identify the root causes of returns, and provide actionable insights to help you improve your products and supply chain. Our expertise will enable your e-commerce business to reduce the burden of returns while maintaining customer satisfaction and loyalty. Discover Amazon reverse logistics strategies for East Coast sellers.
4.5. Amazon Advertising and PPC Campaign Management Support
Competing for visibility and sales on the Amazon platform can be challenging, and your e-commerce business needs an expert partner to navigate Amazon's advertising landscape. FBA Prep Logistics offers support in setting up, managing, and optimizing your Amazon PPC campaigns to drive better results for your business. Our expert-driven strategies can help you increase your brand's visibility, generate higher conversion rates, and, eventually, boost your overall Amazon sales. Refer to this Definitive Guide to learn more about Amazon PPC advertising strategies for NJ sellers.
4.6. Elevated Customer Support for Amazon FBA Sellers
Customer service plays a significant role in a seller's reputation on Amazon. FBA Prep Logistics ensures that your customers receive the highest level of support and service. Our dedicated team of customer support agents is proficient in resolving issues swiftly and professionally. From addressing delivery inquiries to fielding product questions, we provide a seamless customer experience that reflects positively on your brand.
4.7. Harnessing the Power of Data and Analytics for Your Amazon Business
To succeed in the competitive Amazon marketplace, e-commerce businesses need to harness the power of data and analytics. FBA Prep Logistics offers comprehensive data-driven reporting that allows you to monitor your business performance closely, identify trends and opportunities, and make informed decisions to grow your brand. Our insightful reports include sales trends, customer segment analysis, inventory forecasts, and advertising campaign assessments, equipping your e-commerce business with valuable tools to navigate and conquer the Amazon landscape.
In conclusion, partnering with FBA Prep Logistics as your preferred fulfilment 3PL provider for your Amazon FBA business can bring remarkable benefits. Our expertise in FBA prep, inventory management, returns processing, advertising support, and customer service can help elevate your brand in the competitive Amazon marketplace. By trusting in FBA Prep Logistics, you gain a dedicated and knowledgeable partner that understands the unique needs of your e-commerce business and works tirelessly to ensure its success on Amazon.
5. The FBA Prep Logistics Advantage: Why We're the 3PL Partner Your E-Commerce Business Needs
Whether you're a seasoned e-commerce expert or a new entrepreneur diving into the online world, choosing the right fulfilment partner can make or break your business. As your partner in e-commerce success, FBA Prep Logistics offers a suite of services designed to simplify your logistics, streamline your operations, and help your business reach its full potential. Here's why FBA Prep Logistics is hands down the best fulfilment 3PL partner your e-commerce enterprise needs:
5.1. A Dedicated and Responsive Support Team
In the fast-paced realm of e-commerce, you need a team that's agile and responsive to your ever-changing needs. Our in-house support team is highly trained and ready to assist you with any questions or issues you may face during your logistics journey. They understand the ever-evolving landscape of Amazon FBA services, ensuring your business stays one step ahead. When you trust FBA Prep Logistics as your fulfilment partner, you gain access to a reliable, dedicated, and personable support team that works diligently to ensure your satisfaction.
5.2. Streamlined Operations for Maximum Efficiency
Proper supply chain management is critical when it comes to the success of your e-commerce business. Through our cutting-edge inventory management system and efficient pick and pack process, FBA Prep Logistics helps you to not only monitor but also optimize your fulfilment operations. As a result, you'll see a significant reduction in costs and an increase in overall efficiency, ensuring customer satisfaction and encouraging repeat business.
5.3. A Commitment to Transparency and Communication
At FBA Prep Logistics, we understand how essential it is for you to have a clear view of your operations. That's why we're committed to maintaining total transparency and open lines of communication. Our powerful, user-friendly management system allows you to easily track every aspect of your inventory, shipments, and returns, keeping you in the loop every step of the way.
5.4. Unwavering Focus on E-Commerce Logistics, Picking, and Packing
With our extensive experience in the industry, we recognize the importance of accurate picking, careful packing, and prompt shipping. Our team of warehouse management specialists is highly skilled in e-commerce logistics, ensuring that your orders always reach their destination intact and on time. Plus, our commitment to streamlining operations ensures that your costs remain low, without sacrificing quality.
5.5. Robust and Flexible Solutions for a Variety of E-Commerce Platforms
Whether your business sells exclusively on Amazon or utilizes a multi-channel approach, FBA Prep Logistics has the expertise to help you navigate even the most complex logistical challenges. We've spent years refining our processes to cater to the unique requirements of platforms such as Shopify, ensuring a seamless and hassle-free experience for both you and your customers.
5.6. Expertise in Amazon FBA Promises a Smooth Integration
As an Amazon seller, you know that meeting the platform's requirements can be daunting. FBA Prep Logistics is here to be your guide, providing reliable services tailored to work seamlessly with Amazon's FBA program. This expertise allows you to leverage the tools necessary for long-lasting success and scalability on the world's largest e-commerce platform.
5.7. A Prime Location for East Coast E-Commerce
Our location in Bristol, PA, offers exceptional advantages for e-commerce businesses, particularly those targeting the vast market on the East Coast. With quick access to major transportation networks, FBA Prep Logistics ensures rapid and cost-effective shipping of your products, keeping your customers happy and increasing your profits.
5.8. Proven Track Record in Helping E-Commerce Businesses Reach Their Potential
At FBA Prep Logistics, we strive to not only meet but exceed our clients' expectations. Over the years, we've partnered with countless e-commerce businesses, guiding them toward greater success and helping them maximize their potential in an increasingly competitive industry.
In conclusion, the advantages of choosing FBA Prep Logistics as your fulfilment 3PL partner are simply too enticing to ignore. Our dedicated support team, commitment to communication and transparency, and reputation for providing exceptional services make us the perfect fit for helping your e-commerce business achieve the success it deserves. Don't settle for anything less – partner with FBA Prep Logistics today and unlock your enterprise's full potential.
Frequently Asked Questions</h2>
<h3>1. What types of e-commerce businesses does FBA Prep Logistics work with?</h3>
<p>FBA Prep Logistics works with a wide range of e-commerce businesses, big or small, primarily focusing on those selling on Amazon.com. Our services are designed to help businesses at any stage of their growth journey and provide tailored solutions regardless of their current size or volume.</p>
<h3>2. How can FBA Prep Logistics help me streamline my supply chain management process?</h3>
<p>We offer comprehensive supply chain management services, including inventory management, storage, picking, packing, and shipping. Our streamlined processes allow you to focus on growing your brand, knowing that your logistics are in good hands.</p>
<h3>3. Can FBA Prep Logistics handle the fulfillment of Amazon FBA orders?</h3>
<p>Yes, our services are specifically tailored to work seamlessly with Amazon's FBA program. We handle the entire FBA prep process, making it easy for you to leverage the necessary tools and scale your operations effectively on the platform.</p>
<h3>4. What sets FBA Prep Logistics apart from other 3PL providers?</h3>
<p>The FBA Prep Logistics advantage lies in our dedicated support team, our commitment to transparency and communication, as well as our track record of helping e-commerce businesses maximize their potential. We offer reliable and cost-effective fulfillment services, ensuring a smooth, hassle-free partnership.</p>
<h3>5. How can I start working with FBA Prep Logistics?</h3>
<p>To get started, simply <a href="https://www.example.com/contact">contact us</a> on our website and let our experts guide you through the process of setting up your e-commerce fulfillment with FBA Prep Logistics. We look forward to being your partner in e-commerce success!</p>
<script type="application/ld+json">
{
"@context": "https://schema.org",
"@type": "FAQPage",
"mainEntity": [
{
"@type": "Question",
"name": "What types of e-commerce businesses does FBA Prep Logistics work with?",
"acceptedAnswer": {
"@type": "Answer",
"text": "FBA Prep Logistics works with a wide range of e-commerce businesses, big or small, primarily focusing on those selling on Amazon.com. Our services are designed to help businesses at any stage of their growth journey and provide tailored solutions regardless of their current size or volume."
}
},
{
"@type": "Question",
"name": "How can FBA Prep Logistics help me streamline my supply chain management process?",
"acceptedAnswer": {
"@type": "Answer",
"text": "We offer comprehensive supply chain management services, including inventory management, storage, picking, packing, and shipping. Our streamlined processes allow you to focus on growing your brand, knowing that your logistics are in good hands."
}
},
{
"@type": "Question",
"name": "Can FBA Prep Logistics handle the fulfillment of Amazon FBA orders?",
"acceptedAnswer": {
"@type": "Answer",
"text": "Yes, our services are specifically tailored to work seamlessly with Amazon's FBA program. We handle the entire FBA prep process, making it easy for you to leverage the necessary tools and scale your operations effectively on the platform."
}
},
{
"@type": "Question",
"name": "What sets FBA Prep Logistics apart from other 3PL providers?",
"acceptedAnswer": {
"@type": "Answer",
"text": "The FBA Prep Logistics advantage lies in our dedicated support team, our commitment to transparency and communication, as well as our track record of helping e-commerce businesses maximize their potential. We offer reliable and cost-effective fulfillment services, ensuring a smooth, hassle-free partnership."
}
},
{
"@type": "Question",
"name": "How can I start working with FBA Prep Logistics?",
"acceptedAnswer": {
"@type": "Answer",
"text": "To get started, simply contact us on our website and let our experts guide you through the process of setting up your e-commerce fulfillment with FBA Prep Logistics. We look forward to being your partner in e-commerce success!"
}
}
] }
</script>