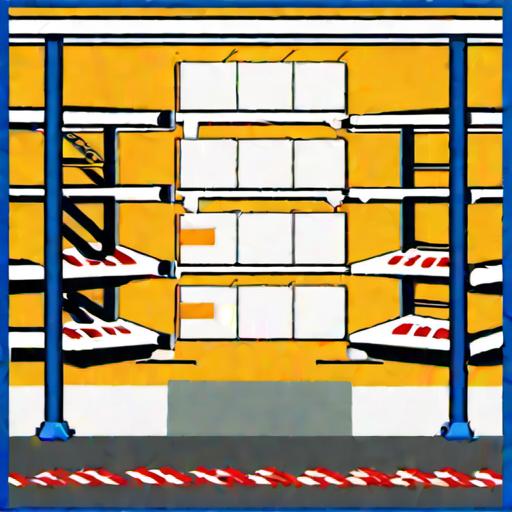 Introduction: The Importance of Choosing the Right FBA Prep Warehouse
If you're new to the world of e-commerce and supply chain management, you may have recently discovered the concept of Fulfillment by Amazon (FBA), a service that allows sellers to store their products in Amazon's fulfillment centers. Amazon then takes care of storage, packaging, and shipping, allowing sellers to focus on growing their businesses. However, it's crucial to understand the vital role an FBA prep warehouse plays in ensuring your e-commerce business's success.
The Role of an FBA Prep Warehouse
A well-managed FBA prep warehouse streamlines the entire process by receiving your inventory, inspecting items for quality and compliance, packing the products to meet Amazon's strict guidelines, and shipping them off to the Amazon fulfillment center. By working with a reliable and efficient FBA prep warehouse, you can significantly reduce the risk of costly errors, delays, or even account suspensions.
Ideal for Beginners in Supply Chain Management
As a beginner in supply chain management, a trustworthy FBA prep warehouse can be a game-changer for your business. They take most of the hassles out of managing your inventory and shipping, guiding you through the unfamiliar terrain and enabling you to focus on other aspects of your e-commerce store. The right FBA prep warehouse can greatly impact your success or failure in the competitive e-commerce landscape.
Some Crucial Factors to Consider
Customer service: Choose a warehouse with a proven track record of excellent communication and support.
Turnaround time: Opt for a warehouse that can process your inventory efficiently and send it to Amazon quickly.
Cost-effectiveness: Find a warehouse that won't break your budget and offers transparent pricing structures.
Expertise in Amazon's requirements: Partner with a warehouse that understands and adheres to Amazon's strict guidelines.
Scalability: Work with a warehouse capable of growing alongside your business.
Now, let's dive into what FBA Prep Logistics has to offer and why we might be the perfect fit for your e-commerce business.
Section 2: What is FBA Prep Logistics and How Can We Help You?
FBA (Fulfillment by Amazon) is a game-changing service for e-commerce businesses that allows you to store your products in Amazon's fulfillment centers. They pick, pack, and ship your products as orders come in, saving you time and effort. But to ensure your business runs smoothly, you need an efficient fba prep warehouse partner to handle all your supply chain needs. That's where we come in!
Introduction to FBA Prep Logistics
FBA Prep Logistics is a top-rated 3PL (third-party logistics) warehouse based in Bristol, PA. We specialize in providing a comprehensive range of services tailored to suit the unique needs of small and medium-sized e-commerce businesses, particularly those selling on Amazon.com. With our extensive experience, we support business owners like you in their supply chain management journey, allowing you to focus on growing your online presence.
Services We Offer at FBA Prep Logistics
At FBA Prep Logistics, we take pride in offering prompt, reliable, and efficient services to help you excel in the competitive e-commerce space. The benefits of partnering with us include:
Receiving: We efficiently manage all incoming inventory, streamlining the process and making sure that everything is accounted for.
Inspection: Our team of experts conducts thorough inspections to check for any discrepancies or damages. This ensures that you maintain a high level of quality control and comply with Amazon's strict standards.
Packing: We offer bespoke packing solutions to secure your products, including creating custom packaging, labeling, and kitting as needed. This helps improve your brand image while minimizing returns and packaging waste.
Shipping: Leveraging our expertise in shipping and fulfillment, we collaborate with trusted carriers to dispatch your products directly to Amazon fulfillment centers on time, every time.
Who We Cater to: Small and Medium-sized E-commerce Businesses
At FBA Prep Logistics, we value every client, no matter the size of their business. If you are new to supply chain management or a seasoned e-commerce entrepreneur who needs a reliable partner, you're in the right place. Our customized solutions, attention to detail, and commitment to your goals make us the perfect choice for all your fba prep needs.
With our adaptive, cost-effective approach, we accommodate the specific requirements of each client, providing small and medium-sized businesses the ability to scale, compete, and thrive in the e-commerce space. Whether you need assistance with one aspect of your supply chain or comprehensive support managing your entire logistics workflow, our team has got you covered.
Our Experience with Amazon's Requirements and Shipping Policies
As a specialized fba prep warehouse, we understand that navigating Amazon's ever-changing policies and requirements can be challenging. That's why we stay up-to-date on the latest information to ensure seamless processes for your business. Our deep knowledge allows us to confidently handle FBA requirements, manage prep work, and coordinate timely shipments, helping you maximize your partnership with Amazon and eliminate common pitfalls new sellers may encounter.
In Conclusion, FBA Prep Logistics is more than just a 3PL warehouse; we are a trusted partner committed to helping you succeed in the ever-growing e-commerce landscape. From inspection to shipping, our dedicated team strives to provide the best possible service, ensuring that your business thrives on Amazon.com and beyond. We invite you to take the next step and explore what FBA Prep Logistics has to offer. Together, we'll make your e-commerce dreams come true.
3. The Benefits of Choosing FBA Prep Logistics as Your 3PL Partner
As a new e-commerce business owner venturing into the world of FBA, finding the right fba prep warehouse is crucial to your success. At FBA Prep Logistics, we have much to offer in this area. In this section, we'll highlight the benefits of choosing us as your 3PL partner, from our tailored solutions to our commitment to customer satisfaction.
3.1. Tailored Solutions for Each Client's Needs
When it comes to choosing an fba prep warehouse, one size does not fit all. That's why at FBA Prep Logistics, we assess your unique needs and offer customized solutions to meet them. Our team of experts works closely with you to develop a logistics strategy designed specifically for your e-commerce business, whether you're operating on a small or medium scale. With our tailored approach, you can rest assured that you'll receive the most effective and efficient services possible.
3.2. Cost-Effective Services
We understand that managing costs is a top priority for e-commerce business owners, and that's why we offer top cost reduction strategies for Amazon sellers. Our competitive pricing and cost-effective services ensure that you can focus on expanding your business without breaking the bank. By streamlining processes and employing our expertise in the industry, we're able to save you time and money while still delivering the high-quality services you need.
3.3. Strategic Location
Our fba prep warehouse is located in Bristol, PA, which provides easy access to major transportation routes and cities on the East Coast. This strategic location allows for faster and more efficient shipping, ensuring that your products reach Amazon fulfillment centers and your customers' doorsteps in a timely manner. Save on transportation costs and keep your customers happy with our convenient location and quick turnaround times.
3.4. Expertise in Handling Amazon Requirements and Shipping Policies
Navigating Amazon's policies and procedures can be a daunting task, especially for newcomers to the e-commerce world. At FBA Prep Logistics, our experienced team is well-versed in Amazon's requirements, and our ultimate guide to Amazon reverse logistics is just one example of our commitment to helping you succeed in the marketplace. Our understanding of Amazon's shipping policies ensures that your products are prepped, packed, and shipped according to their guidelines, minimizing the risk of costly errors and delays.
3.5. Dedication to Customer Satisfaction
We know that satisfied customers are the key to a thriving business, and that's why we put customer satisfaction at the forefront of everything we do. Our team is dedicated to providing prompt, responsive, and professional service to address any concerns or inquiries you may have. Our commitment to transparency ensures that you can trust us to keep you informed every step of the way. When you partner with FBA Prep Logistics, you can be confident in our dedication to the success of your e-commerce business.
3.6. Efficient Communication
Effective communication is vital for a successful partnership with an fba prep warehouse, and at FBA Prep Logistics, we take that seriously. Our team is always available to provide updates, clarify processes, and address any issues that may arise. We believe that a collaborative and open communication model helps foster a strong relationship between your business and our team, ultimately contributing to your success. Trust our team to keep you in the loop as we work together to grow your e-commerce business.
3.7. Transparency and Accountability
At FBA Prep Logistics, we pride ourselves on being a partner you can trust. We maintain transparency and accountability in all our operations, ensuring that you have a clear understanding of our services, pricing, and processes. We strive to provide you with honest, reliable information to help you make the best decisions for your business. With FBA Prep Logistics, you can enjoy a worry-free experience knowing we have your best interests in mind.
In conclusion, choosing FBA Prep Logistics as your fba prep warehouse brings numerous benefits to your e-commerce business. Our tailored solutions, cost-effective services, strategic location, Amazon expertise, and dedication to customer satisfaction make us the ideal 3PL partner for growing your online enterprise. With our focus on efficient communication, transparency, and accountability, you can trust FBA Prep Logistics to deliver the exceptional service you need to achieve success in the highly competitive e-commerce industry.
Tips for a Successful Partnership with Your FBA Prep Warehouse
As a digital marketing assistant representing FBA Prep Logistics, a 3PL warehouse located in Bristol, PA, here are key pieces of advice for a successful partnership between your e-commerce business and our fba prep warehouse services. Following these tips will ensure a smooth and efficient collaboration between both parties.
4.1 Communication: Key to a Strong Partnership
Consistent, transparent, and open communication is the cornerstone of a successful partnership. Ensure that both parties are on the same page by setting clear expectations and discussing any potential challenges and goals early on in the partnership. FBA Prep Logistics is proud of its strong commitment to efficient communication and transparency, and is always available to address any concerns or answer questions.
4.2 Preparing Accurate Information and Documentation for Shipments
Providing accurate and up-to-date information and documentation for shipments is crucial to eliminate any delays or inaccuracies in the fulfillment process. This includes ensuring that product details, shipping labels, and packaging instructions are correct and in accordance with Amazon's requirements. FBA Prep Logistics can ease the process for you with our expertise in managing Amazon requirements and shipping policies.
4.3 Inventory Turnover Management
Understanding your inventory turnover can help both e-commerce sellers and fba prep warehouses work harmoniously. By keeping track of your products' sales velocity and feeding that information into the warehouse's inventory management system, an optimal balance between keeping your best-selling items in stock and reducing unnecessary inventory of slower-moving items can be achieved. Simplify Inventory Tracking on Shopify can give you some insights on how to manage your inventory effectively.
4.4 Utilizing Technology for Seamless Integration
Embrace technology to integrate your e-commerce business with our warehouse services. Having access to a centralized platform where inventory, order management, and shipment status can be monitored is a great way to streamline the partnership. How to Integrate Technology into Your Amazon Seller Workflow in Pennsylvania can provide further guidance on leveraging technology to improve the efficiency of your operations.
4.5 Prioritizing Customer Satisfaction
At FBA Prep Logistics, we understand the importance of customer satisfaction. Ensuring that your customers receive their orders in a timely and efficient manner is essential for the growth of your e-commerce business. By working together, we can continuously identify areas for improvement and align our strategies to keep your customers at the forefront of our mind.
4.6 Adjusting to Market Trends and Changes
Being adaptable and responding to market trends and changes is vital in the competitive e-commerce environment. Openness to change and innovation ensures that your business stays on top and can pivot as needed. FBA Prep Logistics is your partner in adjusting to market shifts and accommodating the dynamic requirements of the e-commerce industry.
4.7 Building a Relationship of Trust
A successful partnership between businesses and fba prep warehouses is based on mutual trust. This trust is built through consistent delivery of high-quality service, open communication, and shared values. FBA Prep Logistics is committed to building lasting relationships with our clients, as demonstrated by our dedication to client satisfaction, transparency, and efficient communication.
4.8 Understanding Amazon FBA Requirements
Gain a thorough understanding of Amazon's FBA requirements to ensure that your products are properly prepared and packaged to avoid delays in the process. We, at FBA Prep Logistics, have the expertise to guide you through complying with Amazon's standards and creating a smooth shipping process for your products. You can further explore The Ultimate Guide to Amazon Reverse Logistics for East Coast Sellers for more insights into this aspect.
4.9 Planning for Peak Periods
In e-commerce, peak periods such as the holiday season call for additional planning and resources. Work closely with FBA Prep Logistics to anticipate increased demand and make the necessary preparations to ensure your customers receive their orders without delay.
4.10 Regular Performance Evaluations
Assess the partnership's performance regularly by reviewing key performance indicators (KPIs) and setting goals for continuous improvement. This will help both parties achieve more significant results and drive business growth.
In conclusion, partnering with FBA Prep Logistics is an investment in the growth and success of your e-commerce business. Our expertise, tailored solutions, and customer-centric approach set us apart from other warehouses. By following these tips and working together, you can expect a successful partnership that helps your business reach new heights.
5. How to Get Started with FBA Prep Logistics
We're excited to have you on board and help you grow your e-commerce business! Joining FBA Prep Logistics couldn't be easier – just follow these simple steps and be on your way to smoother, more efficient fulfillment:
5.1. Register with Us
Your first step is to create an account with FBA Prep Logistics. Fill in the necessary details, and our team will reach out to you to discuss your requirements and answer any questions you might have.
5.2. Share Your Inventory Details
Next, it's essential to provide accurate information about your inventory – this helps us understand your needs and design a tailored solution just for you. You'll want to share the following details:
Product SKU and ASIN
Product dimensions and weight
Special handling requirements, if any (fragile items, hazardous materials, etc.)
5.3. Send Us Your Inventory
Once we've got all the required information, you can start sending your products to our fba prep warehouse. Make sure to follow Amazon's packing and shipping guidelines to avoid any delays or additional fees.
5.4. Inspection, Packing, and Shipping
As soon as we receive your inventory, our team of experts carefully inspects each item to ensure they meet Amazon's standards. We then pack and label your products following Amazon's guidelines, guaranteeing a smooth journey through the fulfillment process. Our strategic location in Bristol, PA, allows us to efficiently ship products all across the country – before you know it, your products will be in the hands of satisfied customers!
5.5. Stay Connected and Monitor Your Business
At FBA Prep Logistics, we believe in maintaining transparent and open communication. You'll have access to your personalized dashboard, where you can track your inventory, shipments, and returns in real time. Plus, our friendly team is always available to assist you whenever you need help.
5.6. Scale and Grow Your E-commerce Business
Now that you've got a reliable fba prep warehouse partner, you can focus your energy on growing your e-commerce business and expanding your sales channels. Our scalable solutions mean that as your business grows, we'll be right there with you, offering the support and expertise you need.
Reach out to our team today to learn more about how FBA Prep Logistics can help you achieve success in the world of e-commerce. Don't forget to follow us on Twitter, LinkedIn, and Facebook for updates and useful resources. With FBA Prep Logistics by your side, you'll be on the fast track to e-commerce success!
Frequently Asked Questions
What is FBA and how does it relate to a 3PL warehouse?

FBA (Fulfillment by Amazon) is a service provided by Amazon where they handle the storage, packaging, and shipping of products for sellers. A 3PL (Third-Party Logistics) warehouse, such as FBA Prep Logistics, acts as an intermediary between the seller and Amazon's fulfillment centers, handling essential tasks like inventory receiving, inspection, packing, and shipping.

How does FBA Prep Logistics assist small and medium-sized e-commerce businesses?

We tailor our services to the unique needs of each business by offering cost-effective solutions, expertise in Amazon shipping policies, efficient communication, and a strategic location in Bristol, PA. This ensures a hassle-free experience and allows businesses to focus on growth and expansion without worrying about supply chain management.

What specific services does FBA Prep Logistics provide?

Our services include inventory receiving, inspection, packaging, labeling, and shipping to Amazon fulfillment centers. Additionally, we help clients comply with Amazon's rules and requirements and offer support throughout the entire process to ensure a smooth and successful partnership.

How can I set up a successful partnership with FBA Prep Logistics?

To establish a successful partnership, it's essential to maintain clear communication and set expectations from the start. This includes providing all necessary information and documentation related to shipments. FBA Prep Logistics takes extra steps to ensure a seamless collaboration, and our transparent approach to client relationships helps businesses thrive.

How can I get started with FBA Prep Logistics?

The onboarding process is simple and straightforward, consisting of registration and sending your first inventory shipment to our warehouse. Don't hesitate to reach out to us to learn more about how our services can benefit your e-commerce business. Our contact information and social media presence are available for accessible communication and engagement.