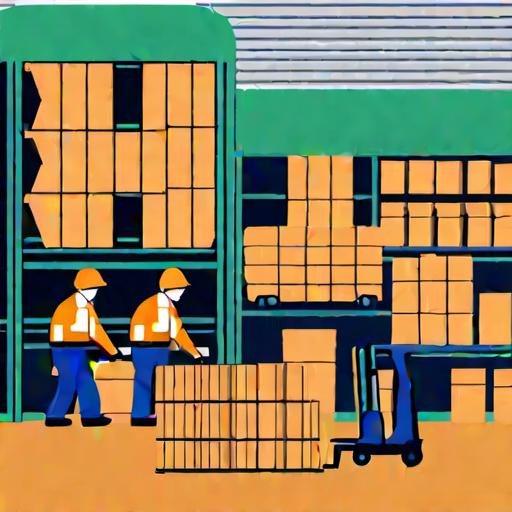 Introduction: The Rising Importance of 3PL Fulfillment in E-commerce
As e-commerce continues to experience exponential growth, keeping up with the demands of a bustling online marketplace can be quite challenging for many businesses. From supply chain management to order fulfillment, there's never been a greater need for fast, efficient, and reliable outsourcing solutions. That's why 3PL fulfillment has blossomed into an essential aspect of thriving e-commerce operations.
Bringing FBA Prep Logistics into your e-commerce strategy can be a game changer, giving you access to the cutting-edge services and technology that streamline your supply chain and keep your customers happy. Our mission is simple: We want to make your life easier and help you scale your business to new heights. So, let us handle the heavy lifting, while you focus on growing your brand.
The Burgeoning World of E-commerce
The surge in online shopping has created a need for e-commerce businesses to effectively manage and optimize their order fulfillment process. When customers purchase products from your online store, they expect fast shipping, accurate deliveries, and great customer service. Meeting these expectations can be the difference between a one-time sale and a loyal, lifelong customer.
But managing an in-house fulfillment department can be costly and time-consuming, especially for a rapidly expanding e-commerce business. That's where 3PL fulfillment comes in, providing an efficient solution for outsourcing these essential operations.
Enter FBA Prep Logistics: Your 3PL Fulfillment Solution
Here at FBA Prep Logistics, we understand that the landscape of e-commerce is changing, and businesses need to adapt to stay competitive. Our 3PL fulfillment services are designed to help your e-commerce business keep up with these changes and stay ahead of the curve.
Our comprehensive suite of services ensures your orders are processed efficiently, your inventory is managed effectively, and your customers are satisfied with their shopping experience. With FBA Prep Logistics, you can:
Improve supply chain management
Benefit from accurate and timely order fulfillment
Leverage advanced technology for inventory and order tracking
Scale your business more effectively
By partnering with us, we believe you'll find the ideal solution for managing your e-commerce operations, empowering you to focus on what you do best: growing your business and satisfying your customers.
The Bottom Line
E-commerce businesses, large and small, can't afford to ignore the importance of efficient and reliable order fulfillment. Partnering with FBA Prep Logistics for your 3PL fulfillment needs provides the expertise and technology your business requires to not only survive, but thrive in today's competitive online marketplace.
Keep reading as we dive deeper into the world of 3PL fulfillment, discussing its essential components and how it could enhance your e-commerce operations. We'll explore the basics of 3PL fulfillment, detail the many ways FBA Prep Logistics can streamline your business, highlight our advanced technology solutions, and ultimately make the case for why we are the ideal choice for your e-commerce fulfillment partner. So, let's take this journey together and discover how FBA Prep Logistics can open up new avenues for growth and success in your e-commerce business.
The Basics of 3PL Fulfillment: What It Is and Why You Need It
As an e-commerce business owner, you're always looking for ways to improve efficiency and enhance your customer's experience. One solution that can provide these benefits is outsourcing your order fulfillment process to a professional 3PL (third-party logistics) provider. In this section, we'll explore the ins and outs of 3PL fulfillment and why partnering with FBA Prep Logistics could be the cornerstone of your e-commerce success.
The Building Blocks of 3PL Fulfillment: Defining the Concept
In a nutshell, 3PL fulfillment refers to the outsourcing of your e-commerce order management, inventory storage, and product shipping to a specialized third-party company. By leveraging the expertise of a 3PL partner like FBA Prep Logistics, you can streamline your operations, save time and resources, and ultimately, boost your online store's profitability.
3PL Fulfillment Advantages: Why It Matters for Your E-commerce Business
Transitioning to a 3PL provider can fundamentally transform your e-commerce business, delivering a range of benefits that can help you stay ahead of the competition. Here's a closer look at the top advantages of embracing 3PL fulfillment with FBA Prep Logistics.
1. Expertise in Supply Chain Management
Managing your own order fulfillment can be a daunting and complex task, especially when your online store starts to grow. FBA Prep Logistics is well-versed in supply chain management and can handle every aspect of your product fulfillment – from inventory storage to shipping coordination and returns processing. By outsourcing this critical responsibility to us, you can focus on other core aspects of your business, like marketing and product development.
2. Time and Cost Savings
Operating your own fulfillment center requires significant investments in manpower, storage facilities, and technology solutions. With FBA Prep Logistics as your 3PL fulfillment partner, you can offload these costs, enabling you to save both time and money. Plus, our well-established relationships with shipping carriers allow us to negotiate better rates, ensuring that you only pay for the services you need – ultimately reducing your 3PL costs.
3. Improved Order Accuracy and Faster Shipping
Efficient order fulfillment is key to customer satisfaction, and that's where FBA Prep Logistics excels. Our expertise in handling e-commerce orders ensures that your packages are accurately picked, packed, and shipped, leaving your customers with a positive impression of your business. In addition, our strategic location in Bristol, PA, allows us to offer fast shipping times, further improving your customers' experience and fostering loyalty.
4. Scalability and Flexibility
As your e-commerce business grows, your logistics and fulfillment needs will change. FBA Prep Logistics can help you handle these fluctuations with ease, allowing you to scale up your operations without hassle. Our flexible storage and labor solutions enable us to adjust to increases in demand quickly, ensuring that your business can meet the needs of its ever-expanding customer base.
5. Inventory Management and Visibility
Keeping track of your inventory can be a challenge. FBA Prep Logistics removes this burden by providing real-time inventory management and visibility through our state-of-the-art technology solutions. With our systems, you'll always be aware of your stock levels and can make informed decisions regarding reorder points and product availability.
The Role of FBA Prep Logistics: Providing Comprehensive 3PL Fulfillment Services
As a reliable 3PL fulfillment provider, FBA Prep Logistics offers a wide range of services that help your e-commerce business operate more efficiently and profitably. These services include:
Warehousing and Storage
Order Picking and Packing
Shipping and Returns Management
Inventory Management and Visibility
Customized Packaging Solutions
<Make the choice that more e-commerce businesses are now trusting and partner with FBA Prep Logistics to optimize your order fulfillment process and elevate your online store's performance.
In conclusion, choosing the right 3PL fulfillment partner is crucial to the long-term success and growth of your e-commerce business. By partnering with FBA Prep Logistics, you'll gain access to our superior expertise, cutting-edge logistics technology, exceptional customer service, and an array of services that cater to your specific needs. It's time to make the most of your e-commerce potential – and we're here to help you achieve it.
3. Streamlining Your E-commerce Business with FBA Prep Logistics' Expertise
If you're new to the world of e-commerce and supply chain management, you may be wondering how a 3PL fulfillment service can help you scale up your business. In this section, we will analyze the key components that make FBA Prep Logistics the go-to choice for all your order fulfillment needs.
3.1. Comprehensive Suite of Fulfillment Services
Our company boasts a diverse array of services tailored to optimize your supply chain management, ranging from storage and warehousing to pick, pack, and ship. By partnering with FBA Prep Logistics, you'll gain access to the following key services to help establish an effective foundation for your e-commerce business:
Receiving and storage
Order fulfillment
Kitting and assembly
Returns management
Personalized packaging and branding
3.2. Top-notch Warehousing and Inventory Management
No e-commerce business can survive without effective warehousing and inventory management. FBA Prep Logistics' warehousing capabilities provide a clean, secure, and temperature-controlled environment to store your inventory, ensuring the optimal condition of your goods.
Our approach to inventory management is highly organized, leveraging advanced technology to track your stock levels and monitor each item's movement. With real-time insights, you can effectively manage your supply and demand, significantly reducing the risk of stockouts, order delays, or product surplus.
3.3. Expert Order Fulfillment Process
Order fulfillment is the heart of your e-commerce operation. When managed effectively, it enables a seamless flow from receiving an order to shipping it to your customer. At FBA Prep Logistics, we're experts in optimizing order accuracy and shipping timeframes. Our sophisticated fulfillment process has been honed to perfection, ensuring that your customers receive their orders as quickly as possible.
3.4. Kitting, Assembly, and Custom Packaging Solutions
Sometimes, your products may require additional assembly, personalization, or custom packaging before they're ready for shipment. FBA Prep Logistics provides kitting, assembly, and packaging services to meet the unique needs of your e-commerce business.
Whether you offer subscription boxes, gift sets, or simply want to elevate your brand through tailor-made packaging, our team will work closely with you to guarantee customer satisfaction and enhance your brand image.
3.5. Efficient Returns Management System
Having an efficient and customer-friendly returns management process is crucial in maintaining your e-commerce business's reputation. At FBA Prep Logistics, we handle returns with utmost care, applying a fast, systematic approach that allows customers to receive their replacements or refunds promptly. Additionally, we can provide feedback on returned products, helping you to identify and rectify any quality issues.
3.6. Scalability and Flexibility
Partnering with FBA Prep Logistics offers you the scalability required to grow your e-commerce business. Our flexible warehousing and fulfillment capabilities can easily adapt to fluctuations in demand, such as seasonal peaks or exceptional sales events like Black Friday. By outsourcing your logistics to a 3PL provider like us, you'll be able to expand your offerings, sell in new marketplaces, and focus on the core aspects of your business without worrying about operational bottlenecks.
3.7. Cost Savings and Improved Efficiency
By leveraging FBA Prep Logistics' expertise, our 3PL fulfillment services can help you save time and money by eliminating the need to manage your own warehouse, recruit additional staff, or invest in sophisticated inventory management software. In turn, this enables you to allocate resources to other vital aspects of your business, such as marketing, product development, and customer service.
In summary, outsourcing your fulfillment operations to FBA Prep Logistics will provide you with the essential tools needed to streamline your e-commerce business. Our comprehensive suite of services covers everything from warehousing and inventory management to expert order fulfillment, kitting and assembly, and returns management. Moreover, partnering with us allows you to enjoy the benefits of scalability and flexibility, cost savings, and an overall improved efficiency in managing your supply chain. With FBA Prep Logistics as your trusted 3PL provider, you'll be on the fast track to reaching new heights in the e-commerce world.
4. The Power of FBA Prep Logistics' Integrated Technology Solutions
Managing an e-commerce business can be difficult if you don't have the right technological support in place. That's where FBA Prep Logistics comes in. Our 3PL fulfillment services offer top-notch technology solutions designed to give you complete visibility and control over your inventory and order processes. We believe that advanced technology can make your e-commerce experience seamless and more profitable. In this section, we'll explore FBA Prep Logistics' integrated technology solutions and explain why they are essential for streamlining your online store operations.
4.1 State-of-the-Art Warehouse Management System (WMS)
The backbone of our 3PL fulfillment services is our sophisticated Warehouse Management System (WMS). Our WMS automates key tasks, maximizes efficiency, and minimizes human error, enabling us to pick, pack, and ship your orders faster and more accurately. Key features of our WMS include:
Real-time inventory tracking
Automated barcode scanning for accurate order fulfillment
Instant email notifications for important updates
Integration with major e-commerce platforms and marketplaces
Support for multiple sales channels management
Comprehensive reporting and analytics
4.2 Seamless E-commerce Platform Integrations
We understand that your e-commerce business relies on various platforms and marketplaces to succeed. That's why our 3PL fulfillment services are compatible with popular e-commerce platforms such as Amazon, Shopify, WooCommerce, and eBay. Our seamless integrations allow for easy order imports, inventory updates, and shipping confirmations.
By combining our technology with these platforms, you can efficiently manage your e-commerce business without worrying about separate systems or manual data transfers. Plus, you'll save time and avoid errors while enjoying a single, consolidated view of your entire operation.
4.3 Advanced Shipping Solutions for Faster Delivery
At FBA Prep Logistics, we believe that fast and secure shipping is integral to a great e-commerce experience. Our advanced shipping solutions offer several benefits, such as:
Access to discounted shipping rates from top carriers
Automated shipping label generation
Real-time tracking information for you and your customers
Delivery confirmation and signature tracking options
Support for international shipping
By leveraging these shipping solutions, you can improve customer satisfaction, build trust, and boost repeat purchases on your e-commerce store.
4.4 Robust Reporting and Analytics for Data-driven Decision Making
Running a successful e-commerce business requires making informed decisions based on data. Our 3PL fulfillment services come equipped with comprehensive reporting and analytics tools, giving you insights into your business's performance. With these tools, you can track key metrics like:
Order volume and fulfillment time
Inventory levels and turnover
Shipping costs and carrier performance
Trends and seasonality in sales
By analyzing this data, you can make better strategic decisions and optimize your e-commerce operations for increased profitability.
4.5 Proactive Client Support for a Personalized Experience
Our commitment to e-commerce success doesn't end at sophisticated technology. At FBA Prep Logistics, we believe that personalized client support is crucial. Our dedicated account managers and customer service team are just a call or email away, ready to provide guidance and assistance whenever you need it. Whether you have questions about our services or need help troubleshooting issues, our team is always eager to help.
4.6 Scalability and Flexibility to Grow with Your Business
One of the key strengths of FBA Prep Logistics' integrated technology solutions is their ability to scale with your e-commerce business. As your order volumes and customer base grow, our technology can adapt and grow with you. This means you can rely on our proven, scalable solutions without worrying about outgrowing your current infrastructure or needing to find a new 3PL partner.
In conclusion, FBA Prep Logistics' advanced technology solutions play an essential role in helping your e-commerce business thrive. From our state-of-the-art WMS and seamless platform integrations to comprehensive reporting and analytics, we provide the tools and capabilities you need to optimize your operations, improve customer satisfaction, and increase your profit margins. But don't just take our word for it – see for yourself how FBA Prep Logistics can take your e-commerce business to the next level. Partnering with us means investing in the technology and expertise needed to unlock your online store's full potential.
5. Conclusion: Making the Right Choice – Why FBA Prep Logistics is Your Ideal 3PL Fulfillment Partner
By now, it should be clear that outsourcing your e-commerce order fulfillment to a reliable 3PL provider like FBA Prep Logistics has significant advantages. Still not convinced? Let's round up some of the benefits of partnering with us as your 3PL fulfillment service provider.
5.1 Customized Solutions Tailored to Your Needs
Understanding that every e-commerce business is different, we at FBA Prep Logistics offer customized solutions to streamline your supply chain management. Our flexibility allows us to adapt to your unique needs and develop the perfect fit for your online store.
5.2 Hassle-Free Supply Chain Management
As we mentioned in the e-commerce order fulfillment guide, managing your own supply chain can be a demanding and complex task. Fortunately, our team of logistics and supply chain experts is here to take that burden off your shoulders and ensure a hassle-free experience. This way, you can focus on growing your e-commerce business.
5.3 Cost Savings Through Optimized Operations
Streamlining your supply chain is an essential step for reducing costs. FBA Prep Logistics can help your business achieve lean 3PL practices to minimize waste, improve efficiency, and ultimately save you money.
5.4 Advanced Technology Integration
FBA Prep Logistics uses cutting-edge technology to offer seamless integration with your e-commerce platform. This ensures real-time visibility of your inventory levels and order processing, thereby enhancing your overall e-commerce experience. Our technology-driven approach sets us apart from other 3PL providers.
5.5 Scalable for Future Growth
Preparing your business for expansion can be a daunting challenge, but FBA Prep Logistics makes it easy. Our 3PL services are designed to adapt and scale as your business grows, so you can expand your e-commerce operations without worry.
5.6 Proven Track Record of Excellent Customer Support
We pride ourselves on our outstanding customer support. Our customers trust FBA Prep Logistics for their e-commerce businesses, and we have built our reputation on transparent communication, reliability, and efficient problem-solving to ensure client satisfaction.
5.7 Comprehensive Service Offerings
At FBA Prep Logistics, we provide a complete range of 3PL fulfillment services. From Amazon FBA label placement and prep services to comprehensive warehousing and distribution solutions, we've got your back to meet all your e-commerce needs.
5.8 A Long-Term, Valuable Partner
When you choose FBA Prep Logistics as your 3PL fulfillment provider, you're not just outsourcing a service – you're gaining a valuable partner. We're invested in your e-commerce success and are committed to providing top-notch support for the long haul.
By partnering with FBA Prep Logistics, you're choosing a 3PL fulfillment service that understands your business, values your success and has the expertise and technology to help you scale up and achieve your e-commerce goals. Isn't it time to take your business to new heights with the support of a trusted and reliable logistics partner? Let's grow together – contact FBA Prep Logistics and discover the difference we can make for your e-commerce venture.
Frequently Asked Questions</h2>
<h3>What is 3PL fulfillment and why does my e-commerce business need it?</h3>
<p>3PL fulfillment refers to third-party logistics, where a provider like FBA Prep Logistics handles crucial aspects of your e-commerce fulfillment process, such as warehousing, inventory management, and shipping orders to customers. By outsourcing these tasks to a reliable partner, you can save time and resources, allowing you to focus on growing your online store.</p>
<h3>How can FBA Prep Logistics help streamline my e-commerce business?</h3>
<p>FBA Prep Logistics offers a comprehensive suite of fulfillment services that can improve your supply chain management, ensure order accuracy, and enable you to scale up more efficiently. Our expert team and advanced technology facilitate seamless and cost-effective operations, allowing you to focus on other aspects of your business.</p>
<h3>What technology solutions does FBA Prep Logistics provide to enhance my e-commerce experience?</h3>
<p>At FBA Prep Logistics, we integrate advanced technology platforms with our 3PL fulfillment services to give you complete visibility and control over your inventory and order processing. Our solutions help you streamline operations, automate processes, and easily monitor your business, making it a breeze to manage your e-commerce store.</p>
<h3>Why should I choose FBA Prep Logistics over other 3PL providers or handling fulfillment myself?</h3>
<p>Partnering with FBA Prep Logistics offers numerous benefits. Our dedicated team of experts, state-of-the-art technology solutions, and efficient processes ensure that your e-commerce fulfillment is handled with utmost accuracy and speed. By choosing FBA Prep Logistics over other providers or managing fulfillment in-house, you'll save time and effort while improving the overall efficiency of your e-commerce operation.</p>
<h3>How can I trust FBA Prep Logistics to play a major role in my e-commerce business's success?</h3>
<p>FBA Prep Logistics is committed to providing top-quality 3PL fulfillment services that cater to the unique needs of your e-commerce business. Our goal is to build a long-lasting partnership that contributes to your success by offering tailored solutions, exceptional customer service, and unmatched industry expertise.</p>
<script type="application/ld+json">
{
"@context": "https://schema.org",
"@type": "FAQPage",
"mainEntity": [
{
"@type": "Question",
"name": "What is 3PL fulfillment and why does my e-commerce business need it?",
"acceptedAnswer": {
"@type": "Answer",
"text": "3PL fulfillment refers to third-party logistics, where a provider like FBA Prep Logistics handles crucial aspects of your e-commerce fulfillment process, such as warehousing, inventory management, and shipping orders to customers. By outsourcing these tasks to a reliable partner, you can save time and resources, allowing you to focus on growing your online store."
}
},
{
"@type": "Question",
"name": "How can FBA Prep Logistics help streamline my e-commerce business?",
"acceptedAnswer": {
"@type": "Answer",
"text": "FBA Prep Logistics offers a comprehensive suite of fulfillment services that can improve your supply chain management, ensure order accuracy, and enable you to scale up more efficiently. Our expert team and advanced technology facilitate seamless and cost-effective operations, allowing you to focus on other aspects of your business."
}
},
{
"@type": "Question",
"name": "What technology solutions does FBA Prep Logistics provide to enhance my e-commerce experience?",
"acceptedAnswer": {
"@type": "Answer",
"text": "At FBA Prep Logistics, we integrate advanced technology platforms with our 3PL fulfillment services to give you complete visibility and control over your inventory and order processing. Our solutions help you streamline operations, automate processes, and easily monitor your business, making it a breeze to manage your e-commerce store."
}
},
{
"@type": "Question",
"name": "Why should I choose FBA Prep Logistics over other 3PL providers or handling fulfillment myself?",
"acceptedAnswer": {
"@type": "Answer",
"text": "Partnering with FBA Prep Logistics offers numerous benefits. Our dedicated team of experts, state-of-the-art technology solutions, and efficient processes ensure that your e-commerce fulfillment is handled with utmost accuracy and speed. By choosing FBA Prep Logistics over other providers or managing fulfillment in-house, you'll save time and effort while improving the overall efficiency of your e-commerce operation."
}
},
{
"@type": "Question",
"name": "How can I trust FBA Prep Logistics to play a major role in my e-commerce business's success?",
"acceptedAnswer": {
"@type": "Answer",
"text": "FBA Prep Logistics is committed to providing top-quality 3PL fulfillment services that cater to the unique needs of your e-commerce business. Our goal is to build a long-lasting partnership that contributes to your success by offering tailored solutions, exceptional customer service, and unmatched industry expertise."
}
}
] }
</script>