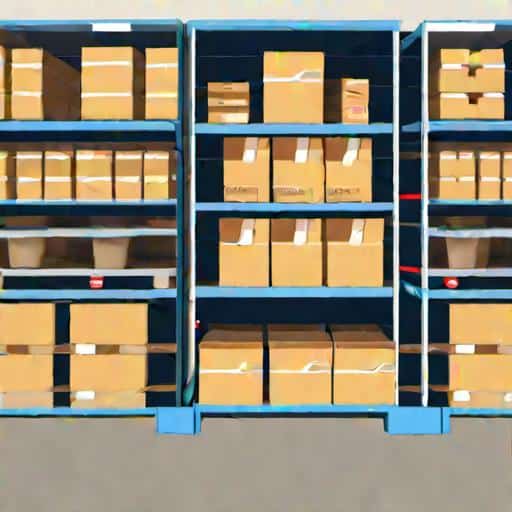 Introduction: Streamline Your E-commerce with 3PL Prep Services
In today's highly competitive e-commerce landscape, the efficiency of your supply chain management is more important than ever. With so many components involved in running a successful e-commerce business, it can be quite a challenge to manage all aspects effectively. This is where third-party logistics (3PL) prep services come in, offering a comprehensive solution to the various challenges that accompany supply chain management.
Utilizing a 3PL service like FBA Prep Logistics enables e-commerce sellers to mitigate the risks associated with warehousing, inventory management, and order fulfillment. Our 3PL Prep services are designed to simplify the entire process, allowing you to focus on the core aspects of your business while we handle the rest. In this article, we will dive deep into the numerous benefits of partnering with FBA Prep Logistics and how our tailored solutions can help grow your e-commerce business.
Benefits of Using 3PL Services
Leveraging 3PL prep services for your e-commerce business can result in numerous advantages. Here are just a few of the key benefits of using a 3PL provider like FBA Prep Logistics:
Cost Savings: Save money by reducing overhead expenses associated with operating your own warehouse, such as rent, utilities, and labor costs.
Time Efficiency: Alleviate the time-consuming tasks involved in managing your inventory, allowing you to free up valuable resources to focus on other important aspects of your business.
Scalability: Enjoy flexible services that can expand or contract depending on your business needs, making it easier to scale your operations as you grow.
Improved Customer Experience: Boost customer satisfaction by leveraging efficient order processing and fast shipping provided by expert 3PL providers.
Expertise & Resources: Gain access to a team of experienced professionals and cutting-edge tools specifically suited to enhance your e-commerce supply chain management.
Now that you have an understanding of the importance of an effective supply chain management and the advantages of using 3PL prep services, let's explore why you should choose FBA Prep Logistics as your go-to 3PL provider.
2. Why Choose FBA Prep Logistics as Your 3PL Partner
As an e-commerce business owner, you might be wondering why you would select FBA Prep Logistics as your go-to 3PL provider. Excellent question! We're here to explain how FBA Prep Logistics sets itself apart in providing top-notch 3PL prep services to ensure your business thrives in the ever-competitive world of e-commerce. Here are some of the crucial advantages and features of partnering with us:
2.1 Comprehensive 3PL Prep Services
At FBA Prep Logistics, we offer a full range of 3PL prep services designed to cater to all your supply chain needs. From receiving and handling your stock to packaging, labeling, and shipping your orders, our experienced team ensures that your inventory management and order fulfillment processes run smoothly and efficiently. With FBA Prep Logistics by your side, you can focus more on building your business and less on logistics. Check out our Ultimate Guide to 3PL Order Fulfillment for E-commerce to get an in-depth overview of all the services we provide.
2.2 Cost-effective Solutions
Operating your own warehouse and managing a fulfillment team can be costly and time-consuming. With FBA Prep Logistics' competitive 3PL pricing and flexible service plans, we can help you reduce your overhead expenses without compromising on quality or efficiency.
2.3 Streamlined Inventory Management
Keeping track of your inventory can be a daunting task, particularly for growing businesses with limited resources. FBA Prep Logistics offers a user-friendly and real-time inventory management system to make the task easier. This helps you maintain the right stock levels, fulfill orders on time, and minimize costly stockouts and overstock situations.
2.4 Fast and Accurate Order Fulfillment
In the fast-paced world of e-tail, speedy and error-free order fulfillment is vital to keep your customers happy and coming back for more. FBA Prep Logistics is committed to your success and provides accurate, timely order fulfillment for your products. Our efficient processes and experienced staff ensure that we meet even the tightest deadlines, giving you the edge over your competitors.
2.5 Proven Expertise in Amazon FBA
We understand that Amazon is a significant sales channel for many e-commerce businesses. Navigating through Amazon's stringent requirements can be challenging. That's why FBA Prep Logistics specializes in Amazon FBA fulfillment to ensure that your products are prepped and shipped according to Amazon's guidelines, maximizing your sales and business growth on this powerful platform.
2.6 Personalized Customer Support
At FBA Prep Logistics, we believe that every e-commerce business's needs are unique and require personalized attention. Our dedicated account managers listen to your concerns and work closely with you to tailor our services to suit your specific business goals and overcome challenges. With FBA Prep Logistics, you're not just a client; you're a valued partner in success.
2.7 Scalability and Flexibility
Whether you're a small start-up or an established e-commerce giant, FBA Prep Logistics adapts to your ever-changing business landscape. Our scalable solutions and flexible service plans ensure that you only pay for the services you need while having the freedom to expand when necessary.
2.8 Cutting-edge Technology
Innovation is at the heart of everything we do. FBA Prep Logistics invests in state-of-the-art technology and infrastructure to provide you with reliable, efficient, and up-to-date 3PL prep solutions. This allows us to stay ahead of the curve and offer advanced services that drive your e-commerce business forward.
2.9 Data Security and Confidentiality
We understand the importance of protecting your sensitive data and maintaining confidentiality in today's digital age. FBA Prep Logistics employs robust security measures and adheres to strict privacy policies to ensure your data remains safe and secure at all times.
2.10 Environmental Responsibility
As a responsible 3PL partner, we're committed to implementing eco-friendly practices and minimizing waste across our operations. FBA Prep Logistics uses green materials and recycling initiatives to reduce our carbon footprint and help create a sustainable future for the planet.
We're confident that FBA Prep Logistics offers unparalleled 3PL prep services designed to support and elevate your e-commerce business. Why not join the ranks of satisfied e-commerce businesses who have already experienced success with our services? Partner with FBA Prep Logistics today and put your inventory management and order fulfillment challenges to rest!
3. Expertise in Amazon FBA: Maximize Your Sales and Efficiency
As a growing e-commerce business looking to scale up and streamline your operations, it's crucial to partner with a 3PL Prep provider that specializes in Amazon FBA fulfillment. This expertise allows for better handling of all aspects of your business on Amazon and ensures maximum sales and efficiency. In this section, we'll discuss how choosing FBA Prep Logistics, with its specialization in Amazon FBA, can create a significant impact on your e-commerce business.
3.1. In-Depth Understanding of Amazon's Requirements and Guidelines
When selecting a 3PL Prep partner, having a thorough knowledge of Amazon's requirements and guidelines sets FBA Prep Logistics apart from other service providers. Our team stays up-to-date with Amazon's ever-changing policies to ensure your products and shipments comply, reducing the risk of returns or penalties. This critical expertise allows you to focus on other aspects of your business, such as marketing and product development, with peace of mind and confidence.
3.2. Seamless FBA Prep Services for a Hassle-Free Experience
At FBA Prep Logistics, we provide a comprehensive range of Amazon FBA services tailored to your business needs. We handle all crucial aspects of the FBA process, such as product inspection, labeling, bundling, packaging, and shipment preparation. Our thorough approach ensures that your products arrive at Amazon's fulfillment center in optimal condition and ready for sale, accelerating your product's time-to-market and reducing the risk of Amazon's penalties.
3.3. Simplified Inventory Management
Inventory management can be a significant challenge, especially for businesses selling on Amazon. FBA Prep Logistics' expertise helps you navigate this complexity through our efficient inventory management system. Our system allows seamless tracking and control of your stock levels, minimizing the occurrence of stock-outs or overstock situations. By investing in a reliable inventory management system, you can focus on growing your business without the concerns of stock mismanagement impacting your sales and customer satisfaction levels.
3.4. Dedicated Account Managers and Customer Support
One of the many benefits of partnering with FBA Prep Logistics is having access to dedicated account managers and customer support professionals. Our team of experts genuinely cares about your business's success on Amazon and works closely with you to ensure smooth communication and efficient problem resolution. This level of personal attention sets us apart and provides you with the resources needed to thrive on the Amazon platform.
3.5. On-Time and Accurate Order Fulfillment
For most e-commerce businesses, providing fast and accurate order fulfillment is crucial to ensure high levels of customer satisfaction. Our expertise in Amazon FBA processes, combined with our proven track record, guarantees on-time and precise order delivery to your customers. In today's competitive e-commerce landscape, keeping your customers happy through seamless order fulfillment is vital to maintain positive feedback and reviews on Amazon, ultimately contributing to your business' growth.
3.6. Strategic Warehouse Locations for Improved Efficiency
FBA Prep Logistics understands the importance of having strategically placed warehouse locations to optimize shipping times and reduce shipping costs. As an experienced 3PL partner, we've established our warehouse in Bristol, PA, which helps improve shipping efficiencies between your suppliers, our facility, and Amazon's fulfillment centers. The strategic location adds value to your business by minimizing transit times and keeping your customers happy with prompt deliveries.
3.7. Advanced Technology and Data-Driven Solutions
In today's data-driven world, leveraging cutting-edge technology is essential for scaling your e-commerce business and gaining a competitive edge. FBA Prep Logistics employs advanced technology tools that provide you with insights and actionable data to enhance your overall operations. By accessing valuable data about your products, customers, and sales trends on Amazon, you can make data-driven decisions to improve your business's performance efficiently.
3.8. Scalability and Flexibility
As your e-commerce business grows, partnering with a 3PL provider that can scale to fit your increasing needs is essential. FBA Prep Logistics prides itself on offering scalable and flexible solutions to accommodate your business's expanding requirements. Whether you're experiencing a seasonal sales spike or growing your product range, our team is well-prepared to adjust and cater to your ever-changing needs.
Final Thoughts on Amazon FBA Expertise
By opting for FBA Prep Logistics, you not only access top-notch 3PL Prep services but also a partner with a deep understanding of Amazon FBA processes. Our expertise in handling all aspects of FBA fulfillment makes us the perfect choice to help your e-commerce business flourish on Amazon. Don't miss the opportunity to streamline your operations, maximize sales and efficiency, and gain a competitive edge by partnering with FBA Prep Logistics for your Amazon FBA needs.
4. Tailored Solutions for Your E-commerce Business
At FBA Prep Logistics, we completely understand that every e-commerce business is unique, with its own set of challenges and requirements. With our extensive experience and expertise in 3PL prep, we can provide customized solutions that cater to the specific needs of your business. Whether you are selling on Amazon, or any other popular e-commerce platform, FBA Prep Logistics has the right solutions for you.
4.1. Customized Services Based on Your Needs
We don't believe in a one-size-fits-all approach when it comes to handling your e-commerce requirements. Instead, we strive to work closely with you and understand your specific needs, so that we can tailor our 3PL prep services accordingly. Some of our flexible solutions include:
Personalized packaging and labeling services
Customized assembly and kitting solutions
Special handling for perishables, fragile items, or high-value products
4.2. Storage Solutions Designed for E-commerce
As an e-commerce business, managing your inventory effectively is crucial for success. FBA Prep Logistics offers highly scalable storage solutions that can accommodate your changing inventory levels, ensuring optimal space utilization and increased efficiency. Our state-of-the-art warehouse facility in Bristol, PA is equipped with advanced technology systems that help in managing your inventory accurately and securely.
4.3. Expert Consultation and Guidance
Navigating the complex world of e-commerce and 3PL prep can be challenging, especially if you are new to supply chain management. Our team of experts at FBA Prep Logistics provide personalized guidance and consultation, empowering you to make informed decisions and grow your business rapidly. Learn from our experts about the best practices, tips and tricks, and proven strategies that can help in optimizing your operations and maximizing profits.
4.4. Quick and Efficient Order Fulfillment
FBA Prep Logistics takes pride in offering both speed and accuracy for your e-commerce order fulfillment process. Our tailored solutions ensure that your orders are picked, packed, and shipped efficiently, without sacrificing the quality of service. With our seamless integration with popular e-commerce platforms, you can stay on top of your orders and focus on growing your business, while we take care of the logistics.
4.5. Comprehensive Returns Management
Managing returns and refunds is an essential part of running a successful e-commerce business. At FBA Prep Logistics, we offer a comprehensive returns management solution that can be customized to suit your specific requirements. Our dedicated team will handle returns, process refunds, and ensure that returned products are restocked or disposed of as per your preferences.
4.6. Advanced Reporting and Analytics
In order to make informed decisions and optimize your e-commerce operations, it's essential to have access to accurate and data-driven insights. FBA Prep Logistics provides advanced reporting and analytics tools that can help you track the performance of your business, identify areas of improvement, and make smarter decisions for the future. Our easy-to-use dashboard provides you with real-time data and insights, giving you complete control over your inventory and operations.
4.7. Continuous Support
Our commitment to our clients goes beyond just offering top-notch 3PL prep services. At FBA Prep Logistics, we provide continuous support and assistance to ensure that your e-commerce business runs smoothly and successfully. From onboarding and training to troubleshooting and problem resolution, our dedicated team members are readily available to help you resolve issues and answer your questions.
In Conclusion
By choosing FBA Prep Logistics as your 3PL partner, you can expect customized, efficient, and scalable solutions that cater to your e-commerce business needs. Our tailored solutions, combined with our expertise and commitment to customer success, make us the ideal choice for e-commerce businesses that are looking to scale and optimize their operations.
Why wait? Discover the difference that FBA Prep Logistics can make for your e-commerce business. Reach out to our team and start leveraging the power of our tailored 3PL prep solutions today!
5. Seamless Integration and Time Saving
When it comes to running a successful e-commerce business, time is of the essence. By partnering with FBA Prep Logistics as your 3PL provider, you can enjoy seamless integration with popular e-commerce platforms and save valuable time. Let's explore how FBA Prep Logistics streamlines these processes and enables you to focus on what truly matters – growing your business.
5.1 Simplified E-commerce Platform Integration
FBA Prep Logistics prides itself on offering easy integration with widely-used e-commerce platforms, such as Amazon, Shopify, and WooCommerce. Our advanced technology allows for quick and hassle-free connection between your e-commerce store and our 3PL system. This seamless integration means less time spent on manual procedures and fewer opportunities for errors.
5.2 Real-Time Inventory Management
Tracking inventory can be tedious and time-consuming. FBA Prep Logistics takes care of this task by providing real-time inventory updates, leveraging cutting-edge technology to ensure accurate, up-to-date information about your stock levels. This enables you to make informed decisions regarding your replenishment strategy and prevents stockouts 1.
5.3 Automatic Order Importing
Manually transferring orders between your e-commerce platform and a 3PL service can be a huge headache. With FBA Prep Logistics, orders are automatically imported and processed, speeding up fulfillment and allowing for faster shipping. This not only saves precious time but also reduces the risk of human errors, which can lead to costly mistakes.
5.4 Improved Order Processing Speeds
Efficiency is of utmost importance when it comes to order processing. FBA Prep Logistics utilizes advanced technology and a team of skilled professionals to ensure swift, accurate order processing. This cuts down on wait times for customers and enhances the overall shopping experience, ultimately fostering customer loyalty and boosting your business's reputation.
5.5 Centralized Reporting and Analytics
As an e-commerce seller, staying informed about your business performance is vital. FBA Prep Logistics offers centralized reporting and analytics tools to help you monitor key metrics such as sales, shipping costs, and inventory levels 2. By providing easy access to this valuable data, FBA Prep Logistics assists you in making well-informed decisions to drive your business forward.
5.6 Streamlined Returns Management
Handling returns can be a challenging and time-consuming aspect of e-commerce. FBA Prep Logistics aims to simplify this process by offering an efficient returns management system. This includes handling the receipt, inspection, and restocking of returned items, as well as providing a platform for managing return requests and processing refunds. Partnering with a 3PL that has a streamlined approach to returns management can save you time and effort in the long run.
5.7 Dedicated Support and Expertise
FBA Prep Logistics understands that every e-commerce business is unique and may require different levels of support. To cater to your specific needs, we offer dedicated customer service and tailored advice on improving operational efficiency. With our team of experts managing your supply chain, you can focus on other aspects of your business and save valuable time in the process 3.
5.8 Scalability and Growth Potential
As your business grows, so too will your logistics needs. FBA Prep Logistics provides flexible services that adapt to your requirements, allowing you to scale up or down as needed. This means you won't waste time searching for a new logistics partner when your business takes off, giving you more time to invest in expansion and growth strategies.
5.9 Cost-Effective Solutions
Lastly, one of the many benefits of partnering with FBA Prep Logistics is the potential for cost savings. By streamlining your supply chain processes, you can reduce operational costs and enjoy better efficiency. This not only saves you time but also helps maximize your profits, giving you more resources to grow your e-commerce business 4.
6. Final Thoughts: The Benefits of Partnering with FBA Prep Logistics for Your E-commerce Business
In conclusion, FBA Prep Logistics offers a range of benefits to e-commerce businesses that choose to partner with us for their 3PL needs. Seamlessly integrating with popular e-commerce platforms, providing real-time inventory management, and automating order processes are just a few of the many ways in which we can save e-commerce sellers time and effort. With our personalized approach, dedicated support, and cost-effective solutions, choosing FBA Prep Logistics as your 3PL partner is a smart decision that will streamline your operations and help your business thrive.
Streamline Your E-commerce with 3PL Prep Services</h1>
<p>Effective supply chain management is essential for any e-commerce business, especially when selling on platforms like Amazon. Utilizing a 3PL service can greatly improve efficiency and help your business grow. In this article, we'll cover frequently asked questions about partnering with FBA Prep Logistics, a 3PL warehouse that specializes in Amazon FBA fulfillment.</p>
<h2>Frequently Asked Questions</h2>
<details>
<summary>What are the main benefits of using a 3PL service like FBA Prep Logistics?</summary>
<p>Some key advantages of using FBA Prep Logistics include seamless integration with e-commerce platforms, time-saving, tailored solutions, and expertise in Amazon FBA. Partnering with a 3PL service can help streamline your supply chain management, improve efficiency, and boost overall business performance.</p>
</details>
<details>
<summary>How does FBA Prep Logistics specialize in Amazon FBA fulfillment?</summary>
<p>FBA Prep Logistics has extensive experience in handling Amazon FBA requirements, ensuring that your products are prepared according to Amazon's strict guidelines. This expertise enables your business to maximize sales and improve efficiency on the platform, positioning you ahead of the competition.</p>
</details>
<details>
<summary>What kind of tailored solutions does FBA Prep Logistics offer for e-commerce businesses?</summary>
<p>FBA Prep Logistics customizes its services to match the unique needs of each client. By understanding your business requirements and goals, FBA Prep Logistics can create a bespoke plan that optimizes your supply chain management and ensures the best possible results.</p>
</details>
<details>
<summary>How does FBA Prep Logistics integrate with popular e-commerce platforms?</summary>
<p>FBA Prep Logistics seamlessly integrates with major e-commerce platforms such as Shopify, WooCommerce, and Magento, streamlining your order fulfillment process. With this integration, you can save valuable time that could be spent on other aspects of growing your business.</p>
</details>
<details>
<summary>Why should I choose FBA Prep Logistics as my 3PL partner?</summary>
<p>FBA Prep Logistics offers a combination of expertise, tailored solutions, and seamless integration with e-commerce platforms that make it an ideal choice for your 3PL needs. By partnering with FBA Prep Logistics, you can focus on growing your business while trusting your supply chain management to professionals who specialize in helping online sellers succeed.</p>
</details>
<h2>Final Thoughts on FBA Prep Logistics</h2>
<p>Partnering with FBA Prep Logistics for your e-commerce fulfillment needs can offer numerous benefits. From their Amazon FBA expertise to their customized approach, they can provide a significant boost to your business and ensure optimal efficiency in the supply chain process. Don't wait – choose FBA Prep Logistics as your 3PL partner today!</p>
<script type="application/ld+json">
{
"@context": "https://schema.org",
"@type": "FAQPage",
"mainEntity": [
{
"@type": "Question",
"name": "What are the main benefits of using a 3PL service like FBA Prep Logistics?",
"acceptedAnswer": {
"@type": "Answer",
"text": "Some key advantages of using FBA Prep Logistics include seamless integration with e-commerce platforms, time-saving, tailored solutions, and expertise in Amazon FBA. Partnering with a 3PL service can help streamline your supply chain management, improve efficiency, and boost overall business performance."
}
},
{
"@type": "Question",
"name": "How does FBA Prep Logistics specialize in Amazon FBA fulfillment?",
"acceptedAnswer": {
"@type": "Answer",
"text": "FBA Prep Logistics has extensive experience in handling Amazon FBA requirements, ensuring that your products are prepared according to Amazon's strict guidelines. This expertise enables your business to maximize sales and improve efficiency on the platform, positioning you ahead of the competition."
}
},
{
"@type": "Question",
"name": "What kind of tailored solutions does FBA Prep Logistics offer for e-commerce businesses?",
"acceptedAnswer": {
"@type": "Answer",
"text": "FBA Prep Logistics customizes its services to match the unique needs of each client. By understanding your business requirements and goals, FBA Prep Logistics can create a bespoke plan that optimizes your supply chain management and ensures the best possible results."
}
},
{
"@type": "Question",
"name": "How does FBA Prep Logistics integrate with popular e-commerce platforms?",
"acceptedAnswer": {
"@type": "Answer",
"text": "FBA Prep Logistics seamlessly integrates with major e-commerce platforms such as Shopify, WooCommerce, and Magento, streamlining your order fulfillment process. With this integration, you can save valuable time that could be spent on other aspects of growing your business."
}
},
{
"@type": "Question",
"name": "Why should I choose FBA Prep Logistics as my 3PL partner?",
"acceptedAnswer": {
"@type": "Answer",
"text": "FBA Prep Logistics offers a combination of expertise, tailored solutions, and seamless integration with e-commerce platforms that make it an ideal choice for your 3PL needs. By partnering with FBA Prep Logistics, you can focus on growing your business while trusting your supply chain management to professionals who specialize in helping online sellers succeed."
}
}
] }
</script>