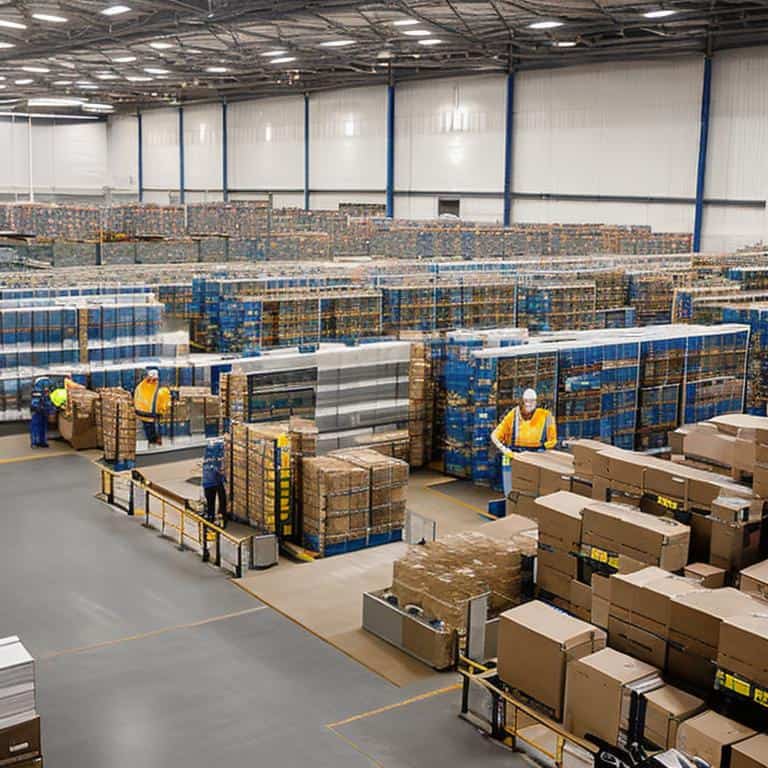 Order Fulfillment for Shopify Stores in PA
Running a successful Shopify store requires a lot of hard work, and one of the most crucial elements is order fulfillment. Efficient and fast Shopify order fulfillment in PA is essential for keeping your customers happy and ensuring they keep coming back for more. In this comprehensive guide, we will discuss everything you need to know about finding the perfect partner for your order fulfillment needs, and why FBA Prep Logistics is the warehouse you should choose.
What is Order Fulfillment?
Simply put, order fulfillment is the process of storing, packing, and shipping products to your customers. It involves multiple steps, including:
Receiving the products from the supplier
Storing the items in a warehouse
Picking and packing the products once an order is placed
Labeling and shipping the items to the customer's address
Handling any returns or exchanges
Why is Fast Order Fulfillment Important for Shopify Stores?
Speed is of the essence when it comes to order fulfillment, and there are several reasons why it matters for your Shopify store:
Customer Satisfaction: Your customers expect their orders to be delivered quickly and accurately. Fast order fulfillment plays a major role in ensuring that they are happy with their purchase and will return for more in the future.
Competitive Edge: In today's fast-paced e-commerce market, offering quick order fulfillment can set you apart from your competitors, making your brand more appealing to customers.
Inventory Management: Efficient order fulfillment enables you to manage your inventory more effectively, minimizing overstock and out-of-stock situations.
Order Volume: As your Shopify store grows, so does your order volume. A fast fulfillment process allows you to handle the increasing demand without compromising customer satisfaction or operational efficiency.
What to Look for in a 3PL Warehouse for Fast Shopify Order Fulfillment?
Partnering with a reliable third-party logistics (3PL) warehouse is a great way to ensure fast order fulfillment for your Shopify store. Here are some factors to consider when choosing a 3PL provider:
Location: Selecting a warehouse located close to your customer base or distribution centers will help speed up delivery times.
Experience: A 3PL warehouse with experience handling Shopify orders will ensure a seamless integration of your store with the fulfillment process.
Scalability: As your Shopify store grows, you want a warehouse that can grow with you and accommodate increased order volumes.
Transparent Pricing: Look for a warehouse with clear and transparent pricing, so you know exactly what you're paying for.
Customization: A good 3PL partner will offer custom packaging and branding options to create a personalized experience for your customers.
Technology: Choose a 3PL warehouse with advanced technology and systems for inventory management, order tracking, and real-time reporting to keep you informed at all times.
Why Choose FBA Prep Logistics for Fast Shopify Order Fulfillment in PA?
FBA Prep Logistics, a 3PL warehouse located in Bristol, PA, is the ideal choice for swift and precise order fulfillment for your Shopify store. Here's why:
Prime Location: Located in Bristol, PA, our warehouse allows for quick and efficient delivery to most regions in the United States, ensuring that your orders reach your customers in a timely manner.
Expertise: Our experienced team at FBA Prep Logistics has extensive knowledge and experience working with online retailers, particularly those using the Shopify platform.
Scalable Solutions: As your Shopify store grows, we will adapt to your increasing fulfillment needs without sacrificing speed or quality.
Customization and Personalization: We understand the importance of creating a unique and memorable unboxing experience for your customers. FBA Prep Logistics offers custom packaging and branding options to suit your specific requirements.
Advanced Technology: Our state-of-the-art technology enables us to efficiently manage your inventory, process orders accurately, and provide you with real-time updates to ensure you always have a clear picture of your fulfillment operations.
At FBA Prep Logistics, we are committed to delivering the best possible order fulfillment experience to both you and your Shopify customers. Isn't it time you partnered with a warehouse that understands your needs and shares your passion for outstanding customer service?
Frequently Asked Questions:
Do you offer order fulfillment services for other e-commerce platforms besides Shopify?
Yes, we specialize in fulfilling orders for various e-commerce platforms, including Amazon, eBay, and Walmart.
What kind of products can FBA Prep Logistics handle?
We can handle a wide range of products, from small items such as electronics and accessories to larger and heavier items like furniture and appliances.
How long does it take to integrate my Shopify store with FBA Prep Logistics?
The integration process is typically quick and seamless, taking only a few days to ensure your store is fully connected to our warehouse systems.
Can you handle international orders?
Yes, FBA Prep Logistics can fulfill and ship orders to customers around the world.
Are there any contracts or commitments required to partner with FBA Prep Logistics?
No, we believe in offering flexible and scalable solutions to suit your specific business needs without long-term contracts or commitments.