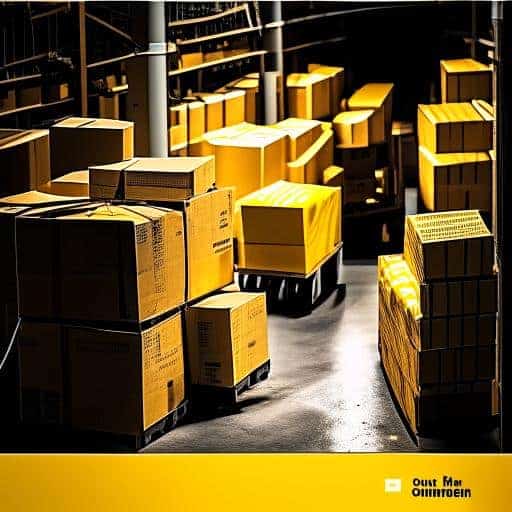 Introduction: The Importance of Efficient Order Fulfillment for NJ-Based Amazon Sellers
As an e-commerce business owner, you're probably aware of how crucial order fulfillment is to the overall success of your brand. If you're an Amazon seller based in NJ, this becomes increasingly important, given the fierce competition in the market and your need to cater to a diverse demographic of online shoppers. Ensuring an efficient order fulfillment process not only reflects your commitment to customer satisfaction but also keeps your business competitive and healthy. In this article, we'll introduce you to FBA Prep Logistics, a top-tier 3PL warehouse, and discuss how we can play an instrumental role in optimizing your order fulfillment as an NJ Amazon seller.
Why Efficient Order Fulfillment Matters
When you're running an e-commerce business, especially on Amazon, every minute counts. With customers expecting fast, accurate deliveries and minimal mistakes, having an effective order fulfillment strategy is crucial for achieving success. Here are some reasons why NJ-based Amazon sellers cannot afford to overlook the importance of efficient order fulfillment:
Customer Satisfaction: Speed and accuracy in order delivery are becoming increasingly important in e-commerce. Customers expect their orders to arrive on time and in perfect condition. Efficient order fulfillment ensures happy customers, which translates to more positive reviews, word-of-mouth recommendations, and repeat business.

Reduced Order Issues: An optimized order fulfillment process lowers the likelihood of issues like mis-shipped items or damaged products reaching customers. This not only protects your brand reputation but also saves time and money in dealing with returns and refunds.

Increased Revenue: Faster and reliable order fulfillment means more sales, as satisfied customers will likely keep coming back for more. Moreover, Amazon recognizes efficient sellers and rewards them with a better rank in their listings, making it easier for potential customers to find your products.
Scalability: As your e-commerce business grows, it's vital to have an order fulfillment process that can scale along with it. A streamlined order fulfillment process helps you manage your increased volume of orders more efficiently and allows you to focus on other aspects of growing your business.
Now that you understand the significance of efficient order fulfillment, let's shine a light on how FBA Prep Logistics can help NJ-based Amazon sellers optimize this very aspect of their e-commerce ventures.
How FBA Prep Logistics Streamlines Order Fulfillment for NJ-Based Amazon Sellers
As a digital marketing assistant for FBA Prep Logistics, I'm here to give you a closer look at how our company can optimize the order fulfillment process for your New Jersey-based e-commerce business. Our state-of-the-art warehouse in Bristol, PA, serves as the backbone of our operations, helping us rapidly process orders while maintaining consistent, top-notch customer service. One of the primary reasons NJ-based Amazon sellers choose us is our strategic location, which guarantees reduced transit times and increased efficiency. In this section, we will break down the various aspects of our operations in order to demonstrate our exceptional approach to mastering order fulfillment.
Our State-of-the-Art Warehouse in Bristol, PA
The FBA Prep Logistics' warehouse facility sits at a prime location, just an hour away from New Jersey. This proximity allows your NJ Seller Fulfillment to enjoy faster shipping times, which ultimately leads to decreased operational costs and higher customer satisfaction. Our warehouse boasts advanced technology and modern infrastructure, ensuring that your products are stored and processed in an environment designed to keep them safe and secure.
Strategic Location: An Edge for Your NJ-Based Business
Did you know that our Bristol, PA warehouse is located right in the heart of the densely populated East Coast corridor? This strategic position allows us to serve not only NJ-based Amazon sellers, but the broader East Coast market with blazing-fast efficiency. By choosing us for your order fulfillment, you're ensuring that your products reach a significant portion of the American population in record time, giving your business a significant competitive edge.
Advanced Order Tracking and Inventory Management
One key way we streamline NJ Seller Fulfillment is by implementing the latest warehouse management software and real-time inventory tracking systems. These tools help us keep a close eye on your products and manage them accordingly, preventing losses and delays in order fulfillment. Our innovative systems seamlessly integrate with Amazon's platform, giving you a clear and updated picture of your inventory levels, allowing you to make informed decisions for your business.
Speed and Accuracy: Our Formula for Success
When it comes to NJ Seller Fulfillment, speed and accuracy are of the essence. At FBA Prep Logistics, we understand the importance of these factors and have made them our top priority. Our team of skilled professionals is trained in the latest warehouse management techniques, which we use to calibrate our processes for optimal efficiency. From product reception to navigating freight shipping for Amazon sellers on the East Coast, our main focus is to ensure that your products reach their final destination quickly and accurately.
Connectivity with Major Carriers
As part of our commitment to streamlining NJ Seller Fulfillment, we've established strong relationships with all major carriers, including USPS, UPS, FedEx, and DHL. By working closely with these partners, we can guarantee hassle-free and speedy delivery of your items to your customers.
Third-Party Services Integration
At FBA Prep Logistics, we recognize that you may be using different e-commerce platforms to grow and manage your business. As such, we dedicate ourselves to providing seamless integration with various third-party services such as Shopify, WooCommerce, and Magento. We make it simpler for you to manage your operations across multiple channels, so you can focus on growing your business!
In conclusion, FBA Prep Logistics is the perfect choice for NJ-based Amazon sellers. Our commitment to optimal order fulfillment efficiency can help you significantly reduce transit times, streamline your business operations, and stay ahead in the competitive world of e-commerce. Contact us today to find out how we can be your champions in the world of NJ Seller Fulfillment!
Comprehensive Services Offered by FBA Prep Logistics for E-commerce Businesses
Navigating the world of e-commerce fulfillment can be daunting, especially for NJ-based Amazon sellers who are new to the game. With FBA Prep Logistics, you can put your mind at ease knowing that we offer a wide array of high-quality, efficient, and cost-effective services tailored specifically for Amazon sellers, designed to help you manage your supply chain and grow your business.
Receive Inbound Inventory
As a new NJ seller focus on order fulfillment, one of the first challenges you'll face is managing inbound shipments. FBA Prep Logistics is here to help you every step of the way with our state-of-the-art receiving process. Our expert team will carefully inspect all inbound shipments, ensuring that your products are damage-free and accounted for. With our meticulous attention to detail, you can rest assured that your inventory is in good hands.
Storage and Organization
Inventory management is a crucial aspect of any successful e-commerce business, and one that many NJ Amazon sellers struggle to manage efficiently. FBA Prep Logistics offers a clean and organized warehouse environment that allows for streamlined storage and inventory tracking. We make use of the best practices in inventory control and organization, ensuring that your inventory is easily accessible and always ready to be shipped.
Picking and Packing
Another essential service offered by FBA Prep Logistics is our accurate and efficient picking and packing process. Our team of experts understands that even minor mistakes can lead to customer dissatisfaction and potential negative reviews. By utilizing our picking and packing services, you'll benefit from our commitment to error-free order fulfillment.
Shipping and Handling
Once we've picked and packed your products with the utmost care, our team makes sure that your orders are shipped out expediently. At FBA Prep Logistics, we prioritize the best shipping methods and carriers for NJ-based Amazon sellers. By leveraging our strategic location in Bristol, PA, we help reduce transit times and shipping costs to ensure fast delivery and a positive experience for your customers.
E-commerce Solutions for Amazon Sellers
In addition to our core services, FBA Prep Logistics offers a suite of e-commerce solutions for Amazon sellers, including guidance on Amazon FBA labeling requirements, best practices for managing seller returns, and insights on effective inventory management. Our goal is to help you optimize your entire e-commerce operation, from the supply chain to customer experience.
Returns Management
Dealing with product returns is an inevitable part of e-commerce, but it doesn't have to be a headache. FBA Prep Logistics provides comprehensive return management solutions, streamlining the entire returns process for NJ-based Amazon sellers. Our team will handle customer returns efficiently, ensuring that the returned products are put back into your inventory or discarded as needed, minimizing the impact on your bottom line.
Customer Support
One of the many reasons why FBA Prep Logistics stands out among other 3PL providers is our commitment to providing exceptional customer support. Our team of experts is always available to address any concerns or queries you may have, ensuring a smooth and satisfying experience for both you and your customers.
In conclusion, partnering with FBA Prep Logistics means that you'll have access to a comprehensive suite of top-tier order fulfillment services. Let our expertise and dedication to outstanding customer service help you drive your e-commerce business to new heights. So, why wait? Reach out to FBA Prep Logistics today and take the first step towards optimizing your order fulfillment process!
Customizable Solutions to Fulfill the Unique Needs of Your E-commerce Business
Here at FBA Prep Logistics, we take immense pride in our ability to provide bespoke order fulfillment solutions for NJ-based Amazon sellers. We understand that every e-commerce business is different, and that's why from the moment you team up with us, we dedicate time and effort into understanding the specific requirements of your business. This attentiveness allows us to provide personalized, effective, and efficient order fulfillment services that cater directly to your unique needs.
Tailored Solutions for Your Inventory Management
Managing inventory can be a challenging aspect of running a successful e-commerce business, and a one-size-fits-all approach isn't always the best option. FBA Prep Logistics offers a flexible approach to inventory management, whether you are a one-person operation or an established e-commerce powerhouse.
Our warehouse management software not only helps with tracking your inventory but also identifies trends and patterns in your customers' purchasing habits. This valuable data helps you make informed decisions on how to best manage and restock your inventory to minimize storage costs and maximize profits.
Meeting Specific Packaging Needs
Packaging is more than just a functional aspect of getting your products from point A to B. It's a key element of your brand identity, and customers' perception of the quality of your products can be significantly influenced by the appearance of the packaging. It's important that the packaging meets the specific needs of your products while also adhering to Amazon FBA labeling requirements.
At FBA Prep Logistics, we understand the importance of customized packaging and provide packaging solutions to meet your individual requirements. From eco-friendly packaging materials to branded packaging boxes and inserts, our team ensures that your products stand out while maintaining compliance with Amazon guidelines.
Timely and Efficient Order Processing for Amazon and Beyond
One of the keys to e-commerce success is a fast and efficient order processing system. Our team at FBA Prep Logistics has extensive experience in handling various order processing requirements, from large-scale Shopify stores to small Amazon businesses.
Our ability to adapt quickly to any change in order volume or customer requirements ensures that your orders are processed and shipped out in a timely manner. Moreover, working with FBA Prep Logistics provides you with peace of mind knowing that your orders are in capable hands, giving you the freedom to focus on other aspects of your e-commerce venture.
Efficient Reverse Logistics
Handling returns efficiently can make or break your business, and it's crucial to have processes in place to deal with reverse logistics. FBA Prep Logistics understands the importance of seamless reverse logistics operations and works with you to develop tailored solutions for handling returned products.
By managing returns processing effectively, you can minimize losses and even recover value from your returned inventory, turning a potentially negative experience into a positive one for your customers.
Optimal Warehouse Layout and Product Storage
A well-organized warehouse with an optimized layout is essential for maximizing your storage capacity and ensuring efficient order fulfillment. At FBA Prep Logistics, we consider the unique characteristics of your inventory and develop a customized warehouse layout that ensures products are stored effectively, improving accessibility and minimizing the time it takes for our team to locate, pick, and pack your orders.
The FBA Prep Logistics Advantage: Adaptable and Evolving Fulfillment Services
As your e-commerce business grows and evolves, so does FBA Prep Logistics. Our customizable approach allows you to easily adapt to changes in your operations, customer preferences, and market trends. By partnering with us, you're investing in a long-term relationship that evolves and adapts to meet the dynamic needs of your business, keeping you ahead in the ever-changing e-commerce space.
5. Partnering with FBA Prep Logistics for a Seamless and Efficient Order Fulfillment Experience
By now, it's clear that choosing the right logistics partner is crucial for any NJ-based Amazon seller looking to streamline their order fulfillment process. The good news is, you've come to the right place—FBA Prep Logistics has got your back. Let's wrap up by summarizing all the amazing benefits you'll enjoy when working with us.
5.1 Reduced Shipping Times
Since our state-of-the-art warehouse is situated in Bristol, PA, our strategic location allows us to significantly cut transit times for NJ-based Amazon sellers. This means you can satisfy your customers far more quickly than your competitors, earning your organization better reviews, increased sales, and a loyal customer base.
5.2 Tailored Services for Amazon Sellers
Our comprehensive services are specifically designed for Amazon sellers, taking the stress off your plate and allowing you to focus on growing your business. Regardless of whether you're a new seller or a seasoned pro, we have you covered with services such as receiving inventory, storage, order picking, packing, and shipping.
5.3 Customizable Solutions
At FBA Prep Logistics, we understand that each business has its unique needs and goals. That's why we provide fully customizable solutions to cater to your business's individual requirements. With our personal touch and flexibility, you can rest assured that your order fulfillment process will be optimized to help you reach your objectives.
5.4 Hassle-Free Returns Management
Handling returns can be a real headache, but we've got you covered. Our streamlined process for managing Amazon seller returns in Pennsylvania ensures that every aspect of reverse logistics is taken care of, leaving you with more time to focus on what really matters—growing your business.
5.5 Expert Support and Guidance
As a partner of FBA Prep Logistics, you'll have access to a dedicated team of order fulfillment experts who will provide support and advice whenever you need it. Our vast experience in the industry means you'll benefit from valuable insights and guidance to ensure your e-commerce business keeps growing and thriving.
5.6 Cost Savings and Improved Efficiency
Last, but definitely not least, partnering with FBA Prep Logistics will help your business save money and bolster efficiency. By optimizing shipping times and leveraging our expertise to cut costs, you can put those saved dollars back into growing your e-commerce empire.
Time to Level Up Your Order Fulfillment with FBA Prep Logistics
By choosing to work with FBA Prep Logistics, you'll be investing in your business's future success. Improved efficiency, reduced shipping times, tailored services, and expert guidance are just a few of the benefits that come with partnering with us. Don't hesitate any longer—get in touch with FBA Prep Logistics to learn more about how we can help take your NJ-based Amazon business to new heights. Your success is our top priority, so let's work together to make your order fulfillment process better than ever!
Introduction: The Importance of Efficient Order Fulfillment for NJ-Based Amazon Sellers
Efficient order fulfillment is vital for any e-commerce business, especially for Amazon sellers based in New Jersey. Having a streamlined process not only enhances the customer experience but also boosts business growth. At FBA Prep Logistics, we understand the importance of order fulfillment and are committed to providing top-notch service.
Frequently Asked Questions
Q1: How does FBA Prep Logistics streamline the order fulfillment process for NJ-based Amazon sellers?

A1: FBA Prep Logistics utilizes its state-of-the-art warehouse located in Bristol, PA, to benefit New Jersey-based e-commerce businesses. Our strategic location reduces transit times and increases efficiency, streamlining the entire order fulfillment process for our Amazon sellers.

Q2: What services does FBA Prep Logistics provide for e-commerce businesses?

A2: FBA Prep Logistics offers a comprehensive range of services tailored specifically for Amazon sellers. We manage everything from receiving inbound inventory, storage, and picking to packing and shipping products. Our expertise allows our clients to efficiently manage their supply chain and grow their businesses.

Q3: How does FBA Prep Logistics customize solutions for individual clients?

A3: We understand that every e-commerce business has unique needs, so we provide customizable solutions tailored to each client. Our team works closely with our clients to develop a personalized strategy that ensures efficient order fulfillment and a seamless experience.

Q4: What are some benefits of partnering with FBA Prep Logistics for order fulfillment?

A4: By partnering with us, NJ-based Amazon sellers enjoy reduced shipping times, customized services, and our dedication to ensuring optimal order fulfillment efficiency. Our focus is on helping our clients improve their processes and grow their businesses.

Q5: How can I get started working with FBA Prep Logistics?

A5: Reach out to our team at FBA Prep Logistics to learn more about our services and how we can help improve your order fulfillment process. Fill out our contact form, and one of our representatives will be in touch shortly to discuss partnership opportunities.