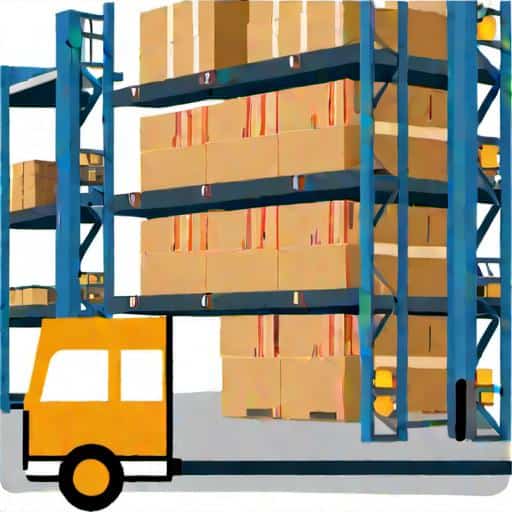 Introduction to Fulfilment 3PL and FBA Prep Logistics
Starting an e-commerce business is an exciting venture, but managing the supply chain can be tricky, especially for those new to the industry or who have never used a 3PL (Third-Party Logistics) service before. That's where Fulfilment 3PL and FBA Prep Logistics come in, providing expert solutions to streamline and optimize your online business operations.
In this introductory section, we'll give you a brief overview of what Fulfilment 3PL is and introduce FBA Prep Logistics as a leading 3PL warehouse that caters to the unique needs of e-commerce businesses, especially those selling on amazon.com.
What is Fulfilment 3PL?
Fulfilment 3PL, or Third-Party Logistics, refers to a company that specializes in providing logistics and supply chain management services for the e-commerce industry. From receiving, storing, and managing inventory to order processing and shipping, a Fulfilment 3PL company handles all the logistical aspects of running an e-commerce store.
Partnering with a reliable Fulfilment 3PL allows businesses to focus on their core operations, such as marketing and product development, without having to deal with the complexities of supply chain management. This translates into reduced operational costs, efficient inventory management, faster order processing, and improved customer satisfaction.
Introducing FBA Prep Logistics: Your Trusted 3PL Warehouse Partner
At FBA Prep Logistics, we understand that when it comes to e-commerce, timing and precision are critical to achieving success. As a leading 3PL warehouse located in Bristol, PA, we are committed to providing top-notch services tailored to the specific needs of e-commerce businesses, predominantly those selling on amazon.com. Our comprehensive solutions not only save time and money but also streamline your supply chain for overall business growth.
Our customers choose us because of our:
Unique expertise in preparing products for Amazon FBA
Efficient inventory management and order processing
Convenient location for faster shipping
Customized e-commerce solutions
Exceptional customer support
In the following sections, we'll explore in detail how FBA Prep Logistics can simplify supply chain management, optimize fulfillment for Amazon success and provide personalized solutions to meet your e-commerce business needs.
Join us on this journey as we delve into the world of FBA Prep Logistics and reveal what sets us apart from the competition. Ultimately, we'll show you how our Fulfilment 3PL approach, paired with our SEO-driven expertise, can propel your e-commerce business to new heights. Stay tuned!
Streamlining Your Supply Chain Management
Fulfillment 3PL plays a vital role in simplifying your supply chain management. As a top-rated 3PL warehouse, FBA Prep Logistics understands the complexities of the e-commerce world, and we're here to help you navigate them seamlessly. In this section, we will discuss how we efficiently manage your inventory, order fulfillment, and shipping while eliminating the stress associated with supply chain management for new businesses and those new to 3PL services.
The Importance of Effective Inventory Management
A streamlined inventory management system is crucial for e-commerce success, as it directly impacts your customers' experience and overall satisfaction. FBA Prep Logistics offers a comprehensive and easily accessible inventory management system, allowing you to:
Track inventory levels in real-time
Identify and resolve potential stockouts or overstocking situations
Manage product returns efficiently
Ensure accurate order fulfillment and reduce shipping errors
Our state-of-the-art technology integrates smoothly with various e-commerce platforms, such as Amazon, Shopify, and WooCommerce, enabling you to maintain full control over your inventory and make data-driven decisions.
Simplify Order Fulfillment with a Dependable 3PL Partner
Order fulfillment is another crucial aspect of supply chain management that can make or break your e-commerce business. At FBA Prep Logistics, we prioritize fast, accurate, and cost-effective order fulfillment, ensuring that your customers are delighted with their purchase experience. Our order fulfillment process includes the following steps:
Receiving and storing your products at our secure warehouse
Picking and packing orders as soon as they are received
Shipping orders using your preferred carriers and shipping methods
Providing tracking information to both you and your customers for full transparency
By outsourcing your order fulfillment to FBA Prep Logistics, you can focus on other essential aspects of your business, such as marketing, product development, and customer service.
Efficient Shipping Solutions for a Competitive Edge
Shipping is a critical factor in the e-commerce buyer's journey, with customers increasingly expecting fast (often free) shipping options. To help your business stay ahead of the curve, FBA Prep Logistics offers a range of shipping solutions tailored to meet your needs and those of your customers. Our shipping services include:
Utilizing discounted carrier rates to reduce your shipping costs
Offering a variety of shipping methods and speeds, from next-day delivery to more economical options
Efficiently handling peak seasons and fluctuating order volumes
Ensuring prompt delivery and minimal transit times by leveraging our strategic warehouse location in Bristol, PA
Partnering with FBA Prep Logistics means you can provide your customers with a smooth and hassle-free delivery experience, leading to repeat business and positive reviews.
Seamless Integration with E-Commerce Platforms and Marketplaces
FBA Prep Logistics takes the guesswork out of managing multiple sales channels by offering seamless integration with a variety of e-commerce platforms. Our advanced technology and user-friendly dashboard let you manage all your orders and inventory in one place, no matter where you sell your products. Some of the e-commerce platforms we support include:
Amazon
Shopify
WooCommerce
eBay
Walmart Marketplace
As a result, you can connect your sales channels with ease and enjoy a unified view of your entire supply chain, making it easier to assess your business performance and adapt your strategies accordingly.
Conclusion: Streamline Your Supply Chain and Grow Your E-Commerce Business
In summary, FBA Prep Logistics is an experienced Fulfillment 3PL provider that can help streamline your supply chain management, giving you more time and resources to focus on your core business activities. By offering efficient inventory management, order fulfillment, shipping, and seamless integration with major e-commerce platforms, we enable small to medium-sized e-commerce businesses to thrive in an increasingly competitive online market. So, what are you waiting for? Start simplifying your supply chain management and enjoy the benefits of a trusted partnership with FBA Prep Logistics today.
Optimizing Fulfillment for Amazon Marketplace Success
To excel on Amazon and maintain a high level of customer satisfaction, it is crucial for sellers to ensure their products are well-prepared for Amazon's warehousing and fulfillment system. By partnering with a fulfillment 3PL like FBA Prep Logistics, you'll be able to streamline your supply chain effectively, ensuring your products are correctly packed and shipped according to Amazon's strict guidelines. In this section, we'll dive into the many benefits of FBA Prep Logistics that make it an ideal solution for Amazon sellers looking to optimize their fulfillment process.
Seamless Transition into Amazon's Warehouses
One of the biggest challenges for Amazon sellers is adhering to Amazon's complex prep requirements. FBA Prep Logistics alleviates this concern by ensuring your products are prepared and packaged according to Amazon's rules, helping to prevent potential delays or additional fees at Amazon's fulfillment centers. By outsourcing your Amazon FBA prep to the specialists at our 3PL warehouse, you can focus on growing your business without worrying about meeting stringent packaging requirements.
Improved Product Presentation
A properly prepped and packaged product not only ensures your goods will be accepted by Amazon's warehouses but also contributes to a better customer experience. FBA Prep Logistics takes care of this aspect by making sure your products are in pristine condition upon arrival, which can leave a lasting impression on your customers and lead to positive reviews and repeat purchases.
Avoiding Additional Amazon Charges
When products arrive at Amazon fulfillment centers unprepared or improperly packaged, sellers can incur extra fees and penalties. By working with FBA Prep Logistics, you'll save on fees related to Amazon's in-house prep services, as well as avoid potential fines due to compliance mishaps. A precise and compliant fulfillment 3PL is vital to keeping your Amazon business running smoothly – and that's exactly what FBA Prep Logistics offers.
Faster Product Turnaround Times
FBA Prep Logistics boasts a quick and efficient prep process, enabling you to get your products into Amazon's warehouses and ready for sale as quickly as possible. This can contribute to an increase in sales velocity, giving your products better visibility on the marketplace and enhancing your chances of success on Amazon.
Label Compliance and Accuracy
As an Amazon seller, ensuring your product labels are accurate and compliant with Amazon's guidelines is crucial. FBA Prep Logistics provides expert label placement services that adhere to all required standards, giving you peace of mind that your products are correctly labeled and tracked throughout the fulfillment process.
Expertise in Amazon FBA Shipment Creation
Creating Amazon FBA shipments can be time-consuming and complex, particularly for sellers new to the platform. Let the experts at FBA Prep Logistics handle this process for you, allowing you to maximize your time on other essential tasks, like marketing and product sourcing.
Boost Your Amazon Sales Rank
By ensuring your products are prepared and shipped in accordance with Amazon's guidelines, you're more likely to receive positive feedback and ratings from your customers. This can contribute to a higher sales rank on the platform, which is essential for driving new traffic and sales for your e-commerce business.
Enhanced Inventory Management
Effectively managing your inventory on Amazon is key to maintaining a healthy flow of sales and preventing stockouts or overstocking issues. With FBA Prep Logistics' advanced inventory management solutions, you can keep track of your products and ensure inventory levels are optimized, enhancing the efficiency of your Amazon business.
Industry-Recognized Expertise
FBA Prep Logistics is a leading fulfillment 3PL with a proven track record of collaborating with Amazon sellers to optimize their operations and generate more sales. By leveraging our extensive experience and industry knowledge, we're well-equipped to guide you on the path to Amazon success.
In conclusion, choosing FBA Prep Logistics as your fulfillment 3PL for Amazon can significantly improve your e-commerce operations, maximize customer satisfaction, and ultimately lead to higher sales on the popular marketplace. Discover the power of working with a dedicated and expertly trained team and give your Amazon business the edge it needs to thrive.
Customized E-Commerce Solutions and Exceptional Customer Support
In today's fiercely competitive e-commerce landscape, businesses need to adapt, innovate, and consistently deliver top-notch service to stand out. Partnering with a fulfillment 3PL like FBA Prep Logistics can dramatically enhance your online business performance by offering customized solutions tailored specifically to your needs, accompanied by exceptional customer support. In this section, we'll explore the array of personalized services provided by FBA Prep Logistics to ensure the success of your e-commerce venture.
4.1 Personalized Order Fulfillment and Inventory Management
FBA Prep Logistics understands that each e-commerce business is unique, requiring specialized attention for their specific goals and challenges. As such, our services are designed to cater to your precise needs. FBA Prep Logistics' state-of-the-art warehouse management system equips us with the necessary tools to effortlessly handle every aspect of your order fulfillment and inventory management, ensuring you deliver an unmatched customer experience.
4.2 Expertly Handled Product Preparation and Packaging
Each product requires different attention when it comes to preparation and packaging. Whether you need special wrapping for delicate items, or you're looking to create a unique unboxing experience for your customers, FBA Prep Logistics has the expertise and resources to deliver on your vision. Our team will work closely with you to craft a packaging solution that not only resonates with your brand but also safeguards your products during shipping.
4.3 Efficient Kitting and Assembly Services
Enhance your customers' shopping experience and expedite order processing with FBA Prep Logistics' kitting and assembly services. By combining multiple items into a single, marketable kit or creating ready-to-ship products through our assembly process, we boost the efficiency of your e-commerce operation while ensuring a memorable experience for your customers. Check out our guide on improving supply chain efficiency with kitting and assembly solutions to learn more about these services.
4.4 Custom-Tailored Storage and Distribution Solutions
To keep your online business afloat, it's vital to adopt a storage and distribution plan that minimizes waste, maximizes space, and guarantees fast shipping. With FBA Prep Logistics, you'll enjoy custom-tailored warehousing solutions that fit your specific requirements – whether you deal with seasonal fluctuations, large quantities of inventory, or specialty items. Explore the benefits of using paper warehousing to help solve your storage problems.
4.5 FBA Prep Logistics as Your Strategic Partner
At FBA Prep Logistics, we're more than just a 3PL provider; we are your strategic business partner, fully invested in the success of your e-commerce enterprise. We stay up-to-date with industry trends and consistently innovate to ensure that our personalized solutions maintain their edge. With our expertise in Amazon FBA, you can be confident that your products are correctly prepped, packaged, and shipped, adhering to Amazon's strict guidelines. Learn more about why you need a 3PL for your Amazon FBA.
4.6 Exceptional Customer Support Throughout the Journey
We pride ourselves on offering expert guidance and support to our e-commerce partners every step of the way. From the moment you choose FBA Prep Logistics as your fulfillment 3PL, we are committed to providing comprehensive and responsive customer service. With dedicated points of contact, our team is always available to answer your questions, troubleshoot any issues, and ensure a smooth operation.
4.6.1 Access to Real-Time Information and Reporting
Our cutting-edge warehouse management system allows you to monitor your inventory, track shipments, and access essential business insights in real-time. This vital information equips you with the knowledge and confidence to make informed decisions that will propel your e-commerce business forward.
4.6.2 Regular Communication and Updates
Stay informed with timely updates from FBA Prep Logistics. Our team will consistently communicate essential information regarding your inventory, shipments, and services, ensuring that you're never left in the dark about the status of your e-commerce operations.
4.6.3 A Trusted Relationship Built on Transparency
Building long-lasting relationships built on trust and transparency is at the heart of FBA Prep Logistics. By providing clear pricing structures, reliable services, and open communication channels, we ensure that your e-commerce business remains a top priority for our team.
Partnering with FBA Prep Logistics as your fulfillment 3PL not only guarantees customizable solutions, seamless Amazon FBA integration, and expert guidance but also ensures exceptional customer support throughout the entire journey. As you embark on your e-commerce voyage, let FBA Prep Logistics be your trusted guide, helping you navigate the complexities of modern online retail and propel your business to new heights of success.
Want to Find the Best FBA Prep Center? Visit Here
5. Boosting Your Business Growth With FBA Prep Logistics' Expertise
In the competitive world of e-commerce, it's vital for businesses to have a reliable and efficient Fulfillment 3PL partner. FBA Prep Logistics sets itself apart from the competition with its unique approach, impressive track record, and comprehensive services. As your go-to 3PL warehouse, FBA Prep Logistics will serve as a driving force behind your e-commerce business growth, providing indispensable support in navigating the ever-changing landscape of supply chain management and online selling. Here's how FBA Prep Logistics can give your business a significant edge in the market.
5.1 Seamless Integration Into Your Workflow
FBA Prep Logistics understands the complexities of managing an online business, especially for those who are new to using a fulfillment 3PL service. That's why we've designed our system to be easily incorporated into your existing workflow, offering a user-friendly dashboard that gives you real-time visibility of your inventory, orders, and shipments. This hassle-free integration allows you to focus on other essential aspects of your business, such as sales, marketing, and product development.
5.2 Compliance and Cost Savings
To maintain high seller ratings and achieve success on Amazon Marketplace, your products need to adhere to Amazon's strict guidelines. FBA Prep Logistics has extensive experience preparing products for Amazon FBA, ensuring accurate labeling, packaging, and shipment, thus minimizing the risk of non-compliance penalties and additional fees. Our expertise in this area will help you save both time and money, allowing you to reinvest in expanding your product line and growing your business.
5.3 Improved Inventory Management
Effective inventory management is crucial to avoiding stockouts and disappointing your customers. Our state-of-the-art 3PL warehouse utilizes advanced inventory tracking systems, ensuring that you never run out of stock and lose potential sales. Additionally, our team will continuously analyze your inventory levels and provide valuable insights on demand forecasting, helping you make informed decisions about future product orders.
5.4 Enhanced Order Fulfillment and Customer Satisfaction
At the heart of a successful e-commerce business are satisfied customers who trust you to deliver their orders accurately and on time. With a proven track record of fast, efficient, and accurate order fulfillment, FBA Prep Logistics can significantly enhance your customers' satisfaction by providing timely, well-packaged orders. Moreover, our Kitting and Assembly solutions can add value to your product offerings and create a positive impression on your customers, ultimately leading to positive reviews and increased sales.
5.5 Access to Professional Knowledge and Expertise
The knowledge and experience that FBA Prep Logistics brings to the table will be an invaluable asset to your e-commerce business. Our dedicated team of professionals will offer guidance on best practices, share valuable tips on supply chain management, help you optimize your FBA label placement, and enlighten you on industry trends and changes. Partnering with FBA Prep Logistics, your business will benefit from years of industry expertise, translating into success within the e-commerce sphere.
5.6 Streamlined Returns Management
Handling returns is a crucial aspect of maintaining high customer satisfaction levels and protecting your reputation as a reliable e-commerce seller. FBA Prep Logistics offers seamless returns management solutions, efficiently processing and restocking returned items, providing proper documentation and feedback, and ensuring that your returns policy aligns with Amazon's requirements.
5.7 Scalability for Continued Growth
As your e-commerce business grows, having a 3PL partner that can effortlessly scale with you is crucial. FBA Prep Logistics offers scalable solutions that can adapt to your business's changing needs, enabling you to expand your product line and reach out to new markets without worrying about fulfillment logistics. With extensive storage space and a flexible workforce, we're prepared to handle any growth your business experiences.
In conclusion, partnering with FBA Prep Logistics as your Fulfillment 3PL warehouse of choice will provide you with a multitude of benefits, ultimately leading to increased sales, higher customer satisfaction, and sustainable business growth. Our personalized approach and commitment to excellence will ensure that your e-commerce business thrives in the competitive world of online selling. Experience the FBA Prep Logistics difference today, and take your business to new heights.
Frequently Asked Questions
Q1: What is a Fulfillment 3PL and how does FBA Prep Logistics fit in?

A: A Fulfillment 3PL, or Third-Party Logistics provider, is a company like FBA Prep Logistics that handles inventory management, order fulfillment, and shipping services for e-commerce businesses. FBA Prep Logistics specializes in satisfying the unique requirements of these businesses, particularly those selling on Amazon.com.

Q2: How does FBA Prep Logistics streamline my supply chain management?

A: By partnering with FBA Prep Logistics, we manage all aspects of your supply chain, from inventory management and order fulfillment to shipping. This saves you time, resources, and confusion, simplifying the overall process for e-commerce businesses just starting out or unfamiliar with 3PL services.

Q3: Can FBA Prep Logistics optimize my products for Amazon marketplace success?

A: Absolutely! FBA Prep Logistics specializes in preparing your products for Amazon FBA according to Amazon's strict guidelines. This ensures a smooth transition into their warehouses, enhancing your sales performance and customer satisfaction.

Q4: What kind of customized e-commerce solutions and support does FBA Prep Logistics offer?

A: FBA Prep Logistics provides tailored solutions and personalized services to meet the specific needs of your e-commerce business. This includes dedicated customer support throughout the entire fulfillment process, ensuring a seamless experience from start to finish.

Q5: How can FBA Prep Logistics boost my business growth?

A: By leveraging FBA Prep Logistics' vast expertise in 3PL services, especially in optimizing products for Amazon FBA and streamlining supply chain management, your e-commerce business is positioned for growth and expansion. Our efficient and SEO-driven approach will elevate your business to new heights of success.