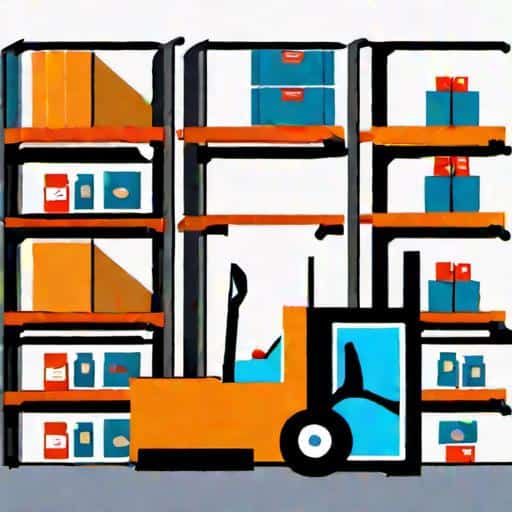 Introduction to 3PL Fulfillment and Its Benefits
Welcome to the world of 3PL fulfillment companies! If you're a medium-sized e-commerce business primarily selling on Amazon.com, and new to supply chain management, you're in the right place. We'll introduce you to 3PL fulfillment and highlight the benefits it can bring to your business. Before we dive into the nitty-gritty of optimizing your supply chain management, let's first understand why you should consider partnering with a 3PL fulfillment company like FBA Prep Logistics.
What is 3PL Fulfillment?
A 3PL fulfillment company, or third-party logistics provider, is a service that allows e-commerce businesses to streamline their supply chain. From warehousing and inventory management to packaging, shipping, and returns processing, a 3PL company takes care of multiple aspects of your supply chain. Sounds convenient, right? Just wait until you hear about the benefits!
Major Benefits of Partnering with a 3PL Fulfillment Company
1. Cost and Time Savings
By outsourcing your warehouse management and order fulfillment tasks to a trusted 3PL company like FBA Prep Logistics, you save valuable time and effort. You can then focus on other crucial business aspects like marketing, sales, and improving your product line.
2. Expertise
3PL companies specialize in supply chain management and have experience working with different e-commerce businesses. That means they have the know-how to deal with various challenges, such as navigating complex trade regulations, ensuring inventory accuracy, and implementing an efficient order fulfillment process.
3. Access to Advanced Technology and Resources
Partnering with a 3PL fulfillment company like FBA Prep Logistics, you get access to the latest technology to manage your supply chain more effectively. FBA Prep Logistics uses state-of-the-art inventory management software, shipping integrations, and other top-notch tools to provide you with real-time insights, tracking, and data analytics. Now, who wouldn't want that for their e-commerce business?
4. Flexibility
3PL companies offer flexible warehousing solutions that can adapt to your ever-changing inventory needs. Seasonal fluctuations or sudden surges in demand won't be an issue when you have a 3PL partner ready to scale with you.
5. Enhanced Customer Satisfaction
With an experienced 3PL company handling your order fulfillment, your customers enjoy quicker delivery times and a seamless shopping experience, boosting their satisfaction levels.
In summary, partnering with a 3PL fulfillment company like FBA Prep Logistics streamlines your e-commerce business operations, resulting in cost and time savings, access to expertise and technology, flexibility, and ultimately, happier customers. As you can see, the benefits are immense, so why not give it a shot?
In the next section, we'll delve deeper into streamlining your supply chain with a 3PL fulfillment company to help you truly understand the impact it can have on your business. Stay tuned!
2. Streamlining Your Supply Chain with a 3PL Fulfillment Company
Are you tired of juggling different suppliers, carriers, and warehouses for your e-commerce business? A 3PL fulfillment company, like FBA Prep Logistics, can help you optimize your supply chain processes, from inventory management to order fulfillment, ensuring your business runs smoothly and efficiently. In this section, we'll discuss the various ways partnering with a 3PL warehouse like FBA Prep Logistics can simplify and streamline your supply chain.
2.1 Comprehensive Inventory Management
Efficient and accurate inventory management is the cornerstone of every successful e-commerce business, and partnering with a professional 3PL fulfillment company can make all the difference. At FBA Prep Logistics, we offer:
Real-time inventory tracking: Know exactly how much stock you have on hand with 24/7 access to our cloud-based inventory management system.
Automatic inventory updates: Focus on growing your business while our system automatically updates your inventory levels whenever an order is fulfilled or new items are received.
Smarter inventory planning: With our data-driven insights, make informed decisions about your inventory levels and prevent stockouts or overstocking.
Secure storage: Rest easy knowing your items are securely stored in our modern, climate-controlled warehouse located in Bristol, PA.
Read our Ultimate Guide to 3PL Order Fulfillment for E-commerce to get a more in-depth understanding of our inventory management services.
2.2 Order Fulfillment Expertise
At FBA Prep Logistics, we believe in providing the best possible fulfillment experience for your customers. By partnering with us, your e-commerce business can benefit from:
Speedy order processing: With our advanced technology and skilled team, we assure accurate and speedy fulfillment of your orders, so your customers receive their purchases quickly.
Cost-effective shipping: Tap into our established relationships with major carriers and take advantage of competitive shipping rates that won't break the bank.
Customizable packaging options: Enhance your brand image by choosing from a variety of packaging materials and options that suit your unique products.
Returns management: Maintain a high level of customer satisfaction by outsourcing your return process to FBA Prep Logistics. Our team will handle returns professionally and efficiently, saving you time and resources.
Check out How 3PL Fulfillment Can Streamline Your E-commerce Business to learn more about our order fulfillment services.
2.3 Manufacturing and Supplier Integration
Managing multiple suppliers and manufacturers can be a logistical nightmare. With a 3PL fulfillment company like FBA Prep Logistics, you can:
Streamline communication: Experience seamless collaboration with your suppliers and manufacturers, thanks to our streamlined communication processes and experienced team.
Consolidate shipments: Save both time and money by consolidating shipments from multiple suppliers at our warehouses for simplified order processing and lower shipping costs.
Monitor production lead times: Our team monitors your suppliers' production schedules to ensure items are produced and delivered on time, avoiding unnecessary delays and stockouts.
Improve the Efficiency of Your Supply Chain with Kitting and Assembly Solutions provides more insights on how we can help you make the most of your supplier relationships.
2.4 Advanced Technology and Dedicated Support
Partnering with FBA Prep Logistics means having access to advanced technology and a dedicated team focused on your success. Our services include:
Seamless e-commerce platform integration: Connect your e-commerce store with our system for easy order import, real-time inventory updates, and automated shipping notifications.
Data-driven insights and analytics: Take advantage of the wealth of data collected by our system to make informed business decisions and optimize your supply chain continuously.
Dedicated account manager: Receive personalized attention and guidance from your dedicated account manager, who will be your single point of contact and advocate within FBA Prep Logistics.
Explore more about our technology offerings by visiting Why Every Amazon Seller Needs a Prep Center.
In conclusion, streamlining your supply chain with a 3PL fulfillment company like FBA Prep Logistics allows you to focus on what matters most – growing your e-commerce business. Our comprehensive suite of services, technology, and expertise is designed to optimize and simplify your operations, paving the way for increased efficiency, improved customer satisfaction, and greater profitability. Don't wait any longer – experience the FBA Prep Logistics difference now.
Improved Customer Service and Faster Delivery Times
In today's fast-paced e-commerce world, customers expect a seamless shopping experience, and speedy delivery is a crucial part of meeting their needs. As a 3PL fulfillment company, FBA Prep Logistics understands this need for speed and aims to ensure that your customers receive their orders in a timely manner. Partnering with us can lead to better customer satisfaction not only by reducing order processing times but also by providing expedited shipping options. Below, we'll discuss how our services can help improve customer service and delivery times.
The Role of a 3PL Fulfillment Company in Expedited Shipping
As a 3PL provider, FBA Prep Logistics takes care of your inventory management, order processing, and shipping. We're essentially an extension of your e-commerce business, handling the logistical aspects that can sometimes slow down order fulfillment and delivery times. By handling these tasks, we're able to:
Alleviate the burden on your in-house staff, allowing them to focus on other crucial aspects of your business, such as marketing and product development.
Provide a centralized location for inventory storage, ensuring that your products are ready to be shipped as soon as orders are placed.
Offer expedited shipping options for customers, such as same-day or next-day delivery, to enhance the overall shopping experience.
Reduced Order Processing Times
Order processing is one of the most time-consuming aspects of running an online store. When you partner with FBA Prep Logistics, we take on the responsibility of managing your orders and ensuring that they're shipped out as quickly as possible. Our streamlined processes and meticulous attention to detail can significantly reduce the amount of time it takes for your orders to be processed and shipped, leading to happier customers and fewer complaints.
Here's how FBA Prep Logistics enhances your order processing times:
Automated Order Processing: Our advanced order processing systems automatically retrieve incoming orders, minimizing human error and speeding up the process.
Efficient Pick and Pack Process: Our trained warehouse professionals pick and pack your orders quickly and accurately, making certain that the right products are sent to the right customers.
Rapid Carrier Dispatch: We have established relationships with reliable carriers, allowing us to dispatch orders swiftly and ensuring they're in transit as soon as possible.
Expedited Shipping Options with a 3PL Fulfillment Company
One major advantage of working with a 3PL like FBA Prep Logistics is the flexibility to offer various shipping options to your customers. Having fast shipping choices can make a significant difference in e-commerce, as customers are more likely to complete a purchase when they know their products are only a day or two away. With our extensive network of carriers and strategically located warehouse in Bristol, PA, we can offer expedited shipping, including same-day or next-day delivery, to all 50 states.
Better Customer Communication and Tracking
Clear and prompt communication is vital when it comes to keeping customers informed about their orders. We understand that there's nothing more frustrating than an order that seems to be in limbo, so FBA Prep Logistics provides real-time tracking information and updates to your customers. This level of transparency helps build trust with your customers, leading to higher satisfaction and increased likelihood of repeat business.
The Impact on Customer Satisfaction Ratings and Reviews
When you're able to provide a top-notch experience to your customers throughout the entire purchasing process, you'll likely notice an improvement in their satisfaction ratings and reviews. This positive feedback can translate into a stronger online reputation, higher sales, and the potential for lasting customer loyalty.
In conclusion, partnering with a 3PL fulfillment company like FBA Prep Logistics can result in better customer service and faster delivery times for your e-commerce business. By streamlining your supply chain and taking on critical tasks like inventory management, order processing, and shipping, we free up valuable time for your team and help you focus on what really matters – growing your business and exceeding customer expectations. With our efficient processes, expedited shipping options, and dedication to communication, we're confident that your customers will notice the difference and reward you with repeat business and positive reviews. Experience the benefits of working with FBA Prep Logistics, where we help ensure the success of your e-commerce business.
4. Scalability for Your Growing E-commerce Business
As your e-commerce business flourishes and expands, you'll need a 3PL fulfillment company that's able to grow with you. With FBA Prep Logistics, we provide the necessary support and infrastructure for seamless scaling, so you can focus on product development, marketing, and other critical aspects of your business. Let's see how we make it possible for you to level up without any bottlenecks.
4.1 Flexible Storage and Inventory Management
Growth in your e-commerce business usually means an increase in your inventory, which requires additional storage space. FBA Prep Logistics is a 3PL fulfillment company that offers flexible storage solutions to accommodate the changes in your inventory size, whether it's seasonal variations or a steady increase in demand. Our efficient, real-time inventory management system ensures that you always know the status of your products in the warehouse and can plan for anticipated demands.
4.2 Adapting Warehousing and Fulfillment Services
As your product line and customer base expand, so too do your warehousing and fulfillment needs. Our state-of-the-art facilities and team of professionals are the backbone of our 3PL fulfillment company, allowing us to adapt to the evolving demands of your business. We'll work together to create a customized solution addressing your unique requirements, such as special handling instructions, kitting, and assembly for new products.
4.3 Streamlined Order Processing and Shipping
As your e-commerce business experiences growth, the number of orders you process will also increase. Our advanced technology and efficient processes ensure that your order fulfillment remains fast and accurate, even as the volume of orders pick up. With our strategic warehouse location in Bristol, PA, we're able to provide quick shipping solutions to customers in various regions across the United States, giving you a competitive edge in delivery times.
4.4 Staff Support and Expertise
At FBA Prep Logistics, you're not just partnering with a 3PL fulfillment company, but with a team of professionals who are experts in supply chain management. Our staff is capable of handling every aspect of your fulfillment process, from receiving shipments to packing, shipping, and handling returns. We're committed to staying up-to-date with industry best practices, ensuring that our team is always equipped with the latest skills and knowledge to support your growing business.
4.5 Adaptable Technology Integration
We understand the importance of seamless integration between your e-commerce store and our 3PL fulfillment services. As you grow, our cutting-edge technology can adapt and align with your preferred e-commerce platforms. From maintaining accurate inventory data to automated order syncing and providing real-time tracking updates, our modern technology solutions cater to your business's needs at every stage of its growth journey.
4.6 Economies of Scale
Partnering with a 3PL fulfillment company like FBA Prep Logistics helps you leverage a useful principle known as economies of scale. As your e-commerce business gains momentum and your product volumes rise, your costs for fulfillment services per unit can often decrease. This is because we can handle larger amounts of inventory and shipments more efficiently. By achieving better shipping rates and reduced storage fees, you can save money and ultimately improve your bottom line.
4.7 Want to Learn More?
Knowing how The Ultimate Guide to 3PL Order Fulfillment for E-commerce can impact your business is vital for its growth. Don't forget to check out How FBA Prep Centers Save Your Amazon Business Time and Money for insights on how a 3PL warehouse can help improve your operations. By investing in a scalable 3PL fulfillment company like FBA Prep Logistics, you strengthen your ability to meet surges in demand, improve efficiency, and ultimately stay ahead of the competition.
5. Experience the FBA Prep Logistics Difference
When it's time to choose the perfect 3PL fulfillment company, you want a partner that prioritizes your business's needs and consistently delivers top-notch service. That's what sets FBA Prep Logistics apart. Let's dive into the features and success stories that make us a warehouse worth considering for your e-commerce business.
5.1. Unmatched Expertise and Experience
With FBA Prep Logistics, you're getting a skilled team of supply chain professionals with deep knowledge in the e-commerce industry. We understand the unique challenges faced by Amazon sellers, and we work tirelessly to stay on top of the latest trends and platforms. Our years of experience mean that we're poised to help you navigate obstacles and embrace opportunities. Trust us to be your partners on your journey to continued business growth. Check out our Ultimate Guide to 3PL Order Fulfillment for E-commerce for more insights.
5.2. World-Class Order Handling and Processing
At FBA Prep Logistics, we take pride in our ability to efficiently manage your inventory and promptly process orders. Our meticulous attention to detail avoids mistakes that might adversely affect your business's reputation. Our state-of-the-art warehouses are strategically located in Bristol, PA, enabling us to provide fast and reliable delivery services to your customers across the country.
5.3. Flexible and Customizable Services
As a 3PL fulfillment company, we aim to be adaptable and versatile. Our range of services can be customized to fit your unique requirements, whether you're just starting your e-commerce journey or looking to expand your existing operations. We can support your needs through efficient kitting and assembly, inventory management, and various Amazon prep solutions. Learn more about our offerings in the Guide to FBA Prep Warehouses for Beginners.
5.4. Dedicated Support and Transparent Communication
At FBA Prep Logistics, we believe that strong, open communication is the foundation for a successful partnership. That's why we strive to offer exceptional customer service from day one, with dedicated account managers to respond to any questions or concerns you might have. We'll keep you in the loop with regular updates, transparent reporting, and data-driven insights to help your e-commerce business flourish.
5.5. Focus on Your Core Business
By outsourcing your supply chain management to our team at FBA Prep Logistics, you'll free up valuable time and resources that you can redirect toward growing your e-commerce business. Let us handle the logistical side of things, while you focus on building relationships with customers, expanding your product line, and optimizing your marketing efforts. Read more about how Amazon FBA Prep Centers can save your time and boost your sales.
5.6. Success Stories You Can Trust
We're proud of the impact we've had on countless e-commerce businesses. By partnering with FBA Prep Logistics, these companies have been able to streamline their supply chains, reduce costs, and enhance their customers' experience. Don't just take our word for it – explore some success stories in Why Every Amazon Seller Needs a Prep Center.
In conclusion, FBA Prep Logistics is more than just a 3PL fulfillment company – we're a trusted partner for e-commerce businesses seeking to optimize their supply chains and achieve continued growth. From our experienced team and world-class facilities to customizable services and unwavering dedication to customer success, we're confident in our ability to help your business reach new heights. Experience the FBA Prep Logistics difference and transform your e-commerce journey today.
Frequently Asked Questions
1. What is a 3PL fulfillment service?
A 3PL (Third Party Logistics) fulfillment service is a company that handles your inventory management, order processing, and shipping. At FBA Prep Logistics, we specialize in supporting e-commerce businesses, particularly those selling on Amazon.com, to make their supply chain management more streamlined and efficient.
2. How can FBA Prep Logistics streamline my supply chain?
By partnering with us, you'll benefit from our expertise in inventory management, order fulfillment, and shipping. We work to optimize each of these processes, ensuring a faster and more efficient supply chain. This allows you to focus on growing your business instead of getting bogged down by logistics.
3. What are the benefits of partnering with a 3PL like FBA Prep Logistics?
Partnering with a 3PL company like us can bring numerous advantages, such as improved customer satisfaction, faster delivery times, and the ability to scale your business more easily. Additionally, our expert team manages your supply chain, allowing you to focus on other essential aspects of your e-commerce business.
4. How does working with FBA Prep Logistics result in better customer service?
Our team at FBA Prep Logistics is dedicated to ensuring that your customers receive their orders promptly and accurately. We achieve this by streamlining the order processing and shipping phases. As a result, your customers enjoy faster delivery times and a seamless shopping experience, leading to increased customer satisfaction.
5. Can FBA Prep Logistics help my business scale as it grows?
Yes, we have the infrastructure and expertise to adapt to your growing e-commerce business. As your sales increase and your needs change, we will work with you to provide additional services and support to keep your supply chain running smoothly.