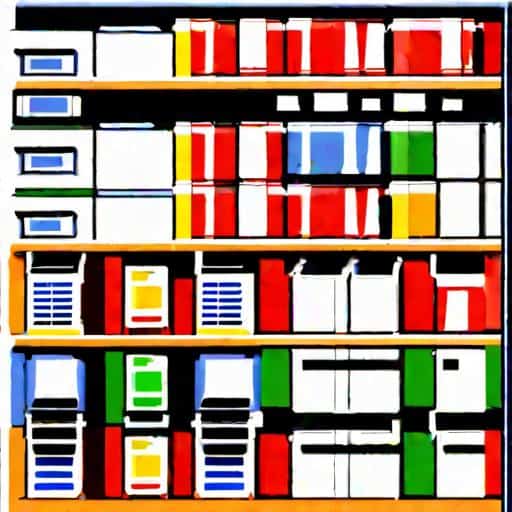 The Ultimate Guide to Integrated Fulfillment for E-commerce
1. Introduction to Integrated Fulfillment
Welcome to the world of Integrated Fulfillment! As a rapidly growing e-commerce business, you might be juggling multiple tasks like inventory management, order processing, and shipping. Ever wondered how to streamline these processes for greater efficiency and customer satisfaction? Integrated Fulfillment is the answer!
So, what exactly is Integrated Fulfillment? To put it simply, it's the seamless coordination of various elements in the fulfillment process, ranging from supply chain management to final delivery of a product to the end customer. By consolidating these different aspects under one umbrella, it becomes much easier for businesses like yours to scale and meet the ever-growing demands of the e-commerce market.
As a digital marketing assistant for FBA Prep Logistics, a top-notch 3PL warehouse located in Bristol, PA, I will help you understand how partnering with us can help your e-commerce business flourish. Our expertise in Integrated Fulfillment means that we have the knowledge, technology, and infrastructure to make your supply chain management smoother and more efficient than ever before.
Now, let's dive into the numerous ways in which Integrated Fulfillment is beneficial for e-commerce businesses, and why FBA Prep Logistics is the ultimate partner for all its fulfillment needs.
1.1 What Does Integrated Fulfillment Include?
Think of Integrated Fulfillment as a harmony of various components that are vital to the successful execution of an e-commerce business. Some key elements include:
Warehousing: Storage of your products, ensuring the availability of your inventory.
Inventory management: Accurate tracking of inventory levels, replenishment, and forecasting.
Order processing: Quick and seamless handling of customer orders, from order receipt to picking and packing.
Shipping and logistics: Timely and cost-effective delivery of products to your customers.
Returns and reverse logistics: Efficiently managing product returns, exchanges, and refunds.
Customer service: Providing high-quality support and assistance to your customers.
By integrating these elements, your e-commerce business can not only save time and resources but also enhance customer satisfaction through prompt and reliable order fulfillment.
1.2 The Importance of Integration
Why go for an integrated approach instead of handling each process individually? Well, dealing with multiple vendors for separate aspects of your e-commerce operation could lead to delays, miscommunications, and other roadblocks in the way of successful order fulfillment. The true potential of your e-commerce business can only be unlocked when all these elements work together in perfect harmony, like a well-oiled machine.
Enter FBA Prep Logistics, your one-stop solution for all things fulfillment-related. With our expertise in Integrated Fulfillment, we can ensure that your e-commerce business operates like a finely tuned engine, setting you up for long-term success. Partnering with us provides you with the opportunity to focus on growing your business, while we take care of the backend processes.
As we explore further, you'll discover how Integrated Fulfillment solves various challenges faced by e-commerce businesses, and how FBA Prep Logistics plays a crucial role in streamlining your supply chain management. Are you ready to dive into a world of seamless fulfillment? Let's go!
2. Top Challenges E-commerce Businesses Face and How Integrated Fulfillment Solves Them
E-commerce businesses encounter a wide range of challenges as they strive to meet customer expectations and maintain a competitive edge in the market. Thankfully, integrated fulfillment services can effectively address many of these obstacles. In this section, we'll discuss some of the most common challenges faced by e-commerce businesses and how partnering with FBA Prep Logistics for integrated fulfillment can help you overcome these hurdles.
2.1. Inventory Management and Stock Control
Challenge: Keeping track of inventory levels, monitoring stock availability, and predicting demand accurately are essential tasks for e-commerce businesses. Poor inventory management can lead to stockouts, excess stock, and wasted resources.
Solution: Integrated fulfillment through FBA Prep Logistics offers advanced inventory management solutions, enabling you to monitor and control your stock levels effectively. Our real-time inventory tracking allows you to make data-driven decisions and maintain optimal inventory levels, reducing the risk of stock issues that can negatively impact sales and customer satisfaction. Learn more about how inventory management works with FBA Prep Logistics.
2.2. Order Processing and Efficiency
Challenge: As your e-commerce business grows, so does the need for faster and more reliable order processing. This can quickly become overwhelming and time-consuming if not appropriately managed, which can lead to delays and customer dissatisfaction.
Solution: By opting for integrated fulfillment services from FBA Prep Logistics, you can automate and streamline order processing. Our advanced order management system ensures accurate and timely order processing, enabling you to handle increased order volumes with ease. This helps you maintain high levels of customer satisfaction by reducing the chances of delays, errors, and cancellations. Explore more on optimizing your order fulfillment with FBA Prep Logistics.
2.3. Shipping and Logistics
Challenge: Having a reliable and cost-effective shipping solution is crucial for e-commerce success. However, managing shipping logistics can be complex, time-consuming, and expensive.
Solution: FBA Prep Logistics' integrated fulfillment service simplifies shipping logistics for your e-commerce business. We provide you with access to discounted shipping rates and a vast network of carriers, ensuring your products reach their destination on time and at the lowest possible cost. Check out how to choose the best 3PL for your Amazon Business with FBA Prep Logistics.
2.4. Scalability and Adaptability
Challenge: E-commerce businesses need to adapt to rapidly changing market conditions and customer preferences. This requires the ability to scale operations efficiently, accommodating fluctuations in sales volume and product offerings.
Solution: FBA Prep Logistics' integrated fulfillment services are designed to grow with your e-commerce business. Our flexible and scalable solutions can adjust to your changing requirements, allowing you to expand or contract your operations as needed. This adaptability ensures that your business remains competitive and responsive to market demands. Discover how FBA Prep Logistics takes your e-commerce business to the next level.
2.5. Customer Experience and Satisfaction
Challenge: Delivering superior customer experiences is a crucial aspect of e-commerce success. Insufficient customer support, late deliveries, and unaddressed concerns can result in negative reviews, hampering your growth.
Solution: Integrated fulfillment from FBA Prep Logistics not only streamlines your supply chain but also enhances your customers' experience. Our dedicated customer support, efficient order processing, and fast shipping options ensure your customers have a positive experience with your brand. This, in turn, can lead to higher customer retention rates and increased sales. Learn more about the impact of 3PL costs on your sales with FBA Prep Logistics.
In conclusion, integrated fulfillment services provide a comprehensive solution to many common challenges faced by e-commerce businesses. FBA Prep Logistics is dedicated to helping you navigate these obstacles and achieve long-term success by providing you with a seamless and efficient fulfillment process. By partnering with us, your business will enjoy the benefits of streamlined inventory management, order processing, shipping logistics, scalability, and improved customer satisfaction. Reach out to FBA Prep Logistics today to see how we can take your e-commerce business to new heights.
Section 3: The Role of FBA Prep Logistics in Streamlined Supply Chain Management
When it comes to integrated fulfillment, having a streamlined supply chain is crucial for e-commerce businesses. FBA Prep Logistics provides a variety of services designed to optimize your supply chain and ensure a seamless experience for your customers. In this section, we'll discuss the key services offered by FBA Prep Logistics that set us apart from other 3PL warehouses, covering inventory management, order processing, and shipping.
3.1 Comprehensive Inventory Management
FBA Prep Logistics excels at inventory management, a key component of integrated fulfillment. Some important aspects of our inventory management services include:
Real-time inventory tracking – Our advanced technology allows us to monitor and manage your inventory levels in real-time, ensuring you always have accurate information about the stock on hand.
Inventory forecasting – We analyze your sales data to help forecast future inventory needs, reducing the risk of stockouts and overstocking.
Serialized inventory tracking – Our system utilizes unique serial numbers for each product, ensuring the precise management and traceability of every item in your inventory.
Barcode scanning – To maintain accuracy and efficiency, we use barcode scanners to manage and process your inventory.
Regular inventory audits – Our team conducts routine inventory audits to ensure proper stock levels and prevent discrepancies.
3.2 Efficient Order Processing
To provide the best possible customer experience, FBA Prep Logistics focuses on streamlining the order processing flow. Our specialized approach to integrated fulfillment involves:
Timely order processing – As soon as an order is placed, it's automatically processed by our system, ensuring speedy fulfillment and minimized turnaround time.
Customized pick and pack – We offer tailored pick and pack methods to suit your unique needs and preferences, reducing the risk of errors, and ensuring customer satisfaction.
Quality control – Our team strictly adheres to quality control measures, ensuring that orders are accurate and properly packaged.
Order management integrations – We integrate with popular e-commerce platforms and marketplaces like Amazon, enabling a seamless flow of data between our system and your storefront.
Automated order tracking – Once an order is shipped, our system provides automated tracking updates, so your customers receive accurate information about their order status.
3.3 Expert Shipping Solutions
FBA Prep Logistics offers multiple shipping solutions to cater to the specific needs of your e-commerce business. Our commitment to integrated fulfillment includes:
Competitive shipping rates – We have established strategic partnerships with leading carriers, allowing us to offer competitive shipping rates and pass on the savings to you.
Flexible shipping options – We understand that each e-commerce business has unique shipping requirements. That's why we offer various shipping options, including standard, expedited, and international shipping, to accommodate your customers' preferences.
Customized packaging – Our team can customize packages to match your branding and ensure a consistent unboxing experience for your customers.
Shipping optimization – We leverage advanced technology to optimize shipping routes and minimize transit time while maintaining cost-effectiveness.
Returns management – We provide a hassle-free returns management process, allowing you to focus on growing your e-commerce business.
3.4 One-stop Solution for E-commerce Success
The combination of our inventory management, order processing, and shipping solutions makes FBA Prep Logistics a comprehensive, one-stop solution for your e-commerce supply chain management needs. By choosing us as your integrated fulfillment partner, you'll gain access to our state-of-the-art infrastructure, advanced technology, and dedicated team, all working together to fuel your e-commerce success.
In conclusion, FBA Prep Logistics offers a comprehensive approach to streamline your supply chain management through a combination of key services. With our real-time inventory tracking, timely order processing, expert shipping solutions, and commitment to integrated fulfillment, we provide everything your e-commerce business needs to thrive. If you're ready to optimize your supply chain and take your e-commerce operation to the next level, partnering with FBA Prep Logistics is the right choice for you.
Technology and Innovation in Integrated Fulfillment by FBA Prep Logistics
Cutting-Edge Technology and Tools
In today's fast-paced e-commerce landscape, leveraging the power of technology and innovation is critical for businesses to stay ahead of the competition. At FBA Prep Logistics, our integrated fulfillment embraces cutting-edge technology and advanced tools to optimize your supply chain and support your e-commerce growth. Here are some of the key technologies that set us apart:
1. Advanced Inventory Management Software
Our state-of-the-art inventory management system allows e-commerce businesses to keep track of their stock levels and product movement in real-time. It streamlines inventory tracking, order management, and fulfillment processes, making it easier to maintain accurate stock counts and avoid stockouts and overstocking. Moreover, the system is scalable, ensuring it can grow with your business needs over time.
2. Integration with Marketplaces and E-commerce Platforms
FBA Prep Logistics makes it easy to integrate your existing e-commerce platform with our integrated fulfillment services. Our system seamlessly connects with major marketplaces such as Amazon, eBay, Walmart, and Shopify, enabling effortless order syncing and automated shipment tracking. This increased visibility and control over your orders lead to faster fulfillment turnaround times and greater customer satisfaction.
3. Multi-Channel Fulfillment
Expanding your e-commerce business into multiple sales channels is essential in today's competitive online marketplace. With FBA Prep Logistics' multi-channel fulfillment capabilities, you can manage and fulfill orders from different sales channels, including your website and various marketplaces, through a single, unified platform. This provides you with a holistic view of your order data, streamlining the fulfillment process and improving overall efficiency.
4. Data Analytics and Reporting
FBA Prep Logistics' integrated fulfillment system offers robust, customizable data analytics to help e-commerce businesses make data-driven decisions. Our platform provides valuable insights into order trends, sales performance, and inventory levels, allowing businesses to identify growth opportunities, optimize product selection, and plan future inventory investments. This information can prove invaluable in an ever-changing e-commerce landscape and help you stay one step ahead of your competitors.
Innovative Strategies for Integrated Fulfillment Success
In addition to advanced technology, FBA Prep Logistics employs innovative strategies in our integrated fulfillment approach. Some key examples include:
5. Batch Processing
Our team uses batch processing methods in order fulfillment to improve efficiency and speed. By grouping similar orders with shared shipping destinations or product types, we reduce the time spent on picking, packing, and shipping, ultimately accelerating the fulfillment process and decreasing the likelihood of errors.
6. Global Shipping Solutions
FBA Prep Logistics provides global shipping solutions to help e-commerce businesses expand their customer reach. We partner with leading international carriers, ensuring that our clients have access to a range of shipping options and competitive rates. This extends your sales opportunities and enables you to serve customers all over the world.
7. Kitting and Bundle Services
Our integrated fulfillment services include kitting and bundling, allowing e-commerce businesses to offer unique product packages and combinations. This not only adds value to your customers but also enhances your inventory management and order fulfillment efficiency, as pre-packaged bundles can be processed and shipped more quickly.
8. Custom Packaging and Branding
At FBA Prep Logistics, we understand the importance of branding and customer experience in e-commerce. Our integrated fulfillment services offer custom packaging and branding options, enabling you to create a memorable unboxing experience that sets you apart from competitors and fosters customer loyalty.
9. Returns Management
Handling returns is a critical aspect of the e-commerce fulfillment process, and FBA Prep Logistics is equipped to handle this aspect efficiently. Our comprehensive returns management system allows you to track and process returns effortlessly while maintaining control over your inventory.
In Conclusion
By implementing advanced technologies and innovative strategies, FBA Prep Logistics leads the way in providing e-commerce businesses with unparalleled integrated fulfillment solutions. Our commitment to using cutting-edge tools and continuously refining our processes has made us the go-to choice for e-commerce entrepreneurs seeking to optimize their supply chain, drive sales, and maximize customer satisfaction. Ready to grow your e-commerce business by partnering with the best in the business? Contact FBA Prep Logistics today to take your e-commerce operation to the next level.
5. Why Partnering with FBA Prep Logistics is the Right Choice for Your E-commerce Business
By now, you've seen the incredible advantages integrated fulfillment can bring to your e-commerce business. But why should you partner with FBA Prep Logistics specifically? We will outline the top reasons why choosing us for your integrated fulfillment partner is the best decision for your business.
5.1 Highly experienced team
One of the main reasons to choose FBA Prep Logistics is our highly skilled and experienced team of professionals. We have a deep understanding of the complexities of e-commerce and what it takes to run a successful business. With our knowledge and expertise in supply chain management, we can help you seamlessly navigate the world of integrated fulfillment and maximize your opportunity for growth.
5.2 Customized solutions for your business
At FBA Prep Logistics, we understand that every e-commerce business is unique, and so are their fulfillment needs. That's why we offer personalized services and tailor our solutions to perfectly fit your company's requirements. This allows us to create a streamlined and effective process that will save you time, money, and hassle.
5.3 Unmatched customer service
We pride ourselves on our outstanding customer service, making sure that our clients can always count on us for prompt and responsive support. When you partner with FBA Prep Logistics, you won't have to worry about delayed responses or unanswered questions. You'll have a dedicated team of professionals by your side, ready to provide solutions and assistance whenever you need them.
5.4 Competitive pricing
Affordable pricing is a significant factor when choosing an integrated fulfillment partner. FBA Prep Logistics offers competitive rates without compromising on quality or service, ensuring that you can grow your business without breaking the bank.
5.5 Scalable services
As your e-commerce business grows, so do your fulfillment needs. FBA Prep Logistics offers scalable services, meaning we have the ability and resources to accommodate your growing business seamlessly. What's more, our innovative approach to operations ensures that our services will remain cost-effective, even as your business expands.
5.6 Cutting-edge technology and software
At FBA Prep Logistics, we employ the latest technology and software in our integrated fulfillment services, ensuring that they're efficient and streamlined. This allows us to minimize errors, optimize processes, and ultimately, save you time and money.
5.7 Strong partnerships and industry knowledge
We have spent years building strong relationships with shipping carriers, suppliers, and industry experts, ensuring that we have the knowledge and resources to effectively address any challenges that may arise. Partnering with FBA Prep Logistics connects you with an extensive network of professionals, dedicated to the success of your e-commerce business.
5.8 Versatility
No matter your industry or niche, FBA Prep Logistics has the knowledge and experience to handle it. We have worked with a diverse range of clients, from fashion to automotive to electronics, giving us the expertise and confidence to handle your specific fulfillment needs.
Heading For a Future of Success Together
In conclusion, partnering with FBA Prep Logistics for your integrated fulfillment needs will bring countless benefits to your e-commerce business. From our personalized solutions, scalable services, and cutting-edge technology to our unparalleled industry knowledge and support structure, we have everything necessary to help your business grow and thrive.
Ready to take your e-commerce business to the next level? Contact FBA Prep Logistics today and let us help you navigate the world of integrated fulfillment with ease and confidence.
Frequently Asked Questions</h2>
<dl>
<dt><strong>1. What is integrated fulfillment, and why is it important for e-commerce businesses?</strong></dt>
<dd>Integrated fulfillment is the process of combining inventory management, order processing, and shipping into a seamless system that supports your e-commerce business. It's essential because it helps you manage your supply chain more efficiently, reduce costs, and provide a better customer experience.</dd>
<dt><strong>2. What are the top challenges faced by e-commerce businesses, and how can FBA Prep Logistics help?</strong></dt>
<dd>Common challenges faced by e-commerce businesses include inventory management, order fulfillment, and shipping. FBA Prep Logistics offers integrated fulfillment solutions that address these obstacles, providing you with a streamlined supply chain, reduced operational costs, and improved customer satisfaction.</dd>
<dt><strong>3. What services does FBA Prep Logistics offer to optimize my supply chain?</strong></dt>
<dd>FBA Prep Logistics provides a comprehensive suite of services, including inventory management, order processing, and shipping. Our all-in-one approach to fulfillment allows your e-commerce business to efficiently manage and scale operations while focusing on growth and customer satisfaction.</dd>
<dt><strong>4. How does FBA Prep Logistics use technology and innovation in its integrated fulfillment solutions?</strong></dt>
<dd>FBA Prep Logistics leverages cutting-edge technology and innovative strategies to provide the best integrated fulfillment services possible. We use advanced tools, software, and systems to streamline operations, optimize efficiency, and ensure the highest level of reliability for your e-commerce business.</dd>
<dt><strong>5. How do I get started with FBA Prep Logistics and make the most of their services?</strong></dt>
<dd>To get started with FBA Prep Logistics, simply contact us to discuss your specific needs and requirements. We'll be happy to customize our integrated fulfillment services to ensure you get the most out of our streamlined, scalable, and personalized solutions.</dd>
</dl>
<script type="application/ld+json">
{
"@context": "https://schema.org",
"@type": "FAQPage",
"mainEntity": [
{
"@type": "Question",
"name": "What is integrated fulfillment, and why is it important for e-commerce businesses?",
"acceptedAnswer": {
"@type": "Answer",
"text": "Integrated fulfillment is the process of combining inventory management, order processing, and shipping into a seamless system that supports your e-commerce business. It's essential because it helps you manage your supply chain more efficiently, reduce costs, and provide a better customer experience."
}
},
{
"@type": "Question",
"name": "What are the top challenges faced by e-commerce businesses, and how can FBA Prep Logistics help?",
"acceptedAnswer": {
"@type": "Answer",
"text": "Common challenges faced by e-commerce businesses include inventory management, order fulfillment, and shipping. FBA Prep Logistics offers integrated fulfillment solutions that address these obstacles, providing you with a streamlined supply chain, reduced operational costs, and improved customer satisfaction."
}
},
{
"@type": "Question",
"name": "What services does FBA Prep Logistics offer to optimize my supply chain?",
"acceptedAnswer": {
"@type": "Answer",
"text": "FBA Prep Logistics provides a comprehensive suite of services, including inventory management, order processing, and shipping. Our all-in-one approach to fulfillment allows your e-commerce business to efficiently manage and scale operations while focusing on growth and customer satisfaction."
}
},
{
"@type": "Question",
"name": "How does FBA Prep Logistics use technology and innovation in its integrated fulfillment solutions?",
"acceptedAnswer": {
"@type": "Answer",
"text": "FBA Prep Logistics leverages cutting-edge technology and innovative strategies to provide the best integrated fulfillment services possible. We use advanced tools, software, and systems to streamline operations, optimize efficiency, and ensure the highest level of reliability for your e-commerce business."
}
},
{
"@type": "Question",
"name": "How do I get started with FBA Prep Logistics and make the most of their services?",
"acceptedAnswer": {
"@type": "Answer",
"text": "To get started with FBA Prep Logistics, simply contact us to discuss your specific needs and requirements. We'll be happy to customize our integrated fulfillment services to ensure you get the most out of our streamlined, scalable, and personalized solutions."
}
}
] }
</script>