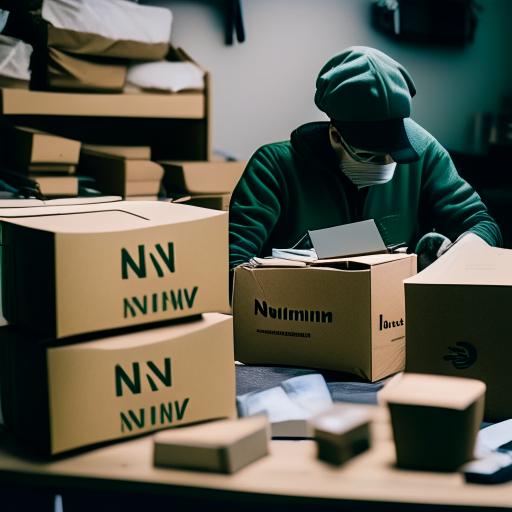 Find the Best Pick and Pack Service for your Shopify Business in NJ
1. Introduction
Running a successful e-commerce business on Shopify requires attention to various factors, with one of the most crucial being your store's order fulfillment process. It's not enough to have a great product or an attractive website — you need a reliable and efficient pick and pack service to ensure your customers receive the right products on time, every single time. FBA Prep Logistics is the best pick and pack service for Shopify in NJ, where we focus on providing an exceptional experience to our clients and their customers.
With FBA Prep Logistics as your partner, you can expect accurate, fast, and seamless order fulfillment. We go above and beyond to cater to your unique business requirements. Whether you're new to supply chain management or a seasoned e-commerce business owner seeking a better solution, we have you covered with services tailored to meet the specific needs of your Shopify store in NJ.
This article will discuss some of the key aspects of our offerings, including quick and accurate order fulfillment, customized services, expert support for first-time 3PL users, and scalability for growing businesses. So, let's dive in and explore why FBA Prep Logistics is the prime choice for your Shopify business in NJ.
2. Quick and Accurate Order Fulfillment
As an eCommerce business owner, you know that the success of your Shopify store depends greatly on customer satisfaction. One key factor that greatly affects customer satisfaction is how quickly and accurately their orders are fulfilled. Anyone who has ever been on the receiving end of a late delivery or a wrong product knows the frustration it can cause. That is where FBA Prep Logistics comes in.
A. Speedy Turnaround Times
When customers choose your eCommerce store, they often expect fast delivery of their orders. Partnering with FBA Prep Logistics ensures that you can meet these expectations. Our warehouse operations are designed with efficiency in mind, allowing us to provide faster shipping for your Shopify store in PA.
We have streamlined our processes and optimized our workflow to make sure that your orders are picked, packed, and shipped as quickly as possible. This means that when your customers place an order, they won't be waiting around for weeks to receive their items, but rather just a few days or even less.
B. High Accuracy in Order Processing
One aspect that sets FBA Prep Logistics apart from other 3PL providers is our commitment to accuracy in order fulfillment. Our team of skilled warehouse technicians follows a strict process to ensure that all orders are fulfilled correctly, reducing the chances of errors and delays.
Our accuracy-first approach means that your customers can trust that they'll receive the right products, every time. To maintain the quality of our pick and pack services, we employ advanced inventory management systems to help track your products seamlessly throughout the entire fulfillment process. By leveraging the best Shopify inventory tracking solutions for your NJ business, we minimize potential errors and keep your customers happy.
C. Real-Time Order Tracking
In order to provide you with the best pick and pack service for Shopify in NJ and beyond, we understand the importance of having full visibility into your order fulfillment process. FBA Prep Logistics, therefore, offers real-time order tracking data to all of our clients. With access to timely and accurate information, you'll be able to monitor your orders from the moment they are submitted to our warehouse until they reach your customers' doorsteps.
D. Effective Communication and Transparency
At FBA Prep Logistics, we value effective communication and transparency when it comes to fulfilling your customers' orders. We work closely with you and keep you updated on the status of your orders throughout the entire fulfillment process. This allows you to keep track of any issues or roadblocks that may arise and address them promptly, ensuring a smooth delivery experience for your customers.
E. Integrated Systems for Seamless Order Management
FBA Prep Logistics aims to make your order fulfillment process as seamless as possible. To achieve this, we offer comprehensive integration options with your Shopify store. Our systems work hand-in-hand with your eCommerce platform, ensuring that orders are automatically transmitted to our warehouse for fulfillment without any manual intervention. This results in a frictionless order management process that keeps your customers satisfied and your business thriving.
In conclusion, FBA Prep Logistics offers a quick and accurate order fulfillment experience that ensures the happiness of your customers and the continued success of your Shopify business. From efficient processes to precise order tracking, we've got you covered. Experience excellence in order fulfillment, and let FBA Prep Logistics be the perfect partner for your eCommerce venture.
Customized Services Tailored to Your Needs
One of the main reasons to choose FBA Prep Logistics as your go-to company for the Best Pick and Pack Service for Shopify in NJ is the level of customization we offer to cater to the unique requirements of your Shopify business. Our solutions are designed to help you optimize your supply chain process in the most cost-effective way, allowing you to concentrate on other important aspects of your business. In this section, we'll delve into the various aspects of our customized pick and pack services and how they can work together to streamline your operations.
3.1 Flexible Order Processing
At FBA Prep Logistics, we understand that every business is unique and has specific requirements regarding their order fulfillment processes. To address this, our pick and pack services are designed to be flexible and customizable so they can be easily adapted to fit your needs. This means that as your business grows and evolves, you can modify your fulfillment strategy without any hassles.
3.2 Customized Packaging Solutions
Enhance your customers' unboxing experience with our customized packaging solutions. We work closely with you to design packaging that aligns with your brand image and the expectations of your target demographic. In addition, our packaging options ensure that your products are protected during shipping, reducing the risk of returns and damaged items.
3.3 Streamlined Inventory Management
Say goodbye to inventory headaches with our streamlined inventory management solutions. We'll work with you to develop a system that simplifies stocking and order processing, integrating seamlessly with your Shopify Inventory Tracking Solutions for Your NJ Business. As your e-commerce business grows, our inventory management services will scale along with it to ensure your operations remain smooth and efficient.
3.4 Enhanced Returns Processing
Returns are an inevitable part of doing business, but FBA Prep Logistics is here to make the process painless. Our streamlined returns processing system ensures that returned items are handled efficiently and swiftly, minimizing the impact on your bottom line. Learn more about our returns processing services in A Seller's Guide to Hassle-free Amazon Refunds in NJ.
3.5 Specialized Storage Options
Our facilities are equipped with specialized storage options to ensure that your products are stored securely and are easily accessible when it's time for order fulfillment. This includes climate-controlled storage for temperature-sensitive items and secure storage for high-value goods. Discover Top NJ Warehouses for Amazon Seller Storage and how our facilities can protect and organize your inventory.
3.6 Integration with Shopify and Other E-Commerce Platforms
Our pick and pack services are designed to integrate seamlessly with your Shopify store, as well as other e-commerce platforms. This enables automated order processing and real-time inventory updates, ensuring that your customers receive accurate information about product availability and shipping times.
By choosing FBA Prep Logistics as your provider of the Best Pick and Pack Service for Shopify in NJ, you are investing in a customized solution that fits the unique needs and requirements of your e-commerce business. Our flexibility and dedication to understanding your business goals make us the ideal partner in optimizing your supply chain process, from order placement to delivery. So, don't wait any longer — connect with us today and let our tailored services elevate your Shopify store to new heights.
Expert Support for First-Time 3PL Users
If you're new to the world of supply chain management and using a third-party logistics (3PL) provider, FBA Prep Logistics is here to guide you every step of the way. We understand that integrating 3PL services with your Shopify store may be daunting at first, but with our expert support, we'll make this transition easy and hassle-free.
Personalized Onboarding Process
At FBA Prep Logistics, we're committed to making your first experience with a 3PL provider a positive one. We begin by getting to know your business, your products, and your unique requirements, helping us understand how best to serve you. Our team then walks you through the entire onboarding process, making sure that you're comfortable with each step and addressing any concerns you may have.
Seamless Integration with Shopify
One of the primary reasons why the Best Pick and Pack Service for Shopify in NJ is offered by FBA Prep Logistics is our seamless integration with your Shopify store. Our system connects directly to your store, streamlining the entire order fulfillment process. This means that when a customer places an order, it's automatically sent to our warehouse, where it's picked, packed, and shipped without any manual intervention on your part.
Hands-on Customer Support
FBA Prep Logistics is not only an expert in providing the Best Pick and Pack Service for Shopify in NJ, but we also believe in building strong, lasting relationships with our clients. Our dedicated customer support team is available to assist you with any questions or issues related to your 3PL experience, ensuring that you receive the best possible service. Whether you're inquiring about inventory management, shipment tracking, or any other aspects of our 3PL services, we're here to help.
Comprehensive Educational Resources
As part of our commitment to helping you succeed, FBA Prep Logistics offers access to a wealth of educational resources designed to enhance your understanding of supply chain management and 3PL services. With our Ultimate Guide to Shopify Inventory Management and Best Shopify Inventory Tracking Solutions for Your NJ Business, you can learn valuable tips and best practices that can help improve the efficiency of your business operations.
Easy-to-Use Technology and Reporting Tools
FBA Prep Logistics understands that technology plays a vital role in streamlining your supply chain and ensuring successful order fulfillment. That's why we work hard to provide an intuitive platform where you can monitor your inventory, shipments, and returns in real-time. Our powerful reporting tools give you access to critical data and analytics that are essential in making informed decisions about your business.
Focus on Your Core Business
As a small or medium-sized business owner, you need to focus on your core tasks to stay ahead in the ever-competitive e-commerce landscape. FBA Prep Logistics' comprehensive range of services, such as Optimize Your Shopify Shipping and Fulfillment Process, enables you to delegate your logistics management to us, freeing up precious time that can be dedicated to other aspects of your business like marketing or product development.
In conclusion, FBA Prep Logistics is the ideal partner for first-time 3PL users who are looking to integrate these services with their Shopify store. Our expertise, personalized onboarding process, seamless Shopify integration, dedicated customer support, and extensive educational resources ensure a smooth and successful transition into the world of 3PL and supply chain management. Trust FBA Prep Logistics to provide the Best Pick and Pack Service for Shopify in NJ, and let us help you take your e-commerce business to the next level.
Scalability for Growing Businesses
For e-commerce entrepreneurs, growth remains the ultimate goal. However, with growth comes a host of logistical challenges, especially when it comes to order fulfillment. The best pick and pack service for Shopify in NJ should be more than equipped to cater to your evolving needs. FBA Prep Logistics is your partner in this journey, offering flexible, scalable solutions for your blossoming Shopify business in New Jersey.
Adaptable Infrastructure
Our facilities are designed to grow in tandem with your e-commerce venture. As the volume of your orders increases, we can easily expand our storage capacities, workforce, and technologies to ensure a seamless order fulfillment experience. This adaptability is a core component of our commitment to helping you scale your business without a hitch.
Comprehensive Inventory Management
Effective management of your Shopify inventory is crucial in ensuring the smooth operation of your store. As your business expands, tracking, organizing, restocking, and managing your inventory can become a complex and time-consuming task. FBA Prep Logistics employs sophisticated systems to provide you with real-time updates, ensuring accurate inventory counts and preventing stockout issues.
Flexible Storage Options
As your business grows, so do your storage requirements. With FBA Prep Logistics, you can benefit from our flexible storage options, which allow you to scale your storage space as needed, without breaking the bank. From top NJ warehouses for Amazon seller storage to versatile solutions for your Shopify store, we provide tailored storage options to accommodate your ever-changing needs.
Expanding to New Sales Channels
A growing e-commerce business often seeks to venture into new sales channels to reach a broader audience. To help you take full advantage of these opportunities, FBA Prep Logistics offers multichannel fulfillment services to allow your business to grow beyond your Shopify store, integrating seamlessly with platforms like Amazon and eBay.
Customized Shipping Solutions
As the volume of your orders increases, having a flexible shipping strategy in place can help you maintain your competitive edge. FBA Prep Logistics ensures your business benefits from cost-effective, efficient shipping methods by customizing a shipping strategy tailored to your needs. Whether it's implementing faster shipping for your Shopify store in PA or providing NJ Amazon Prime transportation for speedy delivery, our end-to-end shipping solutions will help you stay ahead of the competition.
Personalized Customer Support
Growth can sometimes come with unforeseen challenges, so it's important to have access to personalized customer support. Our dedicated customer service team is here to support your business every step of the way, ensuring you receive prompt assistance and guidance whenever you need it.
In conclusion, it's essential for your e-commerce business to select a pick and pack service offering flexibility and scalability — the perfect partner to adapt to your growing needs and support your success. FBA Prep Logistics is the ideal choice for Shopify businesses in New Jersey, providing the resources, expertise, and adaptability to propel your venture to new heights. Don't miss out on this winning combination; trust FBA Prep Logistics to elevate your e-commerce fulfillment experience and help you reach your goals.
Frequently Asked Questions</h2>
<ul>
<li>
<h3>What does FBA Prep Logistics' pick and pack service do for my Shopify store?</h3>
<p>FBA Prep Logistics' pick and pack service handles the entire order fulfillment process, from picking the items in your inventory to packing them and shipping them to your customers. This lets you focus on growing your business while we ensure quick and accurate delivery for your Shopify store customers.</p>
</li>
<li>
<h3>Can FBA Prep Logistics work with my specific inventory requirements?</h3>
<p>Absolutely! FBA Prep Logistics offers customizable solutions tailored to your business needs. We can handle a variety of inventory types and sizes, and our team will work closely with you to ensure that our services are the perfect fit for your Shopify store.</p>
</li>
<li>
<h3>I'm new to using a 3PL service, how does FBA Prep Logistics support my transition?</h3>
<p>Don't worry, FBA Prep Logistics has a dedicated team of experts who will guide you through the entire process of integrating our 3PL services with your Shopify store. We'll ensure a smooth transition and provide ongoing support to help you optimize your supply chain management.</p>
</li>
<li>
<h3>Will FBA Prep Logistics be able to handle my business's growth?</h3>
<p>Yes, FBA Prep Logistics offers scalable solutions that can accommodate the evolving needs of your growing e-commerce business. As your order volume increases, our services can expand accordingly, allowing you to focus on expanding your business while we handle the logistics.</p>
</li>
<li>
<h3>Why should I choose FBA Prep Logistics for my Shopify store's pick and pack service?</h3>
<p>FBA Prep Logistics ensures quick and accurate order fulfillment, provides customized pick and pack services tailored to your business needs, offers expert guidance and support for first-time 3PL users, and has scalable solutions designed for growing businesses. With FBA Prep Logistics, you can trust us to handle your logistics while you focus on growing your Shopify store.</p>
</li>
</ul>
<script type="application/ld+json">
{
"@context": "https://schema.org",
"@type": "FAQPage",
"mainEntity": [{
"@type": "Question",
"name": "What does FBA Prep Logistics' pick and pack service do for my Shopify store?",
"acceptedAnswer": {
"@type": "Answer",
"text": "FBA Prep Logistics' pick and pack service handles the entire order fulfillment process, from picking the items in your inventory to packing them and shipping them to your customers. This lets you focus on growing your business while we ensure quick and accurate delivery for your Shopify store customers."
}
}, {
"@type": "Question",
"name": "Can FBA Prep Logistics work with my specific inventory requirements?",
"acceptedAnswer": {
"@type": "Answer",
"text": "Absolutely! FBA Prep Logistics offers customizable solutions tailored to your business needs. We can handle a variety of inventory types and sizes, and our team will work closely with you to ensure that our services are the perfect fit for your Shopify store."
}
}, {
"@type": "Question",
"name": "I'm new to using a 3PL service, how does FBA Prep Logistics support my transition?",
"acceptedAnswer": {
"@type": "Answer",
"text": "Don't worry, FBA Prep Logistics has a dedicated team of experts who will guide you through the entire process of integrating our 3PL services with your Shopify store. We'll ensure a smooth transition and provide ongoing support to help you optimize your supply chain management."
}
}, {
"@type": "Question",
"name": "Will FBA Prep Logistics be able to handle my business's growth?",
"acceptedAnswer": {
"@type": "Answer",
"text": "Yes, FBA Prep Logistics offers scalable solutions that can accommodate the evolving needs of your growing e-commerce business. As your order volume increases, our services can expand accordingly, allowing you to focus on expanding your business while we handle the logistics."
}
}, {
"@type": "Question",
"name": "Why should I choose FBA Prep Logistics for my Shopify store's pick and pack service?",
"acceptedAnswer": {
"@type": "Answer",
"text": "FBA Prep Logistics ensures quick and accurate order fulfillment, provides customized pick and pack services tailored to your business needs, offers expert guidance and support for first-time 3PL users, and has scalable solutions designed for growing businesses. With FBA Prep Logistics, you can trust us to handle your logistics while you focus on growing your Shopify store."
}
}] }
</script>